We woke feeling refreshed after a good night's sleep, snaffled up some breaky and headed straight to the pool for an early morning dip. Beautiful! On to the showers and we were set up nicely for a day 'touristing' in Siena, Italy.
We chatted with our neighbours and apologised for not making it back in time to take up their drinks invite, before asking them for some advice on getting into Siena. "Follow signs for the stadium because there's plenty of parking and it's an easy walk into the centre". Cheers, guys! We packed the van, paid the campsite bill and said our goodbyes.
It was mid-morning as we drove into Siena but it was already getting very hot. The traffic was heavy but the sat nav was back on it's 'A game' and found us a nice little cut though that bypassed a traffic jam and got us to the stadium area pronto. Our neighbours' tip proved to be a cracker and this time the parking we found was free! (What the…?)
The kids love to complain on a walk and in this heat, it started in record time. Once we'd managed to coax Iz past the 'tat' stalls, we turned towards the centre of town, sank into the first deep, cool, medieval street we came to and stopped for the first gelato of the day.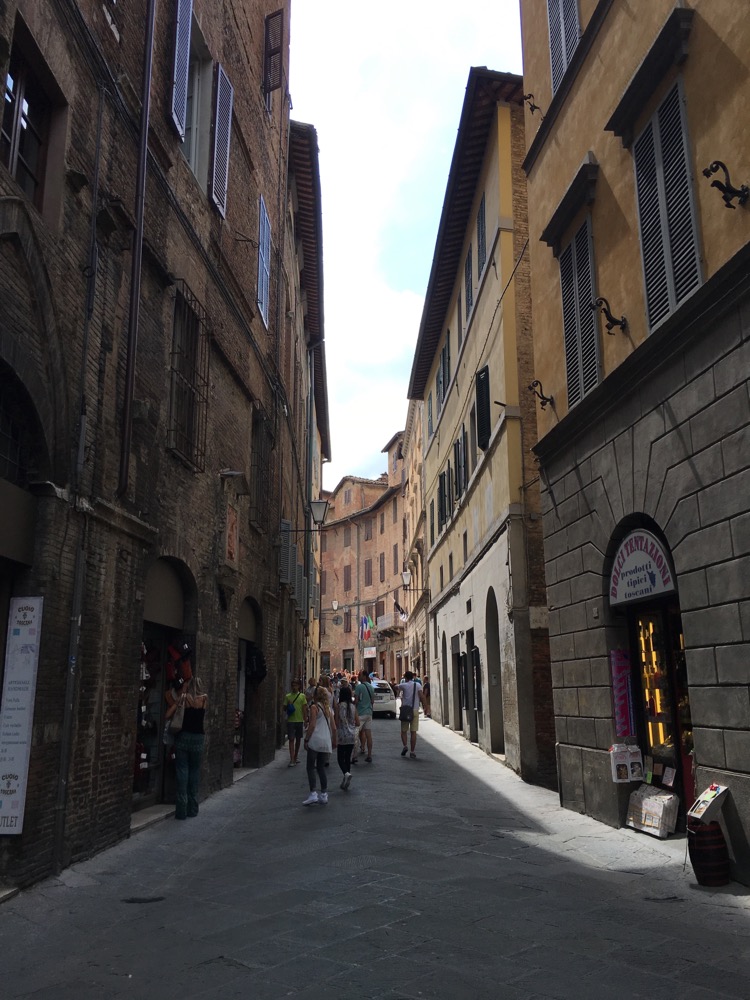 Siena was immediately stunning and oozing with the history it'd absorbed. Apparently, in the 16th century, Cosimo I de'Medici, ruler of Florence laid siege to Siena until he finally took control after 15 months of fierce resistance. He imposed a development embargo on the Sienese to subjugate them further but inadvertently did posterity a massive favour and preserved this magnificent medieval city for us all to enjoy.
I have to say, I'm no shopper and I have a very small window of opportunity to get in, get what I need and get out again before adverse reactions kick in. Here though, I sense things could be different…  The architecture, the history, the way the shops are tucked away in the bases of these towering buildings in narrow, cool streets, interspersed with coffee bars, restaurants, gelato parlours and take-outs selling pizza by the slice… I think I might actually be able to shop in this environment… If there were less people, maybe…
Whilst we're on the subject of coffee shops, we picked up some useful Italian coffee tips: Italians drink cappuccinos only in the morning and think us Brits are weird when we go over there and order them in the afternoon or evening when they'd prefer an espresso. In the coffee bars, the done-thing is to drink your coffee standing at the bar. It's usually much more expensive to drink sitting at a table.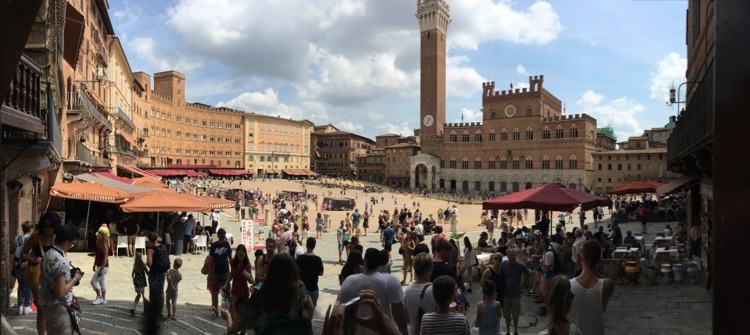 We made our way towards the Piazzo del Campo, the centre of the town and the stage for the Palio. Walking out into it made me want to witness the spectacle even more. It must be incredible!
If you missed yesterday's post, 'Il Palio' is an 800 year-old horse race held twice a year in this Piazzo. Ten bareback riders wearing colours representing 10 of the city's wards race around the course three times competing in honour of the Virgin Mary. It only lasts for about a minute but the place is crammed with spectators inside and outside the 'track' as well as packing balconies and windows. It looks like something out of Gladiator and truly spectacular! In fact, we found a trailer for a movie about it. Here's the clip to give you a taste:
Buzzed up on ice cream, the kids set about running around the Piazzo and letting off steam. We oohed, ahhed and gazed around before the gelato wore off and we needed something more substantial. Rather than eat in the square, we decided to wander down another street and see what we could find. We picked a good one, lined with medieval wrought iron rings to tether the horses and side streets framing a fabulous view down to the Basilica de San Clemente.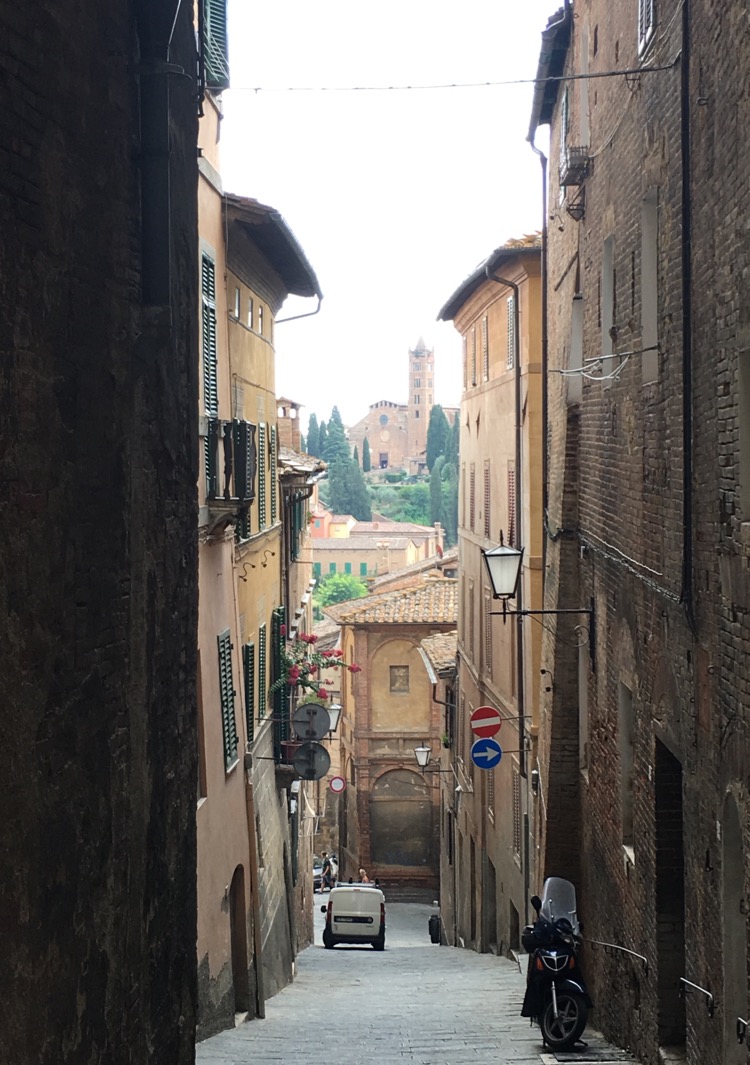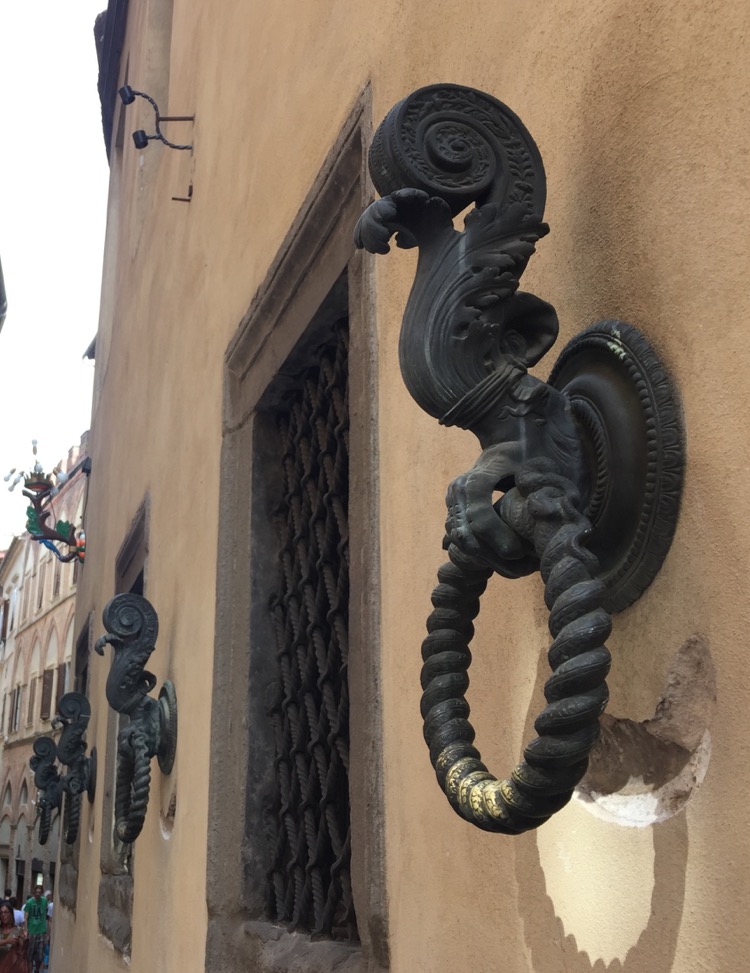 We came across a nice looking trattoria with a free table, ordered lunch and a small carafe of Chianti – we were in central Tuscany after all. Luckily for us, we were just finishing up our meal as an almighty storm arrived and tipped down with rain. All the patrons started getting soaked and we abandoned the street tables and squashed together inside to shelter. When we went back out, the streets were dotted with puddles which Iz and T made a beeline for in their Philippe Philoppes (French joke… Family favourite… What do you call a Frenchman in sandals?;)).
Anyhoo… We wandered back down to the main square and T took two ill fated steps onto the now waterlogged remaining clay base of the the racetrack and slipped flat on his face much to the amusmement of him, Iz and nearby groups of tourists. We dragged him, giggling, over to the fountain (hopefully not sacred!) and washed him off before wandering over to the Palazzo Pubblico for a nosey inside then back into the warren of streets to find the mesmerisingly beautiful Siena Cathedral.
On the steps up, we ran into an old friend from that scary night in the 'Gorge de Saint-May';)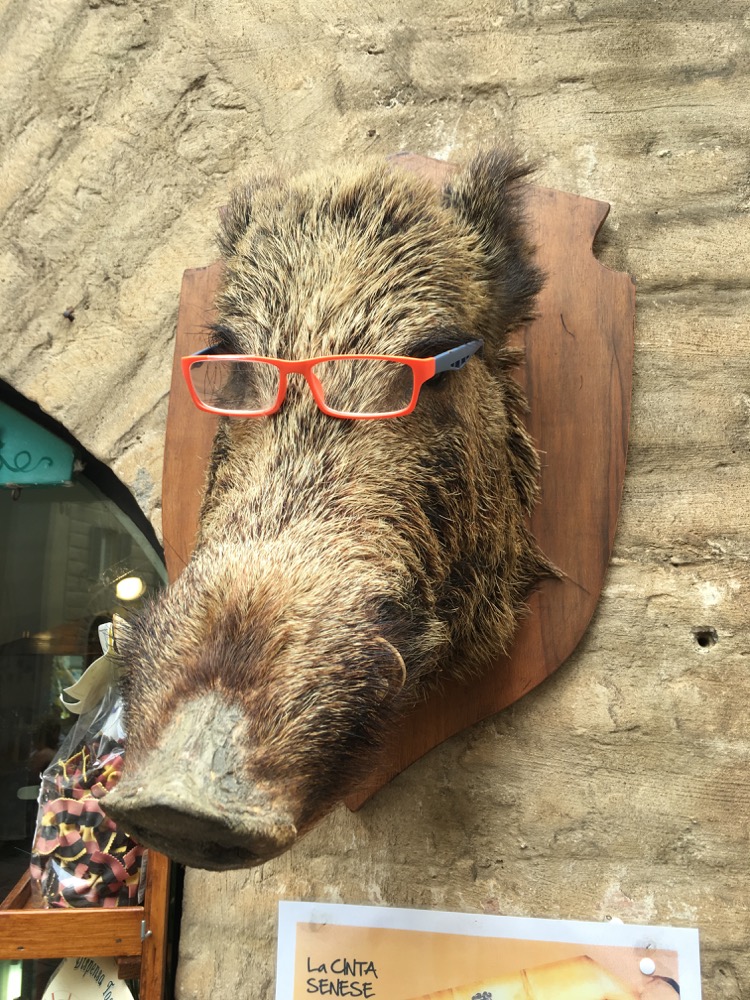 Nina had her mind set on the second gelato of the day and we queued in a seriously fancy looking gelato shop for 4 medium gelatos (in tubs, this time!).
We'd made a small dent in getting to know Siena and would definitely love to return but it was time to crack on. We walked back to the van, half expecting that we'd misunderstood the rules and that there'd be a parking fine on the windscreen but nope, no problem.
Earlier, we'd thought we might have at least a drive through Florence but given the time, we decided we'd circumvent it completely and head straight for Bologna. The main tourist draw for Bologna appeared to be a culinary one (Ragù, not Bolognese!! They're a bit touchy about it apparently) but we didn't know much else, so we set course and Nina got to work finding a campsite for the night.
A couple of hours later, Bologna melted into view. It hadn't been the world's most interesting journey (top prize for bouncy, maybe) and after coming from a place like Siena, the outskirts of Bologna didn't look inspiring at all. We peeled off the motorway when the sat nav piped up and pulled up at a deserted toll station. Nina plopped a handful of coins into the slot, the barrier lifted and we drove on into what looked like an industrial area of the city. It was was pretty much deserted at this time of day and felt very eerie.
We'd progressed from stumbling on a roadside glamour shoot near the Col de Joux Plane to a full on red-light district family safari!
We turned right onto another stretch of road and up ahead, parked in a lay-by, was a motorhome. "Oh look!" I said to Nina, "maybe you are allowed to wild camp in Italy". As we passed it, two more came into view on the opposite side of the road. Passing the first, I noticed the driver seat was occupied by an attractive woman in an 'ahem' tightly fitted top wearing full make up. By the time we reached the second, the penny had dropped… That one had a racy occupant, too and beyond that, the road was lined with what looked like more scantily clad women. I hoped the kids were still engrossed in their Fire tablets.
The first girl had her back to us and a dress that wasn't even attempting to cover her bum cheeks. "WHAT is she wearing!!" came a voice from the back. "Not enough…" Nina and I chorused in unison. We drove on holding our breath, hoping that that was the end of the questioning. We were too tired to try and explain that one right now. We rolled on past more, surprisingly stunning girls with various bits and bobs popping out but thankfully no more questions. In our quest for new cultural experiences we'd now progressed from stumbling on a roadside glamour shoot near the Col de Joux Plain to a full on red-light district family safari!
The campsite wasn't far away at all but we'd already decided we'd probably find somewhere else to stay tonight. We drove on a bit before pulling up to search online for another site. At first look, it seemed like there were loads of campsites but more research revealed they were manufacturers, dealers, shops or suppliers that had listed their businesses under campsites. The site we wouldn't be staying at was pretty much the only one around! We were thinking about going to Maranello to see the Ferrari museum the next day anyway so we decided to skip Bologna as well and head North West for a site just off the motorway near Modena.
40 minutes later, we pulled off the motorway into yet another grotty looking area. It had the same industrial feel as the bits of Bologna we'd seen. The campsite was right beside the motorway toll booths and it was fairly obvious that this was a 'passing through' campsite where you stop if absolutely necessary. I had a feeling there wouldn't be many week-long stays pencilled in the reservations book.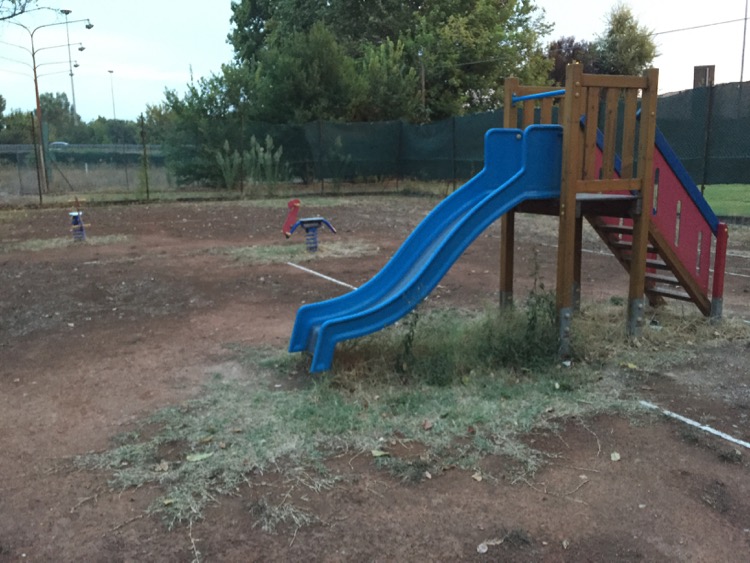 It was hot too, 30°C as we finished setting up camp at 11.00pm. The site's one saving grace was a small shop, open late and selling ice cold bottles of beer. We got the kids off to sleep, drank a very welcome couple of cold ones and after a day of significant contrast, attempted to get some shut eye ourselves.
Don't miss out on any new posts by entering your e-mail address and subscribing to our new post mail-out list.
Feel free to comment below and if you do enjoy the blog, don't forget to like, comment and share. Cheers!