T'was a hot, sticky night and unfortunately the shower block at this Modena campsite site was as grim as the rest of it and didn't do much to rinse off the sweat and grime of the last 24 hours, never mind refreshing the psyche… Ferraris might though! ;D
When we'd set off from Les Gets, we hadn't realised that we'd be passing through an area with such rich motorsport pedigree. We had no idea that Ferrari, Lambourghini and Ducati were all here and located in such close proximity to one another. We'd had a drive past the Ducati factory last night on the way to this campsite but now it was time for some cars!
I was a Lambo fan as a kid and have always loved the aggressive lines of their cars. However, you can't not visit Ferrari at Maranello when you're just down the road! We'd been umming and ahhing about which of the two to go to. A quick look on their websites revealed that the Lambourghini museum and factory tours were completely shut down for the holidays in August… Ferrari it is, then!
We didn't hang about at the campsite a second longer than was absolutely necessary and rolled out for Maranello!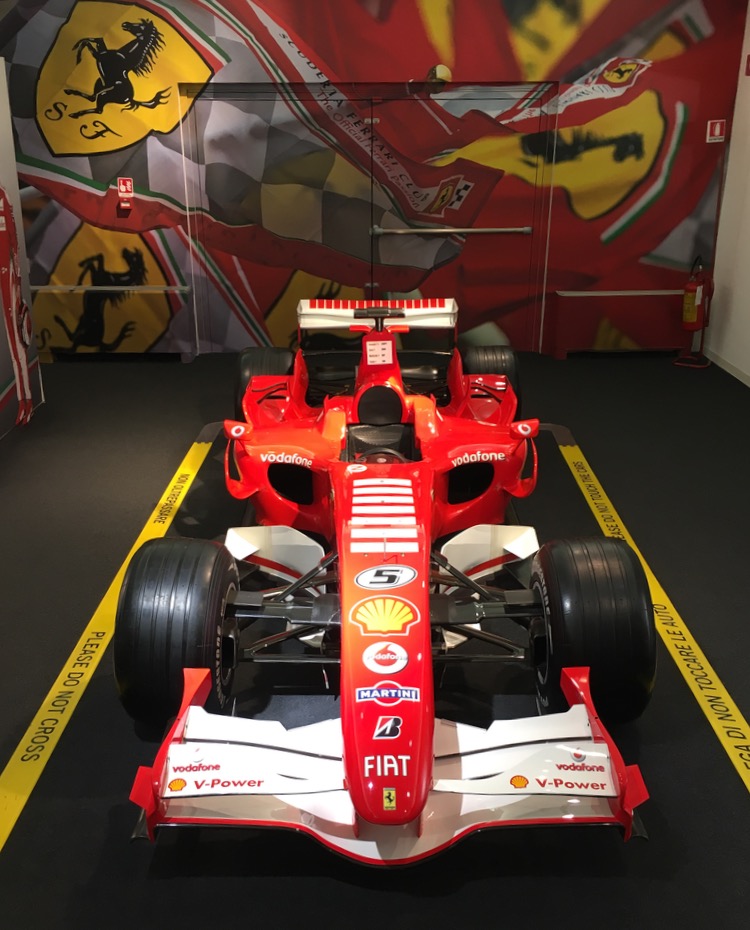 20 minutes later, we parked up and wandered over to the museum entrance to queue whilst watching a steady stream of Japanese tourists doing their best pouty faces, posing for photos beside a giant Ferrari logo. The museum proved to be interesting for all the family with loads of cars from every era, driver stories, memorabilia and trophies. The sound booth was a big hit with T and I. You could listen to different F1 engines starting up, idling and giving it some welly!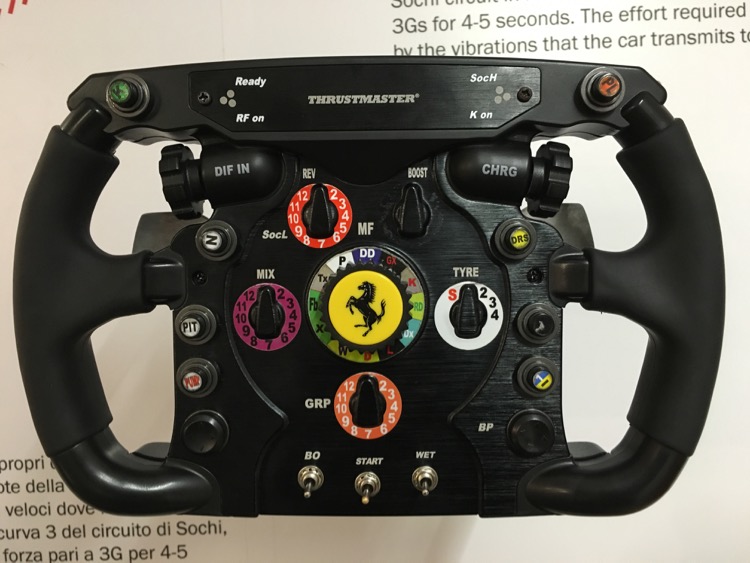 The kids enjoyed playing with the Formula 1 steering wheels mounted on the wall. They simulated the resistance and vibration that the drivers would experience. The museum was busy and there was over an hour's wait for the real F1 simulators so we skipped that. The souvenir shop was as you might expect – seriously pricey – so we had a good look around before leaving with lunch next on the agenda.
We all thoroughly enjoyed our visit and the kids and are now both Ferrari mad! They went on about Ferraris for days afterwards and T now wants to be a 'Ferrari guy' when he grows up… whatever that is!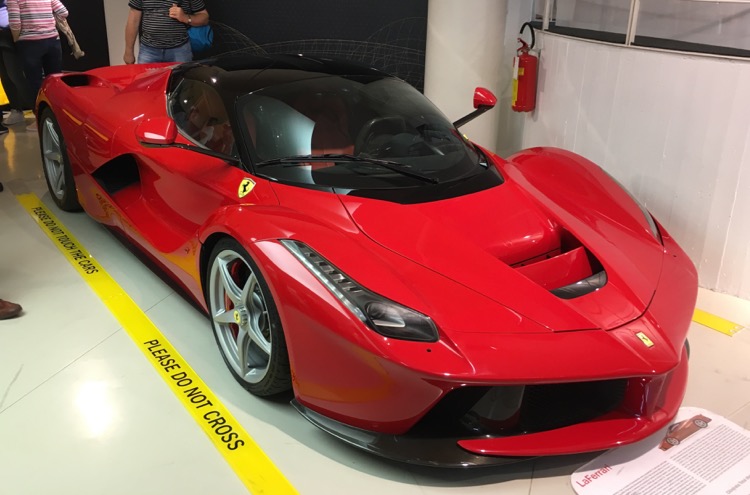 The plan for the rest of the day was to head up through Parma, grab some real-deal Parmesan cheese from a producer's shop and then to go on, past Milan for a night near one of the Italian lakes. As we drove out of Maranello, we couldn't help thinking that, after yesterday, we were leaving with a really negative (and probably unfair) impression of both Bologna and Modena. Both are renowned for their 'foodieness' and we decided it was only fair to backtrack and at least have lunch in Modena. This would allow us to see the centre and give it a proper chance to impress us after just brushing the outskirts yesterday.
We set course for the centre of town and Nina searched for a nice place to eat. She got a bit excited when she realised that Massimo Bottura's three-Michelin-star restaurant was there. Osteria Francescana was chosen as the best restaurant in the world 2016 by The World's 50 Best Restaurants. Nina's been a big fan since watching Massimo put the hopefuls through their paces on Masterchef as well as on Netflix's 'Chef's Table'. We were unlikely to get a table unless we were prepared to get a drink at the bar and hang around for a year but we decided we'd go and have a quick nosey none the less.
We worked our way into the middle of town and had a drive around. Modena was indeed lovely, with narrow cobbled streets and towering shuttered buildings in every pastel shade imaginable! I would hazard a guess that a deeper inspection of Bologna would have softened our opinions of it as well. It was very quiet in Modena though, a little too quiet, deserted even. Apparently, the Italians down tools and go on holiday to the coast in August. It became apparent that a lot of the restauranteurs had rolled down the shutters and cadged a lift with the Lambo guys to the Cinque Terre!
We parked up (easily) and wandered down the most unassuming of backstreets towards Osteria Francescana. There were some delicious smells hanging in the air but, to be fair, they could have been coming from anywhere. There was a lot of them wafting around in Italy. When we got to Osteria Francescana there was little more than a doorway, some plaques and a couple of potted plants outside. Even more tantalising! We took some photos, T knocked on the door (Grrrrr! Why you little…!) and then we walked on in the baking heat and found a nice little cafe/restaurant for lunch. After stumbling through the language barrier with some lovely Italian ladies we managed to order a little selection of local pastas and pizza.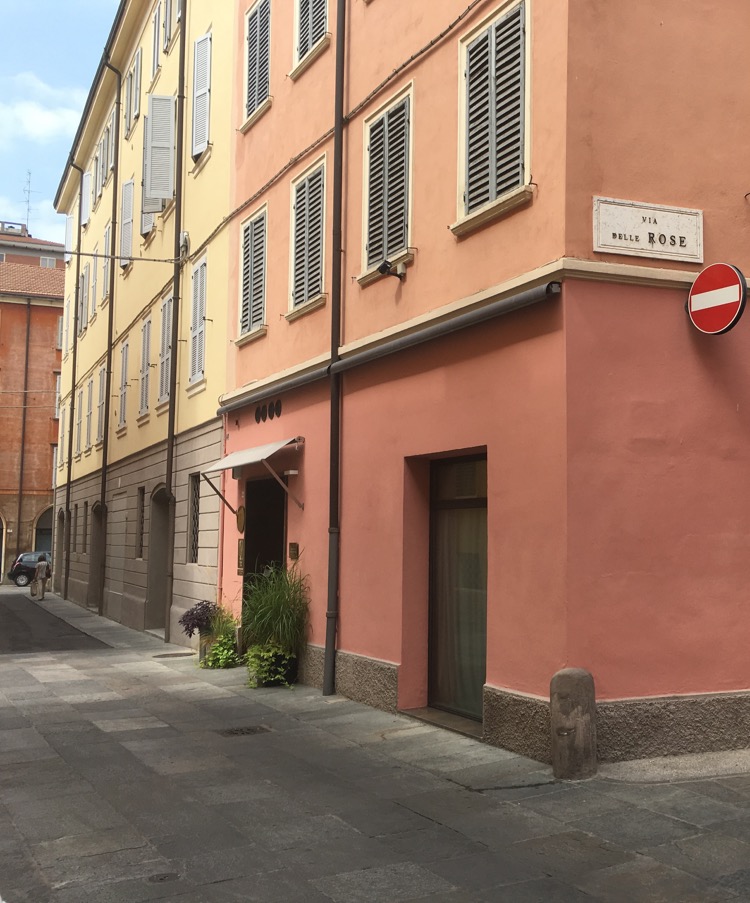 Fed, satisfied and having made ourselves a promise that we'd return and eat at Osteria Francescana when we return to collect our Lambo, we hit the motorway again, north for the Italian Lakes.
We made a quick pit-stop in Parma to load up with Parmesan, then the kids settled in for a movie on the iPad. A quick search online revealed a nice little campsite on the Eastern shore of Lake Como not far beyond a place called Lecco. We eventually skirted Milan and picked up the Lecco signs. As we approached, the mountains started to rise and smaller lakes appeared alongside the motorway, the Alps reared up again and before we knew it we were back in 'tunnel town'. A massive tunnel at that and when we came out we were hugging the Eastern shores of the lake.
10 minutes later, we pulled off in Abbadia Lariana and proceeded down a very narrow road to Camping Spiaggia. It looked like a lovely location and very pleasant campsite (if a little tight!). Gazing at the cool looking water, I was beginning to daydream about throwing on my Speedos and jumping in the lake for a lovely refreshing dip when Nina jumped back in the van  and slammed the door: "They're full!" While I'd been busy dreaming, we'd been blocked in from behind and I had to do a 3000 point turn to get round and out again.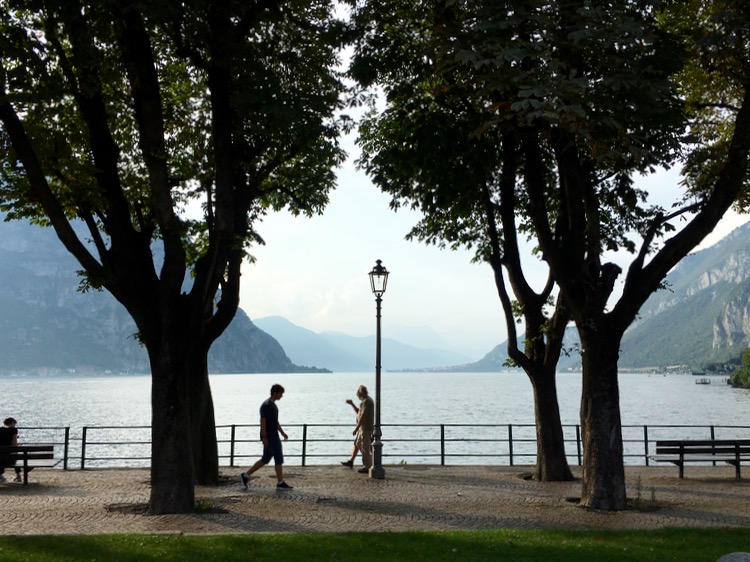 From the safety of a little lay-by up the road, Google Maps revealed three campsites, reasonably close to each other on the other side of the lake. We backtracked to Lecco, which also looked like it was well worthy of a return visit and drove along the waterfront before following the lake northwards on the other shore. We pulled into La Fornace at about 6.30pm and it looked perfect!

An old forge building of some kind housed a bar and a restaurant with a pizza oven, a variety of seating and tables as well as a playground outside. All of it right on the shores of Lake Como with magnificent views of the lake and the mountains beyond.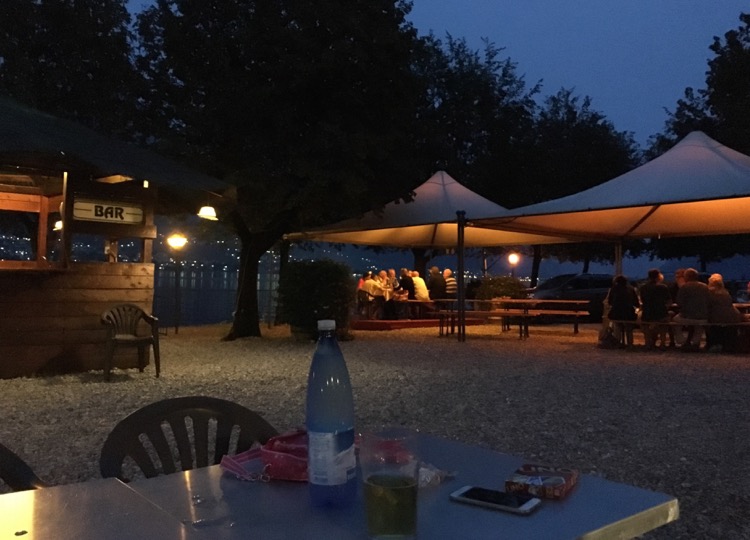 This was just what the doctor ordered after last night, and they had space for us! We parked up in a pitch with ringside seats of the views and set up camp. We wandered over for pizza, beers, lemonades, ice creams and a few rounds of Uno while the sun slowly went down and the darkness descended. Great job, family! A perfect last night of our awesome whistle-stop tour of a little slice of Italy.