Mountain biking is a terrific sport. It takes strength, fitness, skill and finesse. There's thrills, the risk of spills. There's style, progression and camaraderie, and an immersion in the scenery and nature. The bikes, the kit the planning and above all else, pure unadulterated fun!
This section of Up-Stix has stories of great days out riding, useful info about the bikes, mountain biking in general, the parks in and around Les Gets, Morzine and the Portes du Soleil. There's also answers to some frequently asked questions.
It's soo good though!.. Trees whipping past in a blur, eyes on stalks, every muscle and sinew working in harmony to both delicately tiptoe and aggressively muscle your beloved rig down the best line at full chat!
Total engagement, total concentration, total focus.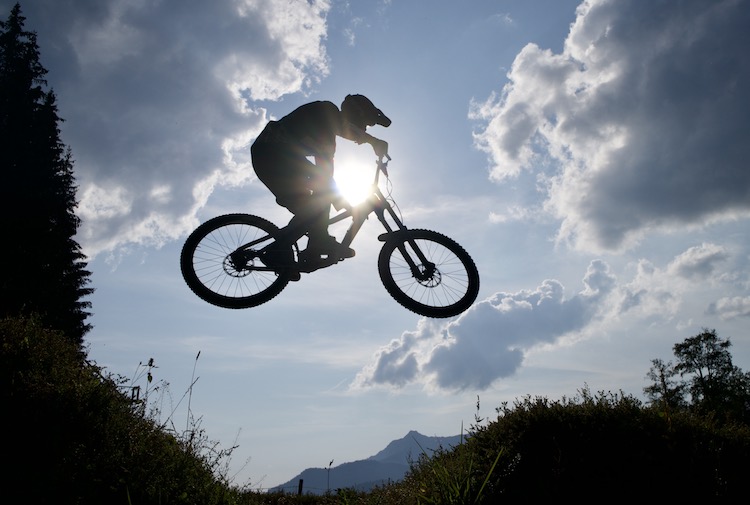 'Schralping' through the berms, 'brapping' over the roots, 'clattering' through a rocky section. Then off the brakes and 'whoompf' for a big poppy hit… Perfect silence and a flying-breather… Spot the landing and 'phwoop'! Off we go again!
Pop out the bottom of the trail, heart pumping, adrenaline flowing to share some excited, manic chatter with your mates (or the fam) before the next one. Yeah buddy!
So good!
Whether you're a beginner, thinking of taking it up or are a seasoned vet, I hope you'll enjoy this mountain biking section of the site and actually… Hopefully the rest of the blog too!
I've been writing about mountain biking on here since starting Up-Stix when we moved to the area 5 years ago. The summers over here are amazing and whether riding solo, with mates, with my wife Nina, one of the kids or 'en famille' the mountain biking is awesome!
There's renowned, World class riding in Les Gets, Morzine, Châtel and Champery as well as excellent trails in Morgins and Avoriaz. These are all lift-linked as part of the massive Portes du Soleil area. Whilst individual resorts open earlier, the season for the full linked area usually kicks of with the excellent PassPortes du Soleil event. Here's our day from 2018.
If that wasn't enough, there are endless numbers of freeride trails and loads of other bike parks in the surrounding area. All in all, pretty damn sweet!
The quality, scale and pedigree of this area draws in the big 'dawgs' of the sport and even when there isn't a competition on, you regularly see top riders knocking around town and sending it on the hill.
Have a look around and feel free to let me know what you think and whether there's anything else you'd like to see or hear about.
As well as mountain biking in the summer, we're mad keen on winter sports and love this area and everything there is on offer here all year round.
If you want to head back to our Up-Stix home page to have a look around the rest of the site just click here.
Get yourself kitted out for Winter
Winter's coming and it's always a treat getting your new kit sorted!.. Our affiliate partner Blue Tomato is THE leading online shop for winter and trend sports, streetwear and fashion with over 450.000 products from over 500 well-known brands. Click here to see if they've got anything you fancy.