Snowboarding is the dog's cajonés… Blasting through floaty powder, roosting big turns and sending it.
I've been in love with it, since I first laid eyes on it, on TV as a kid. The trucks would be off me and my mates' skateboard decks as soon as the first snowflake hit the ground. There was no art of the turn for us back then on those binding-less stumpies. It was straight-line central and see who could stay on the longest, approaching Mach 10 with no sensible way of stopping.
The love never left though, I finally got a couple of lessons, a proper board and (ahem) many, many years on, I still love nothing more (TBH, it is a tie with DH biking) than sliding sideways. I could happily spend all-day every-day doing it.
The culture, the ethos, the sensations. The scenery, the progression, the style, the exhilaration and the powder. Awesome! 
This section of Up-Stix is dedicated to snowboarding. We're very lucky to live out here in the Alps where we can squeeze plenty of it in during the Winter and we're even luckier that one of Europe's snowboarding mecca's, Avoriaz, is just up the road and part of the same Portes du Soleil linked ski area.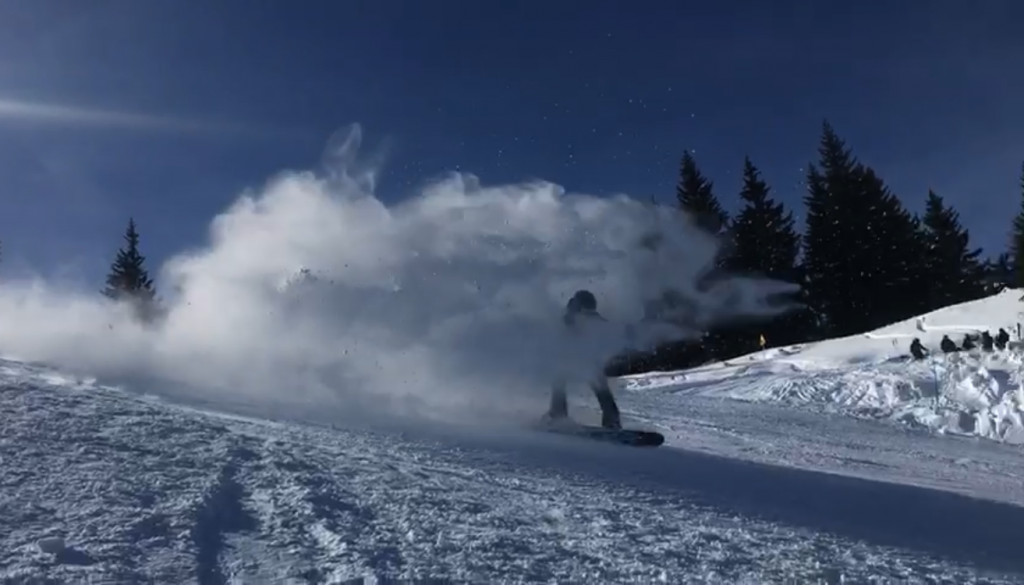 We got loads of boarding related posts stories on the blog since we arrived over here with our kids 5 years ago. They both love it too, although T has fallen for the higher-speed charms of the two plank variety with his band of buddies.
In fact, this link below takes you to all our snowboard related post so far…
I'll be adding loads more useful content about snowboarding and this area of the Alps as well as answering some frequently asked questions. 
For me and many boarders though, you just can't beat the feeling of riding powder and the anticipation of an impending powder day is something else!..
Peeping out of the window before hitting the sack to find big, fat, fluffy flakes cascading out of the sky onto tantalising layers of sweet fluffy snow…
Waking the next morning to glance excitedly out of that same window and find that the snow's stopped falling and the clouds have cleared, leaving behind deep pristine blankets and pillows of untouched pow, glistening in the brilliant sunshine…  And, it's time to ride! 😊👊
This section's all about the boarding.
Up-Stix is all about the snowboarding, the mountain biking, the skiing, Les Gets, Morzine and the Portes du Soleil. We love a bit of 'lifestyle-tweaking' too and also have info on creating your own blog if you fancy it…
Just whack this link to head back to our home page and have a look around the rest of our site. Hope you enjoy. 🤙
Get yourself kitted out for Winter
Winter's coming and it's always a treat getting your new kit sorted!.. Our affiliate partner Blue Tomato is THE leading online shop for winter and trend sports, streetwear and fashion with over 450.000 products from over 500 well-known brands. Click here to see if they've got anything you fancy.