The Portes Du Soleil is a vast mountain playground spanning the French/Swiss border and incorporating 12 individual linked resorts. These ski areas combine to offer an incredible 400 square kilometres of skiing with 307 pistes, 208 lifts and 30 parks/cross trails!
Each area has it's own individual character, terrain, unique views and highlights. Most have enough skiing to keep you entertained for days but on a single pass you can clip into your skis or strap on your board and set off for a full day out exploring, hopping the border, never looking back and never riding the same terrain twice. Magic!
Not every area is linked directly by piste or ski-lift but where they aren't, there are free buses or local 'petit trains' so that you can access everywhere without too much hassle, without taking your boots off and without parting with any extra cash.
The Portes Du Soleil ski area ranges in altitude from 930m in Abondance village to the highest lift access in the whole area at the top of the Mossettes lifts at 2277m. Mossettes is one of the main crossover points between France and Switzerland with lifts coming up from the Lindarets valley in Avoriaz on the French side and from Champéry/Les Crosets on the Swiss side. Whilst they are very close to the border, both the Pointe de Mossettes and the top of these two chairlifts lifts are just inside Swiss territory.
Actually, Nina and I camped up there at the end of Summer for what must have been the cheapest mini break in Switzerland ever!
The Cookie Cafe up there is worth a visit as well with breathtaking views of the Dents du Midi, towering above Champéry below. If your legs are feeling it by the time you get there, there's a cheeky little chill out area upstairs that not everyone notices with some comfy sofas. A quick recharge with a vin chard or hot chocolate, slumped in a squishy sofa is just the ticket.
The border runs more or less along the eastern reaches of the Avoriaz area boundary before handing over to the Châtel boundary and tracing that. It then picks up  the ridge between Torgon and La Chappelle d'Abondance before diving down to Lake Geneva.
There are a couple of other crossover points between Avoriaz and Les Crosets including the top of the Chavanettes lifts which is also the start point for the infamous 'Swiss Wall'. This is a long, steep black, with moguls the six of cars at times. It's not for beginners or the faint-hearted but luckily they allow you to catch the lift down for this one if your legs get a bit of a wobble on when you get to the top.
After that you have to go all the way round to Super-Chatel/Morgins, Torgon and La Chappelle d'Abondance for a bit of border hopping.
The French sector of the Portes Du Soleil is made up of the resorts towns of Les Gets, Morzine, Avoriaz, Châtel, Montriond, St Jean D'Aulps, La Chappelle d'Abondance and Abondance. Morgins, Champoussin/Les Crosets, Champéry and Torgon make up the Swiss sector of the Portes du Soleil.
If you'd like to look at the area in more detail, here's a link to a useful 'Interactive map of the Portes du Soleil'
A tour of the Portes Du Soleil is a bit of a thing. Typically it involves a loop of the main linked resorts in either a clockwise or anticlockwise direction. For a clockwise tour and let's say, starting from Les Gets, you make your way up and over to Morzine, down the Pleney pistes, cross town and catch the bubble up to Super Morzine.
Follow the trail along the ridge to Avoriaz, drop into Lindarets, ascend the Chaux Fleurie lift to Chatel and work your way round to Super-Chatel for a border crossing into Morgins. Zig-zagging round the back from Morgins, through Champoussin to Les Crosets is one of my favourite parts of the tour because it's one of the more remote, harder to get to and peaceful parts of the tour.
Back up and over from Les Crosest lands you back in Avoriaz for the race across to Super Morzine. Down in the bubble to Morzine, across town and back up the Pleney for the home run back to Les Gets and a well earned beverage at the Apres-Ski bar.
It's a really fun day out and you do have to crack on a bit to fit it all in.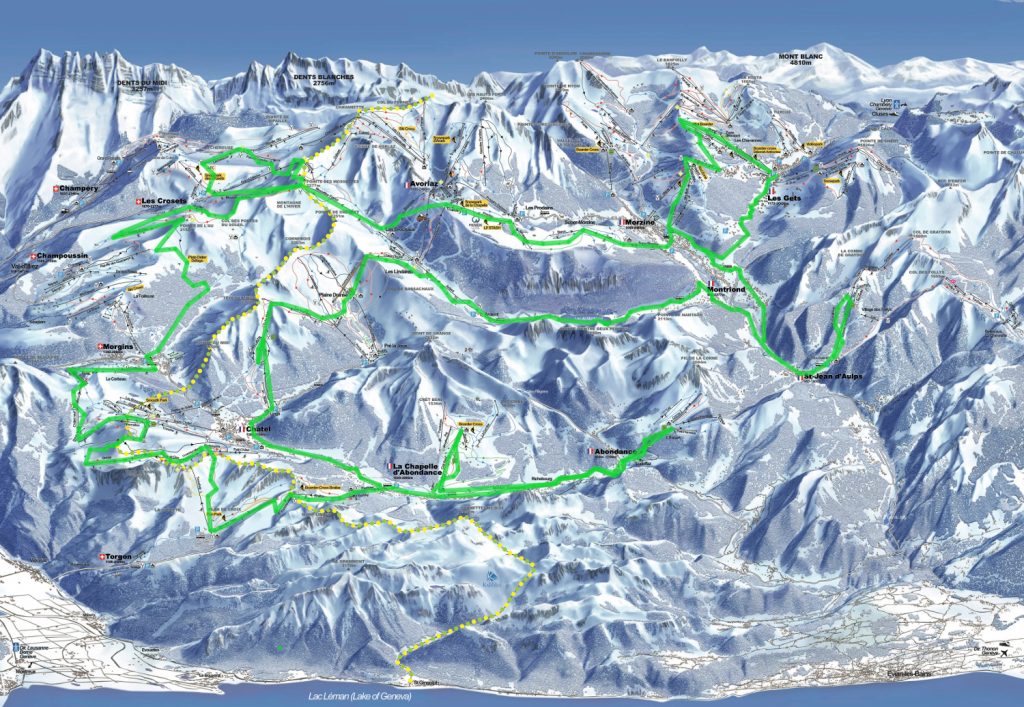 I did start hatching a plan a couple of years ago with a mate to make an attempt at a full tour. After pouring over piste maps and bus time-tables, I figured that it was theoretically possible to ski from Les Gets and at least one run in every resort using only lifts and free transport. The sticking points are getting out to all of Torgon, La Chappelle d'Abondance, then buses to Abondance and St Jean d'Aulps, and back again in addition to completing the main loop.
We've done a few tours including a few we've written about on the blog including:
Our only attempt, so far, at the Up-Stix 'Full Tour' tour.
This mission is to be continued… Let me know if you beat us to it.
More than we bargained for on a family Tour of Les Portes Du Soleil.
Portes Du Soleil in Summer
If it wasn't special enough in winter, The Portes Du Soleil is a stunning and joyful destination in Summer as well. It's so much fun if you're into the outdoors and an active lifestyle oodles of hiking trails, canyoning, lakes, streams, waterfalls, the goat village, high ropes courses, cheese, wine beers… And if you're into mountain biking?.. Oh my days!… Bike parks galore!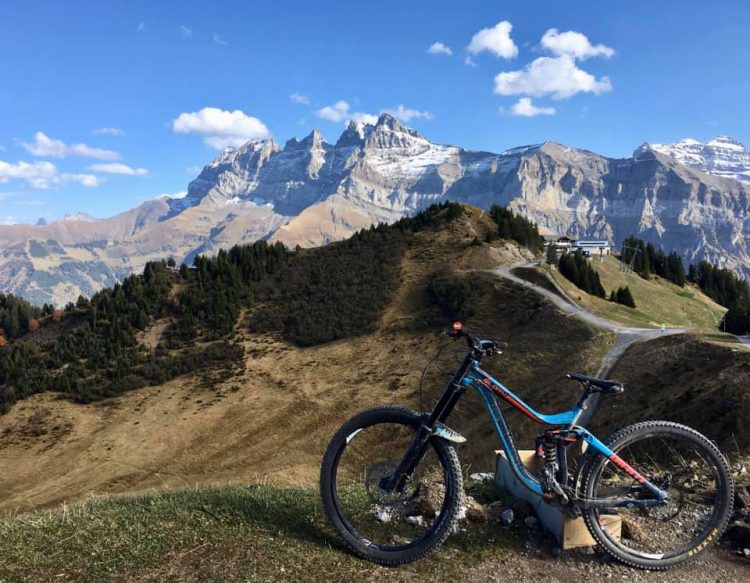 There are fewer lifts open in the summer but many are open to bikes and pedestrians. We got Nina's 90 something year old grandpa to the top of Mossettes that was a pretty special experience.
There is a very popular event called Passportes Du Soleil which opens up even more lifts and terrain so that mountain bikers can do an even more extensive tour of the area whilst being fed and watered with local specialties on the way. A few mates and I had a go in 2018 and it was a super fun and exhausting day out.
As you can probably tell, we are big fans of the Portes Du Soleil you can find more info, experiences and personal favourites in this section.
If you're coming for a visit… Enjoy!
Return to Up-Stix home page to explore more of our blog, check out more of our posts and pages below or this link will take you to the official Portes du Soleil website.
Get yourself kitted out for Winter
Winter's coming and it's always a treat getting your new kit sorted!.. Our affiliate partner Blue Tomato is THE leading online shop for winter and trend sports, streetwear and fashion with over 450.000 products from over 500 well-known brands. Click here to see if they've got anything you fancy.