Day 2 of our Italian road trip: The party at the bar blared on 'til about 3.00am and the stragglers from another one down the road rowdily rolled home at 6.00am! We shuffled out of bed at 7.00am with fully laden bags under our eyes. Fuelled up on cereal and freshly showered, we hit the road to find one of the magical villages of the Cinque Terre. The plan was then to fulfil the kids' request to visit the leaning tower of Pisa.
We pretty much picked up where we'd left off yesterday: Driving aimlessly around the coastal mountains. Our sat nav didn't like it one bit 'round here. Every hairpin was causing it to brain-fart, kicking off repeated route recalculations.
With minimal research, we'd picked Vernazza – the nearest of the five Cinque Terre villages on the map – as our destination. The Cinque Terre (5 lands) is a national park and UNESCO World Heritage Site. It is made up of five coastal villages and the surrounding hillsides on the Ligurian coast of Italy. The villages house ancient, colourful buildings, built in terraces into the rocky coastline. They are difficult to access and quite spectacular! After an hour and a half of driving down progressively smaller, precarious roads, we arrived at the mother of all road blocks. No way through AT ALL! Not for a car anyway. It looked like there was a footpath but at this point we didn't really have the time or inclination to set off exploring on foot.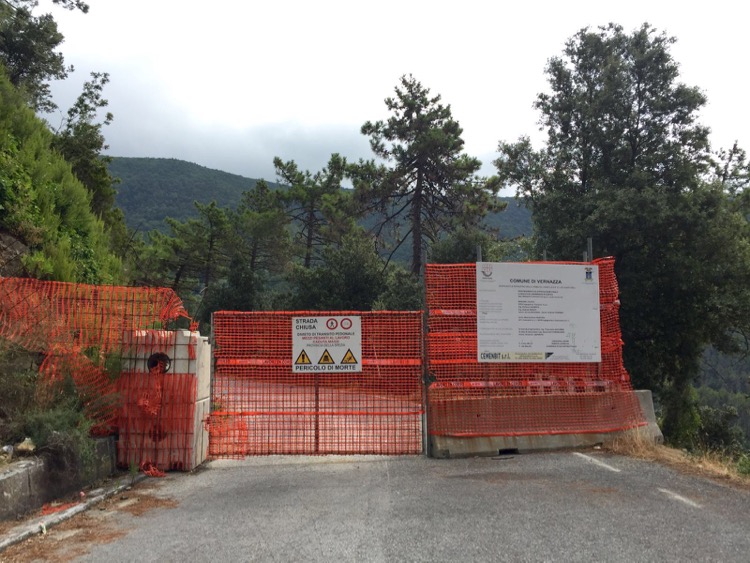 We consulted the map and decided to head for the larger town of La Spezia near the southern end of the National park and the main autoroutes. It looked like the villages of Riomaggiore and Portovenere might be more accessible from La Spezia. By the time we made it to La Spezia though, we decided to knock Cinque Terre on the head completely and just crack straight on to Pisa. We'd have to save the picturesque hikes and colourful villages for another time.
Having looked into it more since we got home, it turns out that vehicle access to the villages of the Cinque Terre is very limited. It's recommended that visitors gain access by train, bus or boat. A popular option is to hike into and/or between them. A permit is needed which can apparently be bought from huts on the trails. On top of that, severe flooding in 2011 led to landslides, road damage and even deaths in the towns. As a result, the already limited road access was restricted even further.
Here's a link to some Google images of how amazing it would have looked if we had made it…
We pushed on to Pisa, negotiated our way through the city and managed to get a space in a car park very close to the tower. 60 cents per hour for parking near such a famous attraction seemed like a total bargain, by UK standards anyway! We wandered up and were surprised by the sheer volume of people there. There were thousands. The Pisa tower was pretty cool and after hearing people over the years say: "It's smaller than you'd think." It was actually much bigger than I'd expected!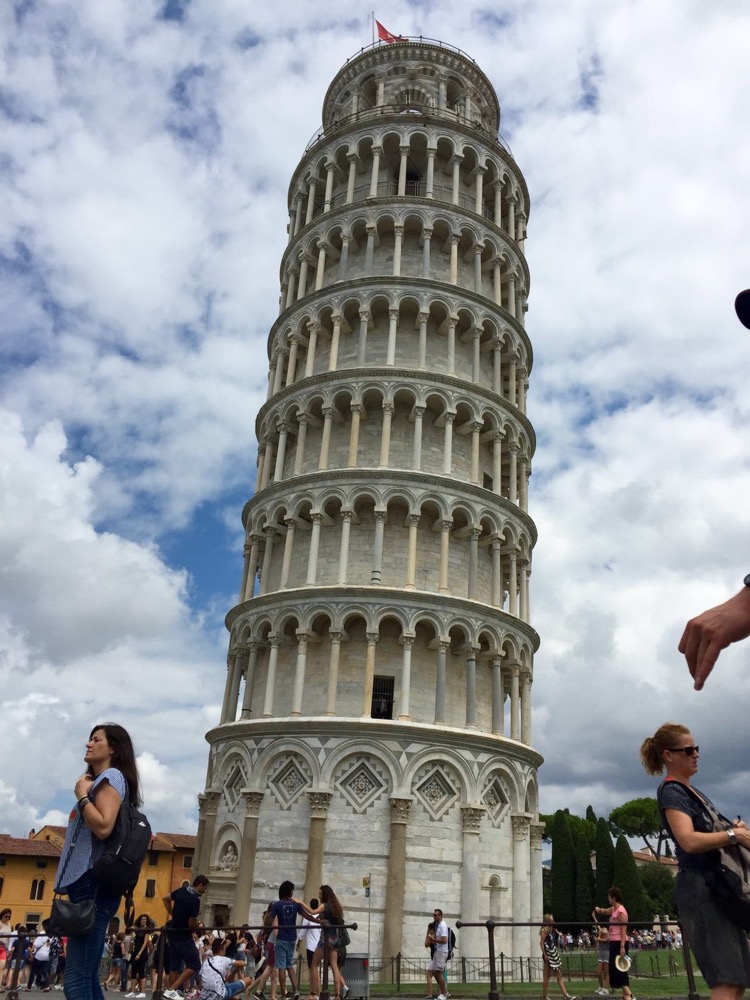 Almost as interesting as the tower and surrounding buildings was the people watching. Everyone was doing their own individual 'holding up the leaning tower' photo. I took more photos of people holding it up than of the leaning tower of Pisa itself!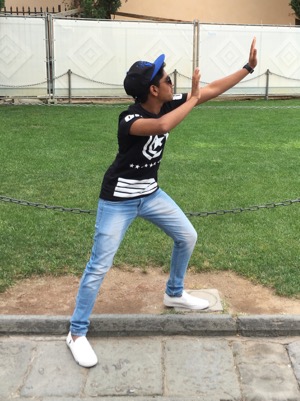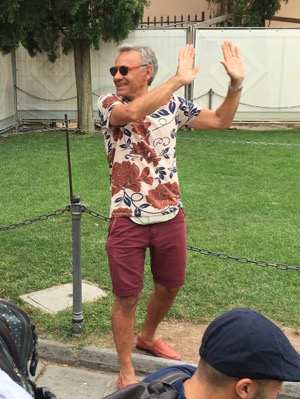 We wandered around the surrounding streets and grabbed a pasta lunch outside a nice little restaurant called Osteria de Mille. Ravioli with saffron, mushrooms and truffles for me and it didn't disappoint. By contrast, however, the service wasn't terrific.
Nina had been getting herself and the kids excited about all the Italian ice cream we'd be eating in Italy. With this in mind, after lunch we moseyed off to pick up our first bona-fide 'Gelato'. These bad boys melt quickly and within a few minutes, the kids had more gelato on them than in them! (Notes to selves: A tub rather than a cone next time!).
Having spent a considerable percentage of the last two days in the van, it was time to find a campsite with a pool and a playground to let the kids burn some energy, cool down and have a good old play!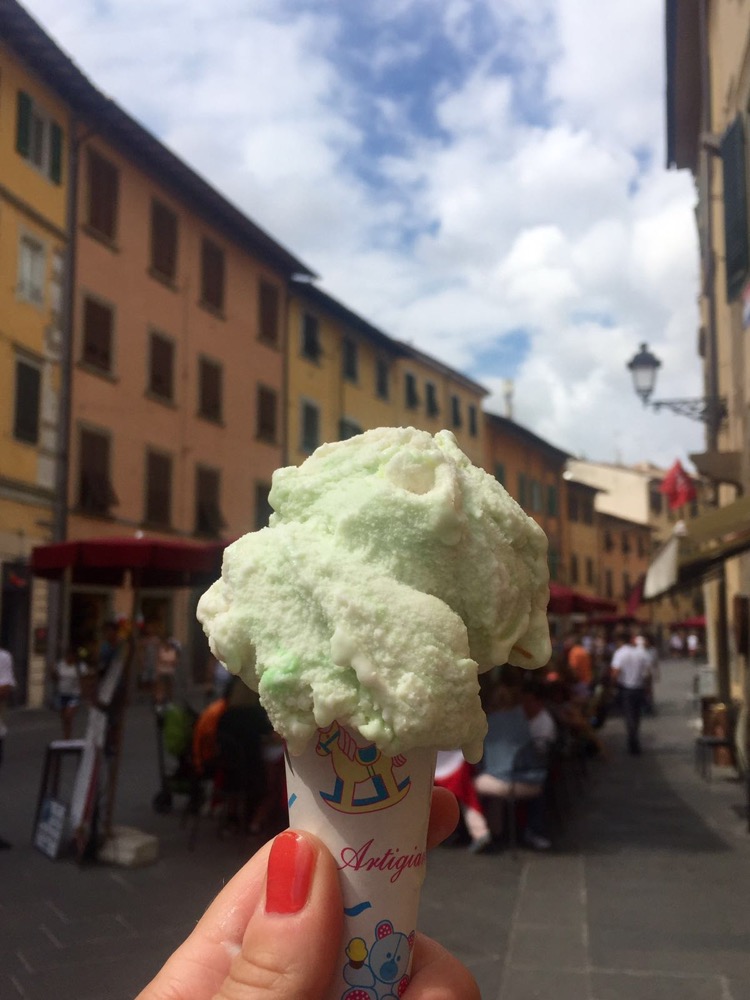 Florence and Siena were both on our 'would like to visit' list. However, the general consensus of advice before we left Les Gets was that if we had to choose between the two, we should do Siena. We fired up t'internet and found a fine looking campsite just to the north of the city. I drove us out of Pisa but was struggling to keep my eyes open thanks to last night's party animals. Nina had managed to grab 40 winks on the way to Pisa and took over the drive to Siena while the kids and I worked on developing our stiff necks. The road to Siena is in a shocking state and as we nodded off, our heads were flopping and bouncing all over the place.
The 'Colleverde Siena' campsite was as good as it looked online, and they had space! Great pool, playground, clean facilities, volleyball, table tennis, cafe, bar and restaurant all on site. We could easily have spent a few days there. We set up camp, purchased the obligatory swimming caps and set about ruining the tranquility in the pool.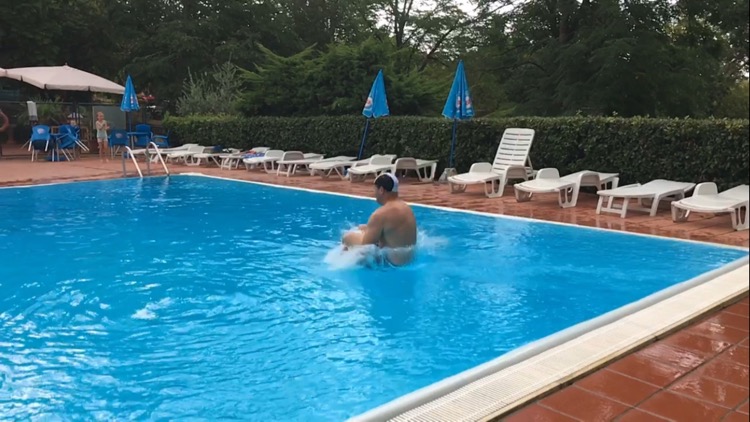 We'd not heard many British voices in Italy so far but our neighbours on site turned out to be a friendly British family on a 7 week tour of France and Italy. They mentioned that the Palio had been on the night before and the campsite had been packed, then deserted when everyone disappeared to watch it. "What's the Palio?" I asked. As soon as they started to explain, I knew I'd seen it years ago in a Sunday supplement and had thought I'd love to see it someday.
'Ten bareback riders wear colours representing the city's wards…'
'Il Palio' is an almost 800 year-old horse race held twice a year in the centre square, the 'Piazza del Campo'. Ten bareback riders wearing colours representing 10 of the citiy's 17 wards race around the course three times competing in honour of the Virgin Mary. It looks truly spectacular! Google images again of how spectacular it would have looked if we'd visited a day earlier.
Sod's law, we didn't even know it was on and we'd missed it by a day.
We headed off to the campsite's restaurant for dinner and on the way, our kind new neighbours invited us back for a drink after we'd eaten. The meal was great but the service was worse than lunchtime and by the time we got back to the van, they'd already gone to bed!
We followed their lead for a much needed rest. They were very excited about Siena and now so were we…