Nina and I stayed up late-ish on Friday and were lucky enough to pop outside and see about 15 meteors from the Perseid meteor shower. We didn't wake the kids to see them but decided that on Saturday we'd get ourselves organised and go for a proper wild camp, high up, away from light interference and with a great view. Hopefully we'd get a nice sunset, meteors AND a sunrise!
Having studied the map, we'd picked out a spot round the back of the Ranfolly bowl near the Col de Joux Plane where the Tour de France guys puffed up just a few weeks ago. The road runs from Morzine over the Ranfolly pass before its long descent to Samoëns. Near the top there's a picturesque lake, a mountain restaurant, a bunch of parking spots and several footpaths. One of these leads to a parapenting take off area called La Bourgeoise. It looked like we could follow it for a while before nicking off the trail to find somewhere a bit more secluded to pitch up.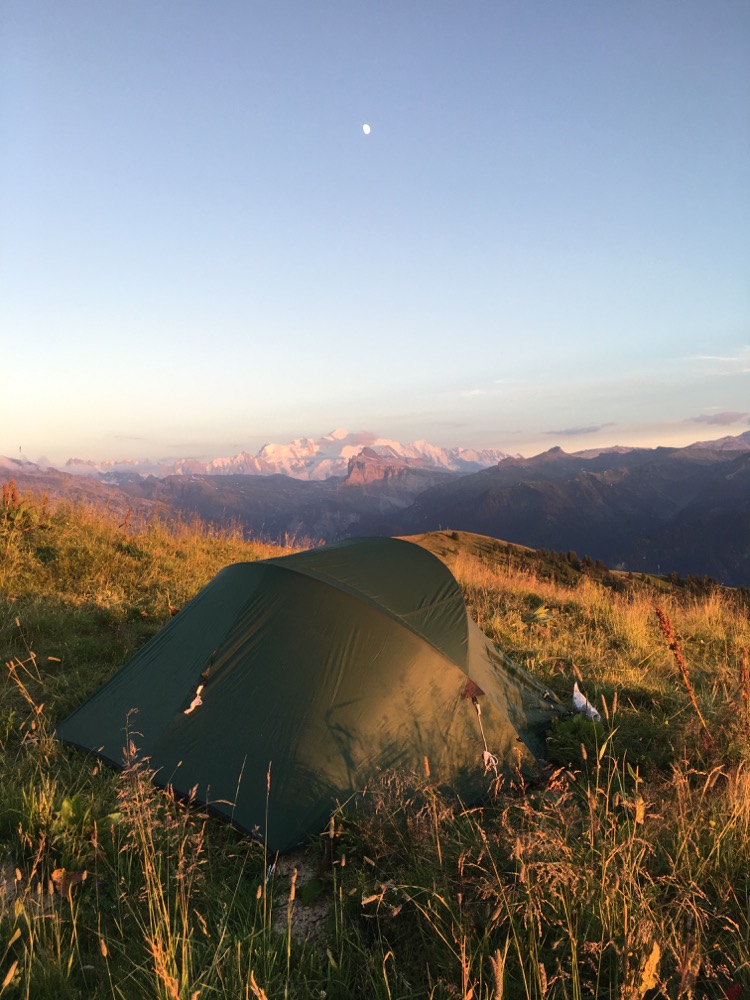 We rifled through all our gear and packed what looked like enough stuff for a polar expedition. We've only got a two man tent but that's supplemented with two Gore-Tex bivi bags which would be ideal for stargazing/dozing/accommodating visiting critters. We borrowed some camping mats from our friends and loaded up the van.
We picked up some sausages, marshmallows and a baguette in Les Gets before winding down to Morzine then up to the Col du Ranfolly. This section of road was closed before the Tour de France and it was the first time we'd driven this far. We drove through some forest and round a steep cutting before the other side opened up in front of us.. Wow! Spectacular views down towards Samoëns and up over the Grand Massif of Flaine and on to Mont Blanc. We could immediately see the footpath we wanted cutting across the hillside towards La Bourgeoise. There were more people walking along it than I'd expected and as we drove on I thought we might leave it a little while and let some of them go home before we started traipsing round the side of a mountain looking for a good spot to bed down. Drinks and a plate of chips at the restaurant should pass a little time.
As we were dithering about, deciding what to do, I pulled into a lay-by to let a car overtake. As we tucked in behind the car that was already parked we noticed that there was a light reflector rigged up on a stand and it looked like some kind of photo shoot was going on behind the car. There was!.. And, it looked like the early stages of an (ahem) 'glamour' shoot. A buxom blonde with denim shorts and a shirt knotted at the front was stood posing for the photographer in the early evening light. It looked like we'd turned up before things got too racy. Dammit! 😉
We found somewhere to turn round and headed back to the restaurant for a drink. Kitchen closed! An amazing location for a restaurant but a below par experience for us. T made full use of the facilities (thankfully) and we finished up our drinks and drove around to the public parking. We grabbed our bags out of the van and set off up the footpath. After 15 minutes or so, we turned left and climbed cross-country, upwards towards the ridgeline.
After a bit of a slog and a lot of complaining, we found a nice little mound. A little lumpy but reasonably level with stunning panoramic views all the way from the Mont Blanc Massif, down to Samoëns, Taninges, Cluses and right the way round to Praz de Lys, Roc D'Enfer and the top of the Ranfolly lift to the West.  A further 30m climb from base camp revealed the top of the Chamossière lift, the Dents du Midi and the Dents Blanches to the East. This would do very nicely! We set up camp among the cow pats and found a nice bit of broken ground a few feet away that would make a perfect fire pit for the sausages and marshmallows.
A mate of mine came up with the bright idea of carrying a little bag of charcoal with you on a wild camp where firewood might not be available. It's great idea and having the heat, light and warmth of a fire is always part of the magic of camping for me.
We were treated to an incredible sunset as it dipped and disappeared over Praz de Lys, leaving a magnificent symphony of oranges and reds in its wake. We got a small camp fire going with the charcoal we'd packed and finally ate our hot dogs at about 10.00pm. I'd been lucky enough to spot 2 meteors while we cooked. The kids' focus was solely on the upcoming marshmallows rather than the sky and once they'd had their molten sugary fix they unexpectedly and totally out of character asked to go to bed…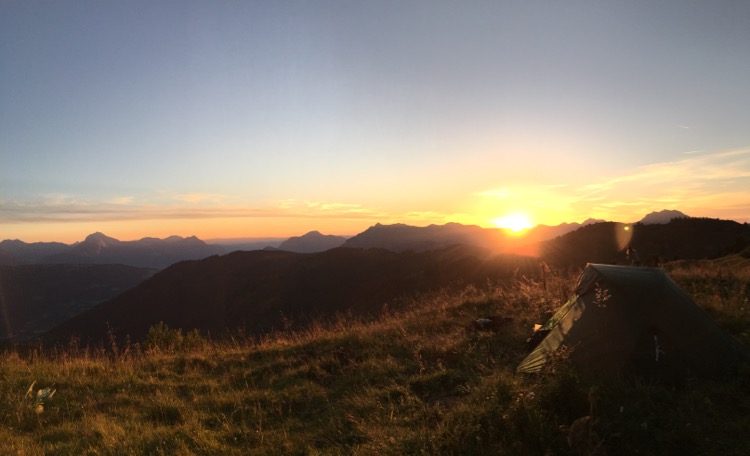 The kids had decided that Nina should keep them company in the tent and they all had a good laugh at my expense as I slipped over trying to get into my sleeping and bivy bags. We all said night night and I lay awake watching the stars and spotting more meteors. As we'd predicted, a good night's sleep was a total write off… Late to bed, lumpy, uncomfortable, damp, with the sound of cow and sheep bells jingling constantly. T woke around midnight to repeatedly shout at Iz to "budge up". After several minutes of arguing, she decided to join me outside and squidged in alongside me in the bivy bag. We snuggled up and spent a delightful hour or so together looking at the stars, watching the moon dip towards the horizon and turn orange. To top it off, we both spotted more meteors. Magic!
We dozed off and next time Iz woke, she'd had enough of the fresh mountain air and was ready to head back inside the tent.
 T dramatically exclaimed "IT'S A MIRACLE!"
We had tried to set up our Contour camera for a timelapse of the sunset and the stars but it's been playing up recently and we've just got a memory card full of blank images. Time to bite the bullet and go for a GoPro, me thinks.
If a late night and minimal sleep wasn't enough, I'd set the alarm for 5.50am. The Interweb had told us that sunrise was due for 6.30am and we didn't want to miss it. When it went off, I hit 'snooze' automatically and on the next cycle whispered to Nina if she'd heard it. She had and crawled out of the tent rubbing her eyes. Judging by the light, the sun was going to rise beyond the ridgeline just above us and we decided we'd leave the kids sleeping and walk up and check it out first. Typically, they woke just after we got there and then freaked out that we weren't there! I ran back down, got them dressed and we all headed back up to wait for the warm rays to spread over us.
We had quite a wait! We could see the sunlight spreading onto the hillsides in the distance on either side of us but we were in a big chunk of ground that was shaded by the Dents du Midi ridgeline. We'd have to wait a bit longer for the sun to peep over the top for us.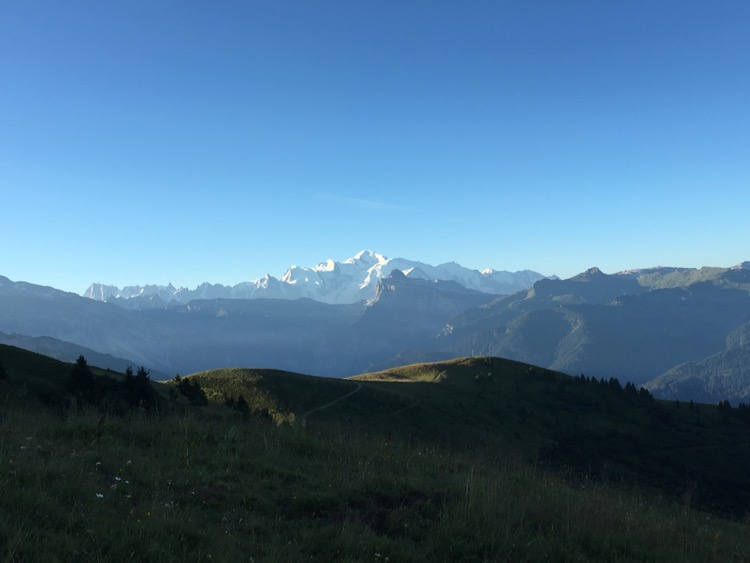 As we waited and amazed at the stunning landscape in every direction, Iz said "Look! The Dents du Midi looks like a face from the side with it's mouth open and an eye and a nose."
We all tilted our heads to the left and chorused "Ohhh, yeah!"
A few minutes later, the sun peeped through.
Nina said "No way, the sun's rising in the eye of the face!"
Without a moment's pause, T dramatically exclaimed "IT'S A MIRACLE!" I've no idea where that came from but it's still making us laugh!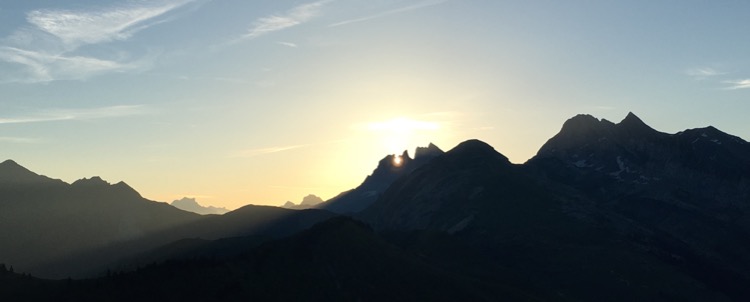 We warmed ourselves through with the sun's rays and drank in the moment for a little longer before squishing back through the wildflowers and long dewy grass to pack up the camp. We set off walking back to the van and once we hit the track we were joined by two cows that jingled their cowbells alongside us all the way back to the van.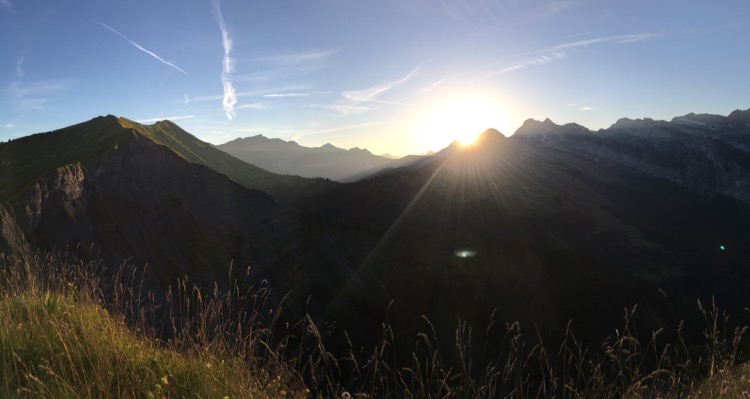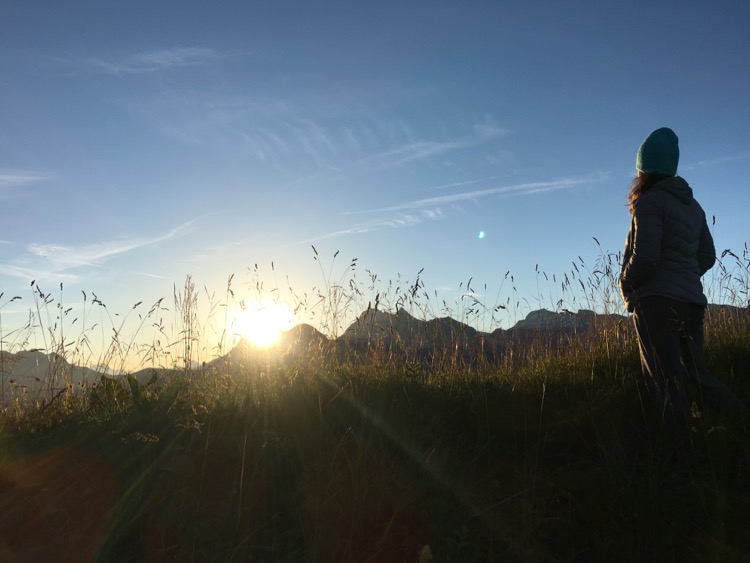 Experiences like this are brilliant. It's a hassle getting ready, getting there and convincing the kids to keep going. It was an uncomfortable, cowpat laden, sleepless night and everything we took with us is now in the wash or hanging out to dry out. Despite the hassle, it was a terrific night to share with the kids and one that will stick in mine and Nina's memories. Hopefully the kids'll look back and treasure it too.
Now, need sleep… Zzzz…
Don't miss out on any new posts by entering your e-mail address and subscribing to our new post mail-out list.
Feel free to comment below and if you do enjoy the blog, don't forget to like, comment and share. Cheers!