We were on a mission yesterday. As the best looking weather day this week and with the snow rapidly disappearing, it might be our last chance to do a proper tour of the Portes du Soleil this winter. This has been on our and our friend Jon's to-do list all season but with poor conditions and loads on, the weeks have whizzed by and yesterday was last chance saloon!
The Portes du Soleil is a huge ski area with 12 'linked' resorts in both France and Switzerland included on the lift pass. A tour of the PDS is a popular day out and there isn't really any definite criteria required to complete it. A rough circuit taking in several Swiss and French ski areas in the PDS does the job and can be as vigorous, leisurely or extensive as you want.
I wanted to see if was indeed possible to do a 'proper' tour and visit each of the 12 resorts in the PDS in 1 day. We agreed it should mean leaving from and returning to Les Gets and doing at least a lift and a piste descent in every ski area using only lifts, pistes and free ski buses.
Plan A
This was always going to be tight and some proper planning would be a necessity. With this in mind, I sat down over the weekend with downloaded bus timetables and a piste map to figure out a schedule from Les Gets. It soon became apparent that we had a couple of major hurdles. La Chapelle d'Abondance and Abondance require a lengthy and infrequent bus link (Chatel bus info) and St-Jean D'Aulps would require two buses with a change. (Morzine, Les Gets SJD bus info)
We decided that St-Jean D'Aulps was the biggest problem and, as it was closer to home, we'd leave it until the return leg if we had time. Our plan was to head straight out towards Abondance and see how we got on from there.
We dropped the kids at school, met up with Jon and descended on Berthet Sports ski shop for a quick wax to keep us speedy. I fired up Ski Tracks on my phone to track and record our progress and we caught the Chavannes Express when it opened at 9.00am. We did the usual trek towards Switzerland, riding through the golf course in Les Gets, up the Folliets lift, down to the Pleney lift, walked across town in Morzine, caught the Super Morzine bubble, jumped on the Zore chairlift, slid down the long, tedious green run to the Proclou lift which carried us up and over the Chapelle Snowpark before disembarking and descending down into the Lindarets bowl. The pistes were great at this time of day and with ski tracks running in the background, I couldn't resist the temptation to straight line it a few times to have a crack at my speed record. We got to the bottom in Lindarets and that was 3 resorts done. Les Gets, Morzine and Avoriaz "check" and it wasn't even 10.30am!
Montriond is (a little tenuously…) listed as one of the resorts in the PDS ski area even though Montriond itself is quite a long way down the valley from the Ardent lift access. Unsure exactly which pistes fall under the Montriond bracket, we figured we'd better ride down to the base of the Ardent lift and catch it back up just to be on the safe side and tick it off the list.
Next stop, the Chaux Fleurie lift and over into the Châtel area where we zig zagged up, down and across the mountain on lifts and pistes before dropping over into the long run down to the Linga cablecar base station. We skidded to a stop at Linga at 11.19am. 5 areas done! Perfect timing too, as my research showed a bus running out to Abondance from here at 11.30am! We found the bus stop and double checked with a driver of one of the free Châtel buses that we were in the right place. 11.30am came and went but no bus…
We were obviously on a tight schedule and as it got to 11.45am we were getting twitchy. We found the timetable board and Nina spotted a stuck-on note saying that our CB1 bus had stopped running on the 5th March which meant the next one was at 13.05! Damn! No good!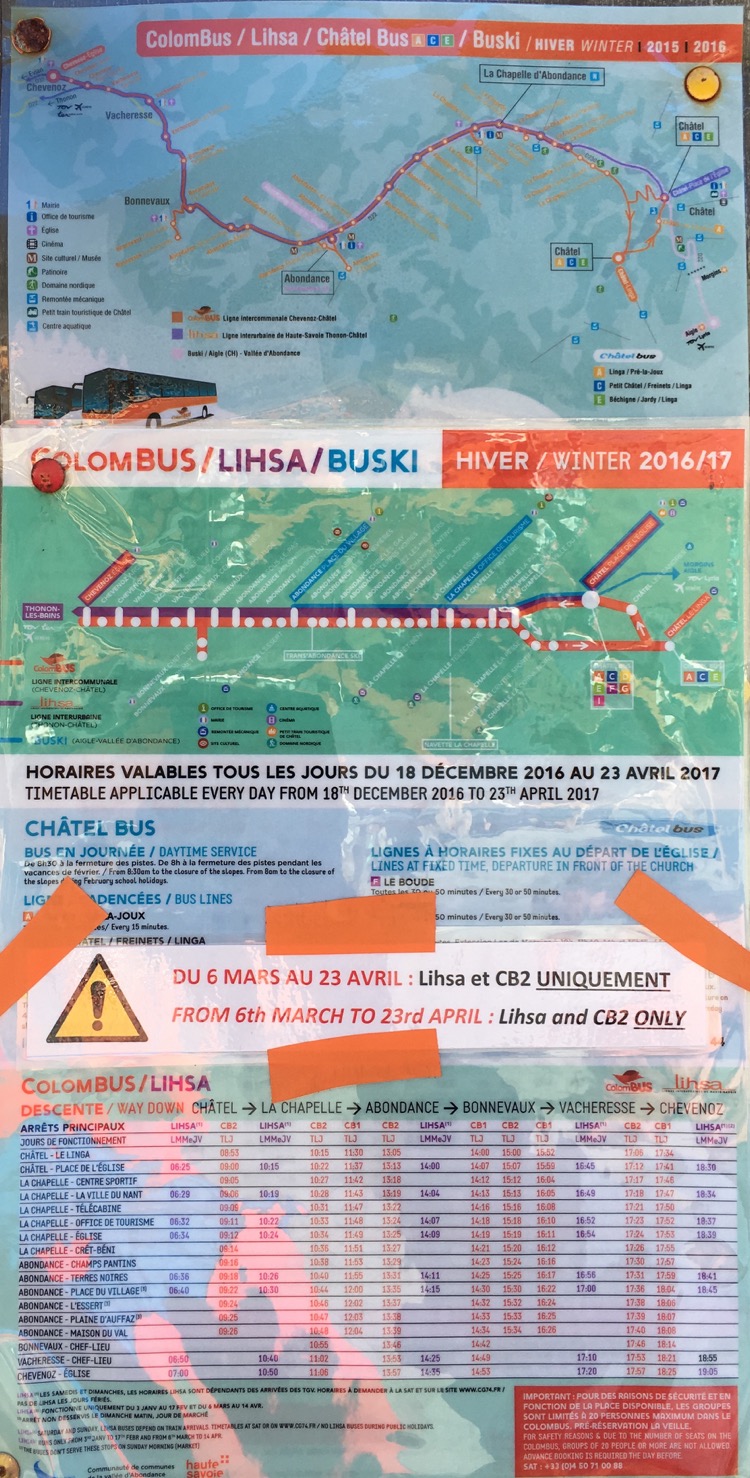 Plan B
We unfolded the piste map for a re-think. It looked like we could actually make our way from here up and around to Chapelle d'Abondonce on lifts and pistes and maybe we could catch the later bus from there. Having wasted a precious 30 minutes, we strapped in and caught a button lift to get going. 5 minutes later we were back where we started. The button didn't take us high enough… We needed to catch the bubble. We worked our way around the Châtel basin on pistes and lifts, aiming for the area at the top of the Super Châtel lift where we could get the Morclan chair up and over to Torgon and link to Chapelle d'Abondance.
30 mins later and with increasingly slow, soft and slushy snow, we located the Morclan lift only to find that that too was closed! Plan B was scuppered! We decided to stop and rest our sweaty squelchy feet, refuel and take stock.
Plan C
Looking at the map again, it was obvious that Torgon, La Chapelle d'Abondance and Abondance were definitely out of the window. So, after wolfing down our lunches, we decided to just crack on and make our way to the Swiss resorts.
As we caught the long Chalet Neuf lift up to the col between Châtel and Morgins, I recognised the big climb that my friend Chris and I had done on our summer bike Tour of the PDS. I was glad to be gliding up it on a button rather than squeezing out the pedal strokes! As we dropped in to the Morgins side of the pass, the conditions took a serious turn for the worse with a thin ribbon of patchy muddy snow lining our descent. Even downhill, progress was slowing now. With the strengthening sun, the slopes were getting slushier and more grabby and we were having to scoot sections that we'd have whizzed across in colder conditions. The descent to Morgins ended prematurely as our brown carpet of muddy snow ran out and we were forced to take another button up to catch a chairlift down to Morgins.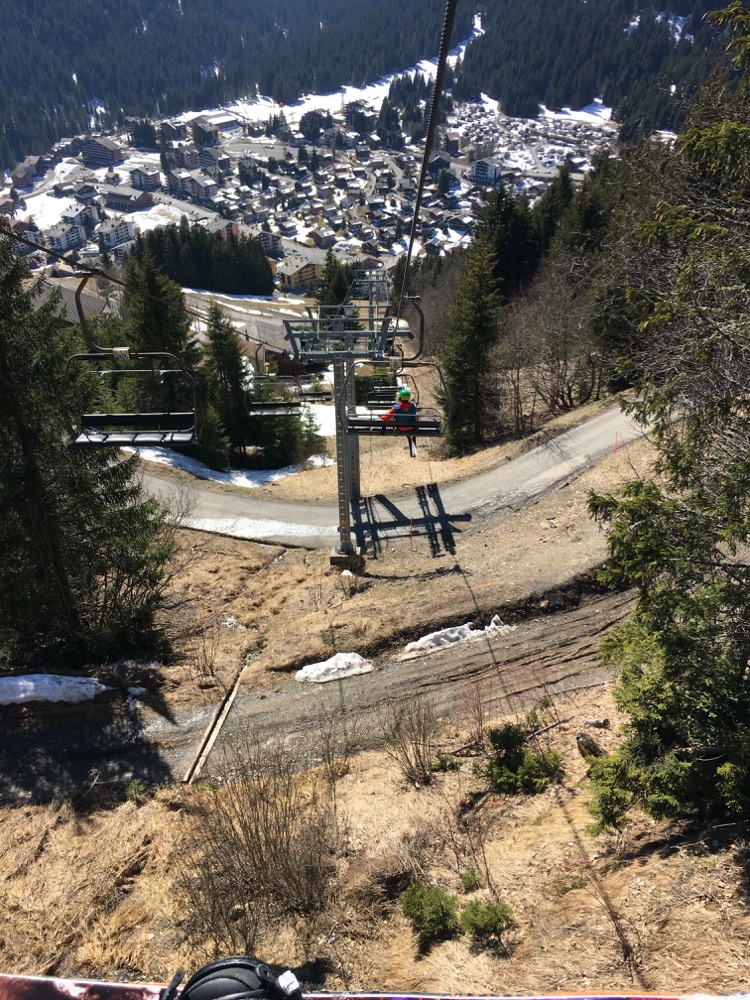 The slowing progress meant there was another problem looming now… Picking the kids up… As we arrived at the village of Morgins, we realised we needed to just concentrate on getting back to Les Gets. It wasn't a desperate situation as we've got lovely friends here, one of whom would surely have been able to help us out, but we decided to crack on and get back ASAP. We'd keep an eye on the time and if we needed to start making calls we would.
We walked across town through a decidedly summery-feeling Morgins and caught La Folleuse chair out of the other side of town. I took the opportunity to bore Jon with my tale of hiking for Iz's ski pole last year. We resumed our vertical zig-zagging across breathtaking scenery and tasty looking powder day terrain, taking time on the lifts to drink in the magnificent views of Lake Geneva, the Swiss Alps, the Dents du Midi and the Dents Blanches. We rode through Champoussin and Les Crosets before catching the lift back up and over the shoulder of Mossettes, eventually dropping into Lindarets.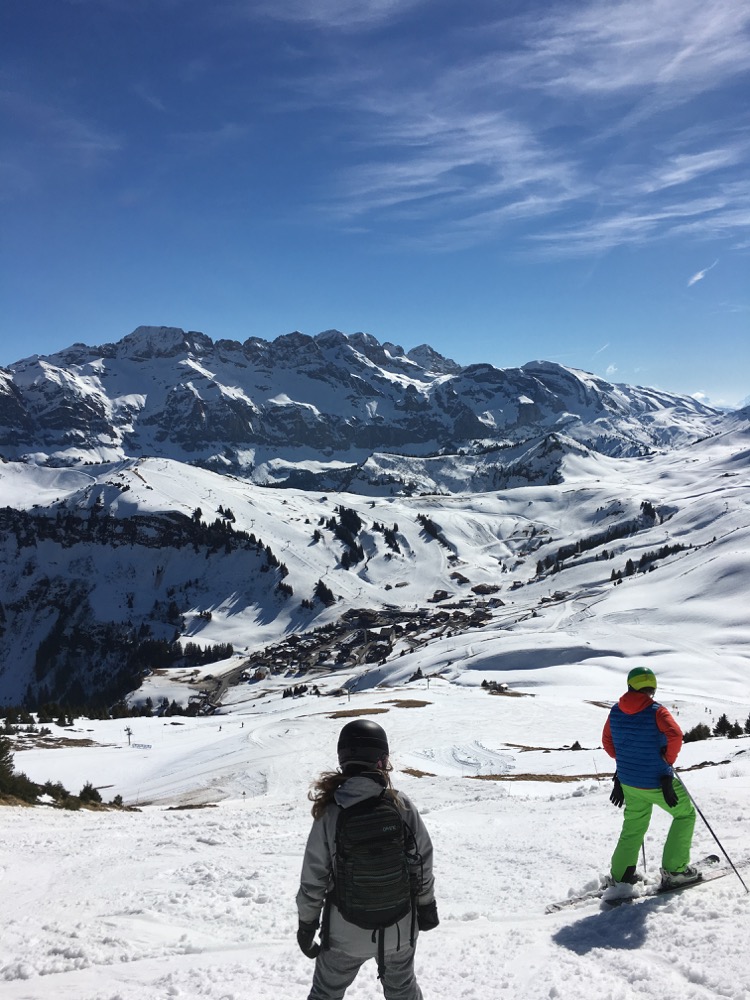 A high speed blat down to the bottom of Lindarets was excellent fun and we retraced our route from this morning through the snowpark, down the Zore, before catching the Super-Morzine bubble down to Morzine. We decided to check our Ski Tracks progress on my phone only to find it had frozen 2 hours ago and was now not responding!! Argh!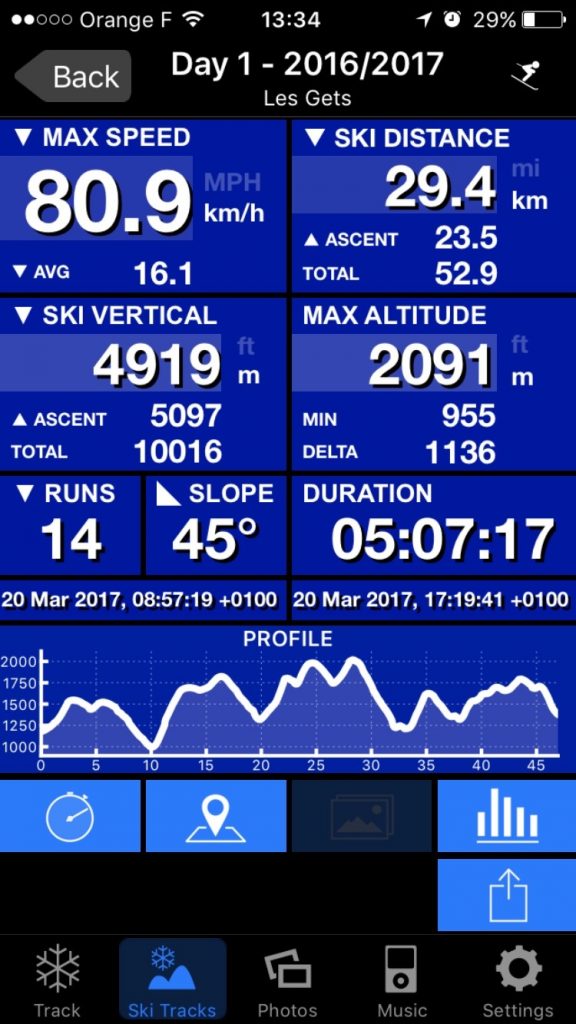 We marched across Morzine and caught the Pleney bubble followed by the world's slowest lift (the Nabor) to Le Vaffieu before the last shot home for pick up. The slush was deep, thick and heavy by now and our legs were getting seriously tired. We'd all managed to keep it 'the right way up' all day but with home in sight, I flopped into a high speed face plant in the moguls, Nina had a lengthy bum slide and Jon narrowly avoided a close encounter with the safety netting. We passed the big blue 'Les Gets' letters at 16.27 and arrived to pick the kids up without a single minute to spare and not a minute late! Amazing! We had made the decision to hot-foot it home 2 hours ago in Morgins, Switzerland and 17 km from Les Gets as the crow flies. We had gone full-tilt and not wasted a second since then and had managed to arrive bang on time! To the minute!
A fabulous day out and we were all totally cream-crackered and ravenously hungry last night. I sat down to write this but wasn't functioning properly. We'd managed 8 out of the 12 areas but ultimately had failed in our mission. We've learned some valuable lessons though and I reckon if the stars align, a full tour next year might just be doable…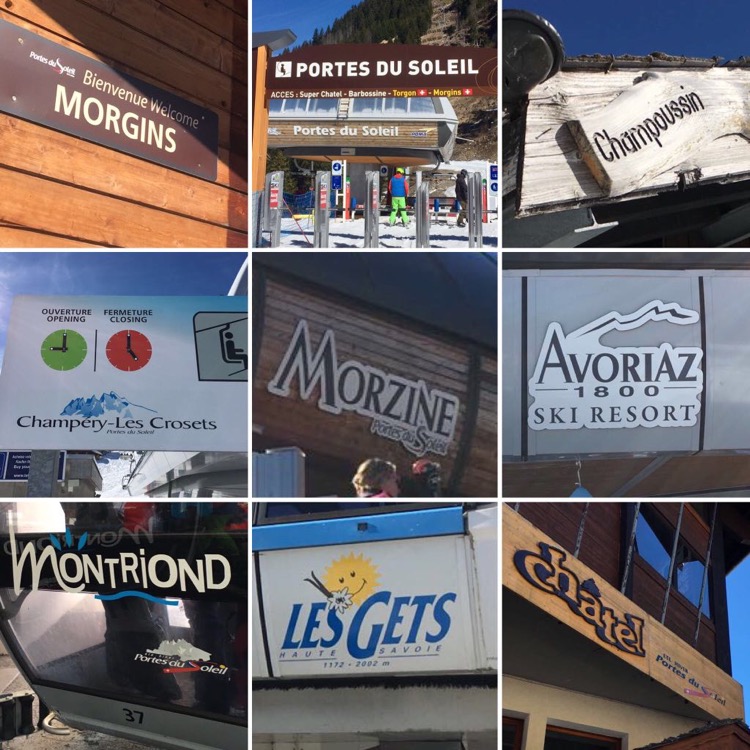 Lessons learned and notes to self for next time:
Do it the other way round.
Need good snow coverage so that everything is open and it needs to be cold so that the pistes are running fast for the flatter bits.
Need a clear day, both for the magnificent views and to make it easier to spot your routes, lifts and links.
Pick a quiet period in the season as lift queues would really throw a spanner in the schedule.
Take a packed lunch and water bladder and eat on the move.
Make sure the buses are running!
Make arrangements so we don't have to be back to collect the kids.
There's a long gap in service for Abondance buses at lunchtime. Getting in and out quickly needs to be done early afternoon as it's impossible to get there early enough from Les Gets in the morning.
Leave St-Jean D'Aulps until the end and catch the bus there from Ardent and back from SJD to Les Gets.
Get someone lined up to collect us in the event that we run out of time and end up stranded as well as a big 'thank you' present if they have to!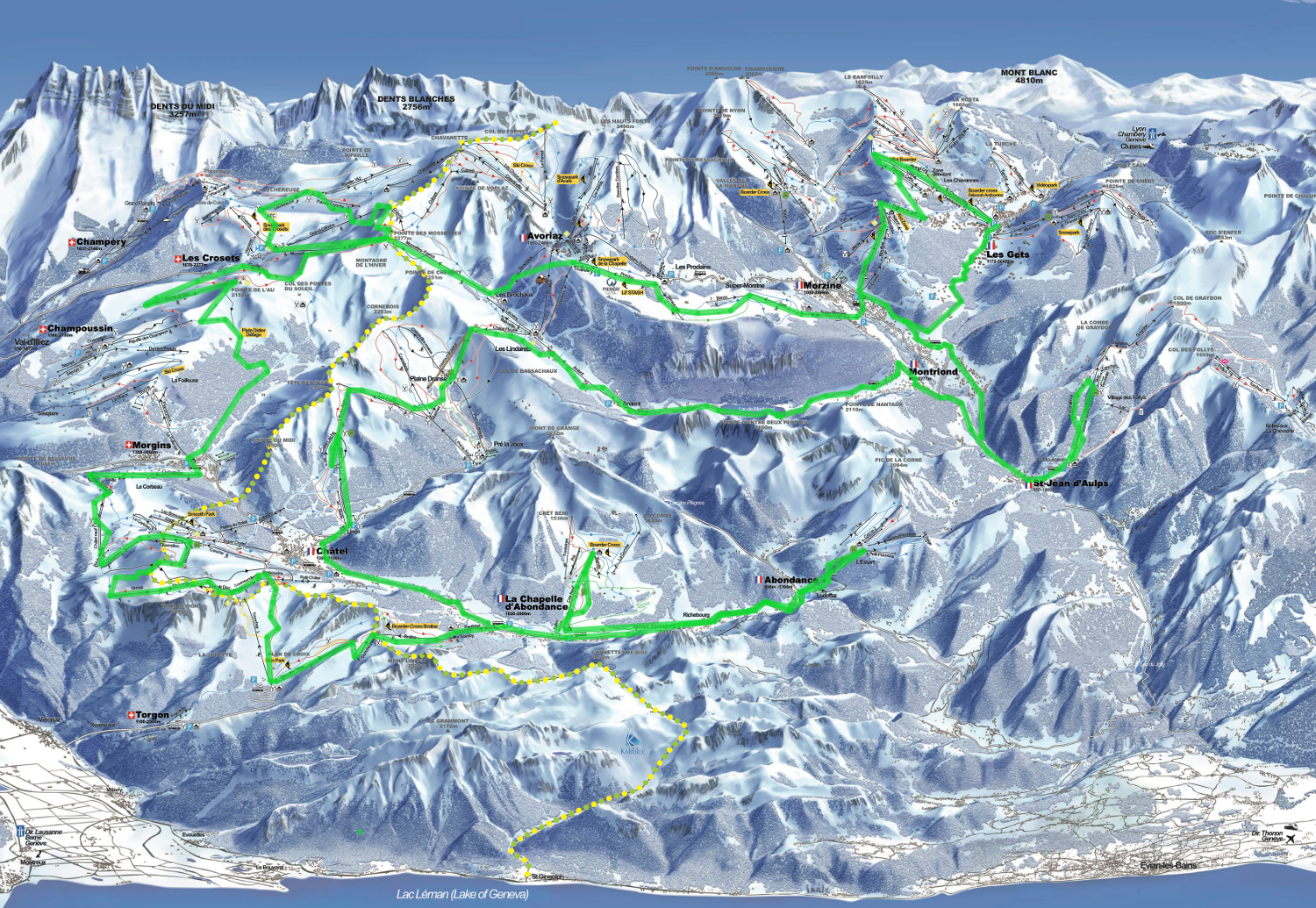 Get yourself kitted out for Winter
Winter's coming and it's always a treat getting your new kit sorted!.. Our affiliate partner Blue Tomato is THE leading online shop for winter and trend sports, streetwear and fashion with over 450.000 products from over 500 well-known brands. Click here to see if they've got anything you fancy.