Hi there, it's Nina here for a change! I'm writing because I just had an awesome day at the girls' shred day up in Chappelle Snowpark yesterday hosted by Le Cottage. The event had popped up on one of the local Facebook groups billing a girls' day with informal freestyle coaching in the morning, a jam competition in the afternoon and drinks/BBQ/prize giving at Le Cottage in Morzine afterwards. I really fancied it and hatched a plan with a few of my boarder mates to head up there, gain some confidence and hopefully learn a few new moves!
The morning broke into a gorgeous blue sky day and 3 of us met up after the school run and drove over to the Ardent lift in Montriond together. Another friend had to work in the morning but planned to head over and join us later on. The schedule said to meet in the park for registration at 10.30am, coaching at 11.00am, jam competition at 1.30pm and then meet at Le Cottage in Morzine for a free drink and prize giving. We got our gear together and caught the Ardent bubble to Les Lindarets then jumped on the Lindarets chairlift to the top of the Chappelle park.
We were pretty early so we decided to have a run through the park and the Lil' Stash to warm up our legs before we got started. Parks can feel a bit intimidating at first as you always think everyone is looking at you, there's banging tunes and always a decent band of dedicated park rats throwing down spectacular tricks! A girl lying in a heap on the floor behind one of the jumps with a skidoo en-route to whisk her away didn't do much to quell the nerves!
With our legs a little warmed up, we caught the Proclou lift back up and slid over to the registration tent where we wrote our name and e-mail on a sheet and they split us into skiers, snowboarders and whether we wanted to do jumps or rails. We also started chatting to a girl who was on her own and definitely looked the part. She was a new Mum, here for a couple of weeks with her fella and little one and was wanting to get her boarding mojo back.
She joined our crew and we headed off for the jumps with the very talented Laura Berry who split us into groups who wanted to do green, blue or red difficulty jumps.  I opted for the blues and after a couple of runs was starting to feel pretty confident. I've spent a bit of time jumping with James and the kids recently so it didn't take long to start to feel comfortable again.
After the first two runs, Laura (who currently works for Onyx Snowboarding School here in the Portes du Soleil) gave some general pointers to the group like 'you all need to go faster!' and that you should pop (jump) just as your front foot reaches the lip.
We kept dropping in then looping back up the button lift and she had a personal word with us all as we passed. She asked what I was interested in learning and I said I wasn't really confident in landing switch so didn't want to do 180s or spins (yet!). She said why not try some grabs then. The next run down I went for an Indy grab and surprisingly I did it. I was getting good air and it turns out when you're up there, the board's not that far away for simple grabs. Result!
I was really enjoying the air and doing straight jumps and whilst waiting to drop in again, I watched some of the other girls hitting the red line. Those are some BIG jumps but my confidence was growing and Laura showed us how it should be done with her stylish run through, straight airing them. (I always thought I needed to be pulling fancy tricks to be on the big jumps).
I dropped in and hit the first kicker but came up short on the jump and landed heavily on the knuckle. These jumps consists of a ramp (kicker) on the front face of a large mound which you are supposed to clear the top of (the knuckle) before landing smoothy on the downhill landing. On the second jump I cleared the knuckle but washed out on the landing. Without enough speed left for the final two, I rode out to the side and caught the lift back to the top. That felt goooood though! My heart was pounding, I could feel adrenaline coursing through my body. I was confident I could nail them next time.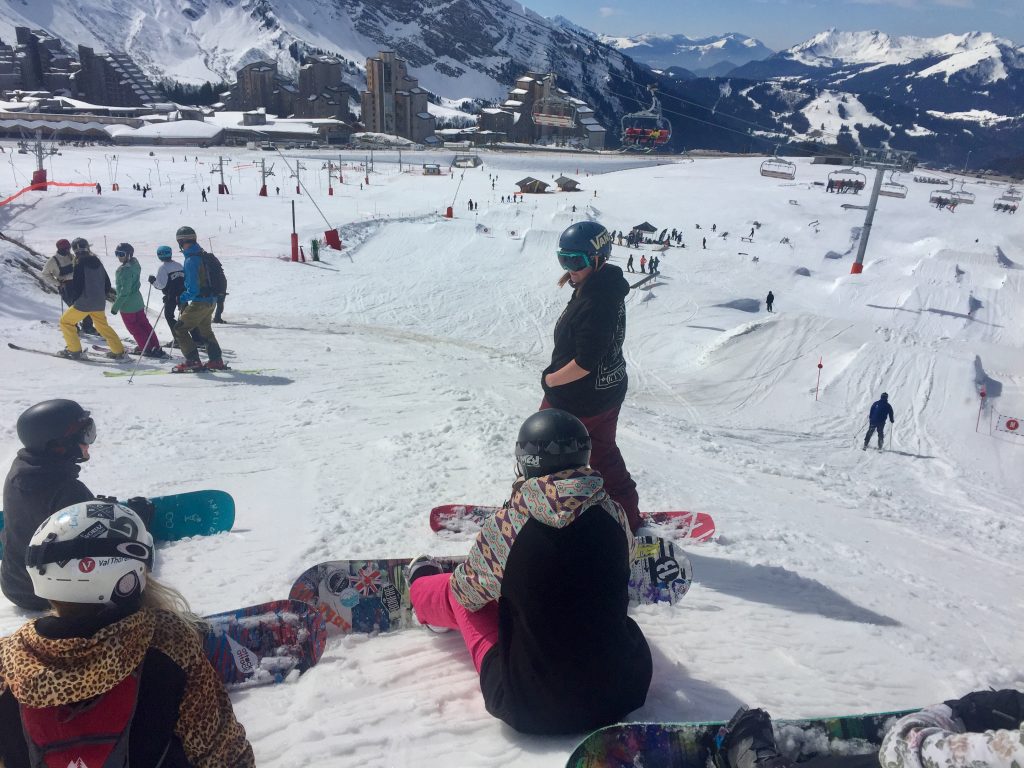 I joined the drop in queue and waited for my turn, I gave it a bit more speed this time, hit the kicker, popped, flew, cleared the knuckle and 'stomped' (that's a good thing, it means you landed cleanly) the landing. A wobbly lead in to the 2nd kicker but somehow I nailed it! I had enough speed so went for the 3rd one and by some miracle, I landed it still on my feet! By the time I landed the 4th one I was totally buzzing!
I hadn't expected to be doing this today and the sensation of the extra time in the air and clearing the landings was brilliant! All our group of friends were all making good progress and one of my buddies had joined me for her first time on the reds too. We were all pretty stoked but hungry and given the baking spring temps, we were seriously thirsty!
The 5th member of our crew arrived from work, we checked the time, knowing that the jam session started at 1.30pm and realised it was 1.15pm! Sugar! Our new Mum friend (who had definitely regained her mojo in impressive spinning style!) suggested the Carrefour in Avoriaz and we raced over and stocked up on a tasty selection of snacky bits and bobs. We sat on the snow outside and refuelled in the warm sunshine.
We were a bit late back for the jam session which was in full flow on the boxes with photographers and filmmakers catching the action. We hadn't had any coaching on the boxes but slid over them anyway with the MC doing a good job of bigging everybody up whatever you did. It was great to watch all the other girls going through, a lot of them were trying some cool stuff out and some of them were very good. It was a bit of a shame the jam session hadn't included a jump aspect though, it would've been good to see the girls showing off their new found moves.
We finished up with a mass board down from Avoriaz to the bottom of the Prodains lift. A 40 strong crew of female shredders blasting down the run en-route to well earned beers in Morzine!
Not quite en-route for us though, as we were parked in the Ardent carpark so we needed to get back up to Avoriaz and over down past Lindarets. The four of us had another cracking blast through the trees down to Ardent.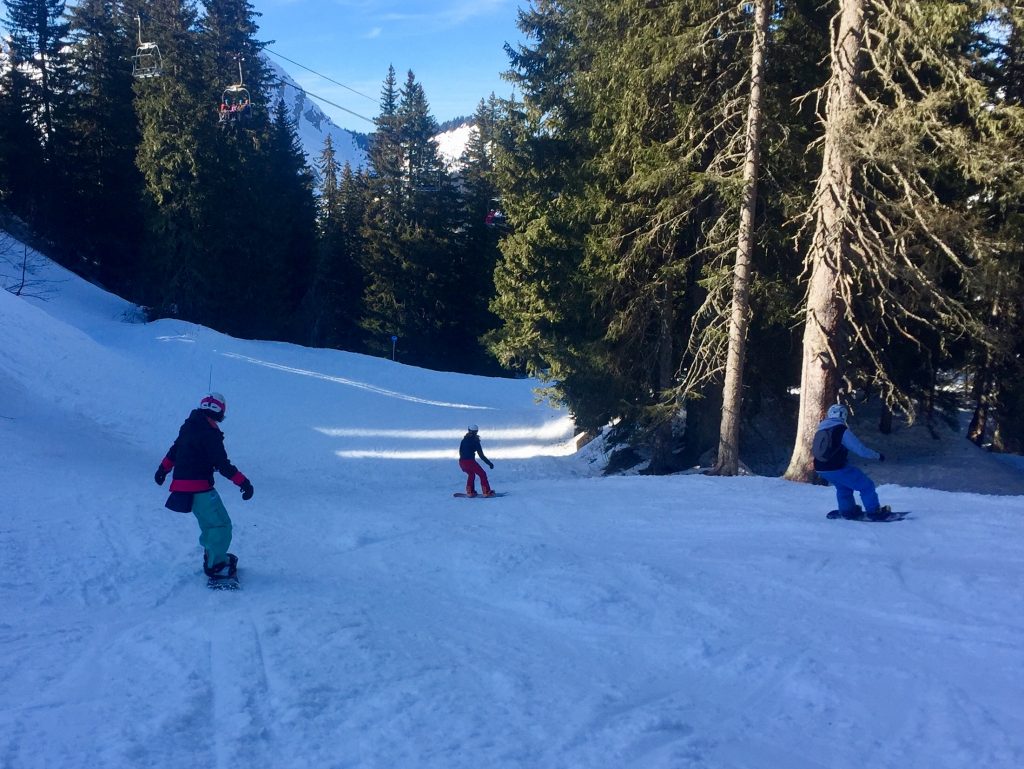 It had been a great day and I made some excellent progress on the jumps. No photo evidence from the day, unfortunately, but we'll be back in the park soon with the GoPro to record my new found confidence! 🙂
We drove into Morzine, parked up at the Pleney, grabbed our free beer at Le Cottage and pulled up a pew on the deck for the prize giving. We didn't win anything so I can't tell you what was in the stuffed goody bags from the day's sponsors but we'd had a fun day. Husbands and kids started trickling in. We filled them in on the day's events and all had a good catch up. We had a couple more drinks, wolfed down burgers from the BBQ and a few of us had the most delicious crepes from the hut down the road before heading home to rehydrate, rest the tired legs and have a flipping good sleep!
Get yourself kitted out for Winter
Winter's coming and it's always a treat getting your new kit sorted!.. Our affiliate partner Blue Tomato is THE leading online shop for winter and trend sports, streetwear and fashion with over 450.000 products from over 500 well-known brands. Click here to see if they've got anything you fancy.