We met up for dinner on Monday with some friends who run a local chalet business called Rush Adventures. Chris mentioned that he had a free day between guest stays on Thursday and asked if I fancied joining him for a mountain bike tour of the Portes du Soleil… Heck yes!
I didn't get round to doing the circuit on a board in the winter and had already decided I was definitely going to do it on a bike before the end of the summer. Roll on Thursday!
Les Gets is part of the Portes du Soleil ski area which is a vast ski/mountain playground linking 13 resorts and straddling the border with 7 resorts in France and 5 in Switzerland. Incorporating around 200 lifts and 600km of piste, the 'PDS' is one of the largest ski/mountain resort areas in the World!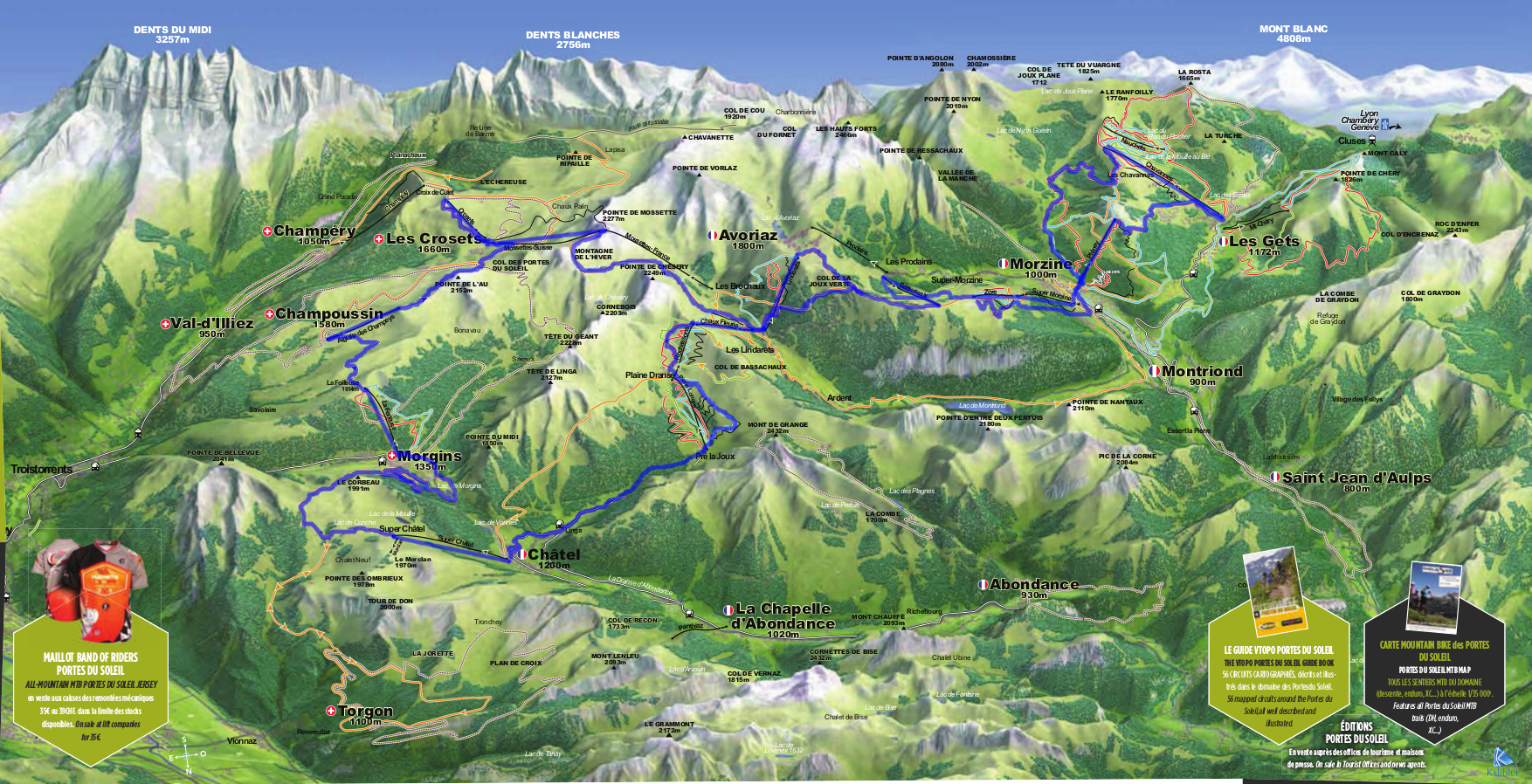 Doing a circuit involves riding round the whole Portes du Soleil area crossing each individual resort on the way. On the tour you ride chairlifts, downhill trails, single track, cross-country trails, sections of fireroad, gravel tracks and mountain roads. At the start of every summer, the PDS runs a very popular mountain biking event called the 'Passports du Soleil'. This event takes in the circuit with local food and drink laid on at refreshment stops in every town.
Chris and I met up at the Chavannes Express in Les Gets for the first lift up at 9.00am. The forecast looked perfect with sun and blue skies to start but there was the threat of a storm later in the afternoon. If a storm kicks off, many of the lifts are closed down and if that happened while we were several valleys and mountain passes away over in Switzerland, it was going to be more than just a little inconvenient.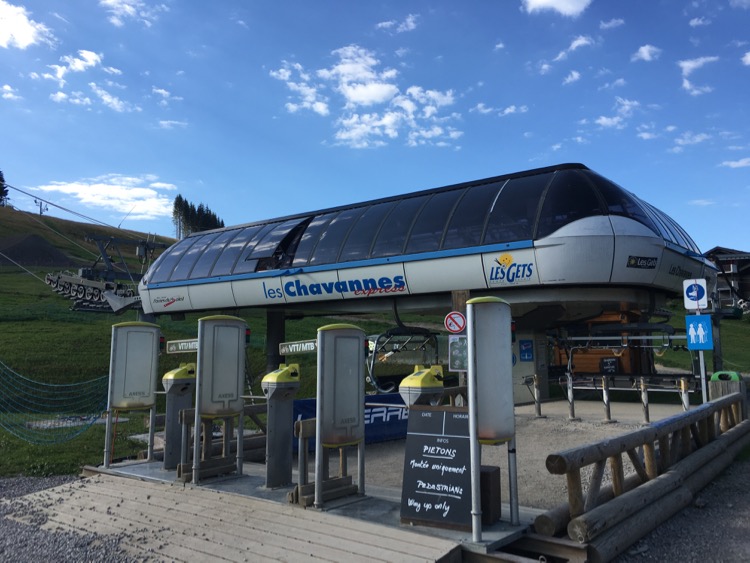 We rode the Chavannes Express to the top and dropped down the ridgeline towards Morzine before peeling off on a red downhill trail to the right. Mechanical problems kicked in straight away. My brand new derailleur flipped out and decided to keep throwing the chain and Chris's brake pads rolled over and gave up the ghost. Regardless, we sped down the hill to Morzine, stopped at the first bike shop for spares and got to work on some repairs. Best to get it out of the way now, I supposed.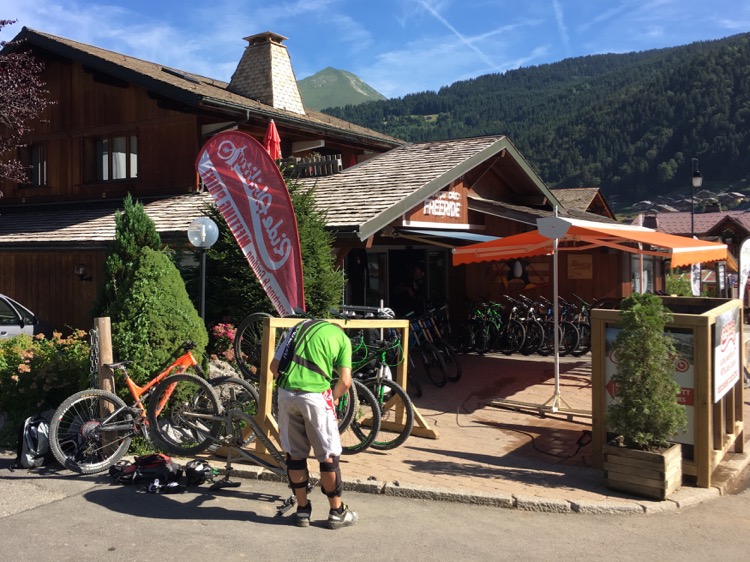 Next stop, the Super Morzine cable car which climbs out of the other side of the Morzine valley. Then, up further, onto the Zore chairlift before riding a section of fire-road along the ridge towards Avoriaz. Here, we would hang a right and descend a lovely little green section, which the kids would love, to the bottom of the Seraussaix lift. We rode the chair back up the way we'd come before disembarking at the top and dropping over into the Lindarets valley.

The Chaux Fleurie lift out of Lindarets takes you up to a ridgeline that drops over into the Châtel area. Châtel Bike Park is simply terrific, with some seriously hairy trails and features. We dropped in down a red I've not done before which was pretty steep – dusty, rocky and lots of bum-twitching fun. Unfortunately, I was about to be reminded of two valuable mountain biking lessons:
Look before you leap.
Speed is your friend.
We rounded a few corners before coming up to a wooden drop off. Two other riders were scoping it out on foot. Chris had a look, decided to skip it and rolled on down the trail. I had a look, decided to skip it and turned round only to realise I was holding someone else up who was about to hit it. I rushed to get out of the way and follow Chris down the trail. After a couple of corners I spotted him stood beyond another jump. I made a snap judgement that he must have hit the jump and that it mustn't be that big for him to have pulled over so quickly afterwards. BIG MISTAKE!! He hadn't hit it AND it was much bigger than I had anticipated! Worse still, I hadn't got enough speed for a big jump and as I reached the lip, I felt my eyes widen and all I could do was hope for the best…
I sailed through the air before coming up short and landing like a sack of spuds. The bike suspension compacted, my arms and legs compacted, then everything rebounded and I was catapulted back off the bike before landing in a heap and sliding down the trail on my left shoulder. People were watching so I got up ASAP (as you do!), dusted off and got moving again only to stop a little further on for a quick bike and body check. Other than a few grazes, a couple of bruises, an easily fixed loose back wheel and dented confidence, everything was fine. PHEW!
Onwards and upwards (downwards)…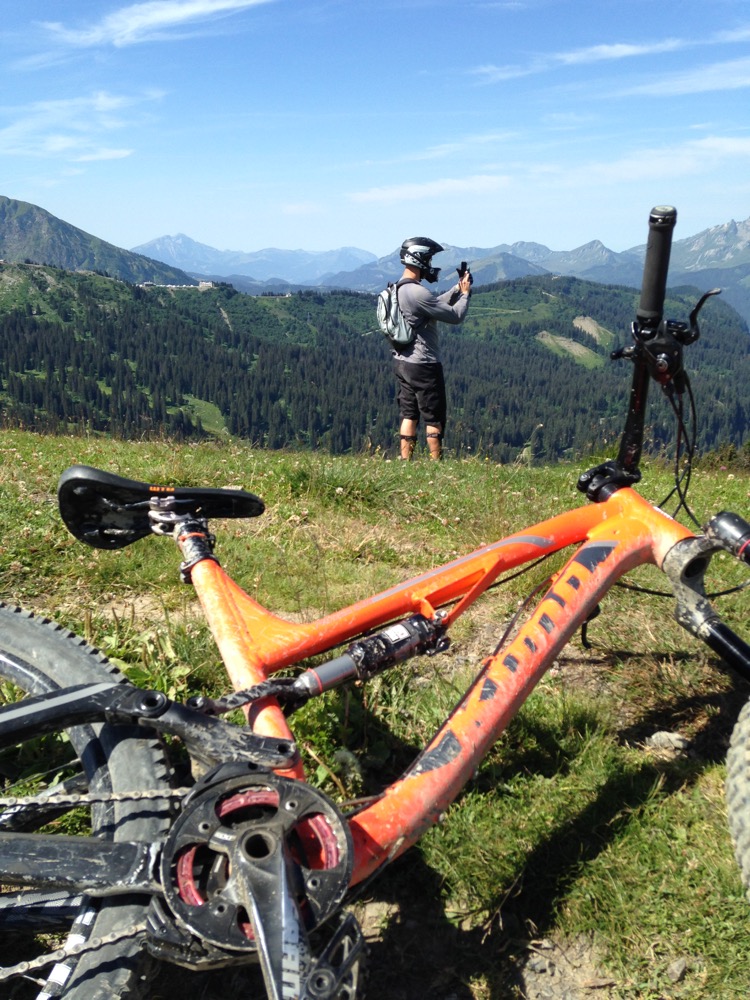 We finished the red then switched to a blue for the rest of the Châtel descent. At the bottom, we joined a track and rode down the side of the valley to Châtel. Chris suggested grabbing a bite there before crossing into Switzerland and spending double on the same thing! Good call.
Refuelled, we got back on the bikes and climbed through town to the Super Châtel telecabine. From the top of the lift it was quite a climb (for me!), first on a track past the Lac de Conche then onto a tarmac road that zigzagged up and up.  As we reached the top of the pass, the distinctive and spectacular Dents du Midi reared into view. This ridgeline and that of the Dents Blanches dominate the skyline above the Swiss resorts of the PDS and offer omnipresent and tirelessly breathtaking veiws.
We stopped on the Col for a photo with the single track route ahead, sweeping across the fields and down towards the valley beneath us.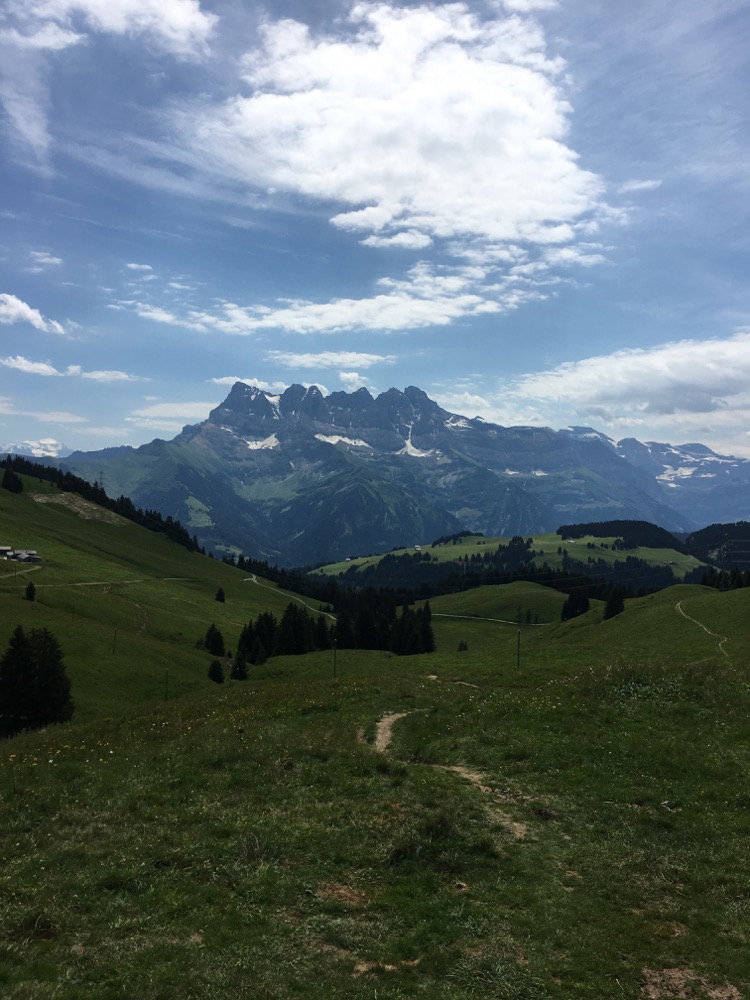 We blasted and bobbled along the track across open fields before crossing a road and picking it up again for more of the same. The trail entered the woods for a super-fun steep, loamy section through the trees before we popped out onto a road into Morgins. We sped through town and boarded La Foilleuse chairlift. It brought back memories of hiking up beneath it to retrieve Iz's ski pole and I took the opportunity to bore Chris with the story. 😉
Another photo opp presented itself at the top of La Foilleuse, with a herd of cattle posing in front of the Dents. Some Italian MTbikers turned up to join in the paparazzi crowd and with much hilarity, one of them gingerly bum-shuffled over and sat right next to the massive bull for a photo! It started to roll towards him as if to get up or squash him and we decided we'd crack on before it got too riled!
More single-track descents, gravel roads and stunning vistas before we got to Champoussin and the Aiguille des Champeys lift. We rode it, took photos, oohed and aahed, then disembarked to be greeted with a lovely ribbon of single track, running along a juicy green ridge-line before slinging itself seductively round the side of the Pointe de l'Au at over 2000m.
Stunning!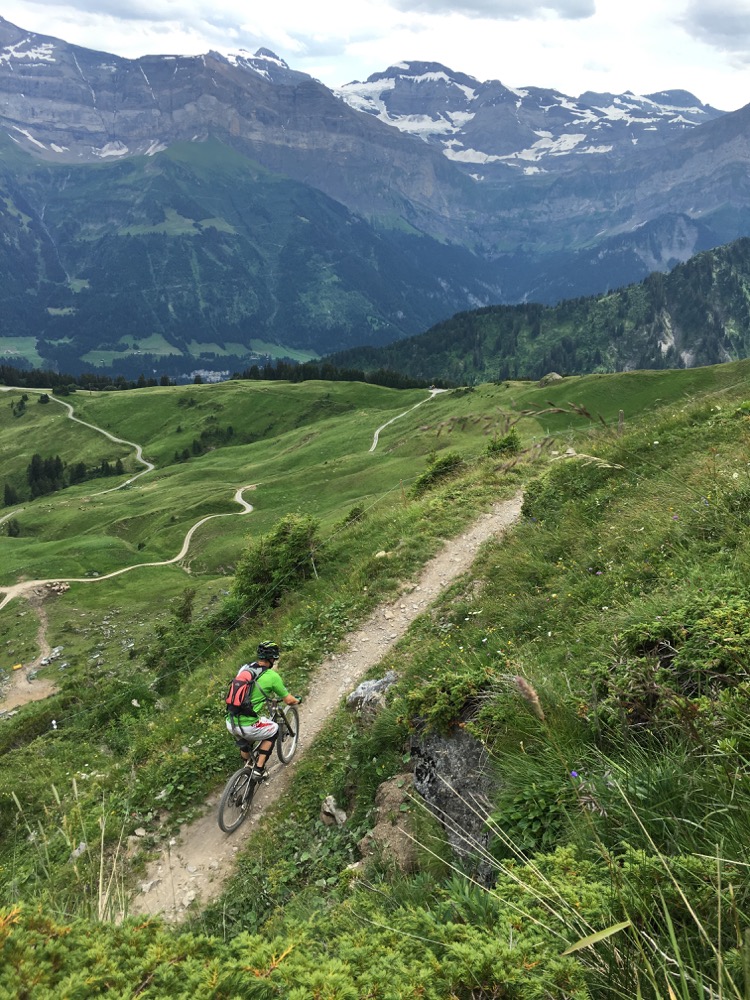 We made our way around the Pointe then on down to Les Crosets, finishing with a newly added downhill section along the top of a stream gully which was brilliant fun! There were a few people slipping, sliding and pushing their bikes down it after obviously biting off more than they could chew. Near the bottom there was another little drop-off. This time, I scoped it out before successfully hitting it and restoring a little bit of confidence. We boarded the Les Crosets lift for a lap of another very enjoyable high speed red section of downhill beneath it, then made our way up the Mossettes lift that would take us back up to the border and the watershed with the Lindarets valley.
We were safe from here on in, in terms of the storm. We could make it back to Morzine easily and get picked up from there if we had to. We clattered down a rocky descent, then fast and furiously down a pedal to the metal rocky track before it metamorphosized into a lovely, old-school, natural type trail that seemed to descend for miles. We dipped back into some manmade berms and bumps before rejoining the fireroad back to Lindarets. That was quite a descent with a bit of all sorts in one run! I'm looking forward to doing that one again.
Our hands were really feeling it by now from hanging on to the bars and brakes for dear life and it was time for another liquids stop. Mama's in Lindarets would do nicely. Cokes, waters and a massive plate of chips please. That'll do the trick. Back on it!
Up the Lindarets lift to Avoriaz and a surprising view of one of our winter favourites, the 'Chappelle Snowpark' in Avoriaz which in summer, it turns out, is a golf driving range… Didn't see that one coming! We dropped in and rode down the main road before bearing right and pedaling along the ridgeline to the top of the Zore lift. We sneaked off to the right and did a 'discontinued' run through the woods back to Morzine. If you're into roots this'd be right up your street! Root central! Nice and level on the first section then traversing them along the hillside for the second. Very tricky! Out of the woods and onto full pelt, rocky fire-road and switchbacks all the way back to Morzine before hitting some very welcome tarmac!
We couldn't relax for long though. Chris had a glance at the time and figured we might only have 8 minutes to get to the Pleney lift to get us back up and over to Les Gets. Pedal!!
We made it and as it turned out, we had plenty of time as it only shut at 6pm.
We followed the link trails back to Les Gets and finished down the red run to the base area. What a day! First stop Bar Bush for a well earned beer!
Just as we polished of the last delicious swig, the sky darkened and the first blobs of rain arrived. From here, Chris had a nice downhill freewheel home. I, on the other hand, had another flippin' climb!
I pulled up at home, totally pooped but I'd beaten the storm and the downpour. "Where've you been?" asked the kids. I gave them and Nina big hugs and glugged another glass of water. I realised that I hadn't been to the loo all day. It was 6.00pm and I'd drunk a 1.5 litre bottle of water, a bottle of blue Powerade, a Coke, a lemonade, a beer, a café au lait, three glasses of water and I hadn't had pee since we set off at 9.00am!
A fantastic day out on the bikes though. We'd covered over 60km with 4285m of ascent up until Chris's Garmin battery ran out before we'd even reached Lindarets on the way home. We'd had a bit of everything: Flowing single track, rocks, roots, loamy forest runs, berms galore, kickers, drop-offs, wide open mountain sides, ridge lines, drifty gravel corners, hang-off-the-back steeps and full-tilt blasts down the windy tarmac sections. A very welcome relief from all of the bone shaking! Add to that good company, incredible views and spectacular scenery and you've got a seriously awesome day out!
And, if you fancy a tour of the Portes du Soleil yourself in summer or winter and need a place to stay, you could always drop Chris a line at Rush Adventures.
Get yourself kitted out for Winter
Winter's coming and it's always a treat getting your new kit sorted!.. Our affiliate partner Blue Tomato is THE leading online shop for winter and trend sports, streetwear and fashion with over 450.000 products from over 500 well-known brands. Click here to see if they've got anything you fancy.