Dropping! We've had 7 days out boarding/skiing and I've already had to complete two retrieval missions from ski lift drops. I'm hoping this isn't a trend that will continue.
Drop 1
The first was in Les Gets when, due to the excitement of sharing our bubble lift with the 7 foot purple Milka cow, T's tiny skis went into the carrier slot the wrong way up (short tail end down rather than longer nose down FYI) and after photos, entertainment and general hilarity with the Milka Cow on the way up, we arrived at the top, climbed out and T's skis had vanished!
I headed back down alone, praying I wasn't going to find some poor soul laid out on the piste in a pink patch of snow with a set of 50cm duck skis embedded in their back. I breathed a sigh of relief as I got to the bottom without incident. Relief was short-lived as I realised that they must then have fallen off where the lift line moves away from the pistes (and easy access) and into the woodland.
I checked first with the lifties that no-one had handed the skis in before jumping into the final seat with a French family in the next departing gondola. Rather than making polite conversation with my comedy French, I spent the ride turned side-on frantically and manically wiping the window to keep 6 hot bodies' worth of condensation at bay while I scanned the ground below for T's skis. As the lift cut through the forest we reached a point as far from the piste as it's physically possible to be and there they were, proudly sticking straight up out of the snow.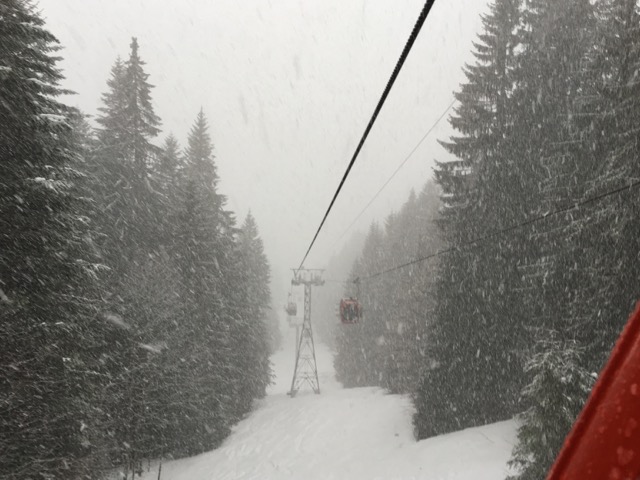 I counted the number of pylons back to the next piste intersection and jumped out at the top. The French family continued their day, relieved that they were not longer suspended 25 feet from the ground in a confined space with a crazed window rubber. I reassured Nina that nobody was dead and headed back down the piste for phase 3 of the retrieval attempt.
Now I'm not sure why I did this and I wouldn't do it again, but rather than duck under the black and yellow 'danger' poles and tape at the top of the lift cutting (I didn't want to get told off and have my season pass removed the day after I got it), I continue past, further down the piste and decided to hike through the woodland to the same cutting. Obviously a bad move but rather than another cycle on the bubble I decided I was committed, and it'd be good exercise. 10 minutes of wading through waist deep, claggy snow, trees and bushes it ran through my mind how embarrasing it'd be if I had to be rescued, exhausted, a few hundred metres from a blue run and not much further from the centre of town!
I cracked on, hit the cutting and strapped my board on. Two pilons later I found the skis. Relieved, I boarded on only to find my path blocked by a stream. Time to unstrap, turn right and wade slowly back to the piste.
It had snowed the night before and I had attempted to rally the family for an early start and first lifts. By the time I got back up with T's skis it was 11.30. Nice job family.
Drop 2
Drop two happened this afternoon in Morgins. First chair up and mid woodland Iz drops a pole. "Ffffffffffffff…iddlesticks!"
I assessed the terrain on the way up and decided it wasn't a good idea to try and board down to it, so once we were all safely at the bottom again, I started the hike up. Thigh deep melting snow this time, the odd rock, tree roots, and Christmas trees to zig zag around. Oh and a perpertually refreshing audience on the chairlift above, shouting encouragement… or something like that.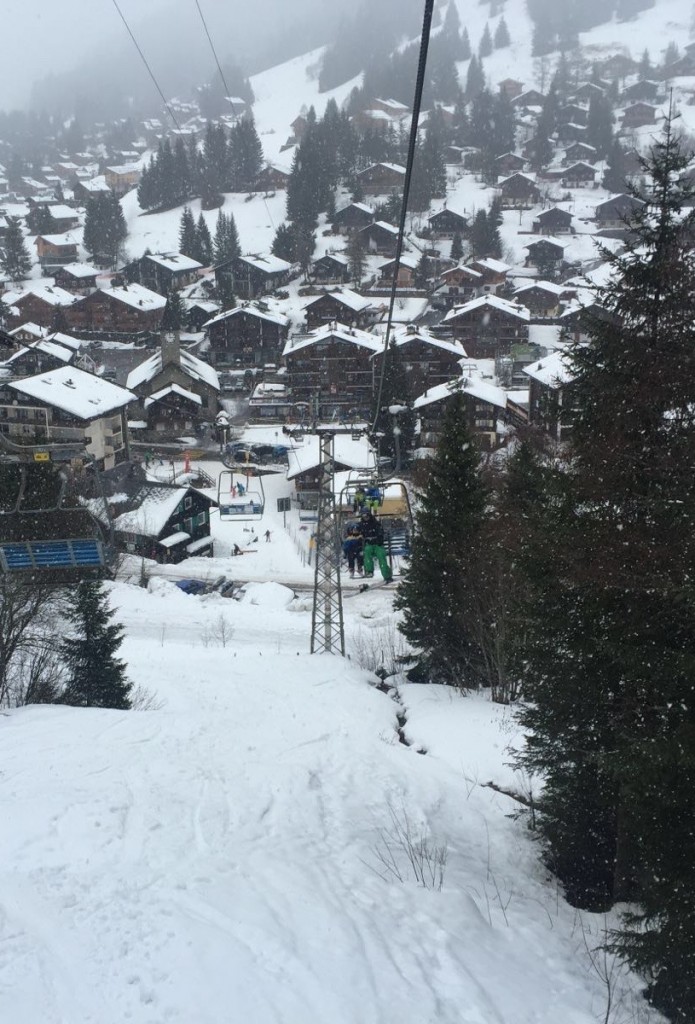 Three young french lads shouted "baton?". I assumed that meant ski pole and shouted "oui" and as they passed over I shouted back "regardez pour moi?". I thought it shouldn't be far away but an eagle eye view would be very helpful. I watched and waited, and a good 150m later they shouted "Oi-oi, it's here!". "Merci beaucoup!" I yelled. I was just about to ressume my ascent when I thought, 'hang on a minute!..' I had another look where I was, where I thought it had dropped and where they were when they shouted. Little buggers! There was no way it was up there. Nice try though lads. I strapped on again and boarded back down to the lift.
T announced he was done skiing for the day but I wanted to go up again and have another look just to see where the pole was. Iz was up for a blast so we scooted back round to the lift and jumped on. I took the chance to apologise to her for being cross when she first dropped it and that it was really no big deal. As we sailed above the point where my footprints stopped and where I thought it had fallen, it actually wasn't there. I gave Nina a call and she popped into the lift station and Bingo! Someone had handed it in! Result!
Lesson learned: Always ask if it's been handed in before commencing a rescue hike.
I was seriously stiff that evening and slept like a log.
Get yourself kitted out for Winter
Winter's coming and it's always a treat getting your new kit sorted!.. Our affiliate partner Blue Tomato is THE leading online shop for winter and trend sports, streetwear and fashion with over 450.000 products from over 500 well-known brands. Click here to see if they've got anything you fancy.