This week has had it all! Crowds, live music, Brit Award winners, boarding, sun, rain, illness, injury, award badges and all of a sudden, it went very quiet… Not quiet-quiet but quiet!
Last week started out with our attempted grand tour of the PDS and was followed up by another big highlight of the season, the free Rock the Pistes music festival: A different headline act in a different resort of the Portes du Soleil every day of the week. You can board or ski around the PDS, check out the music and grab a beer or two before taking your life in your hands trying to slide away from the venue at the same time as several thousand other mildly inebriated revellers!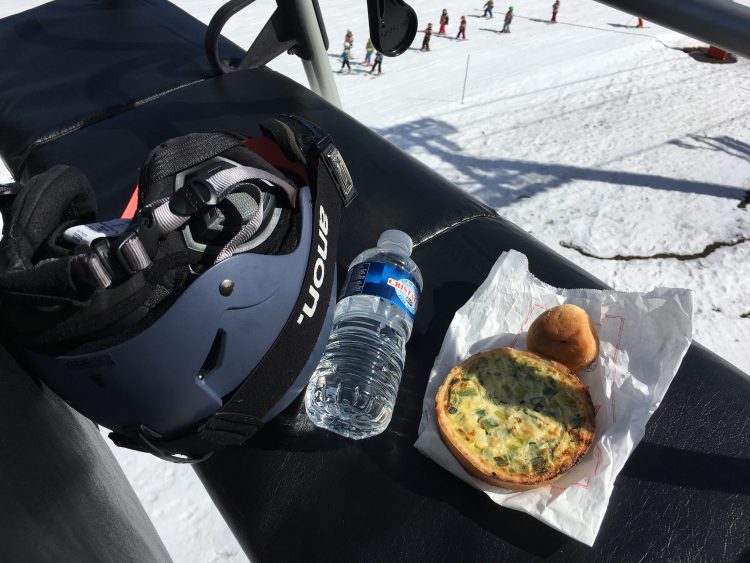 Someone in the Rock the Pistes booking department must have been grinning like a Cheshire Cat this week after managing to book Rag'n'Bone Man for the gig in Avoriaz on Thursday. I'm guessing they must have signed him up well before his recent mainstream success and Brit Award wins. Nina couldn't make it but I didn't want to miss the opportunity to catch him perform and grabbed some bits from the bakery in Les Gets and headed off for Avoriaz. I had a very pleasant little chairlift picnic for one in the sun then boarded over to Morzine. From there, I caught the bus to the Prodains lift, rode that up and boarded down towards the Stade lift where I was met with the spectacle of a sizeable lift queue.
I filed into the back and it wasn't long before my fellow queuers started getting rowdy. 6-person chairs kept going up with just one or two people on them. The odd one was totally empty! "Booo!" We slowly shuffled forward gently baking in the midday sun like bread creeping along a hotel toaster. The time ticked away and Bone Man's start time came and went. 45 minutes after joining the queue I finally made it to the top. I was well ready for a beer by now and hoped I hadn't missed the whole thing. I met a mate at the top who went straight off to the bar. He came back a couple of minutes later empty handed. "They've run out of beer!" What the…? How do you run out of beer at a festival?! In fairness, they must have simply underestimated the anticipated crowd size and it can't be easy getting kegs of beer to the top of a mountain!.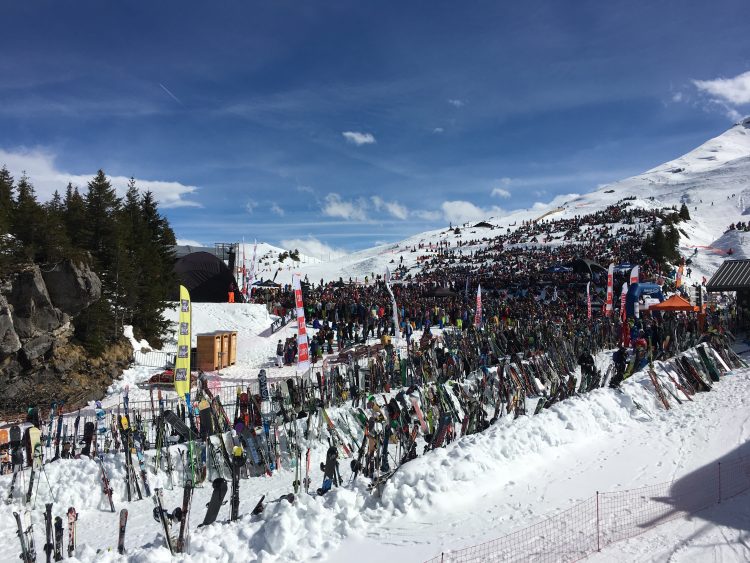 We settled in beerless and watched the rest of the set in the most magnificent surroundings with blue skies, snow and sunshine. He was excellent and luckily I hadn't missed 'Human'. He also came across as a decent humble dude who was genuinely impressed with the location and situation he was performing in. He finished up with a selfie of him, the band, the crowd and a flurry of snowballs. We collected our boards, strapped in and navigated our way out of there safely. It was actually great fun weaving through the punters and blasting overtakes down the sides.
There was more of the same the next day, with Caravan Palace performing in Morzine/Les Gets. Despite not feeling 100%, Nina joined me to meet a big bunch of friends for lunch at Le Vaffieu, followed by more music. Snow is an excellent addition to a concert and snowballs were flying left, right and centre in the crowd much to almost everyone's amusement. Nina wasn't sounding great and some Birthday drinks for a friend later on followed by a meal at Le Boomerang and a walk home just about finished her off for the rest of the weekend! By the time we got home she sounded like Dot Cotton!
On Saturday, we left a wibbly, wobbly, croaky Nina in bed and I took the kids out for their last ski lessons of the season! We've reckoned up that they've each had around 75 hours of professional ski tuition with ESF this season which is just incredible! 5 year-old T successfully gained his Bronze Etoile with his instructor saying "technically he is excellent, he was the best in my group". He's now keen to tell anyone who'll listen that there were even some 9 year olds in that group! We need to feed him up for next season though, because she did say that he might struggle a bit with momentum in the gold star assessment. Izzy was fine with momentum and proudly earned her Etoile D'Or (gold star). This means she has completed all the levels of structured lessons in the ESF school. Next season she can move onto the local club and go on to further alpine progression in Race Training, All Mountain, Freestyle or Snowboarding. Cool!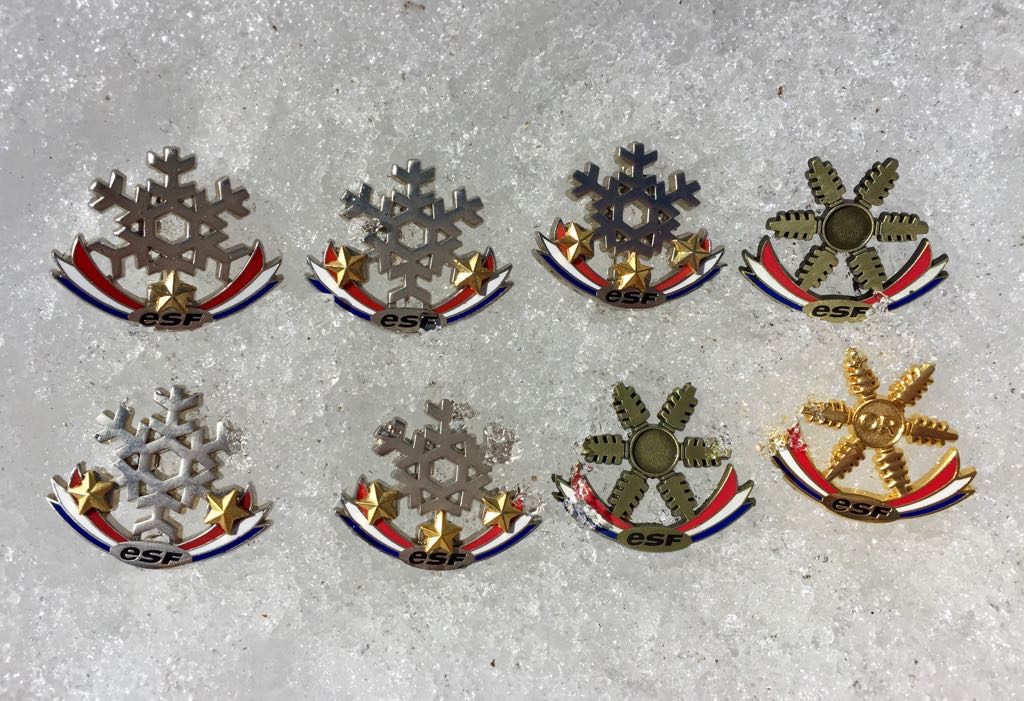 While they were out on their lessons, I went out for a ride on the board to see if I could spy on them doing their assessments. I spotted T but they were just wittering away and skiing about so I cleared off to enjoy the sunshine and the astonishingly quiet pistes. After the busyness of Rock the Pistes, it felt really quiet for the first time in ages and definitely like the end of the season is coming.
While the kids finished nailing their ski skills, I had the misfortune of a big spill. I was on my way back to Les Gets and within sight of the van. I found a rare fast patch of harder packed snow and couldn't resist the temptation to gun it. Four carve turns later, I lost my edge and ass-planted hard on my left hand. Ouch! How did that get there?! It felt serious and worse still, I did it in full view of the busy Après Bar!  I quickly and quietly unstrapped, collected my stuff and scuttled off stage right to lick my wounds in private. A thorough examination convinced me nothing was broken but I'd definitely done some damage to wrist, hand, fingers and thumb. It started swelling and bruised quickly but I buried it in snow while I waited for the kids (and at every opportunity over the next few days) and that really seems to have done the trick, thankfully.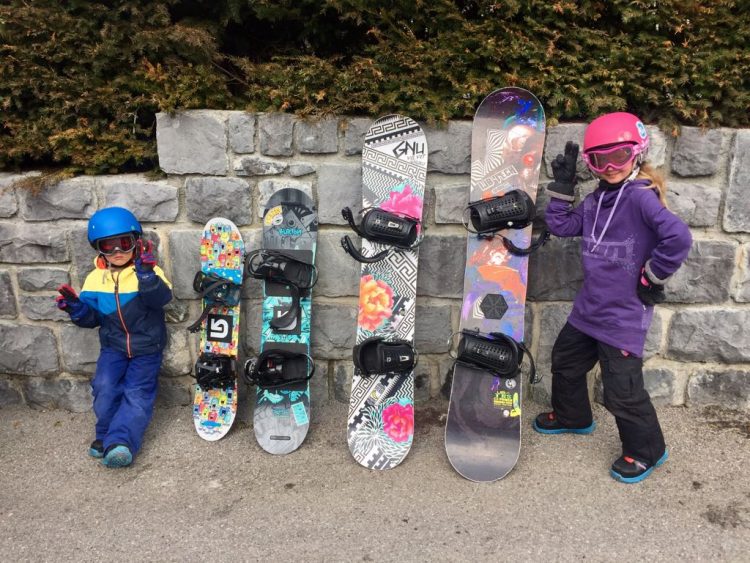 That being said, there hasn't been much snow left lower down to bury it in! Mont Chery is closing after this weekend and only the backside is still skiable. The days of skiing back to Les Gets on the Chavannes side look numbered too. To be fair though, the snow isn't too bad higher up in Les Gets and Avoriaz is still great. Closing day for Les Gets is the 17th April and the 29th for Avoriaz so fingers crossed what's left can hang on in there for just a few more weeks!
Get yourself kitted out for Winter
Winter's coming and it's always a treat getting your new kit sorted!.. Our affiliate partner Blue Tomato is THE leading online shop for winter and trend sports, streetwear and fashion with over 450.000 products from over 500 well-known brands. Click here to see if they've got anything you fancy.