'Seriously steep', 'rooty', 'berms shaped by the gods', 'a tonic for the senses', 'lethal in the wet'. I've heard so many cool and gnarly things about Morgins bike park and thankfully it was time to finally get over there and spend some quality time getting to know it. 👌
This post should actually have been about a trip to Finale Ligure on the Italian coast… A mate and I had pencilled it in for last weekend but the weather forecast couldn't make up its mind and dithered all week. There was a threat of heavy rain on Sunday which could've ended up washing out half our trip and it's a long way to go for a short break with a big question mark, so we rubbed out Finale and penned in Morgins.
Morgins sits on Swiss soil and is about an hours drive from Les Gets. You head down to Morzine, St Jean D'Aulps, Le Biot, up and over the Col du Corbier, down to Abondance and along the valley to Châtel before blipping over the pass to Morgins.
It's also one of the stations that make up the vast Portes Du Soleil ski and bike area meaning there was the added bonus that I'd get to blow two weeks worth of dust off my 2021 Portes Du Soleil Summer bike pass for another dance. With a bit of luck it won't be the last one either… Morgins and Champéry are set to stay open for bike uplift until the 1st November! Come on! Only weekends for Morgins but Champéry cablecar plan to operate daily!
In 2019, we made the most of this late opening at Champéry and if my memory serves me correctly, we rode bikes in lovely sunny conditions all day and less than a month later the snow arrived and they opened for skiing and snowboarding. Liking your style Champéry-Morgins… Liking your style. 🙌😉
Morgins has slipped through my net a few times in the past. I've done a couple of Portes Du Soleil tours including one earlier this Summer where I've literally ridden the Foilleuse chairlift up and over the bike park. I was 'against-the-clock' and going in the wrong direction on the circuit, so wasn't even able to squeeze in one descent before needing to crack on towards Les Crosets and complete the loop home.
As I mentioned at the start of this post, I've heard excellent things about Morgins for a long time and I've seen a bucket load of vids from top riders absolutely hooning there!
In fact, here's one Vincent Tupin (Vinny T) posted this weekend and saying they're his favourite trails. Pretty rapid eh?.. 😳😳
Anyway, our date with destiny had finally arrived and I was pretty excited to check these trails out for myself.
It seems to be a universally accepted truth that Morgins is a proper handful in the wet: "It's brilliant but it's lethal when it's wet". "I had a bad crash last time I was there", " It's super dangerous when it's wet", "there's a lot of roots and small rocks and when it's wet…" The list goes on.
I woke up on Saturday morning and guess what?.. Yep… It had tipped down overnight… Terrific… It also turns out that the bike trails face North-ish too so they don't get much chance to dry themselves out in the sun either… "Eerrrm… Lads?"
The others had been before and didn't seem too bothered, so off we went.
Morgins always has a pleasant feel about it and it was nice to be back as we pulled into the car park next to the Foilleuse chairlift in the centre of the village.
We kitted up and headed off up the chairlfift. Ahhh! It's only been a couple of weeks but it's always great to be on a chairlift  especially for such a great view of the emerging Autumn colours.
Bonjour to the stunning view of the Dents du Midi as we unloaded at the top and it's trail time!
Exit left from the lift and a little metal bike stile splits the fence and accesses all the trails. Turn right for the green 'La Quatreans', red 'La Tobogane' and the black 'La Noire' or turn left for blue 'La Carigole' and the red 'Le Madzé'.
"How about we start on the green" I suggested. 😂
As the Morgins noob, I slotted in happily at the back and the green set the stage for the day with its fair share of tasty bits. In fact, it interconnects with the red in places and there's a big gap jump with a brutal looking knuckle after the top section of berms that could catch you by surprise. I'd have to say, the green was probably more of a green relative to the other park trails than a green designed for absolute beginners.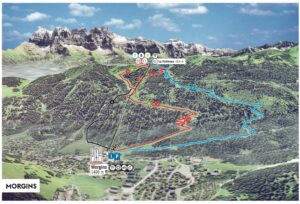 It quickly became apparent that maximum attention would be needed whilst learning this place. Just as you started getting carried away and picking up speed, the characteristics of the trail would switch up, going for smooth and fast to rooty, rocky, steppy and technical, requiring a fistful of brakes to get things under control in time to deal with it. They're also narrower than the trails we've been riding a lot of the summer. Today would require full sensory switched-on mode.
We worked our way through all the runs but steered clear of the bottom section of La Noire which the lads said was well-steep and rooty and probably treacherous after last night's sprinkling.
Having said that…. After the prospect of wet Morgins carnage, it wasn't too bad. It was wet here and there but to be fair, the roots were dry enough and it was still pretty grippy on the whole. As the day went on the popular lines got dryer and dryer as each set of wheels brapped through and buffed them up.
We also began to get to grips with things, remembering what was coming up, improving our lines, increasing our speed and as the speed increased, things got smoother.
The rougher sections took their toll on the bikes though and in the morning we had two punctures and a lengthy spoke-tightening session. A stubborn rear wheel needed some extra experience and brute force at the local bike shop across the road from the lift station. Snowline I think.
We stopped for lunch and had some tasty (Swiss priced) goodies from a nice little Patisserie called Au Beau Reveil and bumped into some of the bigger kids from Velo Club for an impromptu picnic.
By the afternoon we were really finding our flow and decided it was time to hit the bottom section of the black and hell yeah, it was steep. You're doing everything you possibly can to try and slow the bike down and stop it getting away from you. I don't suffer from hand pump that often but I was grabbing fistfuls on this one and had pump big time by the bottom. I've upgraded from SRAM brakes to Hope V4s this year and from previous experience I'm pretty sure my old brakes would have boiled up through that section and become useless until they'd had time you chill out.
We finished up the days with a fast one through the green. We'd seen some lads getting decent air of some of the hits and fancied a bit of that ourselves to top things off.
No offs, good times and a fantastic day back on the bikes. Morgins bike park was definitely worth the wait. Super-fun, narrow, fast, technical and steep. The berms even lived up to the hype. The room to improve here is vast and I reckon the more you improve the better it'll get.
Thanks Morgins… Looking forward to the next time. 👍
Get yourself kitted out for Winter
Winter's coming and it's always a treat getting your new kit sorted!.. Our affiliate partner Blue Tomato is THE leading online shop for winter and trend sports, streetwear and fashion with over 450.000 products from over 500 well-known brands. Click here to see if they've got anything you fancy.