The wee man and I had a belter of an afternoon on Saturday and one which deserves a couple of worthy shout-outs. Looking at you, Velo Club Les Gets and Nautic All Sports. 👍
We've been members of Velo Club Les Gets for a good few years now and it really is a terrific club which not only turns out a steady stream of technically solid and fantastic young riders but is also united in a desire to keep it fun, friendly and inclusive.
I'm always happy to help out with stuff, especially if it's school, clubs or activities that the kids are involved with but I must admit, when it comes to making long-term commitments, I'm not a huge fan. When the shout goes out for new committee members, I usually manage to shrink surreptitiously into the shadows, avoid all eye-contact until the searchlights have finished making their passes.
A few years ago though, that went right out of the window and straight under a bus. As the call went out at the AGM for new committee members, some hilarious mum 'friends' I was sitting with, spontaneously decided it'd be funny to watch me squirm and suggest quite loudly "Hey, you should do that"…
The eyes of the room and the 'bureau' swung towards the mild commotion and then to me at its centre. There was a collective sigh of relief as everyone realised there was a sacrifice taking place and it wasn't them… The room fell silent, there was no way out, I was cornered…
And, I needed to do something fast before I started sweating, and before the shade of beetroot that was elbowing its way forwards, made it to the surface of my skin. For a split second, I considered making a break for the door but… "Oui, pourquoi pas?" (dammit!).
I have to say though, I have absolutely loved being involved. It's been great to help out, we've done some cool stuff, I made a bunch of new friends who all ride and who's kids ride. Meetings are often over a few beers and a bite to eat (if Carlsberg made committees…) and as a mostly French bunch, it has become my primary motivating factor for continually improving my French.
I'm off on a massive tangent now but you get the picture. Great club, really love it. Anyway, where was I?.. Saturday!
So… Now the lifts are closed and the clock ticks towards winter, the club had planned a fun day in and around Thonon for a good catch-up.
A big group dh/enduro ride for all levels and parents would kick off proceedings in the morning, with shuttle bus assistance, followed by a Canadian buffet and an afternoon of water sports on Lac Leman (Lake Geneva) at a centre run by another one of the Dads.
T had a long-standing, prior engagement in his social calendar with a mate coming for a sleep-over on Friday followed by bike riding in the morning. That meant we'd miss the group ride but we'd be there for the food and the lake action. 👌
If you don't know already (or forget like I do), a Canadian buffet is where everyone brings a dish and you share the lot. The club would take care of drinks and desserts. The immediate mental picture I always get when I hear 'Canadian buffet' is massive elk or moose steaks sizzling on a BBQ but that's not it.
I spent the morning taxiing the kids around and throwing some bits together for the buffet. Nina and Iz had commitments (shudder 😂) in the afternoon and wouldn't be able to make it so this one was a boys' trip.
We set of for Thonon with T on navigation duty, through Morzine, Saint Jean D'Aulps and off to Thonon, then through Thonon to the outdoor municipal pool on the edge of Lake Geneva. The shoreline of Lake Geneva continues to surprise and delight and today would be another little stretch of lakey goodness that we'd not experienced before.
Take Thonon Municipal Pool for starters…  It's an outdoor summer season pool and is now closed for the winter but peeping over the hedge revealed a couple of decent pools, high diving boards into the lake, slide into the lake, big slide into the pool, grassed areas to hang out, kiddy water play park areas, the lot! Not bad. Only 50 minutes from Les Gets and we'll definitely be back to check that out next year.
We were looking for Nautic All Sports which seemed to be a little lacking in the signage department and wasn't actually that easy to find.
Maps showed it was one Plage de la Pinède at the far end of the pool complex, so we set off down the ginnel (snicket, path… Insert your own colloquialism). At the end, was a collection of wooden structures that looked like they were part of a nice looking revamp.
We were greeted by the boss man and some friendly staff before being ushered down to the decking area on the beach with a whole array of toys lined up and ready. The pebbley Pinède beach stretched off round the corner to the East and was dotted with sunbathers enjoying a magnificent and toasty Autumn day.
There were a few familiar faces there already, so we said hello, had a little chat, unloaded our buffet contributions, donned our 'swimmers' and had a sneaky pre-lunch nibble.
It wasn't long before the group of morning riders arrived en-mass and after a quick briefing about the rules we got stuck in. T and some of the little guys wanted to take out 'Big Bertha', a giant, multi-person paddle-board which they said required two adults to accompany the kids. A mate and I life-jacketed up, grabbed some oars, joined the little guys and set sail.
It wasn't long before the lake filled with all manner of paddle boards and kayaks and unsurprisingly not long after that 'Battle Royale' kicked off… Actually, I think we may have started it but we spent the next hour knocking people off, getting knocked off, being invaded, launching surprise attacks and throwing people in. 👌😎
In a case of mistaken identity, I tipped a teenage girl off her paddle board who was happily minding her own business and looked quite surprised. My Big Bertha co-cap'n and I also almost launched another teenage lad to space when he boarded our vessel and tried to dunk one of our mini crew-mates. Somehow we both reacted at exactly the same time and the combined shove, timed perfectly and in the same direction, multiplied the power and sent him soaring!
I was very impressed with T who stayed out without a vessel and continued to operate autonomously behind enemy lines. 🙌
Teeeerrrrrific fun and thankfully no (significant) injuries.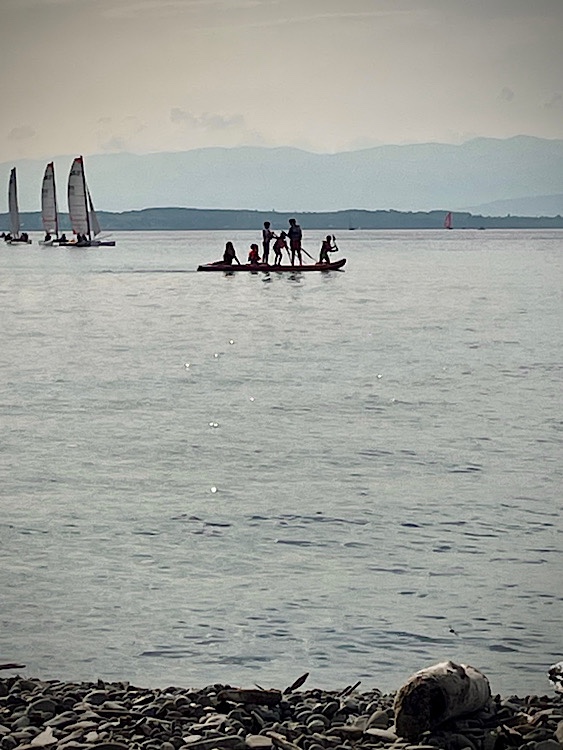 Time for a break and a bite to eat and the Canadian buffet spread was impressive and delicious. One of the Mums gave me a good laugh because she'd had a similar mental picture to mine about the Canadian buffet and had arrived with a cool bag full of meat to lob on the barbie. 😂
A fantastic and fun afternoon of food, drink, sunshine, socialising and water-sport action. A satisfied, chilled ambience descended as the sun sank and the numbers dwindled. What a lovely place. I could happily have roasted a few marshmallows on a beach fire then climbed in a hammock and spent the night there.
Anyway, we can obviously, highly recommend a trip down to Pinède beach and Nautic All Sports. Great little location, nice operation, lovely staff and a thoroughly enjoyable afternoon. Thanks guys!
Get yourself kitted out for Winter
Winter's coming and it's always a treat getting your new kit sorted!.. Our affiliate partner Blue Tomato is THE leading online shop for winter and trend sports, streetwear and fashion with over 450.000 products from over 500 well-known brands. Click here to see if they've got anything you fancy.