Les Gets Bike Park opening weekend 2021 was a belter! The best, most action-packed weekend I've personally had in a long while.
In these times, you never quite believe something's going to happen until it's actually happening, so it was an absolute delight to catch that first lift on Friday morning. After what seemed like weeks of 'dreich' weather, the sun also decided to come out to play for the entire weekend, smearing a thick layer of sweet, sticky icing all over that tasty MTB cake.
It turns out, a decent amount of other riders got to enjoy it, too. Les Gets have announced 18,000 turnstile passes over the weekend and an attendance record. That's just 2 chairlifts on the Chavannes sector, with the Mont Chéry bubble yet to open.
As soon as they'd announced the dates for early opening, Friday 28th May was PENNED in my calendar and blocked off for 'playtime'… Whatever!
The countdown commenced and we finally made it to 'T minus 1 day'… I sorted out lift-passes, bikes and kit on Thursday, so that bright and early on Friday morning, the back of my neck was slathered in factor 30 and I was ready to ride!
My pre-season prep was derailed a few weeks ago with a painful back spasm so I necked an ibuprofen and got out for a few early warm up laps before I'd arranged to meet some mates.
As you probably know, we're big fans of a chairlift or two at Up-Stix and getting back on one after a winter of huffing and puffing uphill, past lifeless, moth-balled ones was a reet treat!
I was feeling 'un peu' (French lessons… Check me out) sketchy back on the bike with a stiff back and minimal practice. After two laps, I was knackered and wondering if was going to struggle to keep up for the rest of the morning.
I met up with my mates and proceeded to have a totally unnecessary and significant spill with a hefty wallop to the shoulder thrown in, which hurt… A lot!.. But, it also fired me up to stop farting around, switch-on and get on it! Wahoo!
That was more like it and the rest of that morning just got better and better. It wasn't long until we were tearing about the place with massive grins but noting that precision, technique and judgement definitely needed a bit of work.
The trails were in decent shape, although a little soft in places where the shapers had made changes that hadn't had chance to bake harder just yet.
From what we've seen so far, the majority of the changes this year are on the red 'Roue Libre' trail, from the mid station down. There are some minor changes on the section from the magic carpet ski lift at the Chavanes to where the mini jump park usually is… That park's not there yet but we're guessing it will be and that maybe the wet weather would have made it difficult to build, set or open for this weekend.
The big changes are from here down – in what's know as the '4 cross' section. If you ride in Les Gets Bike Park you know those two table tops between the trees before you rail the big berms back to town. Well those tables are gone and in their place are a quadruple, step-up/step-down thingy, a table and a big step up. These sprung a nasty surprise on Friday as the soft landing areas rutted up causing a severe case of puckering when first spotted on your way out of the air and slightly out of shape.
The rest of the 4X track has had some extra bits and bobs added to make it more fun/challenging with little side hits, drop-ins and a hip gap into the berm which used to have a platform where everybody paused before the last few corners. This gap is NOT rollable and in the space of 5 minutes, we saw two people attempt to ride up and roll off it before clattering in uncomfortable looking heaps beneath it. 
The Les Gets Bike Park Shapers wasted no time fixing all those ruts and soft patches on Monday morning and posted 'before and after' shots on their stories to prove it. That's my kind of makeover!
Anyway… In no time, it was lunchtime, and I bode farewell to my mates and nipped home for a bite, a French Zoom lesson and to tackle a couple of essential admin jobs. Nina landed back soon after and we kitted up and headed back out for some fun husband & wife laps before rushing home to get showered and changed for another friend's birthday party. The mould for the weekend was set!
Saturday morning felt like Groundhog Day as the alarm went off and I fumbled to press 'stop'. This was like two Christmas Days back-to-back! School was out and T was champing at the bit to get back out there on his new bike with his old fella. We knew there'd be crowds at the weekend but we also knew there'd be an early opportunity to cram in some party laps while everyone else shook of Friday night drinks, got themselves out and organised. It paid off and he and I clocked up several fast, "whoop" filled runs together before the Chavannes lift line started reaching for the East.
15 to 20 mins of queuing wasn't too painful though and we met the Rush Adventures crew for a final morning descent before meeting up with the girls for a super-tasty 'Wild Beets' Lunch. Alway delicious and I highly recommend the falafel wrap.
Bike club in the afternoon for T which meant Dads and friends ripping for me and a chance to delve back into some freeride. The weekend was turning into a blur of bikes, buddies, trees, dirt, dust, gravel and sunbeams… Love it!
At the end of the afternoon, we met Nina and Iz again and topped of Saturday with a couple of beers on one of those newly opened terraces we'd been looking forward to frequenting, L'Op Traken this time. Magic! What pandemic?..
Well, just one day of weekend left and it was Mother's Day here in France on Sunday. I'd had my fill and a real treat over the last couple of days. Now it was Nina's choice of itinerary for the day… Wait! What's that you say?.. Family ride!?.. With lunch up at Lhotty's?.. Oh my days, that's ma girl… Ah man, if Carlsberg did weekends…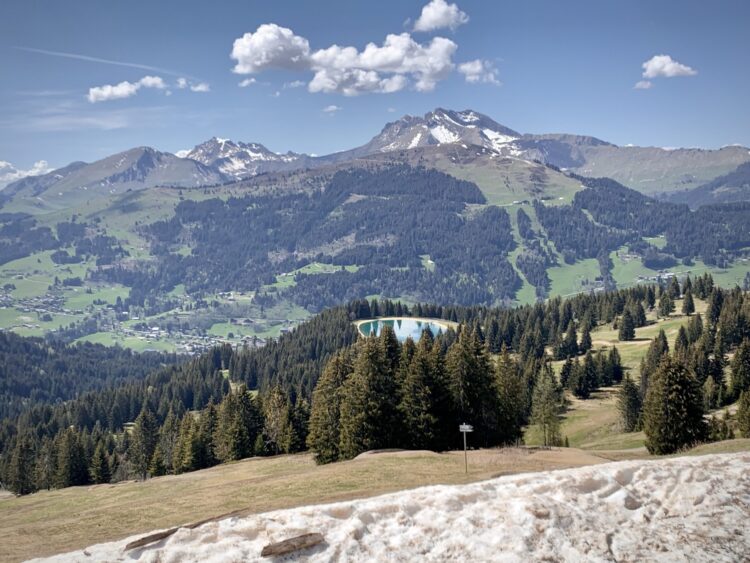 Just as we finished lunch we bumped into the Torico fam. We spent the next couple of hours being dragged all over the hill by a couple of over-excited young lads super-amped to be riding together. At their request we topped off the day's riding with a blast through 'Canyon'.
We finished up the weekend with satisfied grins, topped up tans, a small collection of scrapes and bruises but heads full of big thrills and good times!
I know a lot of you guys in the UK have had your plans to visit France, the Alps or this area scuppered in the last few days. We feel your pain and whilst we're lucky to have this on our doorstep, our chances of popping back to see family we haven't seen in a long while have also been lost.
I see Peaty's made it over here just in the nick of time as he's been posting pics out and about. The Cimes Events crew are up on the hill building features for the DH and XC UCI MTB World Cup events in just a few weeks' time. Well, more of the same this weekend for us hopefully, but maybe without the sunshine. There's the Dauphine Criterium to check out if we can tear ourselves away from the dirt. Not sure that's actually going to happen though…
Get yourself kitted out for Winter
Winter's coming and it's always a treat getting your new kit sorted!.. Our affiliate partner Blue Tomato is THE leading online shop for winter and trend sports, streetwear and fashion with over 450.000 products from over 500 well-known brands. Click here to see if they've got anything you fancy.