As soon as we saw this one pop up on the social grapevine, it had to be done! "Avoriaz Exceptional Opening Weekend Ski and Bike".
The 11th June 2021…. 10 days until the longest day of the year, the summer solstice!.. And what were we doing?.. Snowboarding!
Continuing the current theme of 'the world's going bonkers', Avoriaz announced that they still had an abundance of snow and to ease the disappointment of Winter 2020/21's cancellation, they'd be firing up the ski lifts for one exceptional weekend.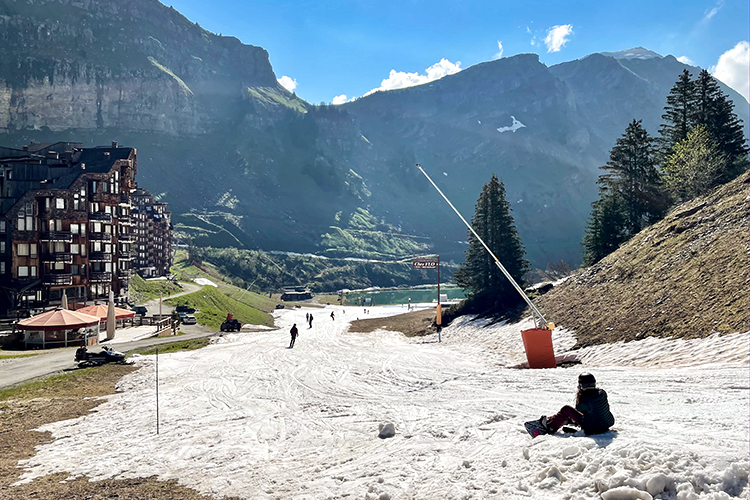 It would coincide with early opening of the bike lifts at Avoriaz, Super Morzine and Pleney, so you could ski in the morning and bike in the afternoon. The weekend 'Ski and Bike' was born. Marketing stunt?.. Maybe, but who cares?.. Let's ride!
I always think Nina's jumping the gun when I see her packing away the winter clothes and yet again 😉 – I was right. If getting one lot of kit wasn't time consuming enough, we spent Thursday night packing up 2 lots of kit, for two seasons!
The Prodain lift would be open at 7.30am to get punters up to Avoriaz, then the Lac Interets and Stade lifts would open at 8.00am to fire people up the Arare to kick things off nice and early before the summer sunshine had it's way with the remaining snow. They'd also be closing early at 1.00pm but 17€ a ticket seemed reasonable given the novelty value.
We packed the kids off to school on Friday and set off for Prodain. We arrived a bit late to the party at 9.00am and the car park was already pretty full although not into the overflow parking above. Up and away on the Prodain lift and at the top we had to walk across a squidgy expanse of grass to get to a strip of piste where there were a few others strapping in to start the day.
As soon as we started sliding though, summer disappeared, the winter 'that wasn't' dissolved and we were just back on boards, back on the snow and then back on a ski-lift, and it all felt pretty sweet.
In all honesty, we were thinking that we should check this event out, and that it'd probably be interesting to share on Up-Stix. However, we hadn't expected it to be so good and after one descent we were buzzing!
This was great riding! Looping round to the Fornet bowl and jumping on the Fornet chairlift revealed even more promise. There was fairly decent cover in the whole bowl, on and off piste. There were people getting busy launching off natural hits and dropping cliffs all over the place!
Yes, the the snow was soft, pocked and a still a bit orange courtesy of the Saharan sand delivery in February but the cover was deep, it was barely tracked and it wasn't so soft that it hooked your board or skis up too when you made your turns.
Spring (ahem – summer) skiing at it's best… Somehow, just being back in this environment and free to lap endlessly seemed to fire a volley of neural connections linking all those associated memories and emotions of good times doing this over the years. It was great to be back!
Another treat was stopping for coffees at the little cafe and gazing up to the peaks and ridge above the bowl with skiers and riders winding their way down. This felt like we were on a proper ski/boarding holiday.
We had thought we'd only be up there for an hour or two but it was so good we stayed until midday and we only left then because I had to get back for a French lesson. In the end, we weren't left with much time for the 'Bike' bit of the equation…
We know it's not obligatory to do the 'bike' bit on the same day but it felt like the right thing to do, so we grabbed the bikes and jumped on the Super Morzine lift for the first time since last summer. Then the Zore chairlift whirred us up and over grassy green meadows of Super M in stark contrast to the snow-white (orangey) view from the morning.
We only had time for one lap and Tutti Frutti always delivers the fun. We swerved and hucked our way round the berms and over the tables until we were back at the cable car.
A great fun day, topped off perfectly with l'ApresSki Bar beers in the sunshine with some friends in Les Gets.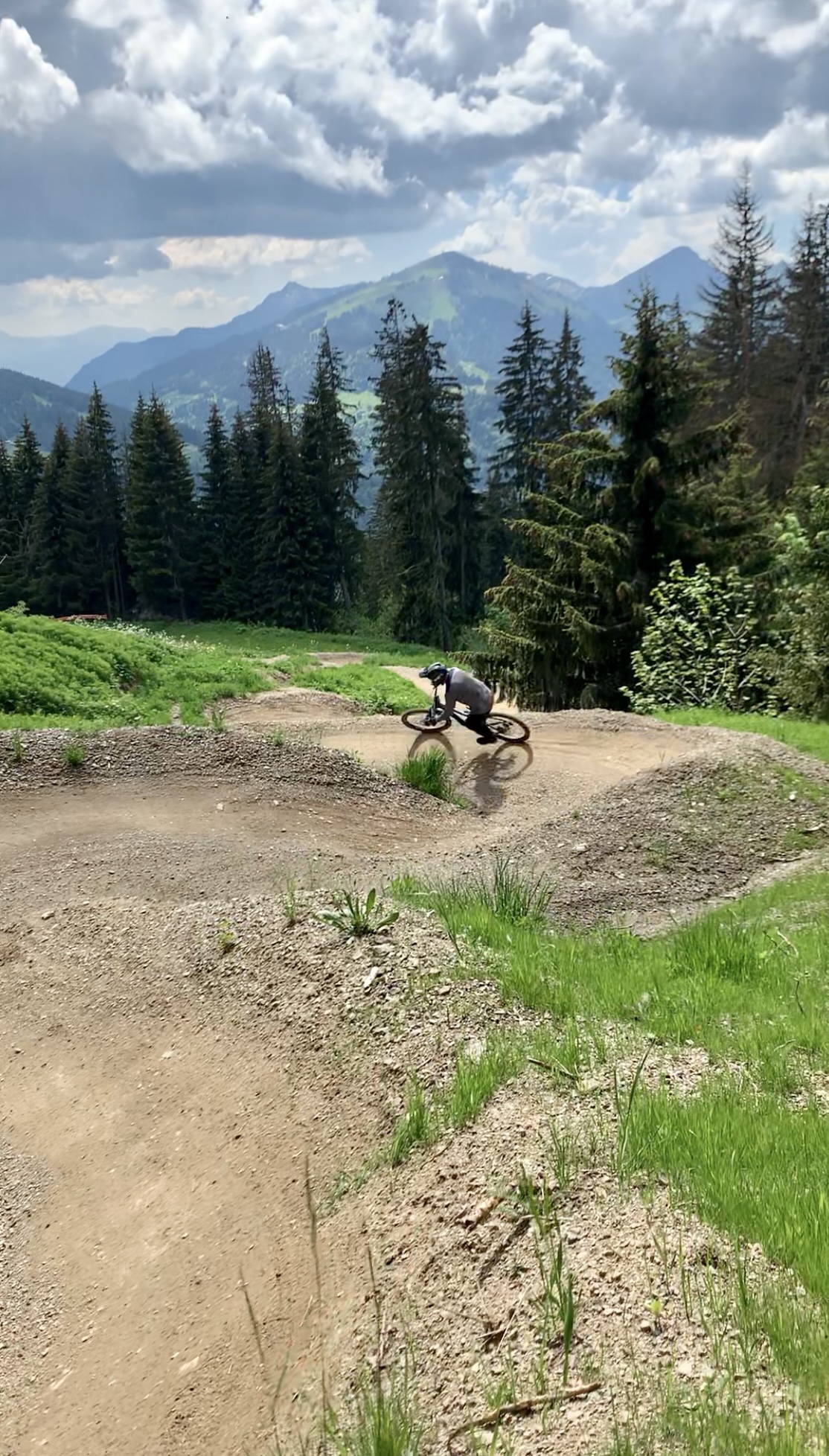 That wasn't it for Up-Stix Ski and Bike Exceptional Weekend though… Iz was super-keen to experience some shredding so she and I went back the next morning for round 2; ding, ding!
We were earlier this time and it was way busier but we got loads of laps in together and had another top morning out. She loved it and found it highly amusing as we drove back afterwards that everyone was in summer mode when we'd just spend the morning boarding on snow.
What a weekend! We even got free coffees and free badges. Merci bien Avoriaz! A great idea and a whole lot of fun.
Get yourself kitted out for Winter
Winter's coming and it's always a treat getting your new kit sorted!.. Our affiliate partner Blue Tomato is THE leading online shop for winter and trend sports, streetwear and fashion with over 450.000 products from over 500 well-known brands. Click here to see if they've got anything you fancy.