Well. This is getting very exciting!.. UCI MTB World Cup Les Gets 2021 has arrived!
Riders and teams are in town, track walks are done and practice is in full-swing. Social media is buzzing with previews, riders are on 'full send', there's lots of laughs and plenty of carnage. The weather's holding up so far and we look set for a weekend of awesome world class mountain biking action. 👌
If you're a regular here, you'll know that the downhill is 'our bag baby!' Maximum respect to the XC guys but Saturday's action on the Mont Chery side of town is the sugar that we've been eagerly anticipating.
Les Gets returned to the World Cup calendar 2 years ago in 2019 and I'm sorry to say I missed that race completely…
Instead of watching Amaury Pierron's blistering, on-the-limit, winning run with hoards of other rowdy spectators, I was on my way to surgery in Thonon hospital to have my quad tendon repaired after overcooking a corner that morning and impaling my knee on a tree branch… Oops.😬
I even missed watching T getting to present Laurie Greenland with his 3rd place winner's medal. 🙄
Here's a little recap of 2019's DH action:
I'll be leaving my bike in the garage on Saturday this time. Unfortunately, Amaury Pierron won't be competing here this weekend after crashing at Les Arcs last week. Heal fast, Monsieur Pierron.
Anyway… Last year, Les Gets was supposed to be the final stop on the World Cup tour until it got cancelled for some reason… 😐
Local team, P2V, stepped in and invited everyone along anyway for a closed door event; The P2V Invitational. They built a new track on Mont Chéry which paved some of the way for this week's new World Cup track.
There was some great early feedback from the competitors this week. Excited about letting loose on such a fresh, loamy, wide-open track, they were interested to see how it would evolve as the wheels cut in and the line choices opened up.
There's a few BIG features on this course – including a large road gap which lands straight into a berm. They also have a big stream gap lower down with a short, poppy take off immediately after a steep, rapid, muddy/rooty run-in. Me and a mate went for a nosey a couple of weeks ago and thought it looked like a major handful for us mere mortals and some of yesterday's practice vids seem to confirm that it's a handful for the pros.
Of course, these features have a run around but the temptation to take the faster, high consequence/high reward line is big for these guys.
The course apparently claimed a couple of victims yesterday including Marine Cabirou, overall 2020 World Cup winner and P2V Invitational 2020 Champ, who took a major spill on the road gap. Hope she's OK.
We've heard from a few of the XC guys that the cross-country course follows the same theme and is 'very technical with a some big features' too. Their racing starts today with men's and women's short track starting at 17.30 local time.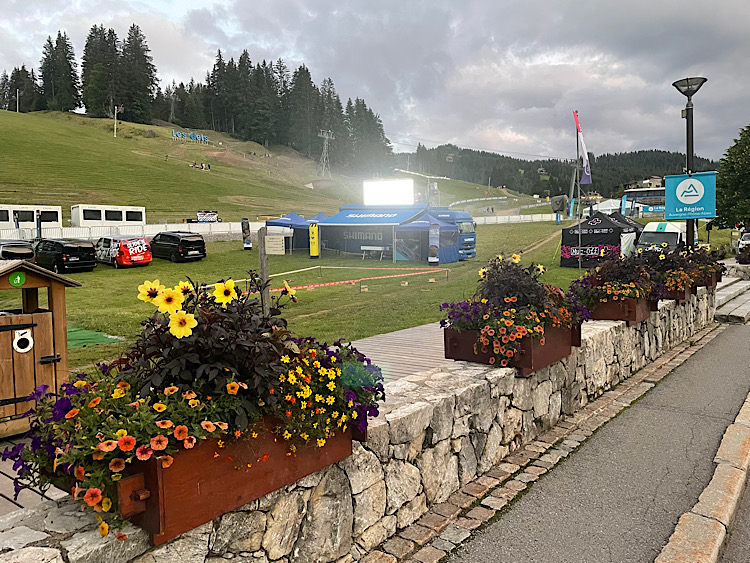 DH qualifying is today with the main finals race action tomorrow… 12.30 for the women and 13.30 for the men. The full schedule is on worldcuplesgets.com and if you'd like to watch, you can find live coverage and replays on RedBull TV.
We'll hopefully catch some of the DH qualifying today and at some stage we'll hopefully ride the Mont Chery bubble up to the Bellevedere then the Point lift to the top of Mont Chéry before walking back to the track – catching the action all over the place. Finish enclosure for the climax is a must though.
We reckon this weekend could be even bigger than 2019. Spectators are welcomed and the riders are looking forward to some properly decent support and atmosphere after a year of party-pooping COVID constrictions. Mask wearing is obligatory – although it'll be interesting to see how that one pans out…
Time to put these double Pfizer jabs to the test. 😂
Wahoo! Good luck to all the teams and riders and let battle commence! 🤘💪
Get yourself kitted out for Winter
Winter's coming and it's always a treat getting your new kit sorted!.. Our affiliate partner Blue Tomato is THE leading online shop for winter and trend sports, streetwear and fashion with over 450.000 products from over 500 well-known brands. Click here to see if they've got anything you fancy.