Sometimes things just work out beautifully. Some days are just a cut above the rest. The stars align and the ducks line up (What?.. Never mind). Our family slide in the Portes du Soleil on Saturday was just one of those.
We've got quite a bit on these days – with regular life, clubs, music, swimming, judo, bike clubs, school, work, committees… (Most of which are in a foreign language!) Whilst we still get our fair share, the opportunities that we had in the first year or so to get out on the slopes for a family slide has definitely reduced.
'Proper' use of our Portes du Soleil lift passes.
However, last Saturday the diary was clear, as was the forecast. We figured we'd make proper use of our Portes Du Soleil lift passes and head a bit further afield. The plan was to drive to Ardent and do a mini loop over to Châtel, Morgins, Les Crosets, Champéry and back to Avoriaz.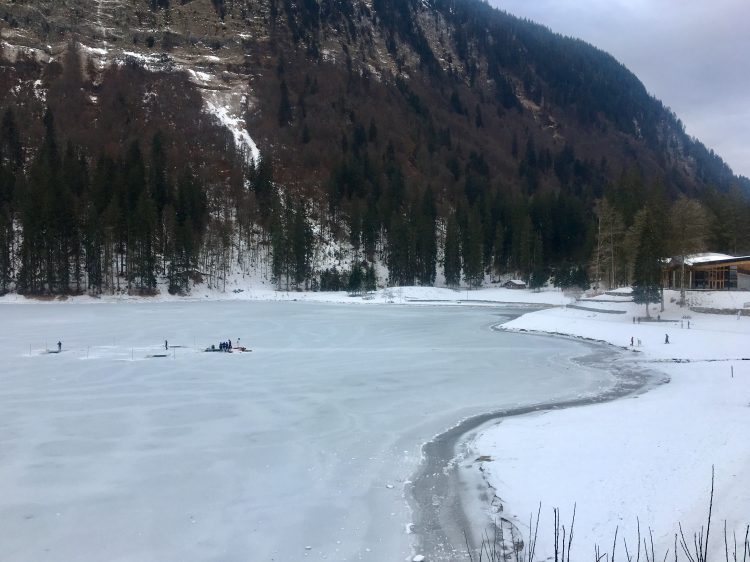 By the time we pulled the van over to take photos of some nutters getting ready to go ice diving on Lac Montriond, we'd already been up since sparrow's fart, prepped ourselves and a packed lunch and a whole bunch of goodies for a big day out.
Taking the bubble up from the Ardent car park, we slid over to the Chaux Fleurie lift. This whisked us up from Lindarets and within minutes we were dropping into Châtel for the first time this season. Given the plan, Nina and the kids had opted for skis and we were off! Man, riding as a family is amazing now!
He set about hitting every side-hit in sight…
The kids are so fast and so capable now. T's in proper competition club and set about hitting every side hit in sight and dropping off some hefty sidewalls.
I have to fight the urge to reign him in. Most of the time, he knows what he's capable of and he's nailing it. So, whilst we want them to be careful, we don't want to sow a seed of doubt that could knock the confidence that's making it all work.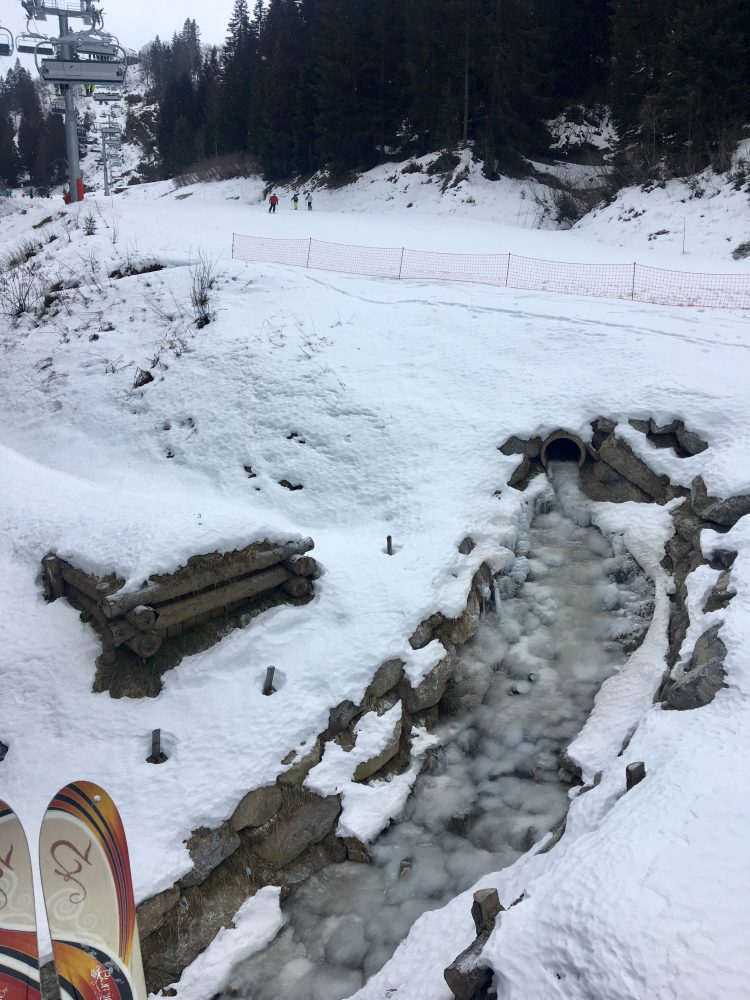 We blasted down to Pre La Joux and they wanted to go right back up two chairs to the top and do the whole thing again. It carried on like that… We raced around, zigzagging our way across Châtel (did I mention the Châtel River Gap?! 😉) and back. It was a bit wild out there and as a consequence the tour had gone straight out of the window. Add to that the low viz, super cold temps and we'd be chasing the clock. New plan: Have fun and follow our nose! Off we go with more zigzagging.
Keeping the fuel levels up was proving to be a winner…
I'd loaded my pockets with leftover Christmas Lindor chocs and popped one out here and there when we needed a boost.
Keeping the fuel levels up was proving to be a winner, so before the hunger set in, we decided to stop for lunch. Before long, we found a nice little rise off the piste and hiked up there for an early picnic with a view.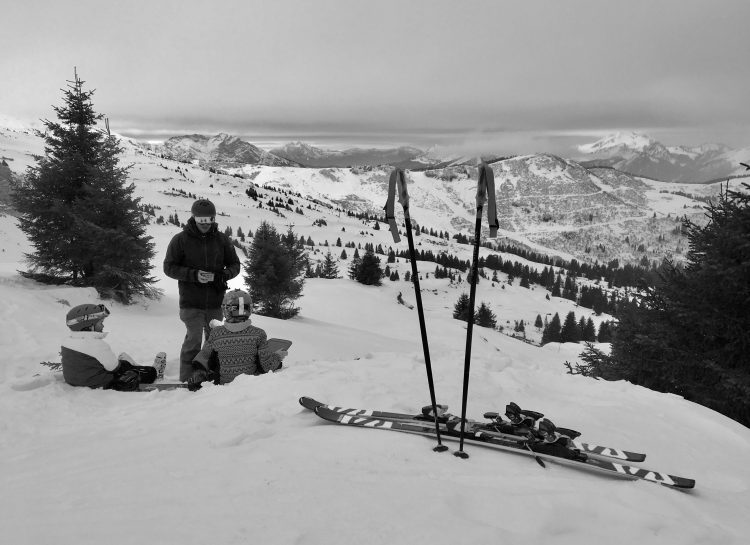 I love these moments. There really is nothing better than being out in nature, sharing an incredible view with my favourite people and munching on a tasty picnic after a morning of adrenaline-fuelled fun. That is what life is all about for me. (Note to self: A flask of coffee would have been the icing on the cake… Also, cake would have been the cherry on top of the icing on the cake!)
It was cold so we didn't hang about, packed up and got cracking again. More zigzagging and I said I quite fancied getting into Switzerland just for the heck of it. I suggested riding back to Avoriaz and up and over Mossettes to Les Crosets and we could have a coffee and hot chocs in Cookie Cafe at 2277m on the way back…
It's like an ebb and flow…
Full agreement from the team and off we charged. The pace continued. More hits, more carves, more slashes. You get used to riding with people and it's not until you ride with someone new that you realise the harmony you develop with people you ride with. Having that flow with Nina and the kids is such a pleasure. It's like an ebb and flow, swapping places, holding back, charging, giving room, pushing on.
We worked our way back to Lindarets, rode the Prolays lift and bore right to get to the long and spectacular Mossettes lift. Blinking freezing on that bad boy and howling a gale by the time we got to the top. Not a peep of complaint from the wee ones, off we go again! We rode the ridge down and dropped over in towards Les Crosets and poor viz. No bother, Wahoo!
We skidded to a halt at the Suisse Mossette and boarded ready for hot choccie time!
Cookie Café 2277m is perched fabulously high, just below the peak of Pointe du Mossettes. If the weather is clear, it's a first class box view of the Dents du Midi as well as views in every direction. We ditched our kit outside and went in. It was pretty full in there with people sheltering from the cold wind. There's a nice little seating area upstairs in the sloping eaves of the roof. T headed up to find a seat and, as if the day couldn't get any better, he came back having stripped off half his clothes as he'd bagseyd a sofa. YES!
Stoked with hot chocolates and coffees, we stepped back out into the wild, white mountains.
We strapped in and were off for a charge down to Lindarets. 20 minutes later we stopped at the bottom of the Mossettes lift to check whether the kids wanted another run or head home.
I figured they were probably done by now but nope! Zero hesitation: "Do it again!" Wahoo!
Half an hour later, we sped past the same spot and were on our way back down a side-hit-laden 'run of fun' to Ardent. We were definitely done now but what a day!
No complaining, no arguing. Just gutsy skiing, fun and games in conditions that had kept a lot of people at home. I'm already looking forward to our next family slide in the Portes du Soleil!