Some you lose – New snowboard, fresh powder, up early, phsyched family ready to shred… What could possibly go wrong?
Sometimes things work out just perfectly and if you read our last post you'll know that we had a corking day a couple of weeks ago. Sometimes though, things go the other way…
Allow me to set the scene.

Snow-wise, this winter sputtered into action here in Les Gets and Morzine. Despite the mega-dumps in Austria and the Eastern Alps, we've been getting the cold shoulder from the snow gods on this side of the Alps.
The snow that we did receive in December managed to miraculously cling on for dear life for the Christmas and New Year visitors. This, remarkably, was in spite of the rain and high temperatures attempting to spoil the party just before the big man arrived with his reindeer.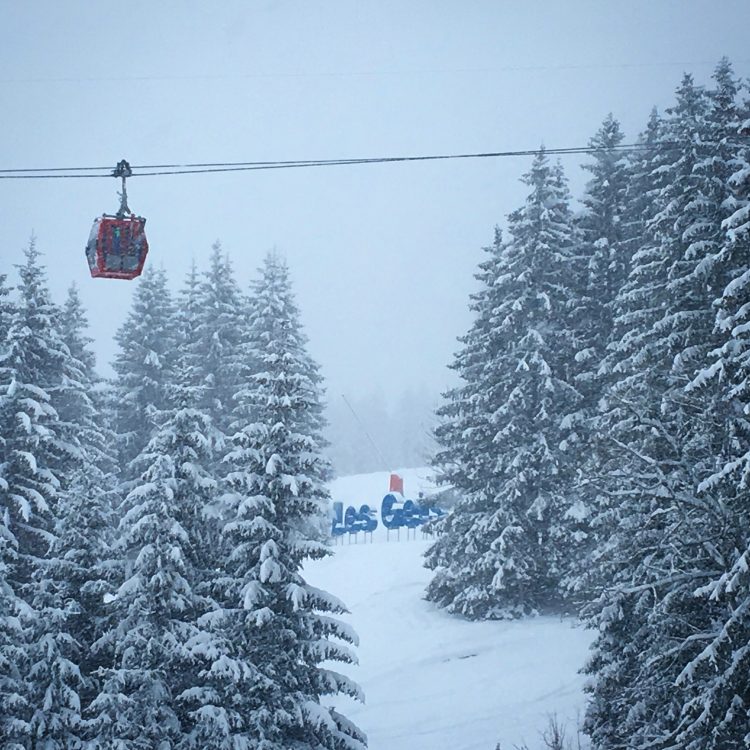 Anyhoo. We had our fingers crossed that the January 'sweet-spot' would deliver. It's colder, quieter and there's usually a few decent dumps for us to enjoy while it's not mental with visitors. We also get to catch up a bit with friends who have been grafting their backsides off with the hordes of Christmas and New Year visitors before squeezing in a bit of playtime before the February onslaught.
This was the week! A decent dollop of snow showing up on all the forecasts and a growing sense of excitement was building.
The weekend looked set to have the biggest dump so far and Sunday (unless you're a big fan of visibility) could be THE day of the season so far. The kids were free of clubs and itching for a powder day on the snowboards.
'Family powder day' was ON!
I have just 'invested' in a new shred stick this year. After testing a whole bunch of snowboards at the Rock On Snow demo weekend in Avoriaz, I fell in love with the board that was already top of my list 'on paper'. I called into The Woods in Morzine to buy my new snowboard on the way home from the test. That was a month ago and it was still sitting next to my desk with the wrapper still on.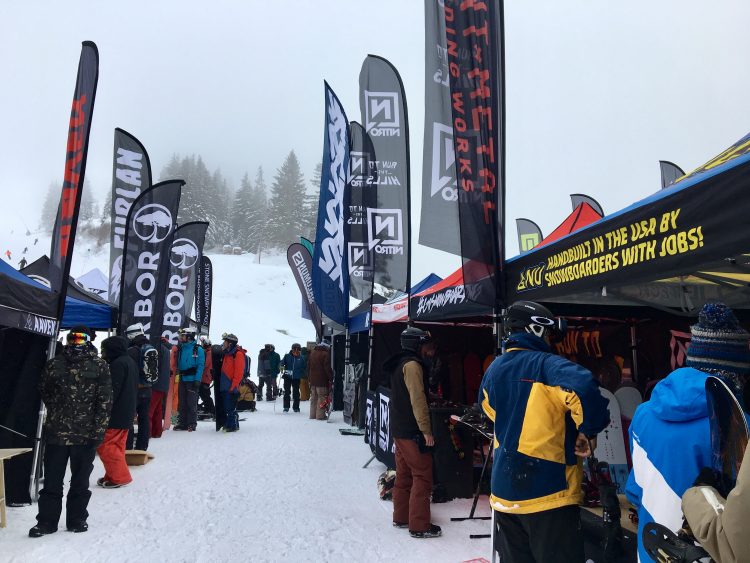 The sparse snow conditions were giving my old board a pummelling and I wanted a bit more snow cover before rolling out the new ride… Sunday would be launch day.
We prised ourselves out of the tentacles of a deliciously warm and cosy bed on Sunday morning and peeped out of the window to check the snow gods had delivered… "Yes! Let's do it!"
"Come on guys!" Breakfast in, tea in, pants on, socks on, thermals on, jackets on, snoods on, boots on.
Helmets – "check!" Goggles – "check!" Gloves – "check!" Lift passes – 'check!' Board tool – "check!" New board – "CHECK!"
Mont Chéry here we come…
We slithered the van down to town, parked up in dog-turd alley, skipped to the lift station and high-fived Iz's lifty guitar teacher before jumping on a white egg.
The Mont Chéry avalanche board at the top of the lift was showing level 5 (most severe risk), yikes! We had a quick team talk that there should be absolutely no off-piste riding or venturing off anything open. We jumped on the next chair up to the Grand Ourse. Ooooh. This was getting exciting! The snow looked terrific.
We disembarked at the top of the lift and I tightened T's binding, we agreed on heading off down the red Liévre piste and the kids chorused "Can we go, can we go?" "Yep", I said and pointed my new board downhill…
I can't resist a jump and there's a little bump to the side of the first chairlift pylon. Despite feeling a little wierd on the new board, I headed straight for it, jumped, landed badly, dug the nose in, twisted, fell hard and awkwardly… Oh sheeeshe… That felt like my back going.
I stood up gingerly and it didn't feel too bad. "You OK dad?" Yelled the kids. "Yep." I lied, and set off after them. The next few turns felt dodgy and then I hit a compression at speed and my lower back went into full spasm. Oouch!!
Game over… I'd managed 10 metres on my new board on the best day of the season and I was done. Every slight movement felt like I was getting the 'good news' in the lumber from a stun gun. I lay there contemplating whether I was actually going need to call ski patrol to drag me off before thinking. "Sod that."
I rang Nina to say I was going to have to bail out and I'd wait for them in the Belvédère while they had a few more runs.
I winced my way slowly back to the restaurant and two coffees later could barely get out of the chair. Dammit! Still… Could be worse.
It was about to get worse…
I left the fam behind to enjoy the day and started the Swedish rally stage back to our place. A lot of snow had fallen since we left and the climb back was a challenge. About a foot had gathered in our shared parking area and I didn't make it far on my first attempt at reversing in.
A run up usually does the trick…
6 run-ups later, I'd gained 3 metres and ground to a halt. I wasn't in a fit state for shovel time but I was blocking the entrance and so it was, erm, shovel time.
I rolled awkwardly out of the van into the deep snow, chunnering my best expletive-laden Mutley impression only to come face-to-face with one of our older neighbours. Just awesome!!!
"Sorry Ed, I hope you didn't catch that?" "Catch what?" Phew!
I took the opportunity to have a decent moan before saying bye, getting out the shovel and getting to work.
Each shovelful felt like a really bad idea, definitely not what the doctor ordered!
Ten minutes later I had cleared a route and unclagged the van.
Wowsers! it's been sore, and stiff. I actually screamed in the night when I'd managed to fall asleep in a reasonably comfortable position before setting off to roll over.
Still… I've done it before and despite a slightly frustrating couple of days it's easing up and I'm definitely on the mend.
It was a magic day out there today – blue skies and rejuvenated runs. Nina made the most of the January sweet spot and went for a ride to take some photographs… I went for a hobble around the block!