What a week in Les Gets! I know we mentioned that the snow was back in the last post but it didn't stop there. After anxiously waiting for so long for it to arrive, we were understandably over excited when it kept coming – and coming! Combine that with steady -5 to -20°C temperatures and you've got some perfect fluffy pow and good times!
As the Law of Sod would dictate, the arrival of the snow coincided with a deluge of Easyjet Bugs (as they're known). When visitors descend for high-season breaks at Christmas, New Year and half term, they bring with them an array of germs from all over Europe that enjoy their hols so much, they decide to stay behind. They rip through town, using the school as a hub and take down as many people as possible! Just in our house in the last week, we've had colds, fevers, sore throats, ear-aches, headaches, sickness and diarrhoea!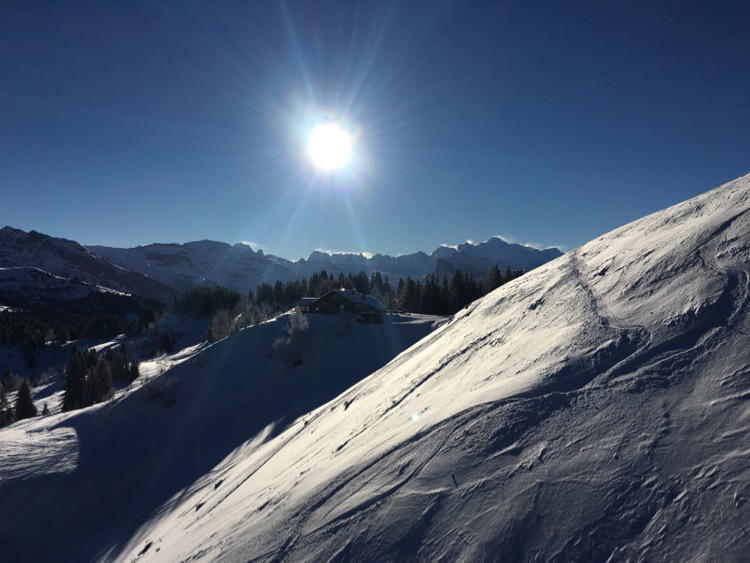 Luckily, it didn't spoil the fun and in all honesty, the last few days have been a total blur. In amongst normal daily life and bugs, we've been out boarding together, with the kids, we caught up riding with a load of friends, got up early for powder days on Friday, Saturday and Sunday and tore all over the place in search of fresh tracks and hidden lines. Les Pérrières area opened on Saturday, the Ranfoilly bowl opened and the South face of super-fun Mont Chéry finally opened on Sunday followed by the North on Monday. I met a mate at lunchtime on Monday for a board and my legs were beginning to feel like jelly. We found a tasty jump on the backside of Mont Chéry, but I barely had the strength to leave the ground!
I forced myself to turn down an invite from the Rush Adventures crew to join a group on a tour of the Portes du Soleil. I needed to have a rest and get some work done. It's hard to say 'no' when all this snow arrives and it's relatively quiet out there. It's also hard when you get as excited about going out as I do. If, however, I go past my limit, I start falling, then pushing harder, then falling harder. T'was time for a rest!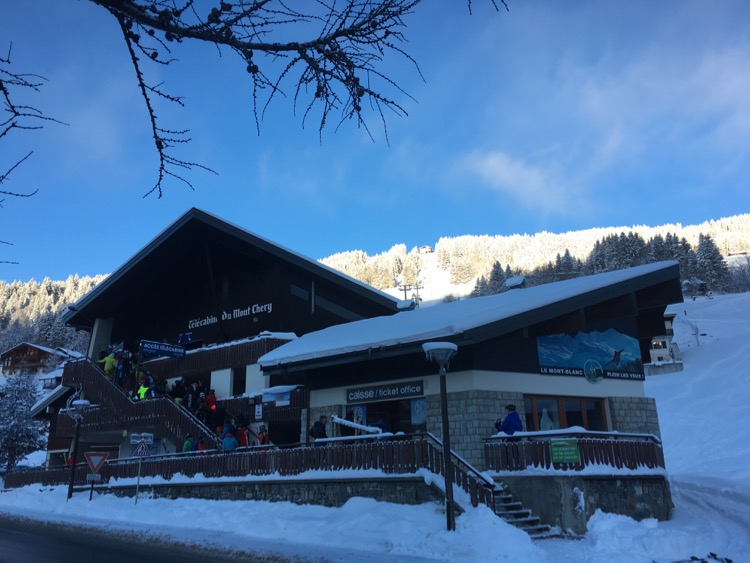 The snow has been amazing though, and with new snow on Friday and 40 cms of fresh on Saturday, magnificent blue skies followed it up on Sunday making for some excellent conditions. It's great to see the place as it should be, the lifts and runs opening up. The off-piste getting some action and the mountain restaurants like La Grand Ourse on Mont Chéry  finally getting some footfall now the mountain is open for skiers and snowboarders.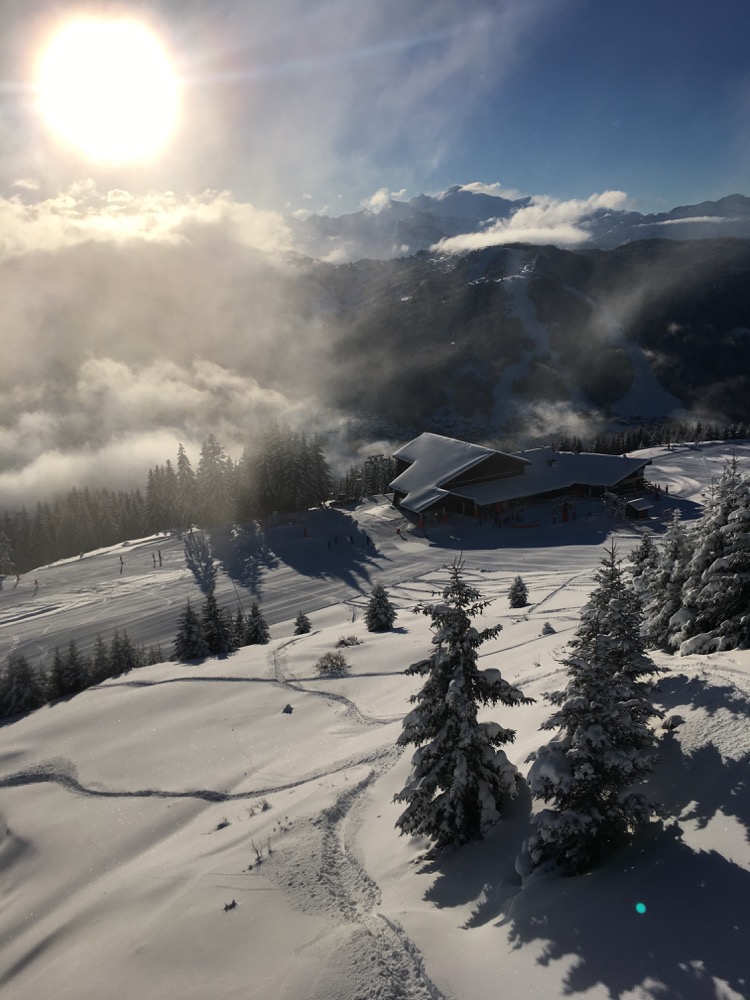 The kids did ESF ski school both days and arrived back covered in snow having had a blast riding powder themselves. They've progressed to finding new jumps that they're now desperate to show us.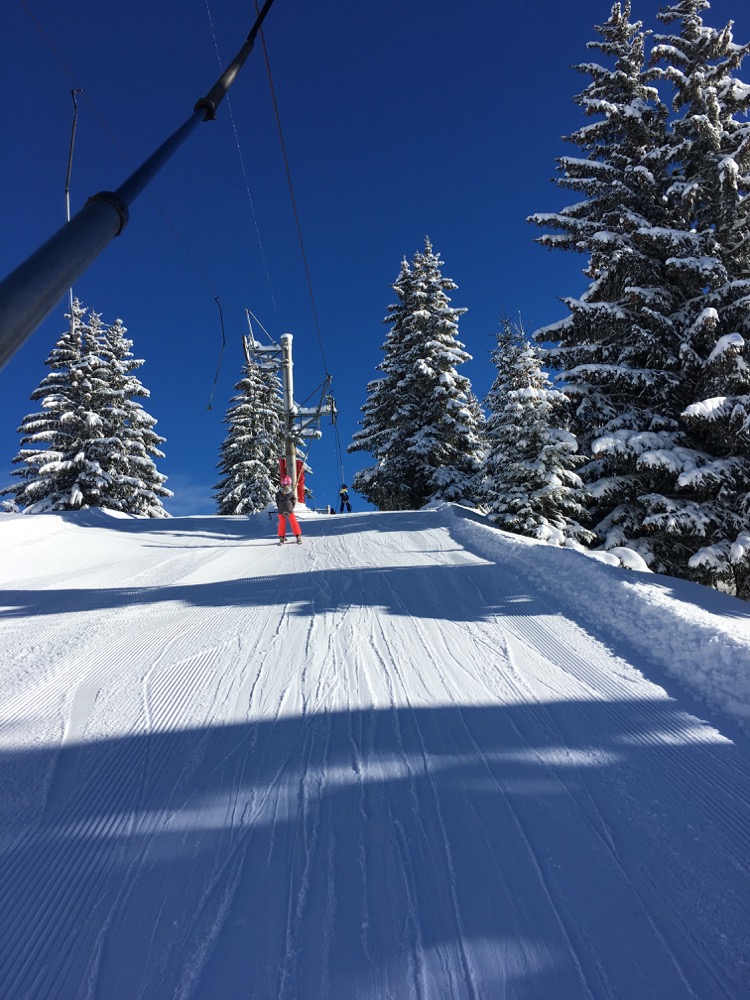 Nina even completed one of our missions to snowboard off-piste from the top of Mont Chéry to our front door. Big thanks to our friends, Nathan and Maho at Switch Snowsports for leading the way!
We've had a rest now and although we had to wait a while for the conditions to arrive, the perk of living here is getting to go for it when the going's good… And the going is pretty good right now! 😉