We've had two very excited and lucky kids for the last few days… After much research and deliberation, we chose Burton snowboards, bindings and boots for them both. We headed up to the Burton shop in Avoriaz to collect their brand new mini shredder kits this week! We picked them up from school, drove through Morzine and caught the Prodains cable car up to Avoriaz. Dipping out of the lift station, we admired a stunning sunset above a cloud inversion over Morzine below and walked through a snow-caked Avoriaz, dodging horse-drawn sleds to get to the store. You can keep the M62 and the Trafford Centre, this is my kind of shopping trip!
The kids have been asking if they can snowboard for weeks. Before adding in something else for them to focus on though, we wanted to get them settled in their ESF ski lessons.
Living out here makes things a lot more cost effective than just coming for a holiday. The kids' skis are rented from the same rental shops we would use in town. We get them for the whole season for less than a couple of weeks' holiday rental. You can also take them back in and swap the boots if their feet grow or change for longer / heavier skis as they improve.
We were expecting to find the same rental arrangement for snowboards. However, after trawling around the rental shops, we discovered that this wasn't the case. There's a lot less demand for rental snowboards than skis, so the shops only carry a small amount of stock. Understandably, they want to keep that limited stock in store for the more lucrative short-term rentals. A couple of shops said they might be able to do something but the price was going to be higher. After looking into it, we realised it was going to be more cost effective to buy our own kit. We'll easily sell it on again when they've grown out of it.
We spent another chunk of time trying to find second hand gear to buy. Unfortunately, we'd missed the boat with the pre-season sales and surprisingly, there wasn't much available online for kids.
New kit was going to be our best option! I set about asking for recommendations and researching online. It became obvious that Burton Snowboards kids' kit was consistently getting good reviews for quality, design and usability and I guess, given the size of the brand, the prices were also relatively reasonable.
We decided on Burton Chopper boards for both of them. There is an identical one called the Chicklet in pretty colours but the Chopper is unisex. Luckily, Iz loved the design and we could pass it down to T in the future without any grumbles. These kids' boards have a slightly convex base and bevelled edges which make them catch-free and more forgiving for young novices.
Our mate Nathan, who teaches through Switch Snowsports, recommended the single strap Grom binding and velcro Grom boots binding for T (5) as it would be easier for him to deal with himself. He said Iz (8) would be ready for proper two strap bindings. With this in mind, we decided on Burton Mission Smalls and Grom boots with the boa lacing system to keep it snug and simple.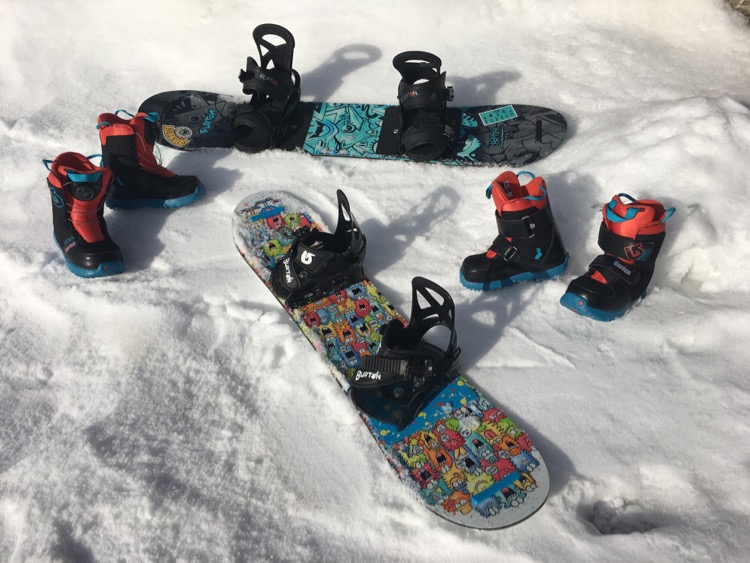 On paper, this was looking like quite a shopping list… I thought I'd find the nearest Burton shop, be a cheeky beggar and ask if we could get a discount. It turns out the nearest shop is up the road in Avoriaz and is the first and only Burton shop in France!
I e-mailed them with my list, explaining that we lived in Les Gets and had a blog if they wanted a look. I quickly received a lovely e-mail back from Victoria who said she could help and had everything in stock so we should just pop in whenever and get sized up properly. Result!
We finally made it up there last week, Vic was brilliant and the shop was a den of total temptation! We got all the kit on our list and the kids were bouncing of the walls with excitement. Nina couldn't resist either and turned up at the till with some well overdue goggles and gloves. She added them to our heap of goodies and Vic sorted us out with a good deal on the lot!
Victoria told us that Avoriaz has the highest percentage of snowboarders (20% of visitors) than anywhere else in France. She said this number is comparable with North American resorts. Weirdly, however, this Burton shop was the only dedicated snowboard shop in town and it only opened this year. Well worth a visit, in our opinion!
The kids hugged their boards and thanked us all the way home. It was well past bedtime when we got there.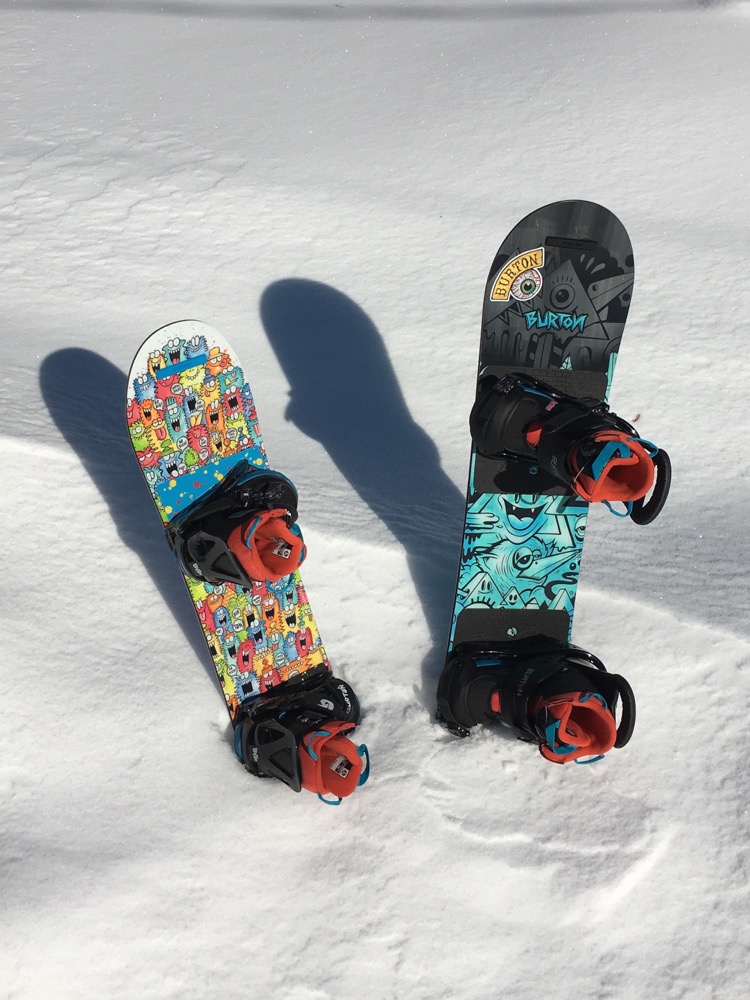 There's no school on Wednesday arvo and with another gorgeous day and perfect conditions, we packed a picnic and spent it up on the beginner slopes. The kids were keen on getting to grips with their new shred sticks. We warned them they'd be back to square one after being on the skis but it wasn't long before they were getting the hang of it!
We had a few more sessions over the weekend and both of them progressed quickly. It wasn't long before Iz was linking turns and T skipped the basics and taught himself to Ollie before he could even stop!  By Sunday night though, he was turning both ways as well. So far, the new Burton snowboards setups have proved to be excellent and the novice-friendly forgiving design is evident. The kids are hooked already!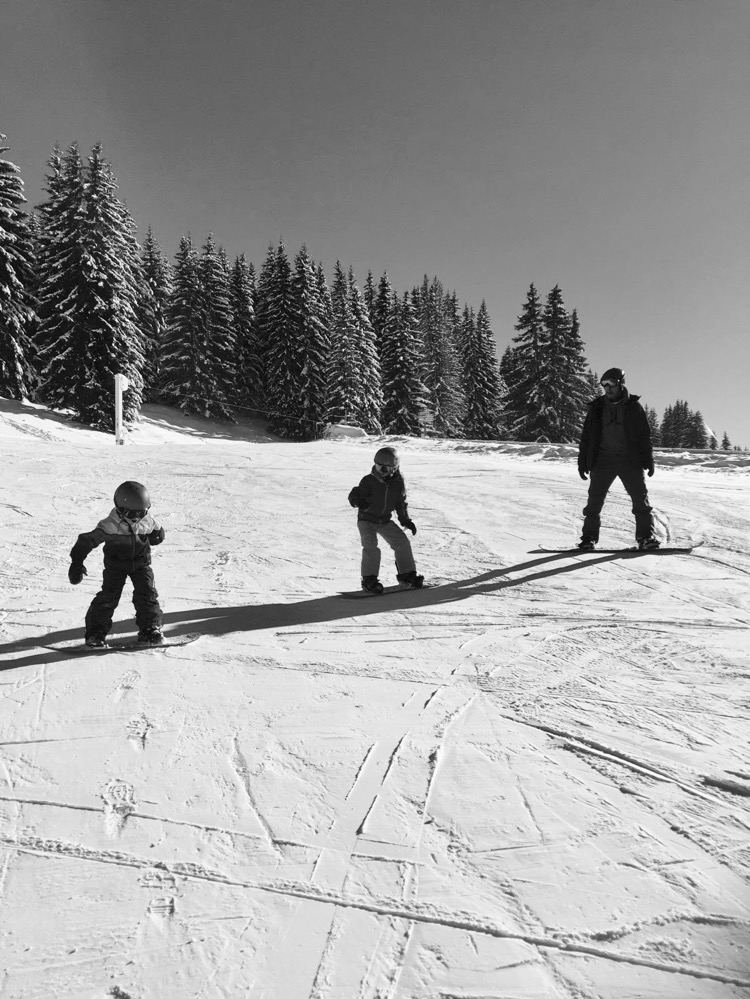 If you're in the market for kids' snowboards, we can recommend this Burton kit. The shop in Avoriaz is definitely worth a look if you are in the area. We'll keep you posted on how the kit and the kids perform over the next few months.