After 8 weeks of confinement you'd think we'd be chomping at the bit to get out there and spread our wings, so what did we get up to on our first day of freedom?
Diddly squat… Jack Shizzle… Zilch… Nada… Not A Sausage!
Get this… We didn't even leave the chalet! Haha!
In our defence… 8 weeks of (mostly) glorious weather timed it's departure perfectly to coincide with the relaxation of the lockdown rules aaaand the rain arrived.
The traffic arrived too, with wagons, cars, trade vans and all sorts buzzing about the place. It's definitely full steam ahead for summer season preparations – whatever that's going to end up looking like.
Day 2 – Tuesday – More rain but a haircut! (For me anyway.) Wahoo! Actually, there wasn't much to go at because the kids gave me a number 1 lockdown special 5 weeks ago. Still, it felt great to have a tidy up.
Unlike the UK, the Frenchies prioritised the opening of hairdressers in the pursuit of a return to some form of normality and I reckon it's a good move in terms of morale. It was masks all round and a military operation for Kerry to wash and disinfect everything between clients but it's another step towards normality… For now.
We didn't do much else on Tuesday either, other than work and school-work and a couple of episodes of Modern Family which we're tearing through almost as fast as bags of nachos and popcorn. I did venture out for a run though… And, weirdly, I stayed within the now defunct 1km radius restriction. Only 8 weeks 'inside' and I'd turned into Brooks from the Shawshank Redemption.
By day 3 the weather had dried up a bit and it was time for some bike action! The girls weren't interested but T was game. We cadged a lift up the Chavannes with Nina so we could ride (*cough* push) the rest of the way to the top and get a full descent of the Coaching Track to blow away some cobwebs and brush some rust off the old bike skills.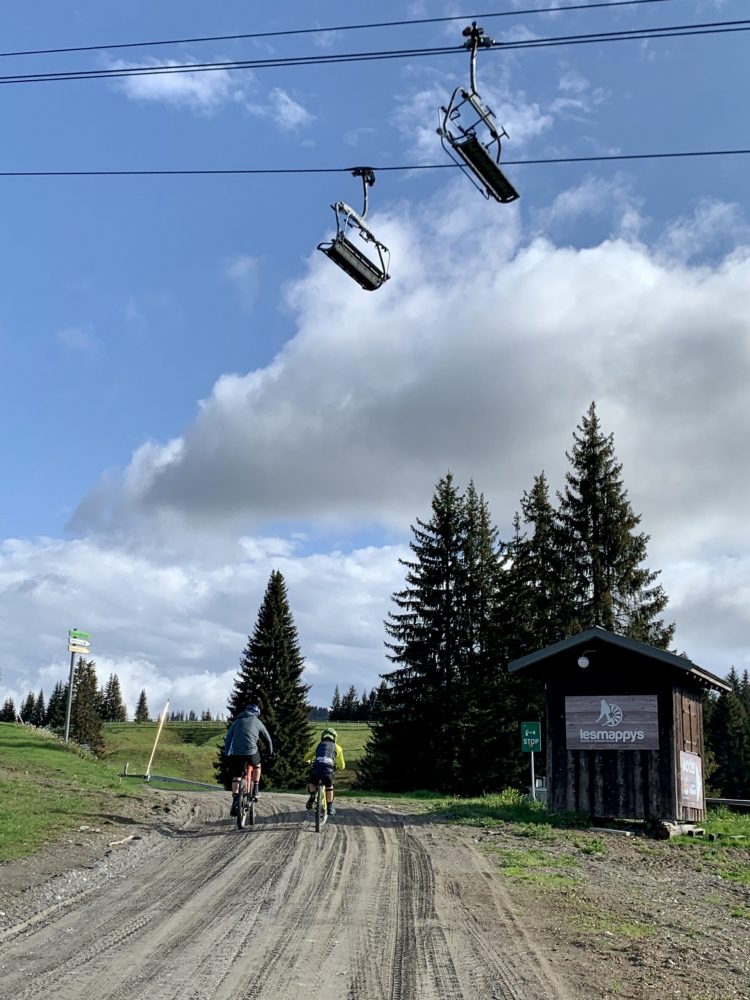 Ten minutes up the track and grrriiiiinddd, peeeooooummm!! The lever of my front wheel quick-release fired across the track like a bullet! Doh!
Something had seized up and the rotation of the wheel was causing the hub to unscrew itself and force the forks apart. I finger tightened it back, decided to risk limping it home and dropped into the trail behind T. I've had some sketchy descents in my time but this one was a proper white-knuckle ride.
I couldn't take my eyes off the hub. It would run fine for 30 seconds to a minute before scaring the pants off me and unravelling at warp speed. I'd have to slam on the brakes, screw it tight and set off again.
I eventually had the bright idea of turning the bars the other way round so, in theory, it would tighten itself up… In reality, the other side unscrewed, dumping the bearings, twisting the wheel and putting a nasty looking bend on the brake disc. Yeah buddy! Good effort.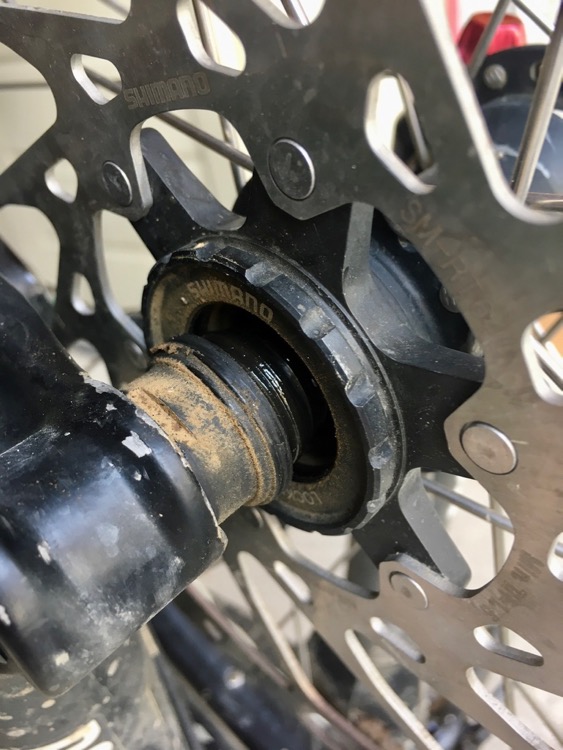 Not the most fun I've had on a bike but T loved it! The combination of adrenaline and excitement sent him into constant chatter mode during the descent and for a good hour afterwards.
By Saturday, my bike was in ICU with Jaff, institutionalisation was wearing off and we were beginning to hit our stride! We got up early and dragged our precious little blighters straight up the front side of Mont Chéry.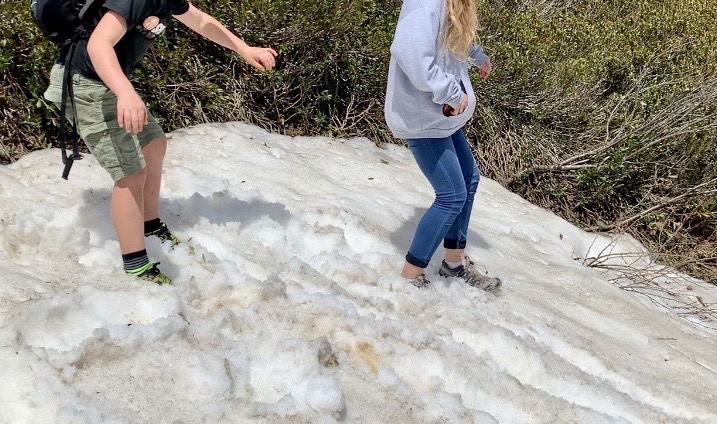 Sometimes the stars align for parents on a walk but not today… The moaning kicked in big-time. They even developed some kind of good-cop/bad-cop/bad-cop/good-cop rotation system. One would go goodie two shoes and transparently try to earn brownie points at the other's expense while the other lost theirs and wasted valuable energy complaining. Then, like an unexpected polar shift, they'd switch. Mystery.
With the summit no more than 100m away and in full view, T was still adamant that turning round and heading back was the best course of action. There's only one thing you can do when the goal's that close… Ignore them. Haha!
Snacks and drinks at the top did the trick and before long we were joined by a lovely old school Getoise couple (4 generations or more living in Les Gets gets you the 'Getoise' classification. We didn't check their documents but took them on their word ;)). Before parting ways, they told us that they'd seen a big marmotte on the way up.
Next stop, chez marmotte, and we found him, sitting by his hole! He was a big boy and a beauty. We gawped at each other for a good ten minutes before we figured we'd crept close enough and decided to leave him in peace to enjoy the rest of Sunday morning on his muddy doorstep.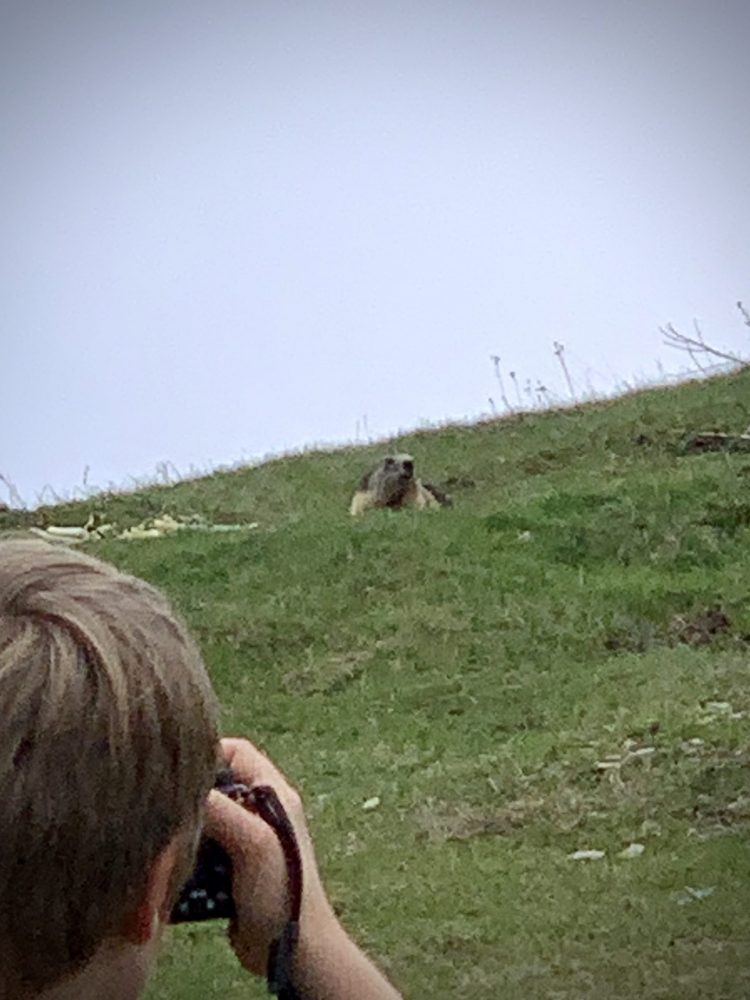 The confines of lockdown felt like a distant memory as we spread our wings further on Sunday and ended up sat on the banks of the Giffre river near Samöens. The kids swam in the freezing cold water and lobbed dirty great handfuls of black silt at each other, giggling incessantly until someone took a direct hit to the chops. That's more like it! Now we're getting back to normal.
By the end of week one we'd still not really seen anyone for more than a brief chat at distance. We know some people rushed straight into organising get-togethers, play-dates and all sorts. Others were more concerned about jumping back in too soon. We didn't feel like rushing back into socialising, even though the risk with our social circle is probably relatively low after 8 weeks of separation.
It's a weird one because second and multiple waves of the virus are very likely based on the pattern of previous flu pandemics. Furthermore, in the absence of a vaccine it's probably only a matter of time until we catch it, get over it and build some immunity. However, in all honesty I just don't feel like being ill, especially with something that's a bit of a lottery on the severity stakes.
We'll just follow the guidelines, keep easing back into 'normal' life and see what happens. Bike club starts this week complete with 10m spacing between riders (or 'pilots' as they call them in France – I love that!). T laughed and said '10m?.. Someone's going to get lost.' Music lessons are back on, too with the teacher sitting behind a perspex screen.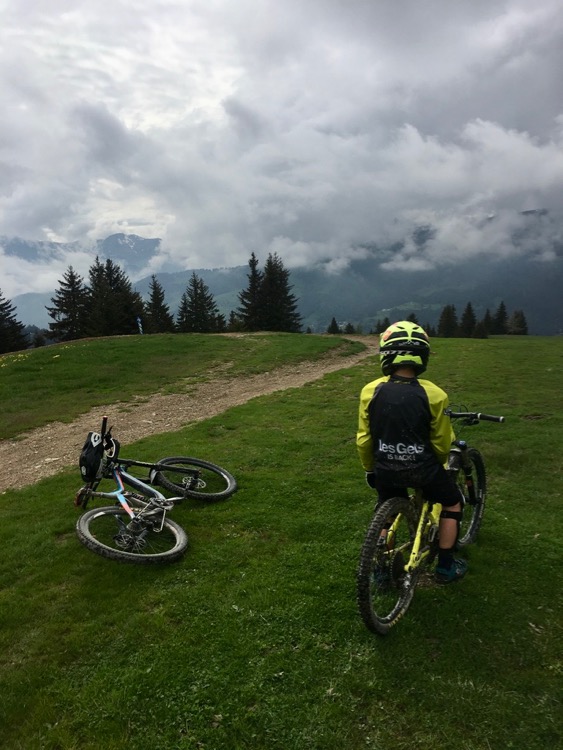 Bike parks in the Portes Du Soleil have all been announcing their summer lift opening schedule and Bike Park Les Gets is opening for weekends from the 30th of May! That's 2 weeks earlier than planned and only the weekend after next! Summer 2020 is happening, although what it's going to look like and where the visitors will be from remains to be seen.
Judging by the weekend though, it could still be busy even if the borders aren't fully open. There were hundreds and hundreds of motorbikes passing through Les Gets over the weekend and plenty of mountain bikers pedalling up and coming down the trails all over the place. There were queues outside Home Burger and Wild Beets fuelling riders at lunchtime with take away snacks. This is all before the lifts have even opened!
I think planning is going to be difficult for any of us for a while and I guess we'll take it week by week and see what happens…
Don't miss out on any new posts by entering your e-mail address and subscribing to our new post mail-out list.
Feel free to comment below and if you do enjoy the blog, don't forget to like, comment and share. Cheers!