We're still in Le Bouveret and today's post-work entertainment was a trip up to Torgon for a ski. We've been wanting to go up there for quite a few years just to check it out. It's one of those small, lesser known resorts that is linked into a huge ski area, the Portes Du Soleil. Luckily this means we can use our Portes Du Soleil 1/2 season passes and Google Maps tells us it's only 30 minutes away.
I'd heard reports that the drive up is a little hairy and it didn't disappoint. We blatted along to Vouvry before hanging a right and starting the climb. A narrow road winds it's way up the mountain with switchback after switchback. An imposing buttress opened up on the left like something out of the Lost World making it even more dramatic and the perfectly flat floodplain of the Rhone Valley shrunk beneath us with every turn. Nina and I both started feeling sick and the odd pang of vertigo kicked in as we peeped over the edge of the drops beside the van.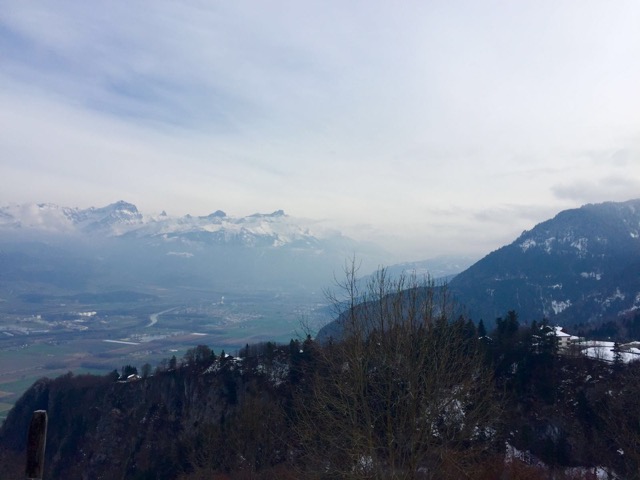 The access road should have given us a clue that this place was going to be a little less well polished than some of it's more renowned counterparts and a lack of decent signage and branding also became order of the day. It's amazing how reliant we are on these things these days.
Our first detour was as we entered Torgon itself with a Portes Du Soleil logo proudly displayed on the signboard. We followed a 'P' for parking sign and continued along to see if we could see a lift station. No lift station but the end of a residential cul-de-sac! We turned around and got back on the main road. It turns out that the base of the ski areas are beyond Torgon itself. A fork in the road provided our next dilemma.
We 'eeny-meeny-miny-moe'd' the left route and round the next couple of bends found a rather quiet base area with a few shops and a couple of lifts. We parked up and started getting our kit on. As I finished getting my first snowboard boot on, I decided to hobble off and see if I could find a map or a person to ask if we were in the right place. I found both, and the girl in the tourist office informed me that we were at the 'La Jorette' area and we would be better off up at 'Plan Le Croix'. My new map told me it was past the right fork. We piled back in the van and headed back.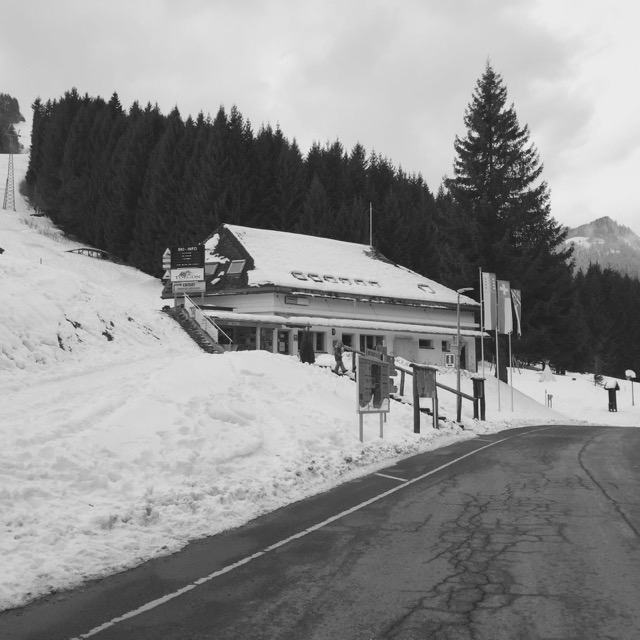 Five minutes later. That's more like it! More cars, more people, activity, lifts and sliders.
We booted up and the first stop, as it is with every place we go these days, the nearest public toilet. After dog poo, public toilets are my second least favourite thing in the world and something else I try to avoid wherever possible. In contrast, my kids appear to be on a secret mission to visit every public toilet in the northern hemisphere. Whilst I practice complex yoga moves to open doors, lift toilet seats and wash my hands without touching anything, T is at an age where he touches and brushes against everything within reach. The other day I was over the moon because we visited one of those gents' toilets with a trough to wee in. Perfect! He's not too small for it and he can just stand there and we don't need to touch anything. When we arrived in Les Gets two weeks ago I tied his winter boot laces in a way that he could just slip his boots on and off like wellies. They had been tied up like that ever since but in the space of time between him walking into the gents and finishing his wee, they had undone themselves and draped themselves into the putrid smelly steamy yellow trough. Nooooooooo!!
Anyway, I digress… Nina took them both to the loo thankfully. It turns out I dodged a bullet there but that's a whole other story.
As they were in the loo I tried to figure out what was what and where everything was as the lift and piste arrangement in front of me didn't match what was on the map. Were we still in the wrong place? I went to the big map on a board and found that the pocket map was out of date. There were two new lifts not even on there and all the piste numbers and in some cases routes were different. That's useful!
We headed for a small drag tow for a warm up before slipping across to the button/T drag lift which went to the top of a blue. Nina and Iz set off but T fell off at the start so we went to the back of the queue. When we finally made our way to the top, we saw Iz and Nina descending a very steep and icy red.
T had ended up about 4 people in front of me and I was willing him to dismount safely. I crested the top and he'd done a perfect job. A quick glance in Nina and Iz's direction told me I wasn't going that way with a four year old. A peep over the edge revealed that Nina had had the bright idea of taking their skis and board off and hiking back up to us. I gave her a ring to suggest that wasn't such a great idea and that perhaps they should put their skis/board back on and we'd meet at the bottom. After a brief, heated tele-domestic, Nina hung up abruptly and continued her hike. Right on cue, T decided it was a good time to throw a tantrum in front of the now 25 or more gaggle of skiers that had flocked to join us at the top of the mound. He was annoyed we weren't getting on with it.
We had two options: 'The red' or follow a blue sign pointing away from the direction we wanted to go but in my opinion may skirt round the back of the hill and head back in the right direction.
The phone rang again. "Iz has fallen and slid down the piste. She's alright and I'm with her but she's a bit upset… We'll put our skis on and meet you at the bottom".
T and I headed down the blue. It quickly became apparent that this didn't loop round to the way we'd come but was leading to another steep and scary looking button lift. Terrific! And then another fork in the road (surprise, surprise, no signs). We took the left again! You guessed it, right went down a blue, but left went down a steep red! Our boy continued his tantrum as he 'pizza'd' his way slowly down the run. Another Dad passed us with his kid under his arm. Same boat and a good idea. We made it to the button and after a bit of queing started our drag up the steep incline. I willed T not to fall off as getting back to the bottom would be quite a challenge.
He did a great job and it was not easy for a little dude dismounting at the top. He was a bit upset now and muttered 'don't like it!' Where now? A big orange barrier pointed me towards 'Torgon' but weirdly, beside it a sign said 'ferme 16.30'. What did that mean? Was there another lift we needed to get to by 4.30pm to get back into the Torgon valley? My pocket map had proven itself to be totally pants and there wasn't a big one in sight. I strapped in and we cracked on and followed the Torgon sign down a green run.
T was now having a whale of a time and, not sensing my urgency, was dipping up and down the little tracks on the banking and losing his speed on the 2 degree incline.
Oh wait, what's this? Another fork in the road.
Left says Torgon but it also says 1 hr 40 minutes… It can't take that long, can it? Maybe that's a hiking trail? Or, maybe that's because we have to take another lift? The 'ferme 16.30' rang alarm bells in my head and I thought I'd better have a look on my phone for the time. 16.38. Perfect!
The light and visibility was going and the old adrenaline was flowing a bit now. I figured third time lucky on 'left' and followed my shipmate's lead and put T under my arm and dropped in. After a couple of bends and rollers, I realised we wouldn't be digging a snow hole to sleep in that night and that we were in fact in the right bowl to get to the bottom and meet the girls. Phew! Mini panic over.
I popped T down and let him enjoy the rest of the decent. We had it to ourselves and it was pretty nice.
The girls were waiting for us at the bottom and our earlier domestic was forgotten. We swapped war stories and lessons learned and agreed that we needed to buy some beers on the way home.
Quite an exciting couple of hours all in all and it's amazing how much more anxious you can become in a relatively controlled situation when the welfare of your little bambinos are in the mix.
We whacked the beers in the freezer while we did the bedtime routine and when we put our feet up and cracked them open, they were fabulous!
Lesson learned: If you keep taking the left fork, eventually it'll be the right one!