We're past halfway folks!.. Yikes!.. Only 4 weeks of the summer season left until the lifts go down to weekend opening… Noooooooo!.. I'm definitely going to need an e-bike, pronto.
This season feels like it just keeps gathering endless momentum. Despite the (ahem) global 'situation', the last few days have seen some tasty lift queues in the Portes du Soleil, the likes of which are rare outside of big events or openings. I don't know if there's a single reason for this, perhaps more of a combination of good weather, getting it in while they can, increasing confidence in venturing out, lack of ability to travel to far off lands, no big bike competitions/events elsewhere around the world… who knows?
It makes for a good vibe though, if a little crazy, with large numbers and mixed abilities (and velocities) out on the trails but queuing's never much fun. It's felt a bit like a summer version of February half term this week which I suppose has got to be great for the local businesses.
Our Summer so far has been really good. We've done tons of biking, the mermaid in the family (Iz) has got back into swim training and is loving it. We've hiked, camped, laked, Wibited, BBQed and caught up with mates.
Momentum in the Les Gets Bike Park has continued, too with changes to Tomawak and The Coaching Track as well as Roue Libre and the behemoth of the new black jump line that we mentioned in previous posts. There's been quite a few people hitting it the last few days and vids are going up from the likes of Sam Pilgrim and the local P2V crew showing how it's done. I even saw one lad drop in to hit one of the bigger gaps and do one of the biggest cases ('Case' – Coming up short on the landing. Usually unpleasant for bike and rider) I've ever seen. He didn't even make it over with his front wheel and slammed into the face of the landing from a height and at considerable speed but somehow managed to ride out. Lucky day.
Saturday afternoons have become a fun sesh for Dads and mates while the kids are in club. We've ended up with some big groups of us tearing about the place. Me and a mate took the GoPros out to capture a bit of action for when we're older and creakier. Getting the angle right is never easy and he mainly captured his top tube and the floor, and the footage was upside down, Haha! Mine was marginally better.
We even had our first cross-border trip of the year, a whirlwind drive back to the UK to catch up with our families…
Having a free-ish week last week, we decided to strike while the going was good. We prepped the van, booked the tunnel and set off on Sunday morning for a single blat from Les Gets t'North.
A new record!! We left Les Gets 6.00am and arrived in the Lake District at 8.15pm Boom!
We took 3 hour shifts on the driving/napping, loaded a huge stockpile of snacks, drinks and picnic stuff to reduce stopping. We lucked-out boarding a shuttle three slots earlier than our booking and didn't have a single hold up across the length of England… Let me let that sink in for a minute… Yep. Not a single hold up from Folkestone to Cumbria.
It was lovely catching up with our families who we've not seen for a while – especially as trips had been cancelled earlier in the year due to restrictions. Lovely! Especially a proper hug after all that face-timing.
It was weird being in a different country with slightly different restrictions and having had a different experience. Walking in for a pub lunch and being stopped at the door to hand sanitise but being free to move around inside without a mask on seemed bizarre after having to wear them in restaurants and bars in France unless you're seated. Maybe time will tell which things work best but different was weird.
The journey home restored the travel luck balance sheet and coincided with the hottest day of the year. There were plenty of hold ups this time, crawling traffic and a jam on the M25 in 37 degree heat. The AC in the poor old van could barely make a dent in it and the kids were sat in the back in their underwear. We'd arrived early for our shuttle in the hope of bagging another early opportunity but the terminal was rammed and our crossing was subsequently delayed by an hour. Could've been worse.
More heat and mega storms across France kept us on our toes but we got back to Les Gets at 2.30 am, safe and sound which is all that matters. Decent lie in in the morning too.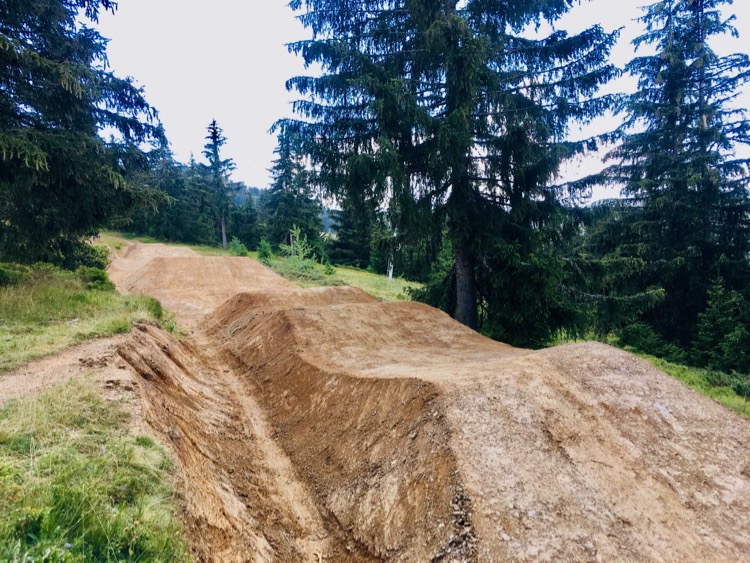 Now midway into the summer season, 4 weeks and 2 weekends is actually loads of time! Wahoo!
Haute Savoie is currently on a 'moderate' rating for COVID-19 which means we don't want case numbers going any higher. It's a big area though and apparently cases are still low in these particular parts.
Les Gets is in the thick of the Lounge Music Festival and Alta Lumina has opened. The first batches of guinea pigs had a mixed response: some indifferent, some with suggestions and some absolutely loving it!
DH Kids Cup race, the Les Gets Trail run and the Wetzeyers' Alambike are still in the calendar and I'd like to visit some more bike parks in the area before the summer's out. I (for one) am perfectly happy to keep distancing, restricting and mask wearing as long as everyone gets to keep playing out.
Get yourself kitted out for Winter
Winter's coming and it's always a treat getting your new kit sorted!.. Our affiliate partner Blue Tomato is THE leading online shop for winter and trend sports, streetwear and fashion with over 450.000 products from over 500 well-known brands. Click here to see if they've got anything you fancy.