I've missed out on a couple of trips to Bernex when friends were going but we pencilled yesterday in the diary a week ago and I wasn't missing out this time… It didn't disappoint.
There's more lift assisted riding around here than you can shake a stick at and it's not just the World Class riding in Les Gets, Morzine and the Portes du Soleil. Within an hour or two's drive, the list just keeps growing!
Bernex has been on my wish list for a while and we've consistently heard good things about it since we arrived here.
"Have you ridden in Bernex yet? It's soo good!"
"C'est genial! (It's awesome!)". Accompanied by Italian style finger-kiss flourish 'mwah!'.
"I'll tell you what… They know how to build a corner at Bernex. It's great fun!"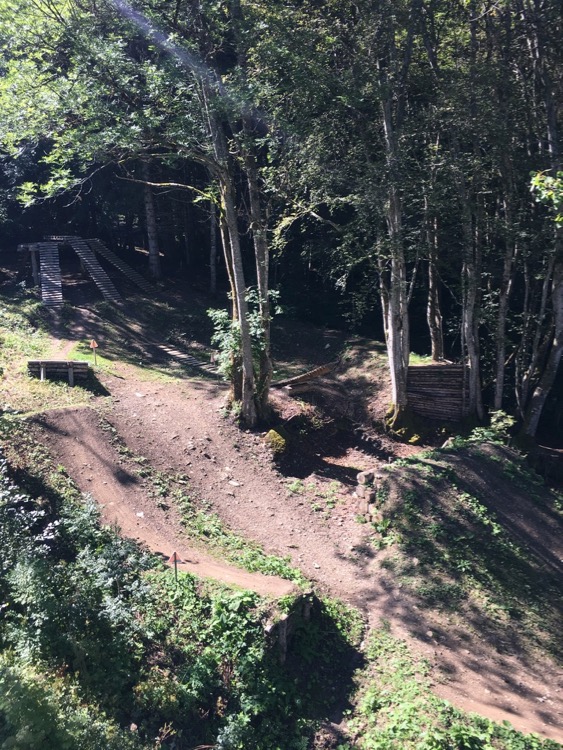 Bernex is a relatively small bike park with a green, a blue, a red, a selection of black lines and a slopestyle area. All I've ever heard is that it's small but the trails are beautifully built (shaped and managed by Bike Vision Design), distinct in their classifications and really fun!
Lifts are running from 10am until 5.30pm at the moment so we loaded up a van with bikes and kit and set off from Les Gets a little after 9am.
To get there, you head out from Morzine down the valley towards Thonon and Lake Geneva. After about half an hour, turn right at Bioge towards Chevenoz 10 minutes later, then take a left up to Bernex.
First impression… Stunning! A number of impressive peaks, alpine meadows, pine forests and mixed woodland cradle the town. The car park was fairly empty apart from a few other vans, cars and riders unloading bikes and gearing up for a hot day's riding.
The pace already felt lazy, laid back and a welcome change from the crowds of Les Gets over the last few weeks. Things were bound to get rowdy in the woods and Bernex obviously has the capacity to rev up on a weekend or busy holiday but on an end of season Thursday it felt pretty chilled. In fact we never had more than 4 or 5 riders in front of us in the queue all day.
We bought our day tickets which were €16 plus €2 for a pass card and boarded the lift. Things got more stunning as we ascended on the lift, the peaks got closer and views of lake Geneva opened up behind us as we approached the top station.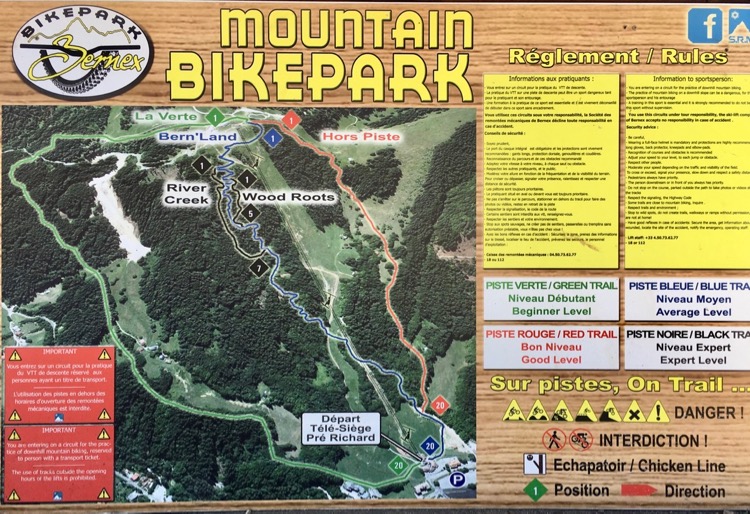 We spent the morning working through the green, blue, red and black runs in order. Very nice!
The green and the blue were both fast flowy rollercoaster fun, darting through the trees, weighting and unweighting through the turns and undulations with very few braking bumps, rail-able corners and a few sendy jumps and gaps on the blue.
The red was a steep, rooty, technical, more natural number, with a long steep roll-in near the beginning with a bump 3/4 of the way down that could cause a world of compression problems just ahead of a big tree near the bottom, a bridge and a big step-up.
The black lines combined flavours of each of the other trails with some rocks and bigger manmade gaps, drops and a boner log thrown in to the mix to give it a bit of a kick.
They're a good length too. When people said it was a smaller park, I thought they might be a bit short but that's not the case. Top to bottom at full chat on the blue for us was around 4 minutes.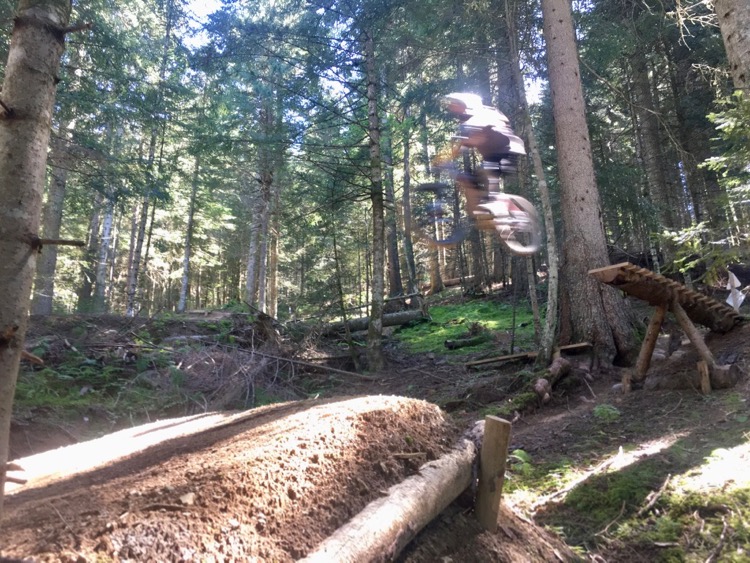 We stopped at the bottom, hot, sweaty, ready for a cold drink and a bite to eat at L'Auberge de la Pallud. Lovely food, VTT (Mtb) specials and everything at more reasonable prices than we're used to up in the tourist hotspots. Super friendly, too with several locals (I'm guessing) wandering in and acknowledging us with a 'bonjour' or a 'bon appetite'. The place soon filled with other riders and we got stuck into to fish, chips, chicken curry panini and chips and a couple of cokes. Yum! A couple of café-au-laits topped it off before our other mate turned up from work in Morzine and we headed back into the glare of the sunshine and up for more laps.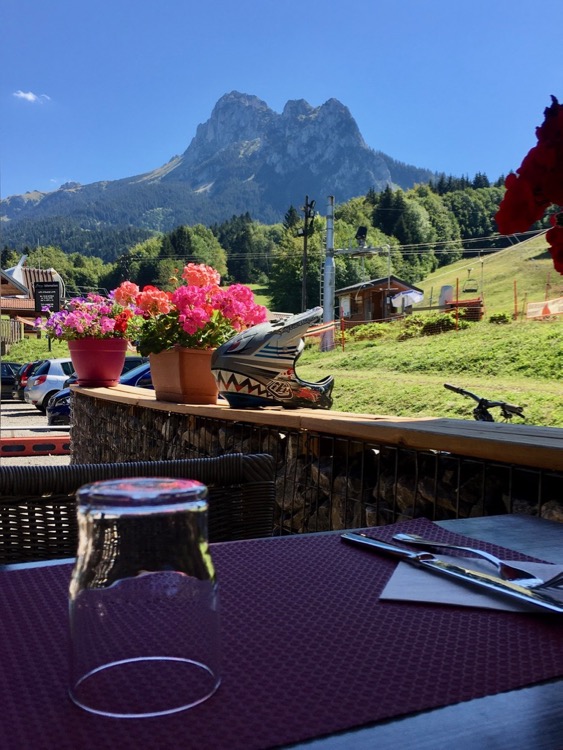 We started on the green again so he could warm up then a GoPro came out, 'camera courage' followed and the pace accelerated!
We blasted around all afternoon and even found a tasty little freeride line. As the trails got more familiar in our memories the flow, the speed and 'the good sensations' (as the French say) increased. Wahoo! It must have been high 20's, early 30's all day and by 4pm we were starting to flag a bit. One more run down the green to finish off before ice-creams and home time.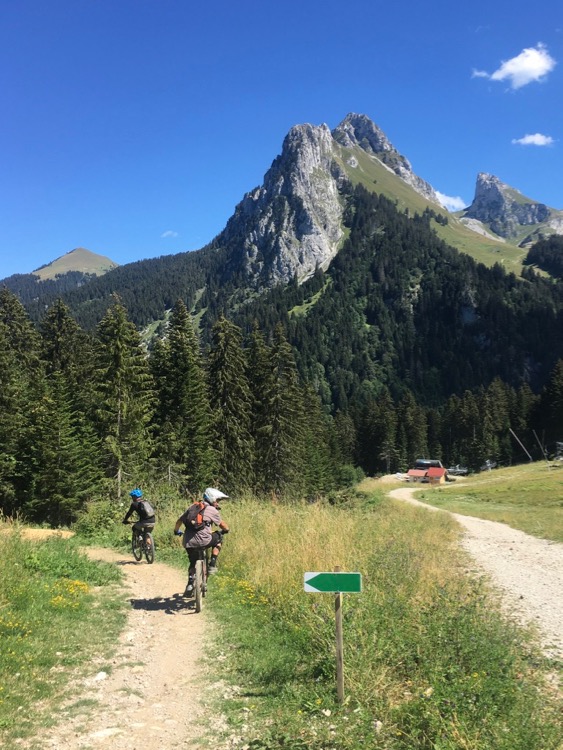 Bernex had some high accolades to live up to and it delivered. It's small but it packs a punch. Lovely spot, great trails, nice vibe, a little bit different, not too far away and I'll definitely be going back. I'll hopefully take T before the end to the season and I'll be adding my voice to the chorus singing it's praises.
I've heard it's not great in the wet and have even been told that they close it in the wet, so check before you go if the weather looks dodgy.
I know they've got a lovely swimming lake in Bernex too with a range of watersports on offer so a family day trip is also a goer even if everybody's not into riding.
All in all… Well worth a visit. Nice job Bernex. Thanks and 'À bientôt'.