Pointe de Marcelly is a magnificent looking peak and we've been wanting to climb it for ages. When our friends suggested a family hike up there on Sunday, with a picnic at the top followed by a roast dinner back at theirs, we were in!
Standing proud at 1999m, Marcelly seems almost omnipresent in our lives here. You can see it from Les Gets, Mont Chéry, The Chavannes, Avoriaz, Taninges, Cluses, the motorway in from Geneva and the drive back through the valley from Chamonix.
As you drive back up towards Les Gets from Taninges, the road hugs one side of the steep, narrow valley with Marcelly standing on the other like an imposing gatekeeper. Topped with its giant crucifix, it's like a towering beacon signalling the last stretch of the journey and the way home.
The best place to set off on an ascent is from the village of Praz de Lys, which sits in the bowl on Marcelly's Eastern flank. Normally it shouldn't take more than 15-20 minutes to get to Praz de Lys from Les Gets but the access road on this side has been closed the majority of the time we've been over here for work on an avalanche barrier. There never seems to be much work going on, though and the closure must be a massive frustration for people who live, work and like to spend time up there.
With the direct route out of action, there are two options. One is to drive round the back of Mont Chéry via Essert Romand, Cote D'Arbroz and the Col de l'Encranaz, which takes about 35 minutes. The second is to take the longer route of around 45 minutes down to Mieussy and up over the Col de la Ramaz.
Both are beautifully scenic drives but we took the shorter, windier, bumpy route over the Col d'Encranaz and arrived in Praz de Lys with a few green kids in the group!
There are several hiking loops from Praz de Lys that include the peak of Marcelly but with 7 kids (including a hardy 4 year old) and a dog in tow, we opted for the shortest one. We drove through Praz de Lys towards the Planey ski tow and carried on up the road to a small parking area. Here, we kitted up and headed South up the path across the fields, towards the ridgeline.
We passed a couple of hunters on their way back down – something to watch out for at this time of year. Hunting season ('La Chasse') in the Haute Savoie is from mid September until late January. Whilst there's often signage if you're entering an active area, it's worth being noisy, wearing bright clothing and checking the 'Chasseco' app to see where the boundaries are and on what days hunting is permitted.
We made it quickly up to the ridgeline and followed that on up through woodland, brush, and grassy areas. There's a good amount of rocky, scrambly sections to keep the kids entertained and a few exposed edges to keep the adults switched on! The sign at the car park said 1 hour 40 mins to the peak but after an hour and a quarter we'd made it!
Pointe de Marcelly did not disappoint! As expected, the views were amazing and on such a fantastically clear day we could see back over Praz de Lys, Rock d'Enfer, Avoriaz, Les Gets, the Dents du Midi, Mont Blanc, Taninges, Cluses, Geneva, Lake Geneva and the Jura mountains beyond, as well as numerous peaks and snow capped summits in Switzerland and Itlay! We enjoyed epic views and it was also really cool to be looking down at what looks like a miniature model of where we spend our day-to-day lives.
It's a new favourite and we'll definitely be spending more time up there! I think an overnight camp might be in order!
We sat and ate our picnic lunches at the top with an unexpected number of other people who were also out making the most of the fine October weather. T offered our giant bag of crisps round and dusted the whole area with fine scattering in the process. (It's a good job there were plenty of dogs up there!) The kids did their best to elevate our blood pressure by hanging out near the sketchiest edges, oblivious to the potential consequences!
With food in the tanks, we set off to complete the loop, heading North West to descend from the peak. One look over the lip told us that we'd need to go back the way we'd come! It was far too steep to do with kids, and with Sophie the dog it was definitely a no-go. It'd be much more manageable to ascend though, so next time we go, we'll do the loop the other way round.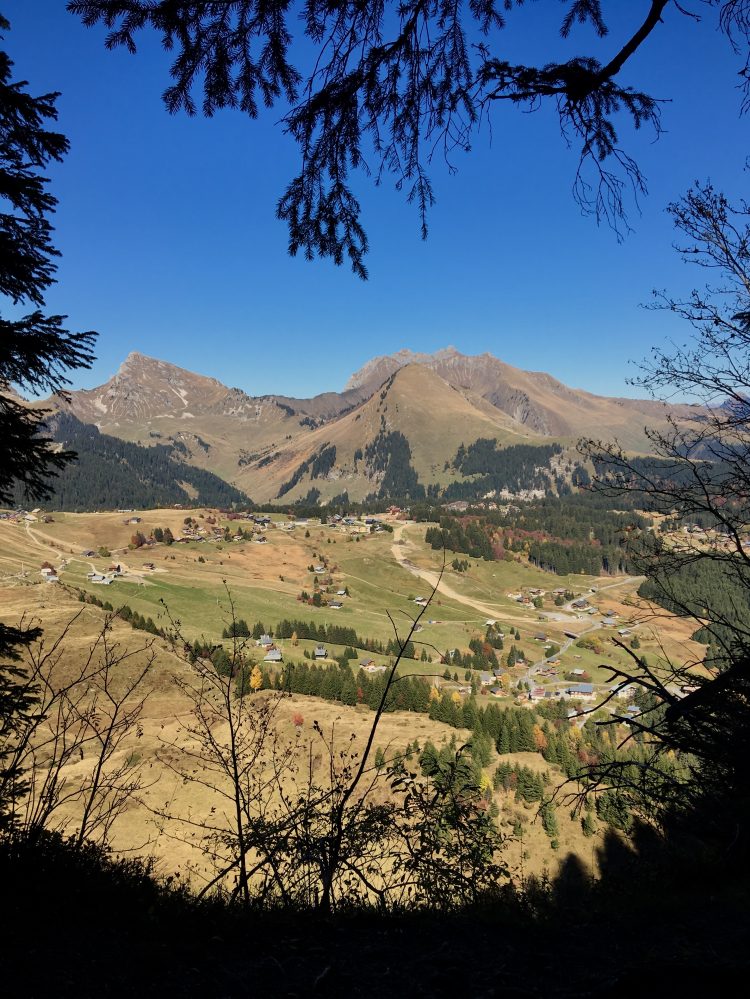 We retraced our steps in glorious sunshine, absorbed as much of the stunning views as possible and another hour and a quarter later we were back at the cars and ready for that roast dinner!
Great day, great walk, great weather, great company, great roast! Pointe de Marcelly is highly recommended!
Don't miss out on any new posts by entering your e-mail address and subscribing to our new post mail-out list.
Feel free to comment below and if you do enjoy the blog, don't forget to like, comment and share. Cheers!