We've seen a few queries on local networks recently about registering your vehicle in France. As we've been through the process ourselves this year, we thought we'd write this post on our experience to give you an idea of what to expect.
What you are aiming to get your hands on is a new 'Certificate d'Immatriculation (Carte Grise)' which is the French vehicle registration document and the equivalent of the UK 'V5/logbook'. With that, you can get a shiny new set of number plates, blend in with the locals and dispense with any future use of your indicators (that's a joke!!).
Update December 2017: Since we wrote this post, the French Government have added an online option for vehicle registration. The website is https://immatriculation.ants.gouv.fr and although we've not used it, we would assume that the requirements are the same just with a little less leg work or waiting rooms.
As with everything in France, you'll need to gather an armful of paperwork to get started. You will need:
Purchase Invoice for the vehicle – showing the date of purchase, mileage, seller's name, your name, the purchase price and any VAT paid.
Current V5/Logbook in your name – I think you are supposed to keep and send off the section for 'exporting the vehicle' to the DVLA but it had gone before I realised so we'll see what happens with that…
Certificate of Conformity – You'll need to ring or e-mail the vehicle manufacturer to send one to you and will probably have to pay. Our VW one was around €70.
Appropriate Headlights for driving on the right – If you have a right hand drive vehicle you'll probably need to get a new set of headlights. They'll point the beams in the correct direction for driving on the right hand side of the road. Some lights can be adjusted either way but we weren't that lucky… This added a few more hundred Euros onto our tally.
Control Technique – This is similar to an MOT in the UK and there are CT stations all over the place that can complete the inspection. You will need to book in and wait half an hour or so while it is completed. Make sure your lights are sorted before you book an appointment. We went to the Controle Technique centre near Montriond and it cost around €80 for the VW Transporter. Apparently a larger and more expensive inspection will be due next year which includes emissions testing. I've also read that if your UK MOT is less than 6 months old, there's no need to get a Control Technique but you would need to check that out to be sure.
Demand De Certificat D'Immatriculation Form – (Request for registration certificate) I dowloaded and printed this form in advance from the French Public Service website but there were paper copies in the Sous Prefecture to fill out then and there.
Passport
Drivers License
Proof of Address – Tenanacy agreement, bills, tax d'habitation.
Quitus Fiscal – You'll get this when you go to the Centre des Finances Publiques (Public Finance Office). Details below.
Insurance Documents – Strictly speaking I don't think you need these but we've learnt the hard way that it's worth taking anything you think of just in case they add it to the list!
Armed with all your paperwork, you'll now need to visit the 'Centre des Finances Publiques'. Then go to the 'Sous-Prefecture' responsible for your area.
If you are in the Morzine/Les Gets area you'll need to travel to Bonneville. This is along the A40 towards Geneva from Cluses. Luckily the Centre Des Finances Publiques and the Sous Prefecture in Bonneville are just a few hundred meters apart. Check the opening hours before going. As with most places, they close for lunch and may or may not open again in the afternoon.
First stop is the Centre Des Finances Publiques. Here, you'll hand over your current V5 or registration document, ID, proof of address and purchase invoice. The genuinely lovely lady behind the screen will calculate how much you have to pay to import your vehicle. She will then produce a 'Quitus Fiscal' to take to the Sous Prefecture. It's my understanding that if the vehicle is less than 6 months or 6000 km you may have also have to pay VAT on the purchase price!
You can then add your new piece of paper to the mound, stumble along to the Sous Prefecture, take a ticket and wait your turn. On our first attempt we queued for an hour, the second time we were seen straight away… Fingers crossed you go when it's quiet.
The poker faced staff behind the counter will look through your paperwork whilst making you feel inexplicably guilty about something you didn't know you'd done! They'll then hand some of your paperwork back to you and disappear off with the rest to hand it to another bloke behind a small glass window. You will then be asked to step back and join another queue to await summoning by the voice from the glazed grotto. Have your credit card ready because it's payment time again! In return he'll slide a 'Certificate Provisoire d'Immatriculation' through the window. He'll point out the registration number and tell you that the official Carte Grise will arrive in the post in a couple of days. There's a Carte Grise cost calculator here which should give you an idea of what cost to expect.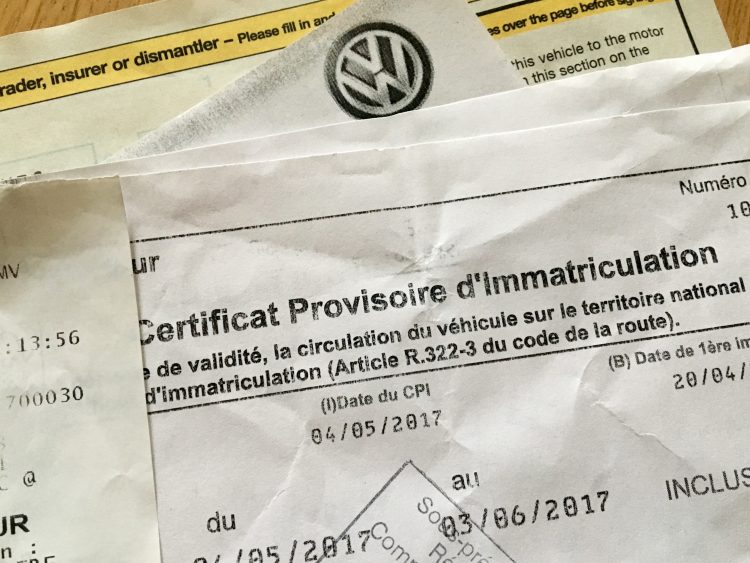 This document has your new reg number on it which can be used to get your new plates straight away! Head off to a garage, hand over your new doc and ask for some "nouvelles plaques, s'il vous plait". Another €30 and the job's done!  (We used Mont Blanc Garage near the big Carrefour in St Jean D'Aulps.)
Don't forget to let your insurers know that you have a new registration number ASAP. They'll probably want a copy of the Carte Grise when it arrives in the post.
Please note: This is simply our experience of the process, it's not professional advice and requirements may differ or change.
Bonne chance!