We've had a brilliant summer of mountain biking in the Portes du Soleil (PDS) and we all had a great time getting out for family rides and progressing our MTB skills. We finally got chance to spend some time experimenting with our new gimbal for the GoPro at the end of the season and have included a couple of vids on this page with the results!
The kids started bike club in Morzine (with an inspirational treat) back in June and it continued to run all summer and was absolutely brilliant! Each week around 7 or so brave instructors (armed with supplies of Haribo!) took up to 60 kids out all over the place, riding trails, chairlifts, peddling roads, learning skills, playing games and negotiating the busy summer roads in and around Morzine! They even took the kids out on their bikes for a couple of full days around the PDS with packs loaded with picnics and spares. It's so cool that the kids were off having an adventure biking in the Portes du Soleil without us and covering loads of distance in a stunning mountain environment! Hats off to all the instructors and staff! A lovely bunch of guys.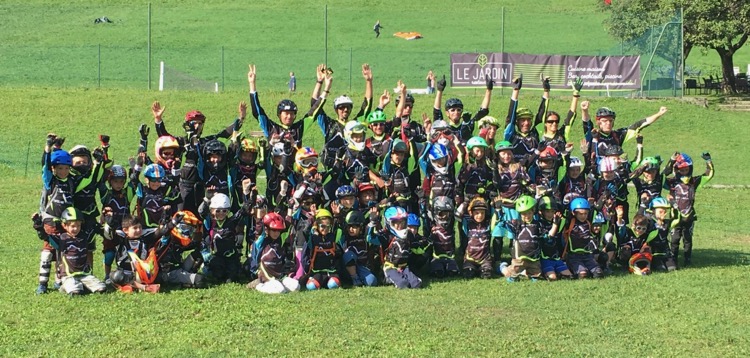 With tonnes of visitors this summer, we managed to take a good proportion of them out on the bikes, too. We also managed to hook up with plenty of our local buddies. There was everyone, from first timers to full on chargers and we're getting to know the place pretty well now, including many of the 'secret trails', so it was fun tailoring days out to people's ability levels.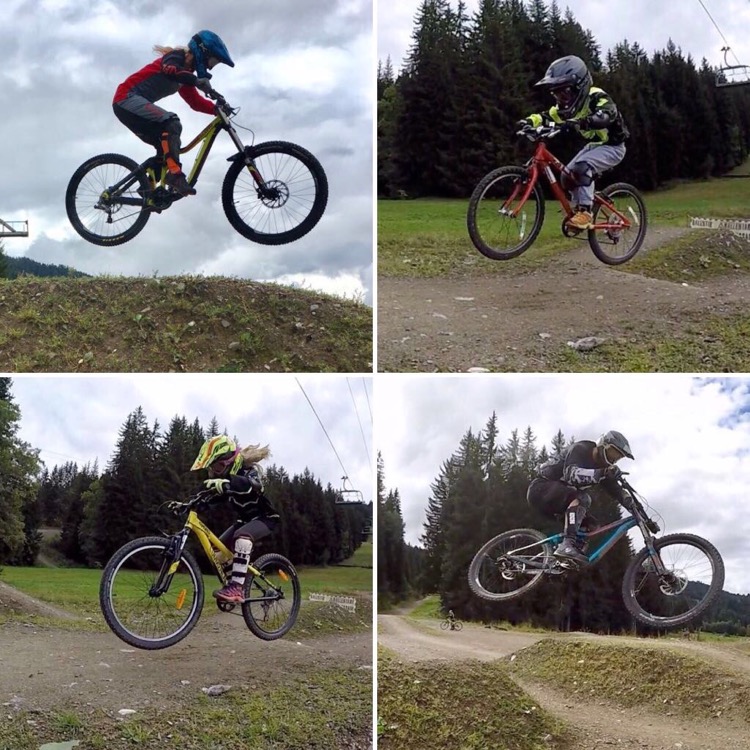 I had a bit of a hairy experience after getting lost on a long day out. Some mates of mine came out for a 'boys' biking weekend' and we'd had a seriously full on day in Châtel, Lindarets and Super-Morzine. We were all pretty ruined and were working our way back to Les Gets. One lad is type 1 diabetic and was in need of a snack but my local riding buddy tempted us with a: "sweet 'secret' single track run, all the way down to Morzine" from Zore. It was pretty sweet for a while, until we went left instead of right and lost the trail…
Rather than turn back, we cracked on, hoping to pick it up again. We ended up slipping, sliding and hoiking the bikes through very steep, thick woodland looking for a path. We weren't that far from civilisation but we were all exhausted and concerned about the blood sugar situation. The lads weren't up for seeing the funny side at the time but we all made it back in one piece and it was the icing on the cake of an epic and memorable day's riding!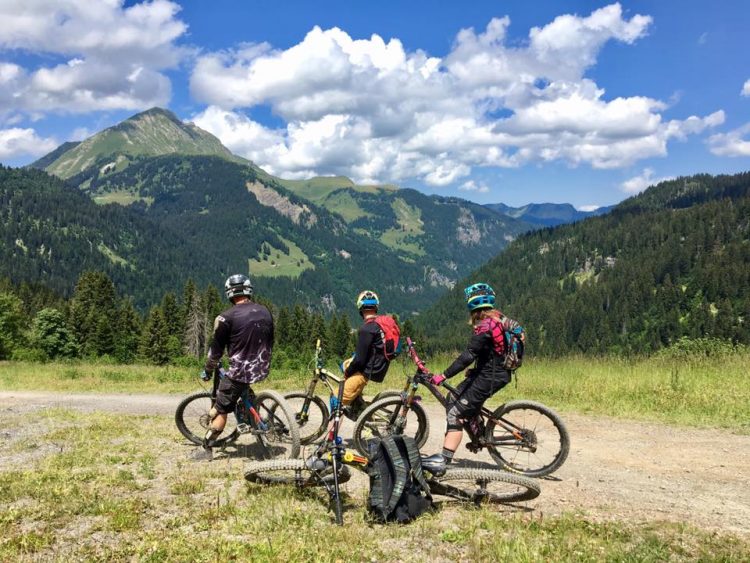 As well as 'turn back if you lose the trail', I learned another valuable lesson this year that's worth passing on. Bike rental looks expensive at €85+ per day but these bikes are expensive bits of kit. When they go wrong it can be costly. I lent my enduro bike to a friend for the day and he fell on the first run. This resulted in a bent crank arm, needing a whole new crankset costing €140. Eek!..  €85 didn't seem so bad after that… He insisted on paying but I now have a cautionary tale if anyone baulks at the rental prices. My buddy at Jaff VTT who fixed it said he'd once done the same. He lent his bike to a mate who went out and wrecked his forks, costing several hundred Euros! Yikes!
Our 'new' downhill bikes proved a masterstroke, though. They are much more burly, resistant to punishment and make the trails even more fun. Nina got into the season with added confidence in her new kit and progressed quickly. By the end of the season she was clearing some decent sized jumps and had tackled her first black run! It looks like she's really starting to get bitten by the progression bug as well! 😉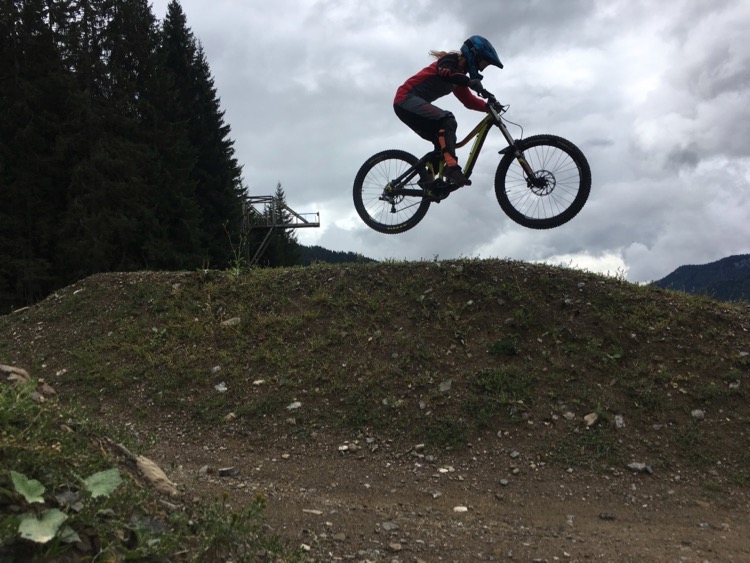 I love my new bike but spending last season clattering around on the enduro rig was worth it. It set me up for a massive leap forward when I moved up to the big one. I hit the ground peddling and got so much riding in at the beginning that my season pass had paid for itself before the lifts even opened for full-time summer operations. It's easy to pop out for an hour or two when it's on the doorstep. After all, that's one of the reasons we're here.
I had a mental list of features I wanted to have a go at before the end of the summer. I'm over the moon to have ticked most of them off! Given a few more nice days, I might get the last couple done yet… That mahoosive river gap in Châtel will have to wait until next year though! 😉
Get yourself kitted out for Winter
Winter's coming and it's always a treat getting your new kit sorted!.. Our affiliate partner Blue Tomato is THE leading online shop for winter and trend sports, streetwear and fashion with over 450.000 products from over 500 well-known brands. Click here to see if they've got anything you fancy.