Well… As you may have seen, some snow arrived.
No-one admits it but I reckon there's an unspoken race to get the first snow pic on social media and on Saturday morning, I'm pretty sure 'we' won! 😂
As soon as we woke on Saturday morning and saw that brilliant, bright light beaming through the gap in the curtain, Nina shot out of bed, grabbed her camera and disappeared off in the car. I peeped out of the window, appreciated the scene, then rolled over and snuggled in for another little snooze. Thirty minutes later, a nice little snow pic popped up on our Facebook page. Champioanays! 😉😂
We subsequently missed out on the 'first snowy walk pics', 'first snowboard pic' and the 'first snowball fight pic' categories but congratulations to the winners! We weren't even in the running but we'll probably have a bash at 'first-fat-snowflakes-slo-mo-vid' when the time comes.
Anyway, we've had a little bit of a culinary treat this weekend and we've got a super-solid foodie recommendation to pass on…
Some friends of ours who run a chalet business in Les Gets have recently diversified, turning their chalet dining room into a restaurant business.
Duncan is a quality chef and has worked in some top kitchens (including a 2 Michelin starred restaurant) in the past and he and Hillary are now maximising those skills and experience to add something a little bit special to the gastronomical mix in Les Gets.
We've been following their progress over the last few months as they've planted, grown, foraged and experimented. Sparing no attention to detail, they've even hand-potted, glazed and fired their own crockery! We've heard nothing but positive chatter coming back since they opened in August and whilst we've been wanting to go for a while, we only finally got round to it last night.
Thankfully, our friends at Rush Adventures got in touch last week and suggested a Saturday night meal out and we were in!
Childcare sorted, a swift one (or two) in Bar Bush to kick things off and the 6 of us headed up the hill to Restaurant des Granges to get stuck in to some properly decent nosh.
First impressions; Lovely spacious dining room, cozy, pleasant ambience and a discreet open kitchen that completed the intimacy of the whole culinary experience.
I don't know what their future plans are (who does at the moment?🙄) but they are currently offering a 6 course taster menu with canapés to start.
I won't give you a blow-by-blow account but from the canapés on, the meal didn't miss a beat!
Delicate, beautifully presented portions packing a symphony of flavours. Each dish delivered wonderful and imaginative blends and contrasts of flavour and texture. Hilly's guiding and service were a pleasure and we happily moseyed our way through a very enjoyable evening's eating and drinking.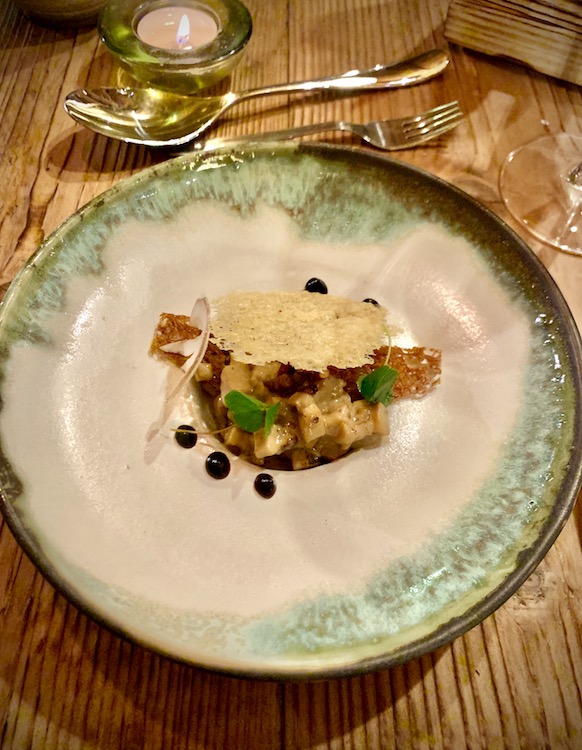 A highlight for me was the main: Roast Duck Breast, Spiced Confit Duck Leg, Carrot and Passionfruit Puree, Celeriac and Wasabi Mousse, Spiced Duck Sauce accompanied by a Gigondas Domaine D'Ouréa 2018 red wine. Yummy!
My mouth is actually watering uploading these photos!
Us fellas also opted for the 'wine flight' which was a set selection of mostly local and organic wines, chosen specifically to complement each dish on the menu. It proved a wise move as they did indeed enhance the dishes.
We did have to order an extra 'flyer' glass of red though as our drinking accelerated and overtook our eating pace as the evening went on.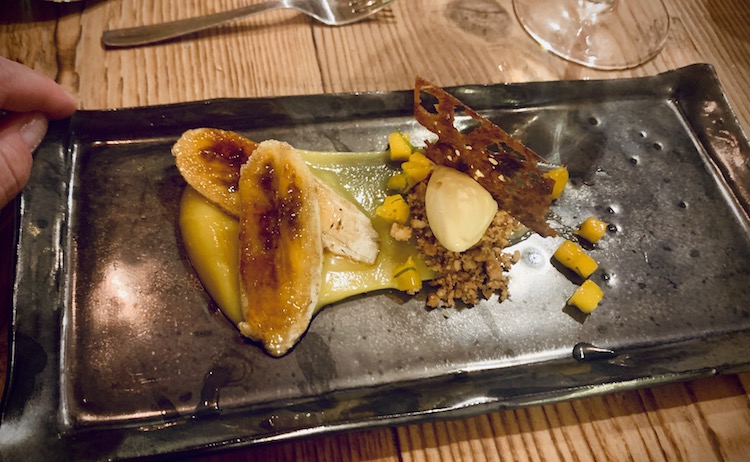 All-in-all, a tip-top evening and one we can highly recommend (and remember, we keep it real and don't get paid for this recommendation, in fact, they don't even know it's coming!).
If you like to eat then you're in for a treat. We look forward to seeing where their new venture goes and to trying some more delicious creations in the future.
Cheers guys!
Here's a link to their website.