Well… That's it folks!
The summer lifts in Les Gets are closed for 2020. This last weekend was a belter and finished with a bang, metaphorically and literally. A massive bang in fact, a huge thunderclap at about the exact moment the lifts would have closed yesterday! Flash-to-bang, 2 seconds I reckon, and the chalet actually rattled!
We'd already thrown in the towel about an hour earlier when the rain arrived and soaked us to the skin but our riding sesh had started after an early lunch. We set out en-famille (minus Iz) and then spent the day randomly collecting friends until we'd ended up with quite a riding posse. Nina called it a day mid-afternoon after binning it in a berm and was pyjama'd-up on the sofa with Iz by the time we got home.
The rest of the weekend had been mostly warm with blue skies and sunshine and knowing that they'd flatten the mini jump park soon after closing, we kicked it off by heading up after school on Friday for a little photo sesh to grab some souvenir pics.
Without the added pressure of a fully-loaded chairlift audience above, I even spent some time trying to master the wall-ride. Once I'd manned up and started to commit, it started to feel good. I was getting higher and higher on the wall and it was giving me more length over the table to land in the sweet spot on the landing and carry better speed for the third and fourth jumps.
It was going great until I suggested that Nina stand at the end of the wall-ride, peeping out from behind to get a shot. With 'camera courage' engaged, I went full-send and immediately realised I was on a high speed trajectory for Nina's camera and scrunched up photo-face. Fully trusting, she was oblivious to the imminent danger and didn't even flinch as I hurtled towards her. I had to throw in a weird swerve to avoid disaster and luckily stayed rubber side down. As my heart-rate hit 180 bpm I decided to call it an evening on the wall-rides.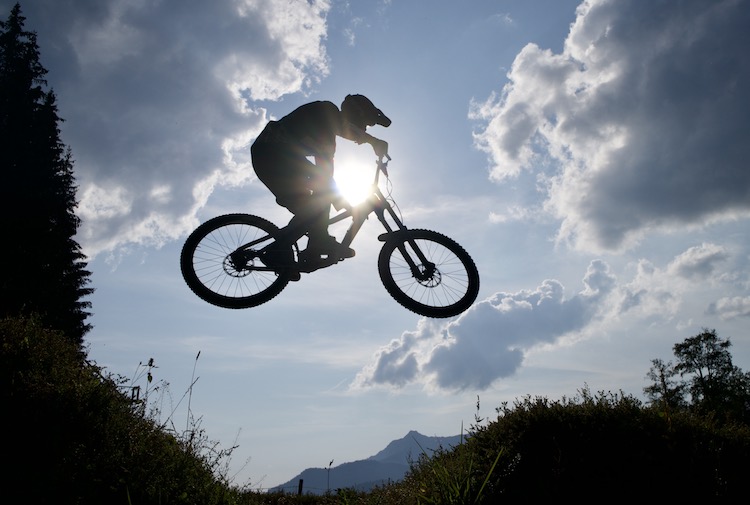 This weekend should have been UCI World Cup weekend here in Les Gets. It was cancelled months ago but the local team of top riders (P2V) decided that, in it's absence and with a gap in everybody's calendars, they'd organise a little som'ng som'ng… 'The P2V Invitational' was born.
These guys are no strangers to organising an event, or putting out quality content online, so P2V set about getting 'the powers that be' on-board, contacting riders and teams, booking everything in and spending the last 3 weeks building and preparing a brand new track on Mont Chéry.
We were lucky enough to score some special limited passes through Velo Club for the practice session and headed up on Saturday morning to walk the track and catch the likes of Loic Bruni, Loris Vergier, Laurie Greenland, Peaty, Aussie Tracey Hannah and (the GOAT) Greg Minaar, havin' at it!.. Incredible stuff. These guys are so rapid and precise and we were able to catch a bit of a session on a tasty, rooty, dusty off-camber section. It was proving a bit of a handful with time to gain if you could hold the inside line and a bunch of them were all trying to figure out the fastest and cleanest way through.
Another big highlight on the track was a BIG road gap with barely time to think about landing before shralping hard into a tight left hander. We heard that some of the riders were reporting that they were bottoming out their suspension given the G forces through the berm.
Something that stands out watching these riders is the speed that they can get back on top of things if they get a bit out of shape. It's impressive when they're on it but perhaps even more so to witness the strength, reaction speed and balance required for a well executed 'save'.
Apparently, the riders loved the event, the track and the vibe. They've missed out on a lot of competition this year and the 'P2V Invitational' ticked that box but came with a more relaxed and fun atmosphere than they're used to.
After slipping, sliding and scrambling through thick foliages, we finally made it to the bottom of the track. Time for a quick lunch turnaround at home then T had club and I was meeting some friends for an afternoon razzing about on bikes… Yeah boi!
It was a quality afternoon out and we had one of the young guns riding with us who showed us some new bits we've not ridden before as well. We also had the pleasure of witnessing the after effects of a massive hit of thrill cocktail. Twice!
A couple of friends joined us for a couple of trails that pushed their limits. When you're out of your comfort zone, your body chemistry fires up and gives you a hit of dopamine, adrenaline and a bunch of other endorphins that kicks you into a hyper-alert state of focus. It can feel like you're a spectator amid a frenzy of information coming at you with your mind and body making the necessary high speed adjustments to react and get you down in one piece. It's cool when it's happening but it's really funny to see the look on someone else's face when they've just had it and it's all gone well. It's a mixture of shock, surprise, relief, excitement and a tinge of mania!
We wrapped the day up with a beer and bouncy castle at the AprèSki Bar, ordered a pizza and got back home just as the heavens opened. Perfect!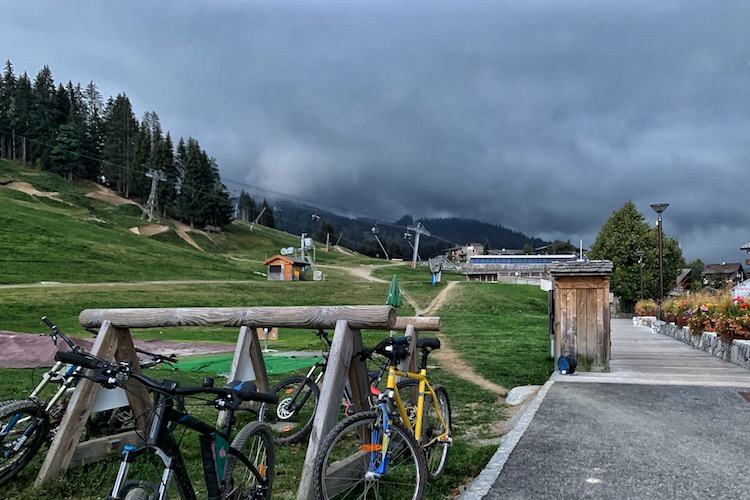 We wrapped up our weekend with coverage of the P2V Invitational broadcast 'live' (whatever that means nowadays) on Les Gets' official facebook page. It's here on their feed if you fancy a look.
Well, all things considered and given the circumstances, it's been a pretty awesome season. The big loss for us was missing out on cancelled visits from family and friends but we'll just have to make sure the next visits are even better!
Oo… It's not quite over yet either on a PDS pass. There's one more week of Châtel and Champéry is on and off until 1st November!
Hopefully we'll get over there but for next weekend… It looks like there's snow a comin'…
Get yourself kitted out for Winter
Winter's coming and it's always a treat getting your new kit sorted!.. Our affiliate partner Blue Tomato is THE leading online shop for winter and trend sports, streetwear and fashion with over 450.000 products from over 500 well-known brands. Click here to see if they've got anything you fancy.