Well, that's the February half term holidays 2021 done and dusted, and despite the ski-lifts (and a bunch of international borders) being closed, it's been chuffing rammed!
I'm pleased for the people and businesses that have managed to adapt and keep some cash flowing at this difficult time and I'm pleased for everyone who's managed to get away for a much needed change of scenery, and a winter mountain fix, but personally… Yak! 🤢
When you go from little over a thousand permanent residents to tens of thousands for several weeks on the trot, it can make you feel a bit twitchy even without a pesky virus on the loose. When you're pre-pumped by the fear-factory and confined to a significantly smaller area than normal, the twitch factor starts blipping the red zone. 😂  It's reportedly been up to around 75% occupancy in Les Gets over this holiday period. 😮
The front du neige, the ice-rink, town and the free buses have been ram-adama-ding-donged!
It's not surprising though. Numbers were sustainable for the health services. People need to get away for their sanity and at least some segments of the tourism sector have had a healthy boost.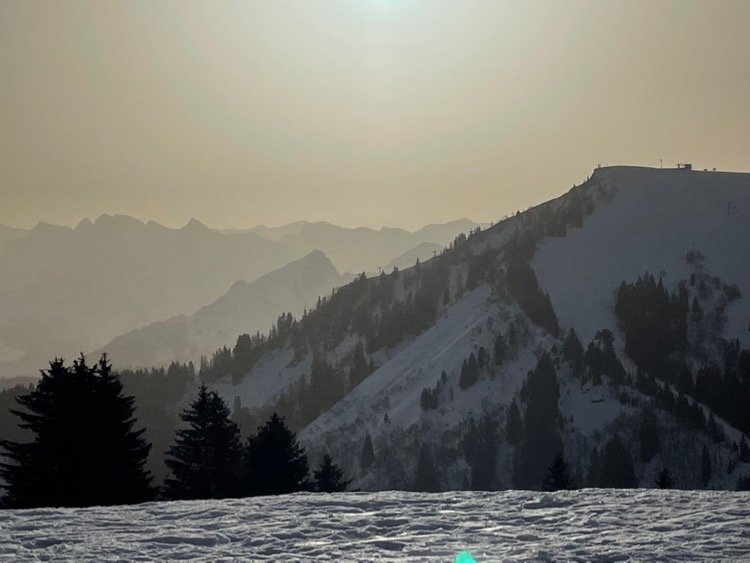 While it's on my mind though, I fancy just getting off my chest that a significant percentage of visitors from bigger cities regularly display a distinct lack of courtesy and respect. You can tell where they're from because of the holiday dates and the prevalence of certain number plates. Of course I'm not tarring everybody with the same brush but there's a reasonable chunk who would do well to give their heads a good shake and turn up with a brushed up set of manners… Being a nob is not an entry requirement…
And while you're at it, do some revision on give-way signs and how to cross the freakin' road! Jeeze!.. Please and thank you. 🙏😉
Apologies… Rant over.. Patience is running a bit thinner this year… 😂
We've had a tricky few weeks over here with one thing and another. It started off with some highly problematic and prolonged website migrations and ended with a heartbreaking local tragedy. I won't go into details but there's been a few reasons for our relative radio silence over the last few weeks.
As well as that, we didn't want to bang on about life over here if you were missing out on a holiday… Especially when posts and photos have a tendency to look even better than reality.
In all honesty and if it makes you feel any better, the snow conditions have been steadily deteriorating since January. It's been busy, we've had rain, and even (in lieu of new snow) a delivery from the Sahara… 🤷‍♂️
We've been feeling for you guys back in the UK. Our 6-to-6 curfew, closed-lifts and businesses have been restrictive but being stuck in lockdown, and homeschooling in British wintertime must've really sucked. 😬 At least you've had a decent dump of snow to take the edge off it. Looks like the kids are getting back to school now and the vaccination program is cracking on well, so massive fingers crossed for an awesome summer and bumper winter next.🤞
Personally, we've been grateful to stay healthy, the schools have stayed open, the kids have both been lucky enough to enjoy some limited lift-access for club training sessions. We've still been able to get up and out there with leg-power and we even drove up to Avoriaz and managed a family descent which was a real treat. Amazing to think that this season, one descent together is such a big event when we'd have had tons of them in a single day in previous years.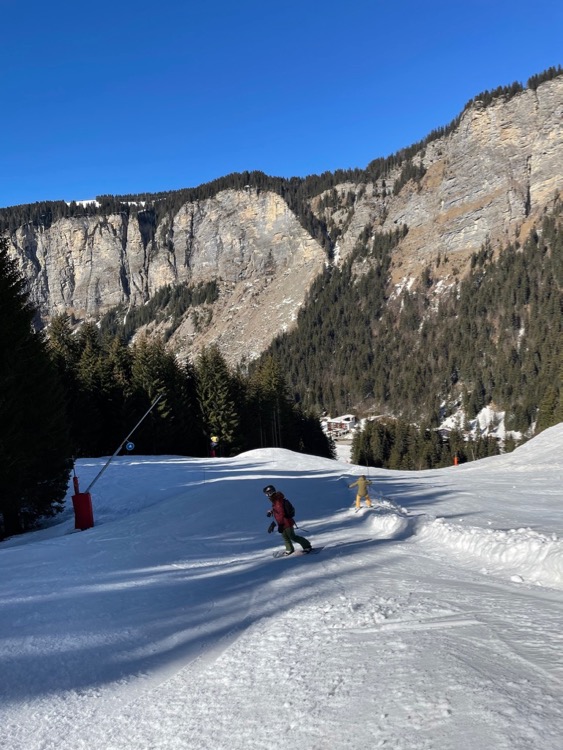 The mountains are always magnificent, the snow is magical, the sun's a tonic, rain is life, health is priceless and Facetime is a god-send. 🤪 Memories are a treasure-trove and imagination's a canvas, so let's keeping remembering the good times and dreaming of more. 👌
Get yourself kitted out for Winter
Winter's coming and it's always a treat getting your new kit sorted!.. Our affiliate partner Blue Tomato is THE leading online shop for winter and trend sports, streetwear and fashion with over 450.000 products from over 500 well-known brands. Click here to see if they've got anything you fancy.