I had a little Friday afternoon 'boost' up Ranfolly yesterday to blow out the cobwebs and see what it's like up there. I was going to head up from the Lac des Ecole but the last few warmer days have opened up some dirt patches in the snow, and rather than risk a board trashing, I drove up the Chavannes and went from there instead.
It was pretty sweet actually. There's still plenty of snow up there and it was pleasant going to the top with a hearty breeze to ignite the senses. Soft, Springy and a bit slow here-and-there on the ride down but lovely and peaceful and mellow after the hols.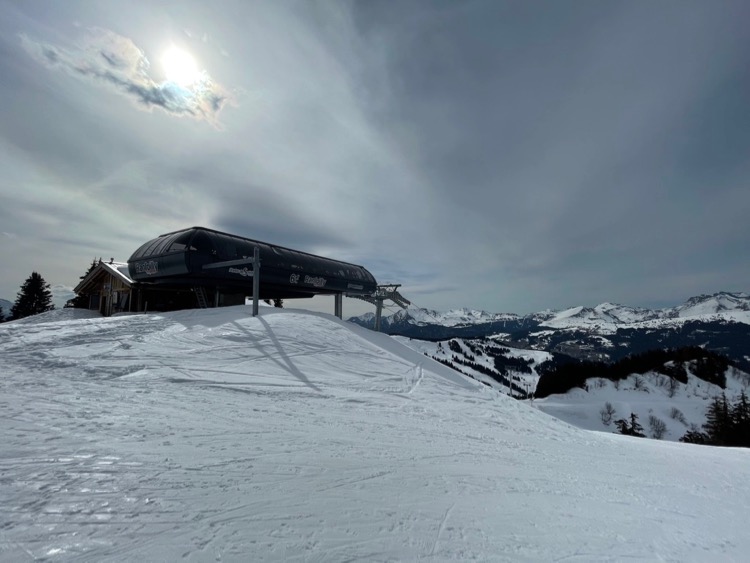 We all took a collective intake of breath last week when the news reports showed Parisians fleeing the capital ahead of last Saturday's latest regional lockdown. We were half expecting another major influx of people and whilst a few did arrive, thankfully it's really only been a handful. Word has it they've gone to second homes in Normandy… How anyone know's that I've no idea but that's the word.
We also dodged a bullet ourselves on Thursday after our 'Auvergne Rhone Alpes' region has been posting some hefty infection rates. Thursday is government COVID announcement night here in France and the local chatter was crescendoing with 'back into lockdown' talk but it looks like we've squeaked it by a whisker for now….
Another reason I headed up yesterday afternoon was that the big wind-down is on in Les Gets. The free navette bus service ends tomorrow and withstanding a strip or two here or there (hopefully), it'll be the end of the extensive piste prep they've been doing to help everyone hike and tour all over the place.
Avoriaz will keep it ticking for a couple more weeks but they've announced the end of operations for Winter 2020/21 on 11th April.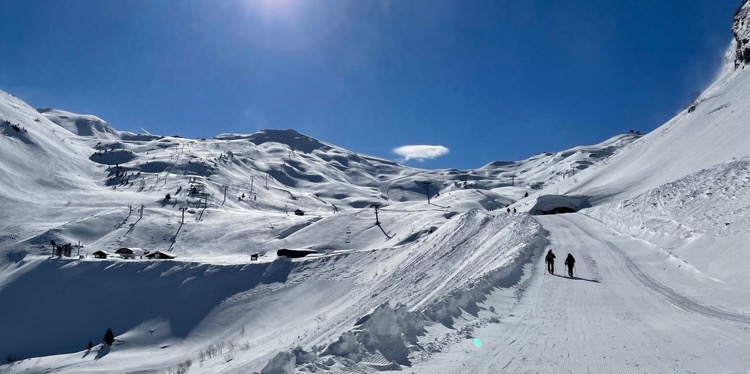 Conditions up there are still amazing though after that bumper start to the Winter. I met a mate up there last Sunday and we skinned-up and rode fresh tracks back down the Fornet bowl beneath magnificent blue skies. We then flipped back to hike-mode and skinned up the Arare, traversed as far as possible round the Crozats freeride bowl before scoring some sweet powder tracks all the way back to the bottom of the Prodains lift. The real highlight was some deep, fluffy powder through Japan-style trees mid-mountain. I rarely get any decent pics of the good stuff on the way down because the intention just evaporates when the endorphins kick in.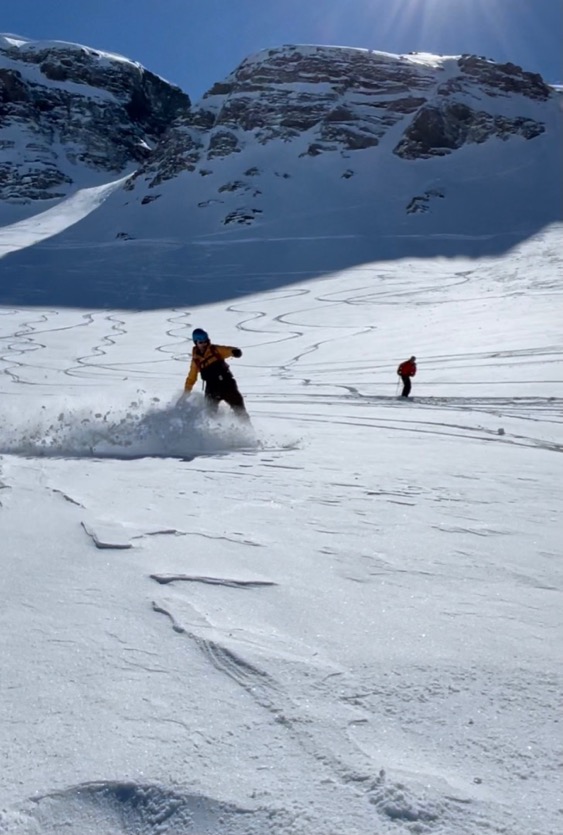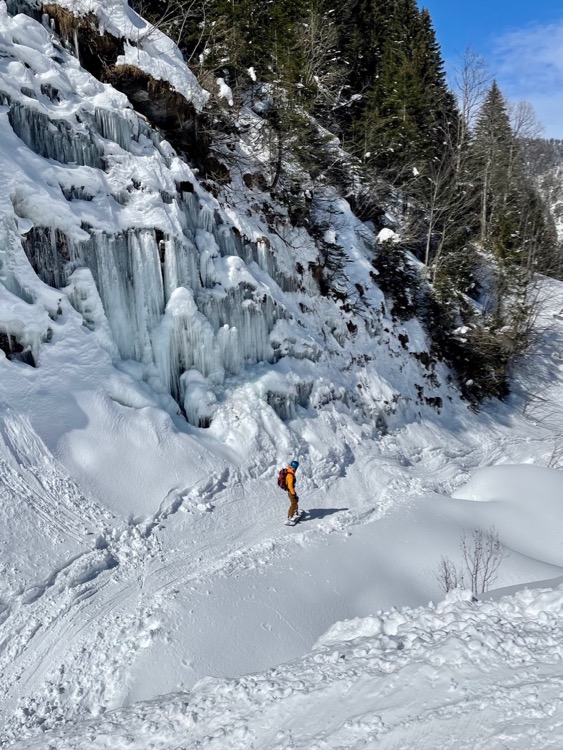 We've also just topped off the week with a bit of excitement and the French Championship Slalom being held in Les Gets. The ski club kids got to take part in an event to randomly distribute the start numbers for the competitors and they also got to see some of the top guys in the sport including the likes of Clement Noel. It's a 'closed door' event but we were lucky enough to catch a bit of the action this morning at the Perrieres. It was Frenchmen Julien Lizeroux and Jean-Baptiste Grange's farewell races and they got a massive cheer from the spectators. Lizeroux was a class act with the kids last night and the limited number of spectators today. He even did a forward roll out of the start gates… Hats off.
Even though he wasn't competing, French hero and the most successful French skier in World Cup history, Alexis Pinturault turned up with his new trophy. He'd just taken the overall World Cup Slalom title for 2021 the previous weekend and whilst he was out and about, we didn't manage to spot him.
Victor Muffat-Jeandet took the men's title and Nastasia Noens the women's. Bravo!
There's also been an increase in people hopping the border to ski in Switzerland in the last couple of weeks. As far as I can see, if you live within 30km of the border, there are really no restrictions to nipping into Morgins on the border and going for a few lift-assisted laps before coming back for dinner.
There's still a big divergence of opinion on whether it's the 'right thing' to do or not and we've not even considered it until recently. It's super-quiet now though, the end of season is approaching and the temptation of riding at least one chairlift in the 2020/21 winter season is growing… We'll see…
Get yourself kitted out for Winter
Winter's coming and it's always a treat getting your new kit sorted!.. Our affiliate partner Blue Tomato is THE leading online shop for winter and trend sports, streetwear and fashion with over 450.000 products from over 500 well-known brands. Click here to see if they've got anything you fancy.