I can't actually believe it's taken us this long but we finally headed out on Friday for an ebike ride in Avoriaz and our first one EVER! 😲
We've been wanting to give these babies a whirl for yonks and renting a couple for a blog post has been on the to-do list for just as long.
Anyway, a week ago I mentioned just that in passing to Tim from Torico, thinking it might even be Spring before we got a chance to follow through. "Well, what are you guys up to this week?" He said, "Why don't we all go out on Friday!"
"Sounds good" said Nina immediately and that was that.
If you know Tim and Lisa, you'll know they are always up-to-something or up something and it shouldn't have come as any surprise that they'd be keen as mustard to shoe-horn something else into the calendar.
We met them in Morzine on Friday morning to pick our two bikes up, loaded them in the van and headed off in convoy up to Lindarets. Tim fancied having another look at some of the off-piste terrain around Mossettes while it was still in summer mode, before the snow arrived and before the two of them flip back into ski instructor/guide mode.
We unloaded our rigs for the day and had a little look. Very nice. I'd already seen these sexy looking Saracen Ariel 50 Elites in the shop and I was looking forward to getting my hands on one and climbing on-board… 😳  85NM of torque delivered by the new Shimano EP8 with 504Wh of battery power, 29″ wheels, 160mm of travel up front with the Fox 38-E Factory fork and coil assisted 150mm of travel with the Fox Factory DHX at the back.
The bright orange coil looks mint with the pale grey frame and ties in nicely with the fork decals. Sweet!  A set of 4 pot Shimano XTs would be scrubbing the speed off the extra load of bike + battery + motor + Jimbo… Knowing my track record with flats on enduro rides, I quickly fired a few more psi into my tyres just to be on the safe side.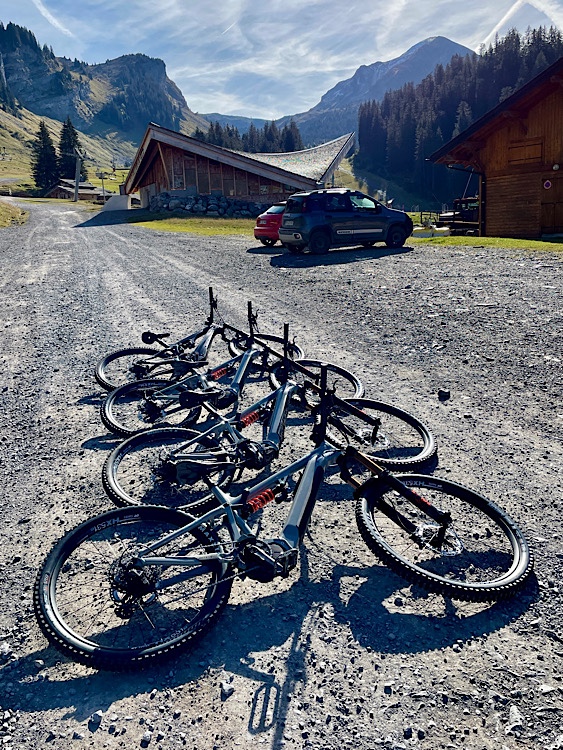 Nina, Lisa and I would be on the Saracens and Tim on the stealthy looking PIVOT Shuttle with a smaller 450kW battery. That did seem quite small and a quick trip to the Pivot site shows it's now got 726Wh. Talk about one extreme to the other…
Cue a trademark clap, grin and vigorous rub of the hands from Tim. "Right then!.. We off?".
Our plan was to ride the track that roughly follows the route of the green ski piste 'Le Lecherette' and the blue 'Abricotine' piste all the way up the Lindarets valley, then left along the ridge to the top of the Mossettes lifts. We'd turn back down the trail past Lac Vert skirting Chesery and winding beneath the Chaux Fleurie lift to Lindarets.
We'd even brought our PDS bike passes along because I'd seen that the Crosets chairlift was supposedly running from 9th to 24th Nov… If we had the time, energy and battery charge, we could drop down from Mossettes, do a few chairlift-assisted-laps of the super-fun Crosets track, then really test these bad boys out on the World Cup DH Track down to Champery… 😬😬 We could then catch the télécabine back to Les Crosets and use electric power to boost back up the track to Mossettes and resume our loop.
I really had no idea what to expect with these bikes and this ride.. If we'd been on normal bikes I could kind of envision what was ahead, given my knowledge of the route and previous experience riding, but I had no reference point here and it did feel a bit weird.
We whizzed off in trail mode and I wasted no time checking out the wheelie potential (as y' do). Not bad! With a bit of practice this'd be great for some hight speed wheelies. And wow! This was actually making climbing way more fun. We made good progress up the track even as we rabbited away.
It got steeper and trickier after the new Lechere lift and Nina suffered a couple of spin-out and dismounts until she got the hang of the pedalling and power delivery on the steeper, looser surface.
I had one little issue on the way up with the lights being on but nobody home, not with me this time but with the bike. We'd paused for a couple of minutes, and when we restarted, it seemed much harder. I thought maybe my legs had just stiffened up a bit or that that battery blob that had disappeared from my display signified I'd be taking on more of the load from here on in.
When the others started pulling off into the distance, I realised something mustn't be right, so I stopped and ran some technical diagnostics (turned it off and on again😏) and BINGO!.. Oh yeah! The difference was vast. I was motoring again, chucked it in boost mode and caught them up in no time.
We'd been making steady progress, chatting, stopping, taking pics and looking at the views but we still made it all the way up the top of the Grand-Conche (which comes up from Les Crosets on the Swiss side) in just over an hour. I reckon you could do our full loop in less than an hour if you got your head down and pinned it.
We stopped and dismounted to coo at the voo… Nina scuttled around with her 'big camera' while Tim and I pointed adoringly at mountain stuff. I tried to capture the magnificent view and tranquil ambience on video while Lisa provided an impromptu commentary of lunch options for their daughter on the phone in the background… There was stuff for bacon sandwiches or pot noodles if you're interested. 🤣
Tim pointed out 'Salmon Ridge' from Col du Cou to Champery as a terrific bike descent and we agreed that a cool ebike loop from Morzine would be up Valley de La Manche to Lac Mine D'Or then on up Col de Cou. Last time we hiked there someone had installed an ebike charging station, so you could have a quick top-up and a flask of coffee before snaking down Salmon ridge into Champery. If you did it when the lifts are open you could pick up the cable car to Les Crosets and finish on the loop we were planning, then all the way back down to Montriond and Morzine.
Speaking of Les Crosets, from where we were, we could see the chairlift, and the legend was true, it was indeed running. Tim had bar issues though, battery bars, not many of them, and no charging adaptor, even if we could find a charging point. The plan to descend into Les Crosets and Champery was off the table for today.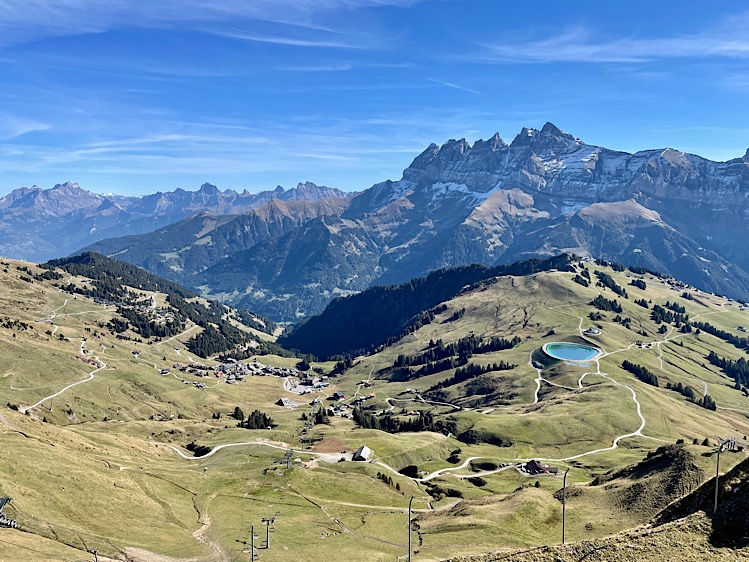 We finished the climb up the ridge to the top of the Mossettes lift. I was keen to see how the bike would perform on a more techie climb, so I set off in trail mode up the footpath to the top of Pointe de Mossettes. I made it about half way up before my attempt to skirt a big piece of rock put me in the deep grass tuffets and progress came to an abrupt standstill.
Not bad though and all signs that it would be awesome with some practice. I used the opportunity to give walk mode a shot instead. This is where you hold the button and the motor just creeps the bike uphill at walking pace, like a decent lawnmower. I liked that a lot. Even with the extra weight, it was way easier than pushing a normal bike.
I bagged some bike 'glamour shots' at the top before joining the others to snaffle a picnic lunch on the doorstep of Cookie Cafe.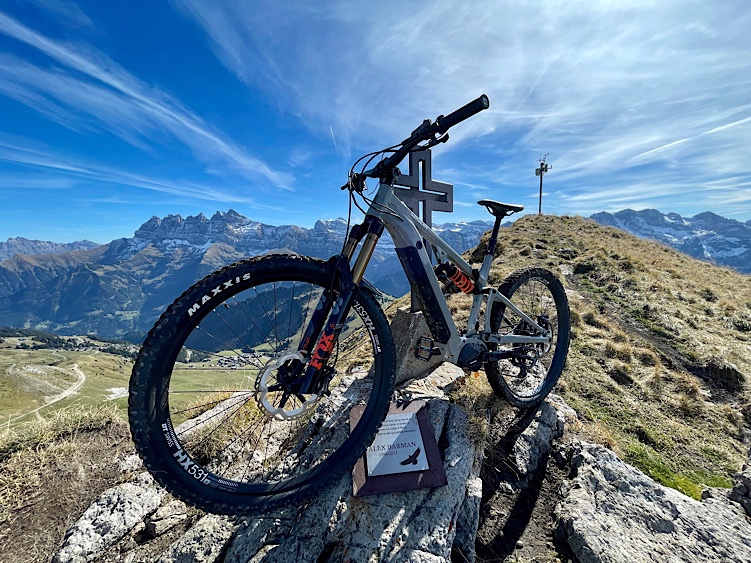 We parted ways from our lunch stop with the girls going round the 4X track while Tim and I tried the steeper and very rocky piste track which skirts round to the right beneath Cookie Cafe and the lift station. We got the chance to hit a little jump on the way and whilst they do feel heavier, it felt pretty comfortable in the air and on the steep, rough terrain.
We met back up with the girls at the junction towards Lac Vert and set off down the track to the refuge at the far end. I let off the brakes, to let this bad boy fly and blow out the cobwebs. With a face splattered in mud and a healthy buzz, I pulled-up to get my phone out and film the others flying by and hisssssss! What's that, a viper? No, dammit, a puncture!
The others pulled up and I got to work changing the tube which in actual fact turned out to be a stroke of luck. We were treated to the arrival of an enormous Griffon Vulture which swooped majestically just below us over the lake before flaring it's wings and coming to rest on a car-sized boulder on the far side of the water. These things are absolutely mahoossive! Winspans up to 2.8m and this one can't have been far off that. I've seen them soaring above before but seeing one close, low down, landing and sorting its wings out was pretty cool.
The vulture buggered off, we got the tyre fixed, after pumping for what seemed like an eternity, and set off again. I really love this upcoming trail and have ridden it a few times but I was now a bit nervous, having already picked up a flat and not wanting another.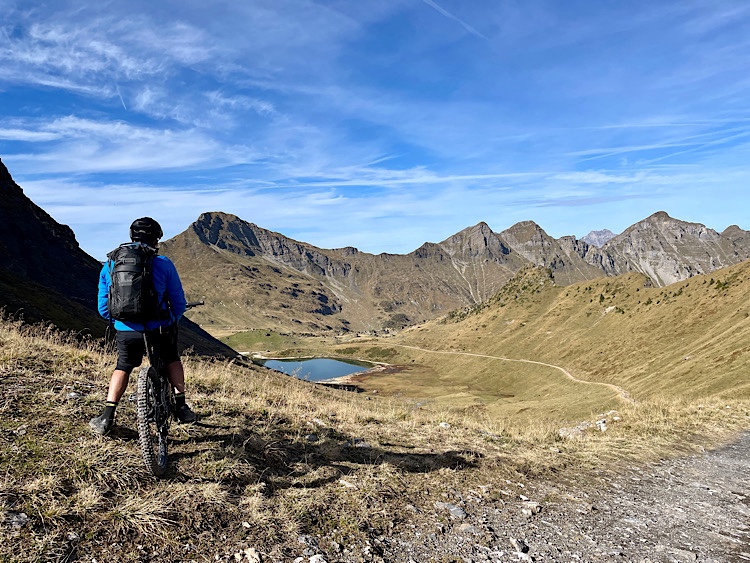 It was still a treat though, undulating and windy to start before blending into a steady, long, fast and rocky decent, topping the wide ledge of terrain on the craggs above Abricotine and tracing the flanks of the mighty Chesery. Big fun!
We regrouped at the end, agreed it was mint, then dropped into the Blue Chesery bike park trail for a few berms and jumps before flying down the snow free 'Grand Plan' piste and back to base. Lovely ride!
As the lightest member of the crew, Nina ended up with the most battery left at the end, even after she'd whacked it in boost mode so that she could blitz past everyone and make it to the top of Mossettes first. 🙄 It could be the weight advantage or it could be all the pushing she did on the way up. 😂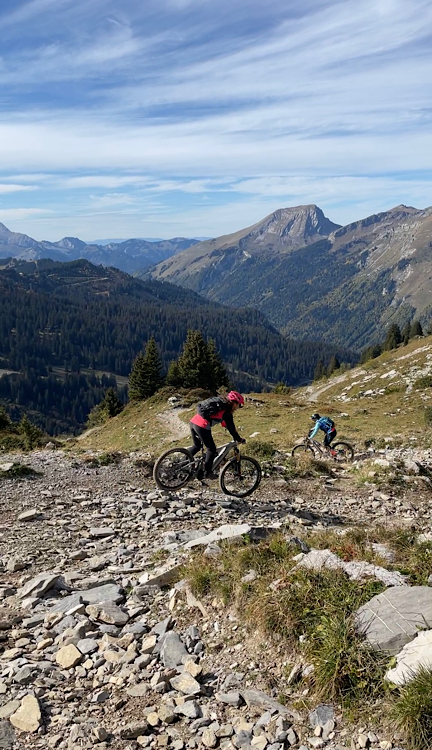 The extra weight of the bike was noticeable but it was still easy enough to preload the suspension to hop over things and when I did get a chance to get airborne, it felt quite nice and stable with that low-down weight. I'd be interested to see what it felt like being up in the air for longer though.
One downside for me was that I didn't find it particularly easy to manual. It's OK lifting the front end with the assistance of the pedals and motor power but lifting that front wheel over little whoops, dips or rollers on a descent took a bit of a heave. Could be the weight of the battery, the geometry, the longer wheelbase or maybe I just need to put my big boy pants on. I don't know. But really, that was the only thing that left me wanting. Oo! I'd be needing some tougher DH tyres on there as well though.
All-in-all… Super-impressed. These things are a lot of fun. They just make things so much more accessible. That uphill stint would have been a slog on a normal bike and this just made it a pleasurable ride. And, it was still a good workout. There was plenty of huffing and puffing, and my thighs did feel it. Like all ebike owners seem to say "You get the same workout, in the same time, you just go much further and have more fun."
Massive thanks to Torico for a super-fun day out. If you fancy taking some ebikes, mountain-bikes or indeed road-bikes out, or want to book some ski-lessons or guiding this winter, give Tim and Lisa a shout.
Get yourself kitted out for Winter
Winter's coming and it's always a treat getting your new kit sorted!.. Our affiliate partner Blue Tomato is THE leading online shop for winter and trend sports, streetwear and fashion with over 450.000 products from over 500 well-known brands. Click here to see if they've got anything you fancy.