Les Habères Bike Park… Who, where, what now?
OK, I know Autumn's burst into full-effect and many of our thoughts are crystallising on the prospects of the Winter ahead (especially if your saw Les Gets' fresh snow pics on Facebook this morning!) 😁but here's another bike one… This post is a few weeks late but it was a fun weekend, well worth a visit and there are exciting plans in the pipeline for Les Habères. Oo, and I reckon it's probably well-worth checking it out in Winter too. 👌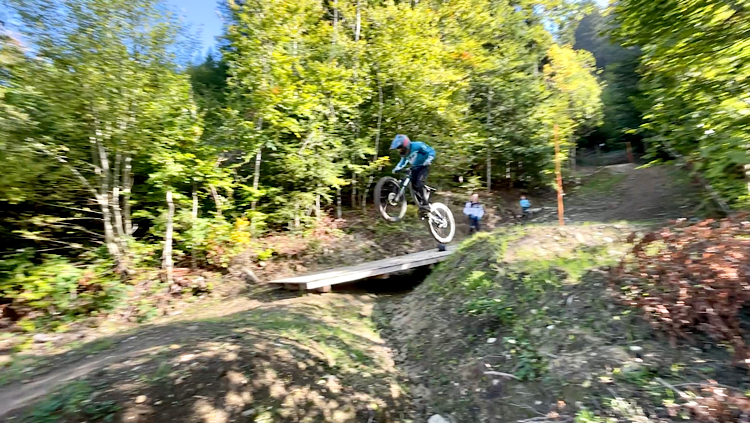 The first time this little gem blipped on the radar was last weekend (3rd Oct). Torico Tim and family had just ridden there, said it was a great little spot and did we fancy meeting en-famille for its last day of opening on Sunday 10th, Yep! Sure did!
It turns out it was also on Velo Club's radar for some bonus end of season uplift and they put out the message for a mass Saturday trip… Harbère-Poche double it is then!.. It only looks small though… Could that be too much? 🤔
Once upon a time, these inter-seasons felt a bit empty but there's so much to do now that the gap just seems to keep narrowing. The more we explore, the more appears and these little bike park areas within a short hop of Les Gets and the Portes Du Soleil are proving to be great fun.
The village of Habère-Poche is in the valley between Viuz-en-Sallaz and Thonon. You may have seen signs for the ski area if you've travelled along the 'Vallee Verte' from Annemasse to Taninges on a transfer or journey from Geneva airport to the Portes Du Soleil.
The ski area is called 'Les Habères' and is linked to the Bellevaux-Hirmentaz area which combine to form The Massif Les Habères-Hirmentaz. The area comprises a total of 23 lifts and 50 km of slopes (2 black, 17 red, 16 blue, 8 green) with a top station at 1600m. Not too shabby eh?
In Summer they've commandeered the Cretes chairlift and got some sweet VTT/MTB action going on. 🤘
Les Habères bike park has packed a ton of variety and challenging MTB riding into a compact operation. Plans to expand are very exciting….
The bike park currently has just three pistes but they are super-fun. There's part of a cross country trail you can join from the top of the telesiege which follows wild overgrown 4×4 tracks, snakes through grassy single track and flows along leafy woodland paths. Very natural and a surprisingly healthy helping of thrills.
It was very damp on the ground on Saturday with the club kids and the damp dirt line through the grassy meadows made for regular 2-wheel driftage and skids galore.
The blue is a decent track but requires caution while you learn it. There are multiple speed-variations required and a couple of jumps that have to be hit at a bit of an angle on take off to avoid running wide into obstacles on the landing.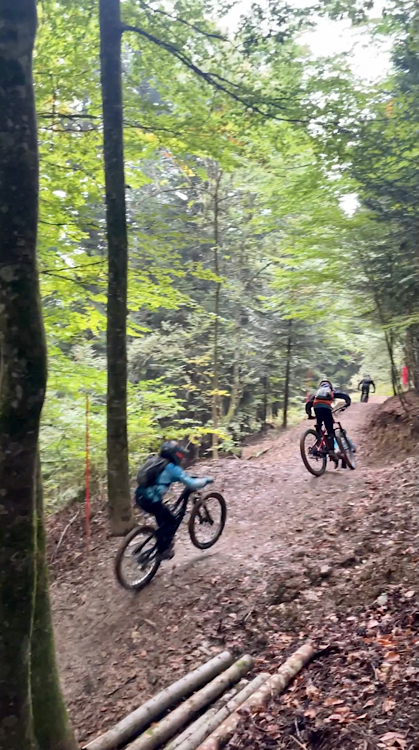 And then there is the red!.. On Saturday it was quite a handful, especially for the youngsters around 6 and 7 years old. Damp, slick and very engaging. There are bags of cool features including an early 'hip-ish' double, small rock step-down, off-camber root section, steep greasy corners and a nice trilogy of a big, high double, followed by a fast, flat long gap and then a sendy step up which you can hit fast and really soar out of the woodland and fly far into an open grassy meadow. Really fun! Once the bike coaches had had a taste of this trail, they just wanted more and more.
Both the blue and the red re-join about 2/3 of the way down where the trail turns into a fast roller-coaster section with berms, whoops, rollers and doubles. Right at the bottom there's a 'Hollywood' section visible from the car park, lift station and chairlift.
You hurtle into view and start off with a loooong step-down thing followed by a big step-up option on the right-hand-side which needed a huge pull even when you were giving it full beans in the speed department. After that there's a sizeable table directly under the chairlift lift which usually attracts a crowd of family or friends on hand with cameras to bag a money shot.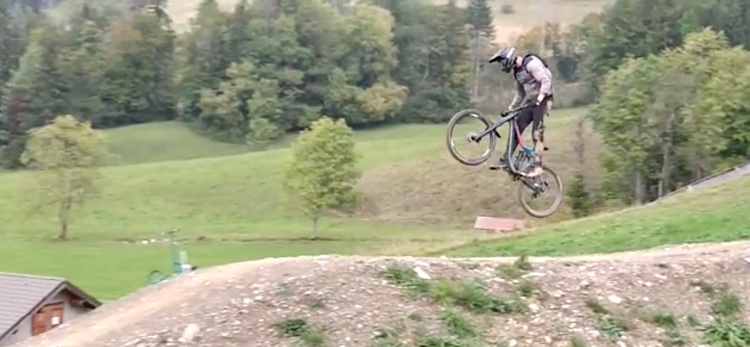 An awesome little park with really friendly and helpful staff. There's a couple of cafe restaurants at the bottom, a big parking area, bike wash, toilets and apparently a top little burger van makes an appearance from time-to-time. I don't know if it was a closing weekend thing but the they had tunes playing at the bottom hut which normally might have got on my tatties but really added to the great vibe of the weekend.
We spent two days back-to-back there and didn't get bored. In-fact, we even forgot to stop for lunch on Sunday. 😂 There's unfinished business with a couple of features and a couple of gap possibilities I think I'm capable of, so I'm looking forward to the next time.
That 'next time'll' be next year now but we might not have to wait that long. Apparently… Les Haberes would really like to increase their Summer biking season and are hoping to open in May next year. Plus, there was talk that they're planning to expand the bike park by opening up a second higher chairlift for bikes, to service some new trails. Sounds great. 👍 Watch this space. 👀
Merci beaucoup Les Habères bike park for a fun weekend. Enjoy the winter and we'll hopefully pop across for a slide too.
Get yourself kitted out for Winter
Winter's coming and it's always a treat getting your new kit sorted!.. Our affiliate partner Blue Tomato is THE leading online shop for winter and trend sports, streetwear and fashion with over 450.000 products from over 500 well-known brands. Click here to see if they've got anything you fancy.