Where do you go on holiday when you've just moved to the French Alps? Scotland, of course! Barra and Vatersay in the Outer Hebrides to be precise.
We got back on Sunday night after a week's holiday and we totally lucked-out with the weather. We left behind thunderstorms and rain in Les Gets and the rest of France which caused havoc and made headlines in Paris. On the other hand, we found ourselves basking in wall to wall blue skies and sunshine on Barra and Vatersay. When the weather is good, this place is hard to beat.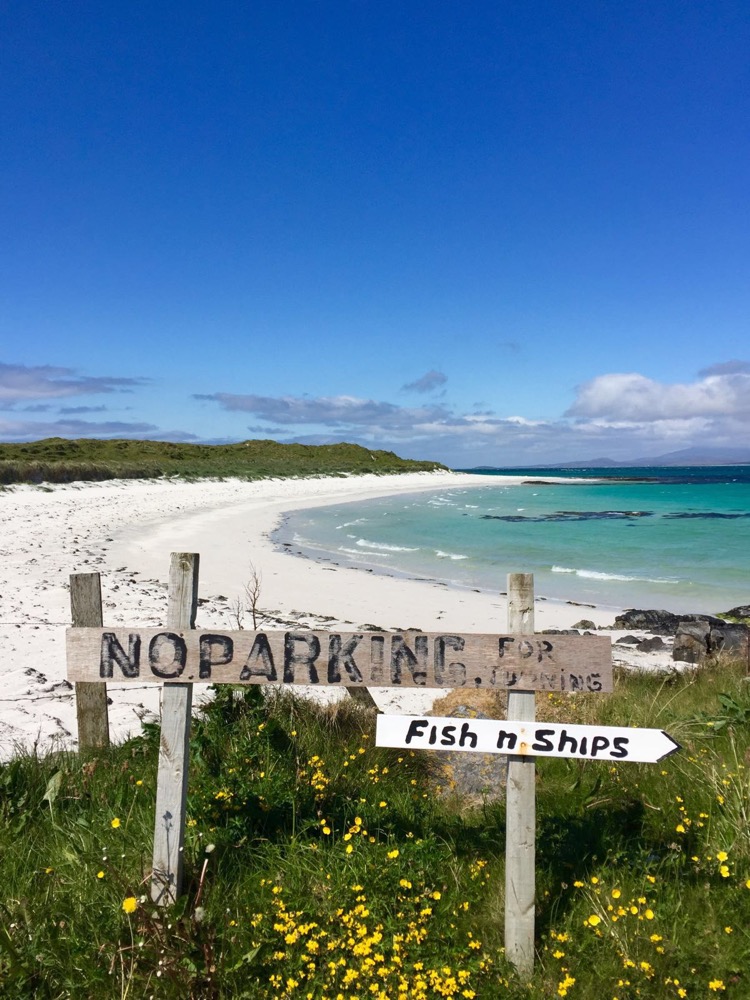 This holiday with my folks and my brother's family has been booked since early last year, way before we decided to up-stix and clear off to the mountains. My Mum and Dad have been visiting the Isle of Barra for more than 40 years, when it was little more than a crofting and fishing community. We went there on family holidays as kids and I took Nina for a short trip years ago. It'd be great to all go back together to rekindle a few memories. We could also introduce the next generation to the joys and simplicity of Barra life now that they're old enough to get something out of it.

When we booked many moons ago, the trip coincided with half term in the UK. However, when we got to France, we found out there isn't a half term break in the spring term. We sheepishly tiptoed in to school to ask the head for permission to take the kids out. We were expecting (à la the UK) a slap on the wrists and a hefty fine. Nina did the talking… "No problem. Just send us an e-mail with the dates" said the head. Brilliant!
We set off first thing, a week last Friday. There was an hour drive to Geneva, 20 minutes trying to find long stay parking at Geneva (awful signage for P26, grrr!), bag drop, security, an hour and a half flight to Manchester. Borrowing a car from Nina's folks, we drove 6 hours to Oban before making a 5 hour ferry crossing the next morning to dock in Barra at teatime! We could have flown the whole way and cut down on the travel time. Part of the joy, though is driving through the highlands and cruising through the islands. It also gave us a chance to spend a bit more time with the families.
The Hebridean islands are a truly magical place. Wild, breathtaking white sandy beaches, turquoise waters, rugged mountains, dunes and jaw dropping rocky coastlines. They are so stunning that an image of a beach on the Isle of Bernaray was used by Thai authorities. They apparently used it as a promotional shot for one of their own beaches! Dipping a toe in the skin-numbing icy water soon lets you know where you are though!

The Isles of Barra and Vatersay (attached by a short causeway completed in 1991) are our favourites. At just over 26 square miles combined there's plenty to explore. For such a small area, there's miles of stunning coastline and sandy beaches. It's not quite as quiet as it used to be but life still feels relaxed. The people are friendly, bikes can be left unchained, doors unlocked and you have to hike up a hill to get a mobile phone signal. (Actually, we've just found out that EE's signal has been down for 3 months so there's been a bit of a fuss!).
There's WIFI here and there but from our experience it wasn't much cop. Not such a bad thing though, as all of this makes for a brilliant 'off-grid' family holiday. There's no choice but to ditch the devices, focus on each other and forget about anything else that needs doing in the 'real world'. You do need to go prepared with the right kit for bad weather and cold seas though. You don't want to be stuck inside if the weather's pants.
The outbound journey went very smoothly. Despite being armed with a pack load of sea sickness bands, we were blessed with mill pond calm waters for the ferry ride out. As we chugged out into open water beyond Ardnamurchan and the island of Coll, we spotted a splash in the distance. Fairly soon after, a large pod of a hundred or so striped dolphins (we think) jumped and flipped their way towards and around the ferry. What a start to the holiday! I video'd the whole thing with my thumb over over the lens. Genius!
My folks and my brother's family stayed in a house near Vatersay beach while we stayed in an old crofters' cottage at the far end of the bay. We hired bikes from Tony and Kay at Barra Bike Hire. This meant that we could easily ride backwards and forwards with the kids. They were decent bikes, well maintained by Tony and ready to go. I went for a proper ride, off road and off trail, with my brother, who'd brought his 2015 YT Carbon enduro bike. My XC hard tail was well beyond it's limit (as was I, probably) as I followed him down rocky outcrops and deep cow-rutted ground. Hanging so far off the back that I was risking friction burns on my nethers, I still managed to snag the front wheel and sail over the bars 3 times!
The kids were in heaven and could have happily spent the entire week pottering about on 'our' beach. They roamed around, freely digging in the sand, rolling down the dunes, playing games and dipping in and out of the chilly sea. We managed to get them in the cars to visit other beaches, climb some hills and scramble on the rocks. We went off to fly kites, explore caves, collect shells and crab remains and toast marshmallows on beach fires. A trip to the airport is always an interesting treat as well. There's a nice little cafe to grab a coffee or lunch while you wait to watch the plane come in. A small twin propellor plane makes two flights a day from Glasgow. It uses the beach on Barra as a runway when the tide's out.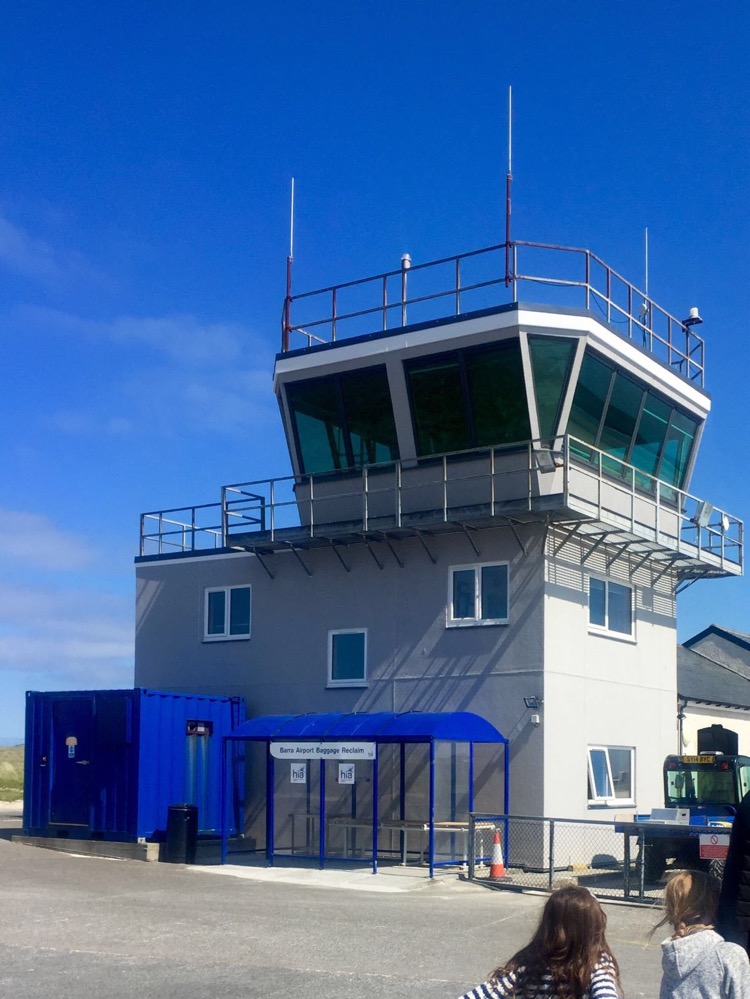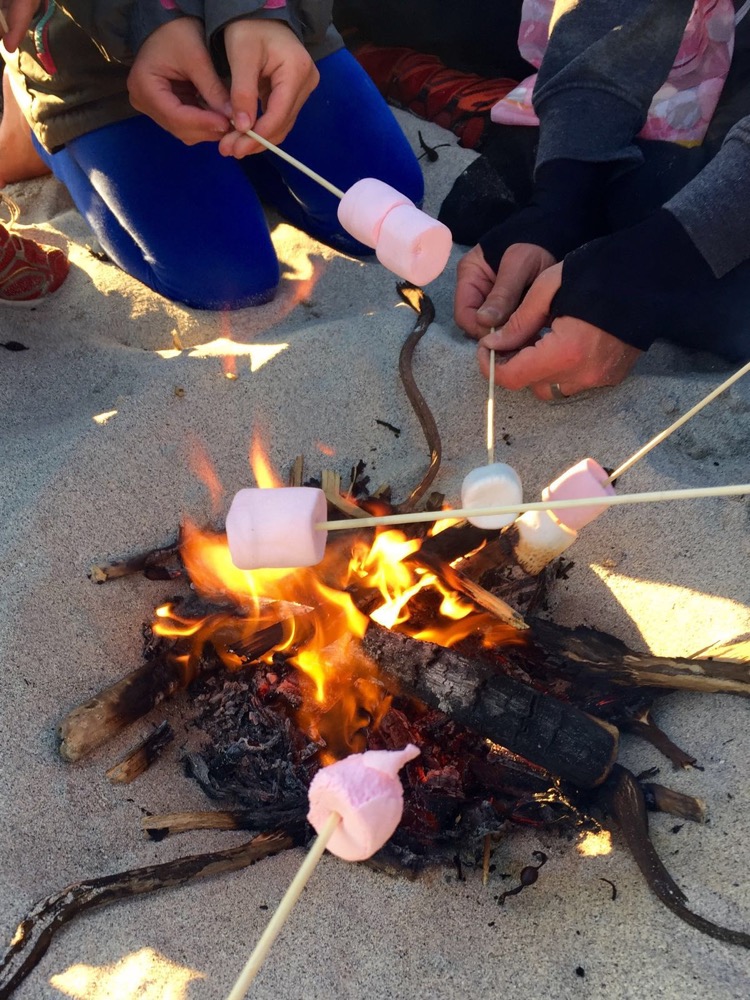 Eating out is a little limited but what there is is pretty good. We had a decent pub meal at the Craigard Hotel, which is also a very pleasant venue for a drink in the sun. It overlooks Kisimul Castle, Castlebay and Vatersay beyond. I can recommend the hand dived scallops. We had a fabulous selection of take away curries from the ever popular Cafe Kisimul in Castlebay and a fine fish supper from Barra's fish & chip van called Mac's Meals which is open Friday and Saturday nights near the ball courts in Castlebay.
Amongst a wealth of flora and fauna, we were lucky enough to see seals and magnificent golden eagles. We were also treated to another dolphin display in the bay right outside the house! Magnificent!
The breeze kept the midges away most of the time but there were a couple of times where we got a little bit bitten and we had to break out the 'Smidge'. This stuff is great for keeping them away. It was developed by Dr Alison Blackwell, one of the world's leading midge experts. There is also a midge forecast app which let's you know what you're in for and where to avoid if you're heading to Scotland in midge season.

All in all, this was a special holiday and one that I think will stick in the memories of the wee ones for life.
While we were away, the lifts and bike trails opened in Les Gets for the weekends. They are opening fully for the summer on Saturday AND it's Crankworx next week! I reckon we might just beat the holiday blues this time…
Fancy a visit? Find out more on the Barra website.
Get yourself kitted out for Winter
Winter's coming and it's always a treat getting your new kit sorted!.. Our affiliate partner Blue Tomato is THE leading online shop for winter and trend sports, streetwear and fashion with over 450.000 products from over 500 well-known brands. Click here to see if they've got anything you fancy.