We got back from the UK last night, after a week of catching up with family and a few friends as well as squeezing in dentist appointments, eye tests, an MOT and picking up all our summer gear from storage.
If you've read our earlier posts, you'll know that since we 'upped sticks' and did one to France, the Grandpas decided to start falling to pieces and we really wanted to get back and see them now that they're both recovering from orthopaedic surgeries. One's had a knee replacement and the other's had a serious infection and two toes removed! We're very pleased and thankful to say that they're both on the mend, out and about, and looking very well indeed. Phew!
The plan was to all drive back to the UK together on Thursday. I'd then drive back alone the following Wednesday with a van full of stuff to meet Nina and the kids at Geneva airport on Thursday after they'd flown in on their £38 Easyjet flights (£38!.. In total!.. For all 3 of them!.. Still amazed!).
It takes about 9 hours with a stop or two to get from Les Gets to Calais before a short 30 minute hop on the Eurotunnel to Folkestone. In theory, it's then about another 6 hours, with breaks, to our destination in Cumbria. We packed the van the night before and prepped the kids' 'long journey survival kits': iPad; Kindles; Story book CDs; books; sticker books; colouring kit; puzzles; munchies and drinks.
We were up and away early and made great time across France taking shifts on the driving. We headed for Geneva before hanging West for Lyon, then North towards Dijon, Reims and beyond. It costs a bit in toll charges, especially as the van falls into a more expensive category than cars but the motorways across France are quiet, fast and beautifully surfaced. To make matters even better, we were blessed with perfect weather.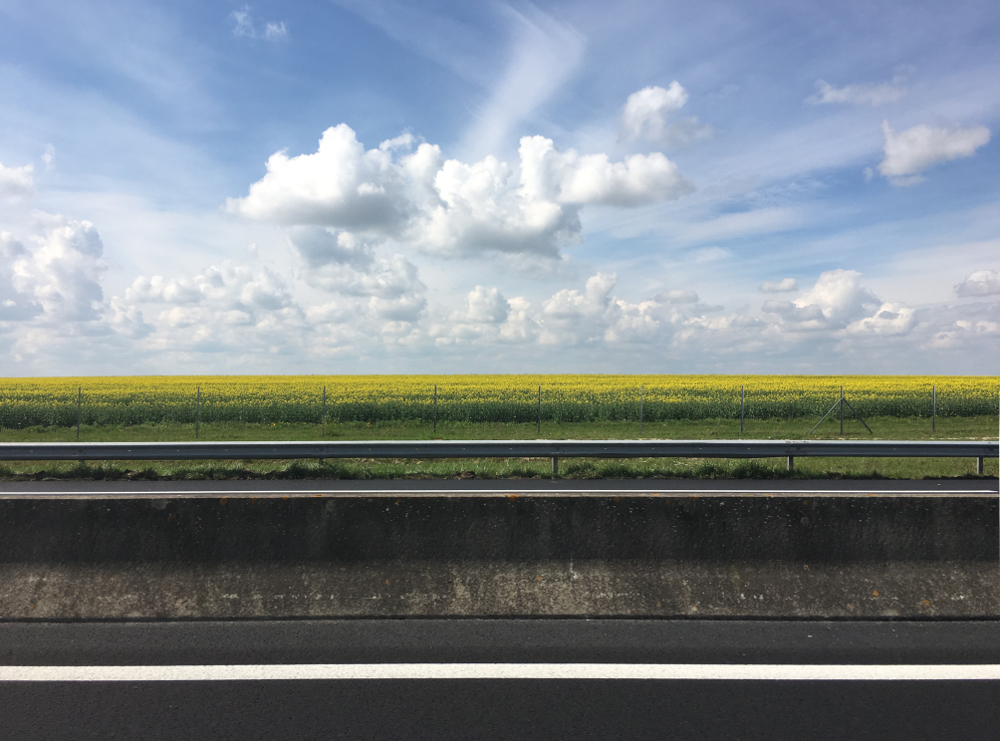 After 8 hours driving plus some leisurely rest stops and a delicious roast dinner at the services, we arrived in Calais and boarded our 7.20pm Eurotunnel crossing. A little over half an hour later, we pulled off the train and drove the short distance to the Premier Inn in Folkestone. We unloaded, checked in and nipped into the pub for a post journey pint. In hindsight we could easily have cracked on and finished the journey with the kids asleep in the quiet evening traffic.
Next morning we got up, ready and back to the attached pub for breaky. Now, Premier Inn has served us well in the past. You know what your getting, they're usually in a handy location, clean, reasonably priced and the attached pub is like a pot of gold at the end of a long journey. Our breakfast – on this occasion – was a stinker! In fact, it wasn't the breakfast, it was the cleanliness. I had to search the cereal bowls to find a clean one and then onto the mugs which were stuck to the tray by a ring of semi rinsed tea. I wasn't in the mood to start complaining and figured I'd send an e-mail later, so we discreetly cleaned everything up ourselves and made the best of it. We then sat there and watched the other guests doing the same.
We eventually got on the road again and the contrast from the day before's journey was staggering. Yesterday, we drove 866km in 8 hours but today, rather than the expected 6 hours driving to cover the 548km, it took another 8…
Stop-start driving is exhausting and when we finally got to the folks' house we were pretty frazzled. Once again we prescribed ourselves post-journey beers immediately! STAT! They are some of the sweetest aren't they ;D. We had a fantastic few days catching up with grandparents, parents, cousins and other family members. The kids ate their bodyweight in sweets and we headed back to Halifax for a whistle stop tour and managed to hook up with a few friends in between jobs.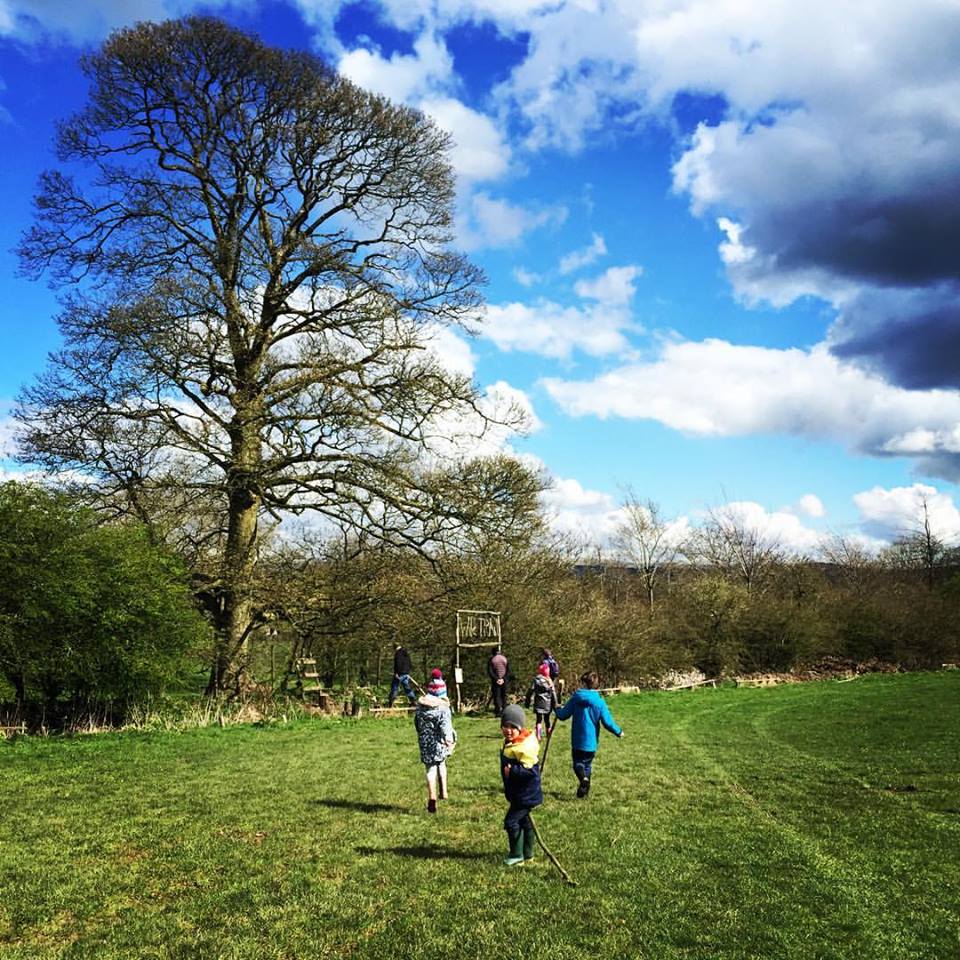 We also dropped in on our storage unit to pick up the summer stuff and had a laugh about the drama we had the last time we were there. The laugh didn't last long though, when we realised that although we'd left the stuff we knew we'd need at the door, sod's law now dictated that we needed some stuff we hadn't expected and, of course, we'd packed that near the back. We found ourselves spending another hour and a half unpacking and repacking the thing!
The trip whizzed by and before we knew it, it was Wednesday and I was kissing goodbye to Nina and the kids and setting off back down the M6 on my way to France.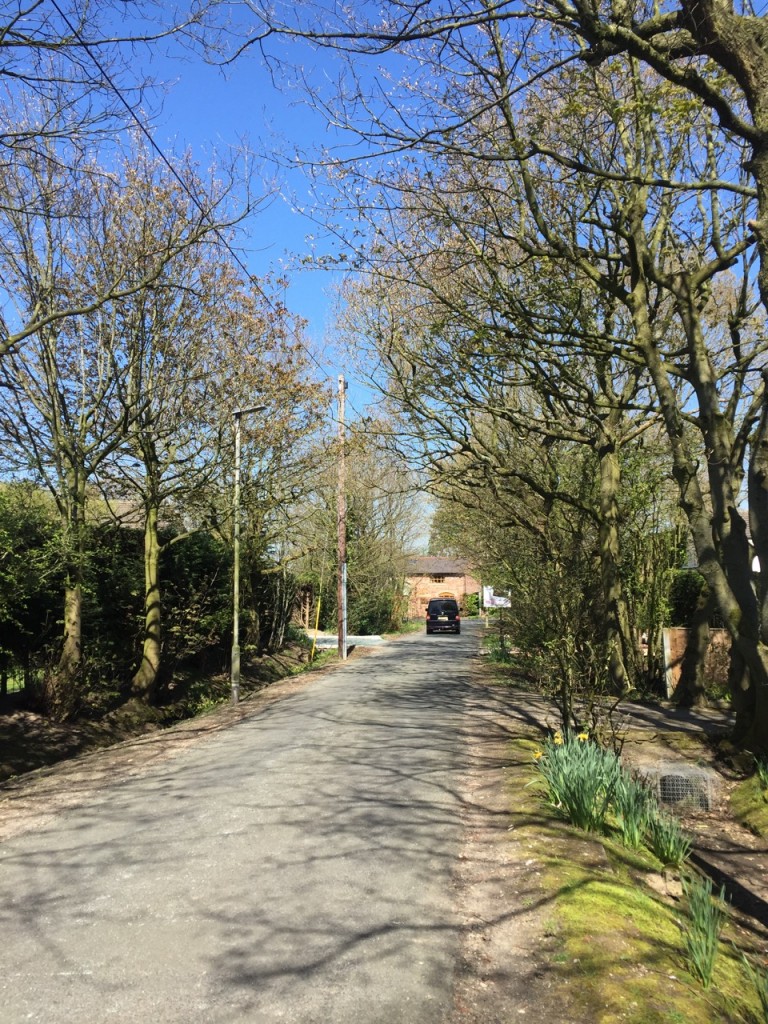 It was more of the same driving through England, I'm afraid to say. I don't know why there's so many roadworks yet the road surfaces are in such a state and I don't know why so many variable speed limit zones are needed. I'm told that the statistics show that they reduce incidents and congestion but I'm not convinced. It seems weird that they hop up and down 60, 50, 40, 60, 50 when there's no obvious need to adjust the flow speed. You spend more time looking at your speedo and jumping on the brakes than concentrating on what's going on on the road. It's almost like they're trying to catch you out so they can snap you for speeding and collect some money… Hmm?..
Anyway, by tea time I was through it all and I grabbed a bite to eat at the Chunnel Port before getting on an earlier train than the one I was booked on. It turns out mine was subsequently cancelled so that was a right result!
I'd decided to get as far through France as possible that evening before sleeping with the bikes in the van. I've got to say, driving through France is becoming one of life's great pleasures for me. Cruising at 80 for miles on end, without needing to lift off, on quiet, smooth roads with rolling yellow, green and brown fields stretching as far as the eye can see interspersed with the odd tree lined gorge, outcrop or picture postcard village.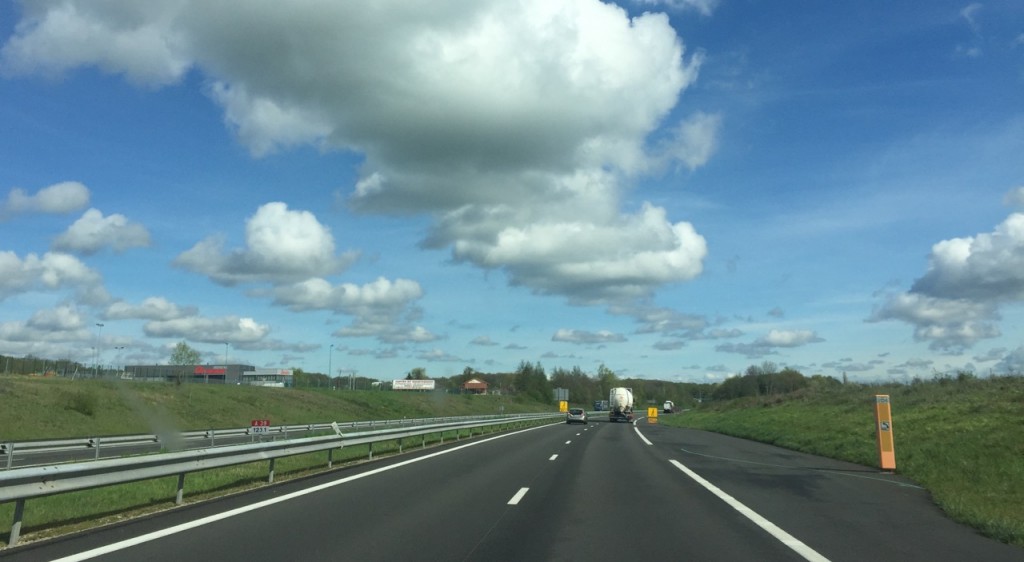 I pushed on 'til darkness fell and got it into my head that I wanted to get into Champagne territory and beyond Reims. I cracked open a Red Bull and turned up the tunes for a bit of a one-man road trip party and not long after I was pulling up in an 'Aire' (rest area) just beyond Chalon-en-Champagne. Feeling a little dwarfed, I set up camp among about 20 articulated lorries, popped the roof and wriggled into my sleeping bag.
I was pretty blinking cold during the night but I slept OK. When I awoke, all but two of the trucks had gone. I must have slept well! I had a wash and teeth clean before firing up the van and cracking on. The good distance I put in last night meant that I could take my time today and I arrived in Geneva nice and early with plenty of time for a drive around the city for a bit of a nosey. Then, typically, although I'd been there for ages, I was nearly late to pick Nina and the kids up because (as you'll know if you've attempted to drive around Geneva airport – or maybe it's just me) the road system around Geneva airport is painfully confusing, especially if you're hiring a car and driving to France whilst trying to avoid the Swiss motorway and mandatory 'vignette' motorway charge sticker. Don't get me started…
I did get there in time in the end and my guys came out into the arrivals lounge and even though it had only been a day, it was great to all be back together again.
We piled back into the van and on to Les Gets for 3 more days of holiday before the new school term begins.