Everything is winding down big time now… The Mont Chery ski area closed a week and a half ago, restaurants and stores are starting to shut up shop and many of the normally attentive lifties are now milling about on their smartphones waiting for it all to end. The temperatures are rising and the rain's supposed to be a comin'.
After a late flurry of spring and Easter holiday visitors over the last couple of weeks, more and more sections of the mountain are now closing down and there are only about 5 or 6 pistes open for the last few days. I guess they're spending more money keeping things open than they're earning from the few remaining slippers and sliders.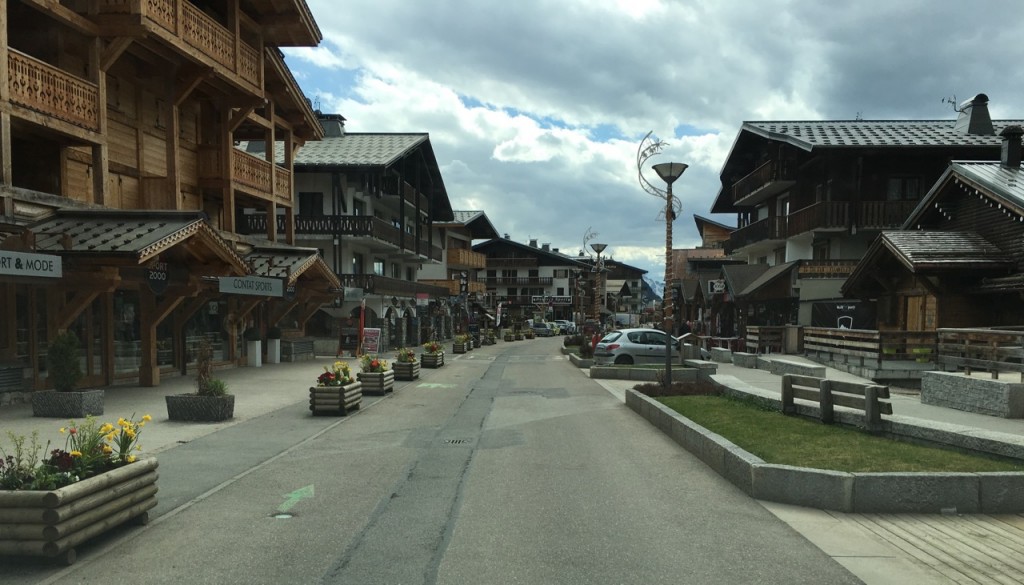 Higher up though, the snow is still pretty good though, and if you get out early, you get the beautifully pisted slopes almost completely to yourself. There's a sweet spot around 10 – 10.30am as they start to soften from rock-hard but are still super-fast and groomed but soft enough for maximum turning grip. Lots of fun!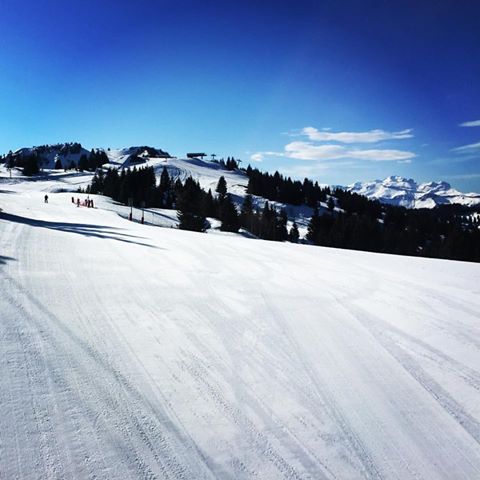 The gearing down of snowsports has been mirrored with a corresponding boom of activities that have been waiting for the visitors to leave and the snow to melt. Big machinery has arrived in town and construction sites have sprouted up all over the place. Site hoardings showing off the latest and greatest 'new developments' you'll be able to buy into before next winter. We watched as a huge chalet in the centre of town called the 'Bel'Alpe' got completely razed to the ground in just a couple of days, presumably to make way for Bel'Alpe 2.0. Due to the limited seasonal nature of the construction sector, there's money to be made in this game and somebody told me that builders' labourers are making as much as €30 an hour!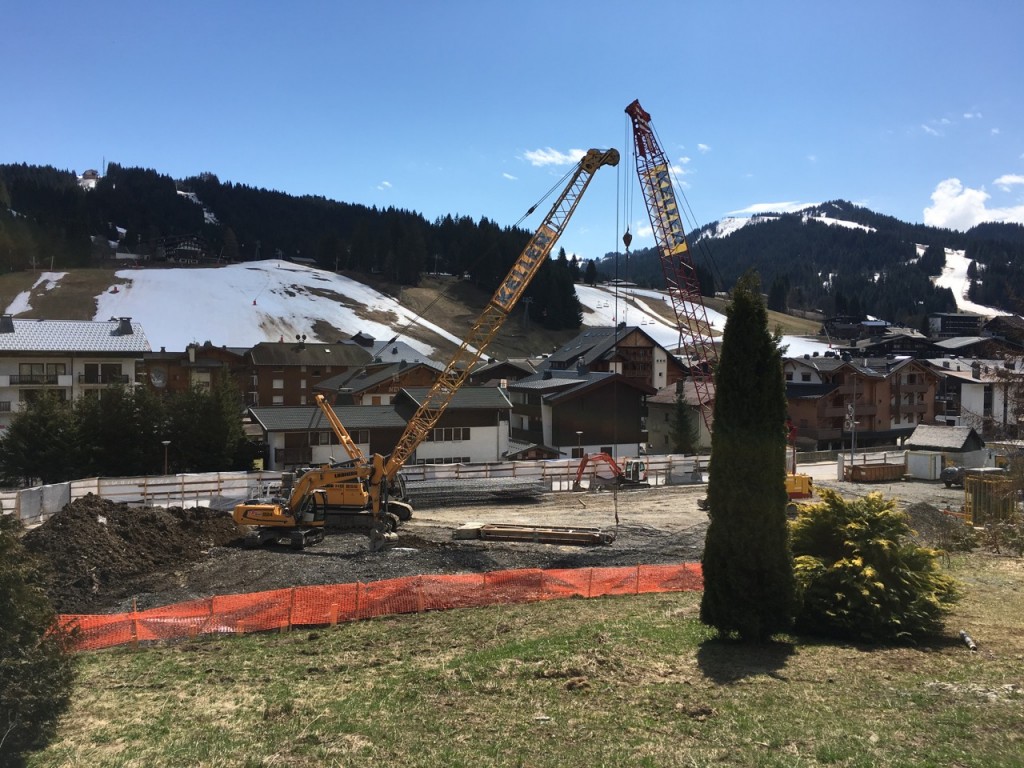 The summer toys are being dusted off and rolled out of the garages too. Bikers are rumbling through town before opening up and blatting around the twistys. The road bike crew are putting in the mileage and getting their summer fitness up to speed. We watched a group of guys yesterday on longboard skateboards absolutely ripping it down a switchback section of road called Route du Bouchets. I've no idea how they made it round the corners at the speeds they were doing but it looked like a lot of fun ;)… Hmmm.
All in all though, there's a sleepy, lazy feel in the air. The melting snow has left behind a season's worth of dust and grit and the warm weather, quiet streets and timber buildings give the place a bit of a wild-west ghost town feel, especially after and hustle and bustle of the winter season.
School broke up for the spring holiday on Friday and our circle of friends has diminished considerably with English and French alike leaving town and heading for home as the season winds down. On one hand it's sad to say farewell and see everyone go but it'll also be great to see them all when they come back and I'm excited about next season and fresh snow already! Hopefully I'll build up some good terrain knowledge in the summer months that we can use next winter. We're also hoping that our French learning will accelerate as the population thins back to the permanent Getois residents.
The kids have been hankering after trying snowboarding for a few weeks so we got T a lesson with our friend Nathan at Switch Snowsports last week to get him started before hiring boards and boots for the two of them for a few days. They're both progressing nicely and Iz is linking turns and managing to pick her way down most things already. It's weird teaching beginners, as you have to really think about what you're doing when you ride in order to explain it to them. I think going back to basics is actually helping improve my own riding which is a bonus (always looking to improve;)). I'd forgotten how painful and tiring learning to board is though. Watching them repeatedly being spat-out and dumped on the floor after catching an edge is exhausting!
Some of our friends' kids are learning too and we all met up on Sunday for a play on the beginner slopes before heading down to the Apre'ski Bar Les Gets end of season party which was way better than I had expected. There were DJs, bands, a brilliant turn out and a fantastic atmosphere! We didn't stay too late because of the kids but we'll be better prepared next year. In fact, we need to be better prepared in general as there have been parties all over the place as bars and venues close down and there have been World class DJ's and entertainment in town that it's a shame to miss!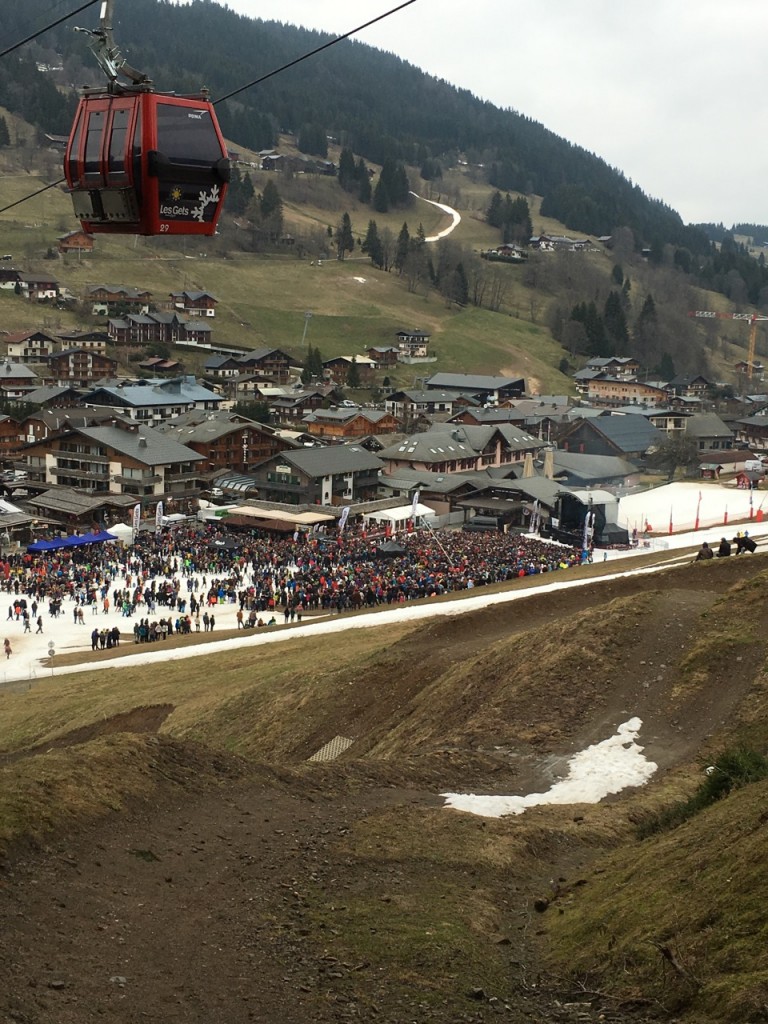 Well, it's all winding down and we're just getting ourselves organised for a trip back home at the end of the week to visit family, take care of a bit of business and to pick up the summer toys! (Bikes, tents etc. Wahoo!) When we come back next week the winter season will be done and dusted and we'll be in inter-season limbo-land. Our first few months out here have been terrific  and exceeded our expectations, which, to be fair, were pretty high in the first place. We definitely made the right decision to bite the bullet and do this.
We've settled in, met loads of like-minded people and made some lovely new friends. The kids have done a remarkable job getting stuck in to the French school and talking to Iz today when we went out boarding, she said she loved it and realised why we've done it. We've spent so much time outside, being active in the elements, getting oodles of vitamin D and sleeping well as a result. We've been wanting to blog about stuff we really love for a long time and we're finally getting to do that too.
We'll go back to the UK with goggle marks and big smiles and are looking forward to seeing everyone whilst trying not to be too annoying about our big adventure.
Roll on summer!
P.S – We looked at flights for Nina and the kids so they can fly back to Geneva after our trip home to avoid having two long car journeys in a week. Get this… Nina and both kids are flying with Easyjet from Liverpool to Geneva for £38… TOTAL! Cheap as chips if you can travel mid week and out of season!