It's inter season, the weather has been iffy to say the least and the kids are climbing the walls. What better way to keep them entertained than to make-from-scratch and play with their own 'fluffy slime'? We've been making this for a good few months now and at first struggled to make it come together. Nina searched endlessly for an actual 'fluffy slime recipe' but failed to find one on the internet so decided to create one herself.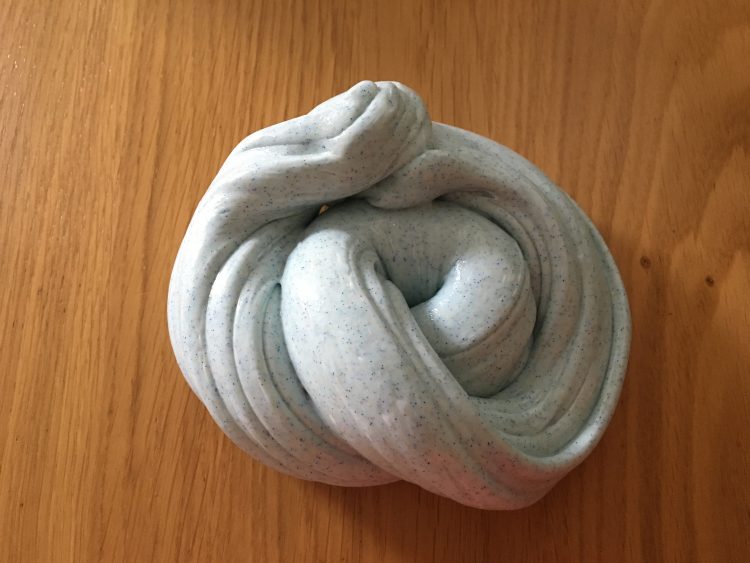 A lot of friends and family have asked about it, so we thought we'd make a video so you, too, can fill your house with goo! Many have asked "what's the point?" but our kids will play with the stuff – together – for ages without getting bored. Iz even said that if she was ever stuck in her bedroom alone, she would happily just play with the slime ALL DAY!
This post contains affiliate links to products we have used. All this means is that if you click through and purchase one of these products, we will receive a small commission with no extra cost to you. Cool, huh?
Here's the video and the full recipe is below…
DIY Fluffy Slime Recipe:
Equipment needed:
Bowl, Digital Kitchen Scale
, spatula or spoon.
Ziplock bags or sealable container to keep it in.
Ingredients:
60g PVA glue
10g Bicarbonate of soda
110g Water
20g Shaving foam (usually the cheapest brand has no colour and little scent)
5-10g Contact Lens Solution
(MUST CONTAIN BORIC ACID or it just won't work!)
Optional:
Food colouring
Hand or body lotion
Baby oil
Glitter
and/or other sparkly bits.
Method for our Fluffy Slime Recipe:
Firstly, make a bicarbonate of soda/water mix by dissolving 10g of bicarbonate of soda in 100g of ordinary tap water and set aside. (You'll need about 10g or 2 teaspoons of this mixture for this recipe but save the rest in a recycled bottle or jar and it will keep for the next time. :))
Measure out and pour the PVA glue into a large bowl.
Add the shaving foam, 10g of water, 10g of the bicarbonate of soda/water mix, food colouring (if using) and stir very well until it's all combined.
Now add 5g or about a teaspoon of your 'activator': the Contact Lens Solution containing BORIC ACID.
Stir well for a few minutes.
Play with it some more using your hands and if it's still too sticky, add a little more contact lens solution until it no longer sticks to your hands.
Notes for Fluffy Slime Recipe:
Adding a little squirt of lotion or baby oil will make your fluffy slime smell lovely and make it stretch more smoothly.
It will keep well in a Ziplock bag or sealed container for hours of fun!
Also a useful 'stress relief tool' for adults!
We hope you enjoy making this as much as we do. Stay in touch with us on Social Media and if you make it, send us your photos – we'd love to see your rainy day creations!