After Nina, Beth and Lisa's last hike up Nantaux, Sophie the dog got ditched from the team (due to hot weather and water limitations) and I stepped in to make up the numbers on the next assault on Pointe de Ressachaux.
Ressachaux is another imposing beauty that dominates the skyline around Morzine. It divides the River Dranse valley that runs up to the Prodains lift to Avoriaz from the Valley De La Manche. This runs up past the Nyon lift station and on to the Mines D'Or. It's a popular back country run round the back from Avoriaz in the winter. If you were around last summer, you might have seen the giant bike that had been weed-killered onto the high face of Ressachaux for the Tour de France. Having been up there now, I realise that can have been no mean feat!
Here's the details: Distance 7km; Vertical ascent 1159m; Our ascent time 1 hr 40mins; Our descent time 2 hours; Our picnic duration 20 mins 😉 Covered by map: IGN 3528ET – Morzine
We met up after dropping the kids at school and drove down to Morzine to find the entry point to the trails. There's one up from the Dranse valley side and one up from the Nyon telecabine car park. We'd opted for the Dranse side but wandered around aimlessly for a while, looking for the way in. The girls had accidentally worn matching outfits with bright orange tops. I had't realised we were supposed to be coordinated and felt a bit left out ;D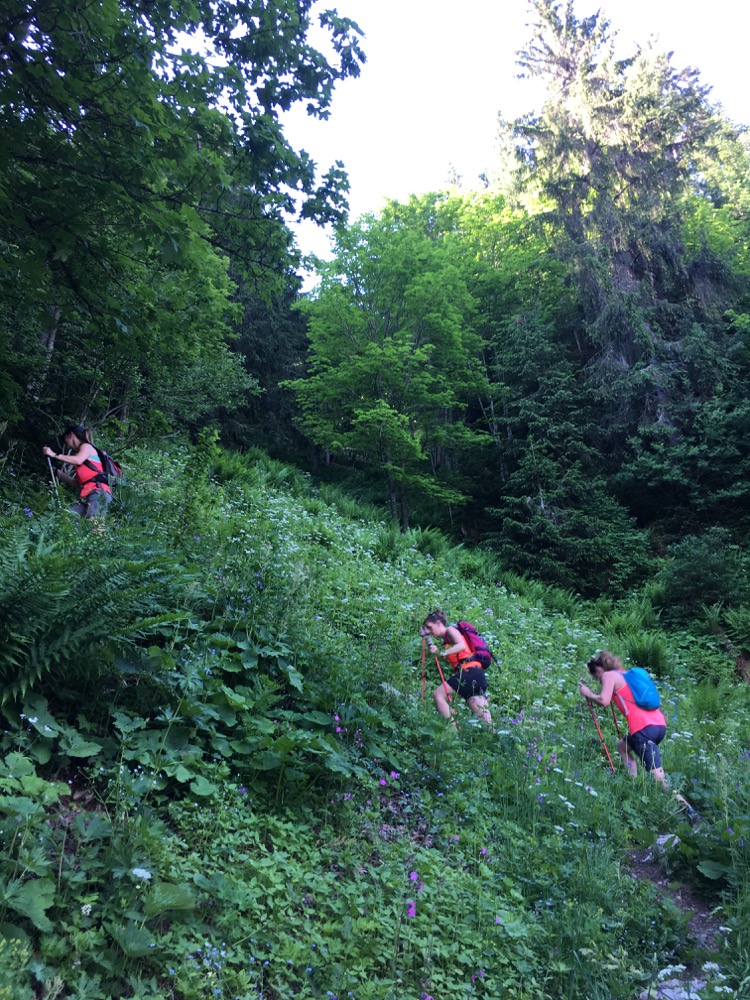 After learning the pole lesson on their last hike, we were all equipped with lovely new, shiny, telescopic sets with cork handles courtesy of an offer at the local Carrefour supermarket. We eventually found the way in to the trail with a little help from Google maps and set off up a very steep meadow before quickly dipping into the welcome shade of the woodland.
It was another 30°C scorcher and oddly – with my cork pole handles at eye height – I couldn't get the thought of red wine out of my head.
Beth led the way as we zigzagged up and up. The signpost said 3 hours 40 mins to the top and we could tell she'd taken on a quiet personal challenge to smash that!
We got the odd view back through clearings on the way up and with the ridge down from Roc d'Enfer in our central field of view, we reckoned we'd skirted round further to the South than we'd realised. Eventually, the steep rooty rocky trail relented into another magnificent open meadow dotted with idyllic summer chalets (alpages). We stopped for a drink, a breather and to admire the view.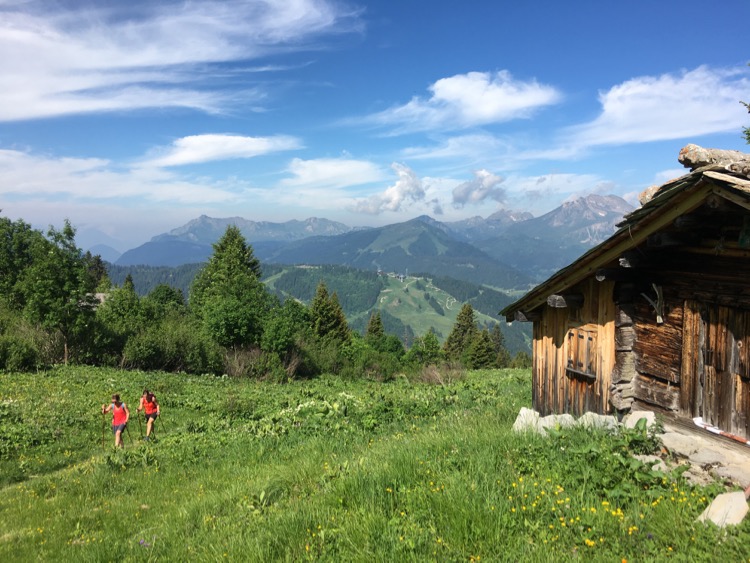 From this hamlet, there's two routes to the summit and looking at the contours on the map we opted to ascend on the steeper looking Northerly route. (In hindsight, the other way round might have been easier to descend but there's probably not much in it.)
We trudged on with Beth setting the pace (she's in training for some kilometre vertical 'KMV' races) and checking the clock. Just shy or 2 hours (1hr 40m moving time) after setting off, we clambered up to the summit. Beth and I waited for the stragglers, snapped a bunch of photos and cracked open the packed lunches to sit and admire the view.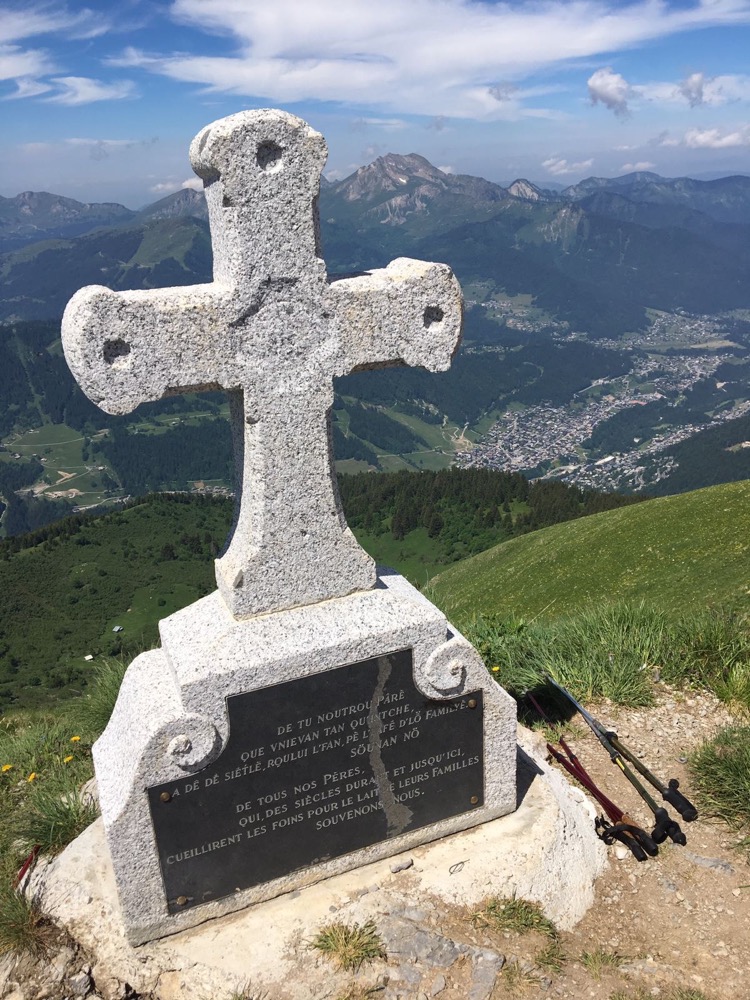 Revitalised with our early lunches and awe-inspiring views, we packed up and set off back down the other trail. On the way we passed some patches of snow that had been hiding in the shade and Lisa and I couldn't help childishly scurrying over to crunch around in it before trying to ski down.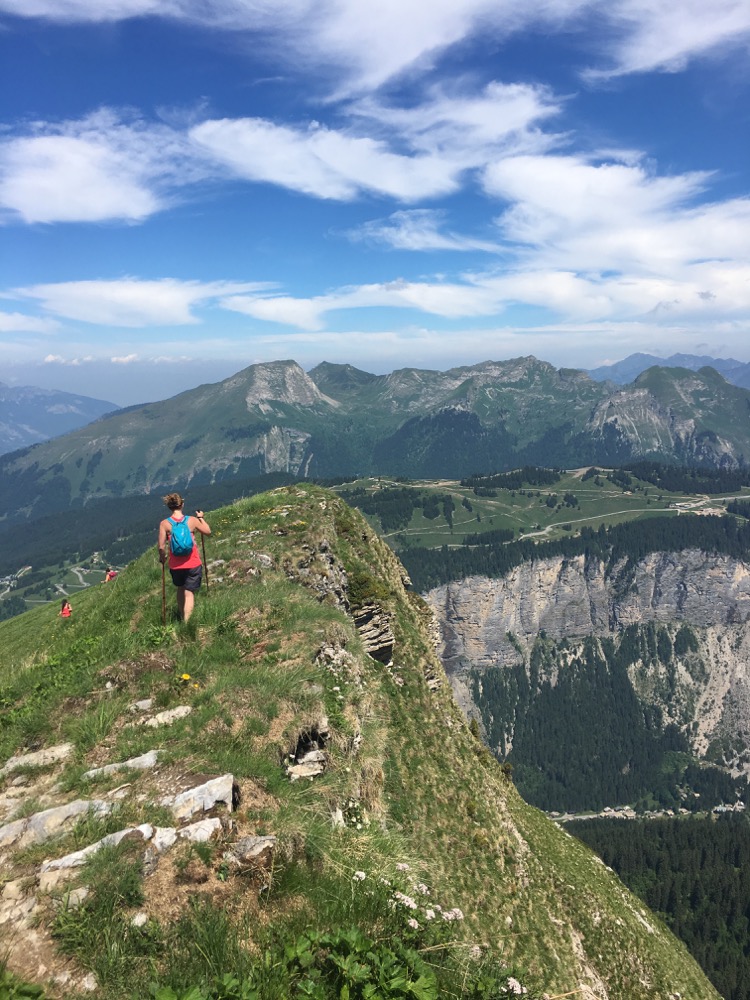 It's the first time I've walked with poles and I have to say, they were awesome. I can't believe I've trudged around in winter on snow shoes, with a full pack and board on my back so much without them! I'm in! We made good progress down and arrived back at the hamlety thing before dipping back into the cool of the woods. We were all wittering away as we paused at a signpost (without reading it!) and turned left.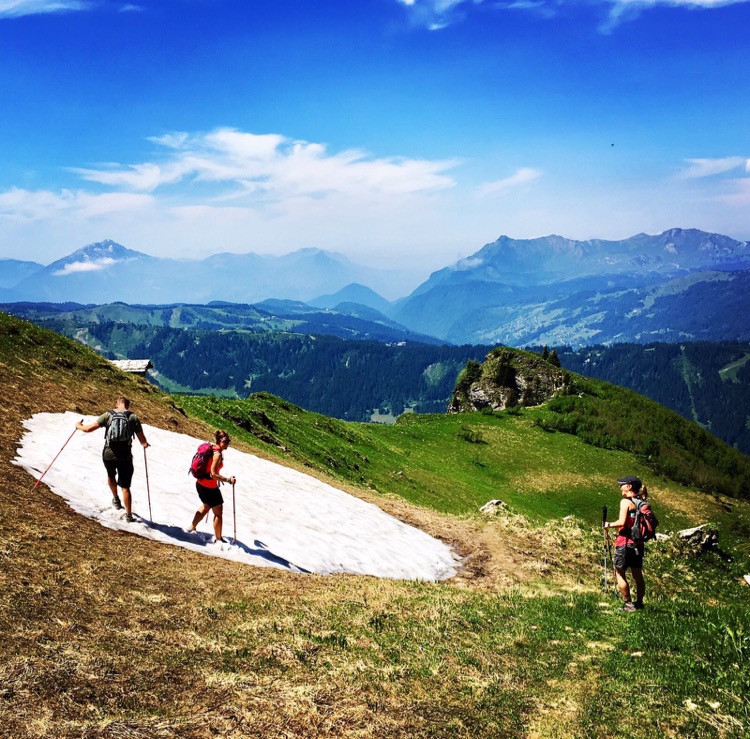 Just as everyone's knees were starting to grumble, we decided that this path definitely seemed longer and didn't look familiar. We'd taking a wrong turn and were heading for Nyon. Ah well. It's a recce mission too, so using both routes is a useful exercise. We broke out of the woods at Nyon car park. This route was definitely much longer. It had taken us 2 hours to get up and 2 hours to get down and we had to walk back into Morzine. Not, however, before Beth 'mountain goat Rush Adventures'  and Lisa 'sport billy Torico Performance Skiing/Cycling' decided to race each other back up the 50 or so metal steps from the car park (weirdos!). Nina and I declined. I suggested a swift demi instead. No takers…
As we walked back to the cars, they told me it was easier than Nantaux. "Definitely easier…" despite the Pointe de Ressachaux being further and higher. I'm sceptical 😉 "You weren't there, man!"
A lovely way to spend a few hours with great company. I'm looking forward to the next one.
Check out other great hikes we've tried in the area!
Don't miss out on any new posts by entering your e-mail address and subscribing to our new post mail-out list.
Feel free to comment below and if you do enjoy the blog, don't forget to like, comment and share. Cheers!