We've heard nothing but good things about local restaurant 'La Frutière des Perrières'.  It's a cheese maker (fromagerie) as well as a speciality cheese restaurant. They also run tours of the dairy and have a shop stocked with their speciality cheeses and other Savoyard delicacies. One of the Dads recently exclaimed that their cream was "delicious and… even better than Devon clotted cream!".
Being a quality fromagerie, there's not much in the way of chicken nuggets or fish fingers and chips on the menu, so we decided to ditch the kids and have separate Mums' and Dads' nights out (not sure the fellas will make it past the pub on their's though!). That way we could enjoy an adult meal in peace without multiple trips to the bathroom, spilt drinks and a chorus of "I don't like cheese!".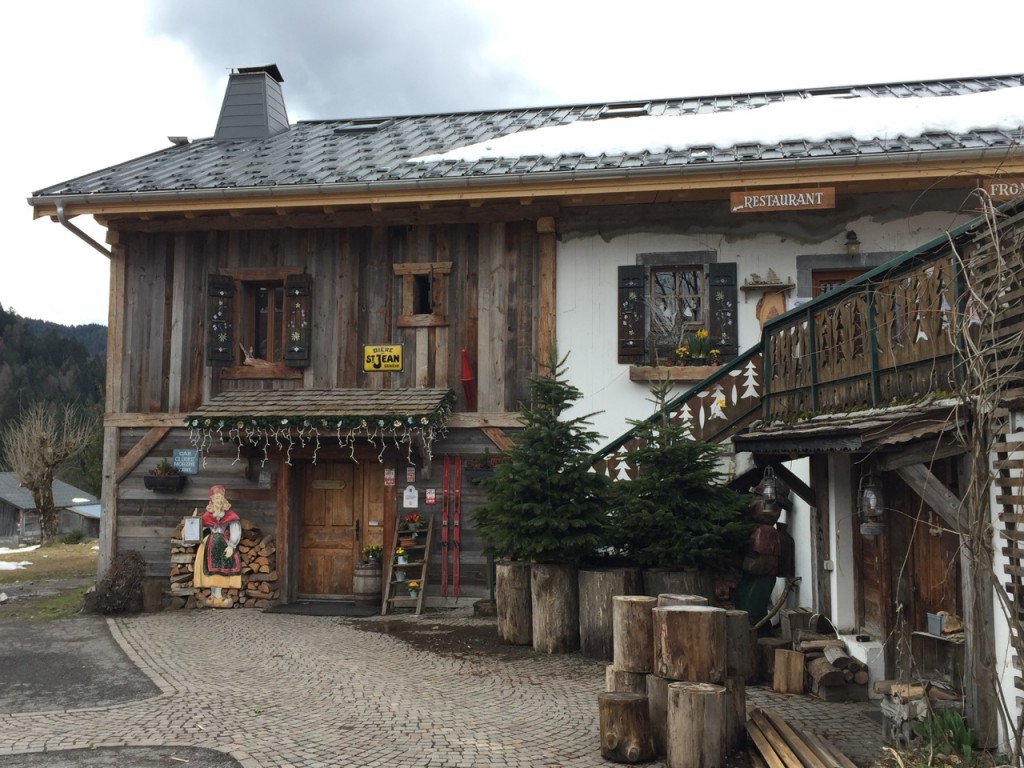 La Frutière is a little out of the centre of town, not far from the roundabout near the Perriers chair lift. Sal booked us in for Monday night and we met up full of Easter chocolate but ready for a feast. After the waiter served us aperitifs by the log fire in the cosy reception area, we were seated in the restaurant and pored over the menu. In order to sample as much as possible, we agreed to order a selection and share. We opted for the white wine fondue, the mushroom fondue, the raclette and a couple of bottles of dry white wine to wash it down with.
An interesting tip I learned was that you shouldn't drink fizzy water or carbonated drinks with a fondue as it causes the cheese to solidify in your stomach, making for an uncomfortable time while your body deals with it. Apparently wine is best… Some advice you just can't argue with!
The fondues were served promptly and came with a the usual fondue accompaniments of dried meats, cubes of bread and a basket of hot boiled potatoes. We appreciated the fresh green leaves, salad dressing and bowl of pickles, but the potatoes – although delicious – were enormous which was bit weird (maybe they had run out of little ones?!) Everything, especially the cheese was fantastic!
If you're not familiar with raclette and fondue: Raclette cheese has a fairly mild flavour and is served on a portable grill with a heating element above it. This melts the surface which you then scrape off with the scraper to coat the meats, bread and potatoes on your plate with melty cheese goodness; Fondue is a mix of cheeses and other ingredients like garlic, white wine, mushrooms or tomatoes which comes melted in a pan sitting over a flame heater. You dip your bits and pieces into the cheese on the end of a long fondue fork. Both novel and ingenious excuses to get as much gloopy melted cheese pleasure into you as possible.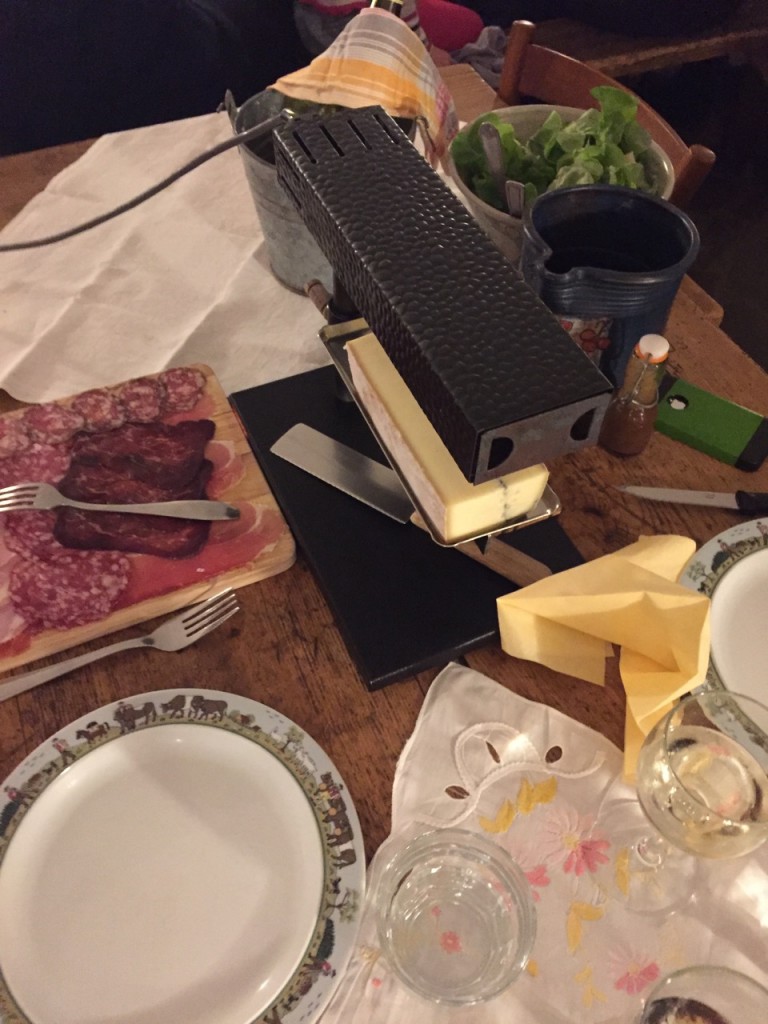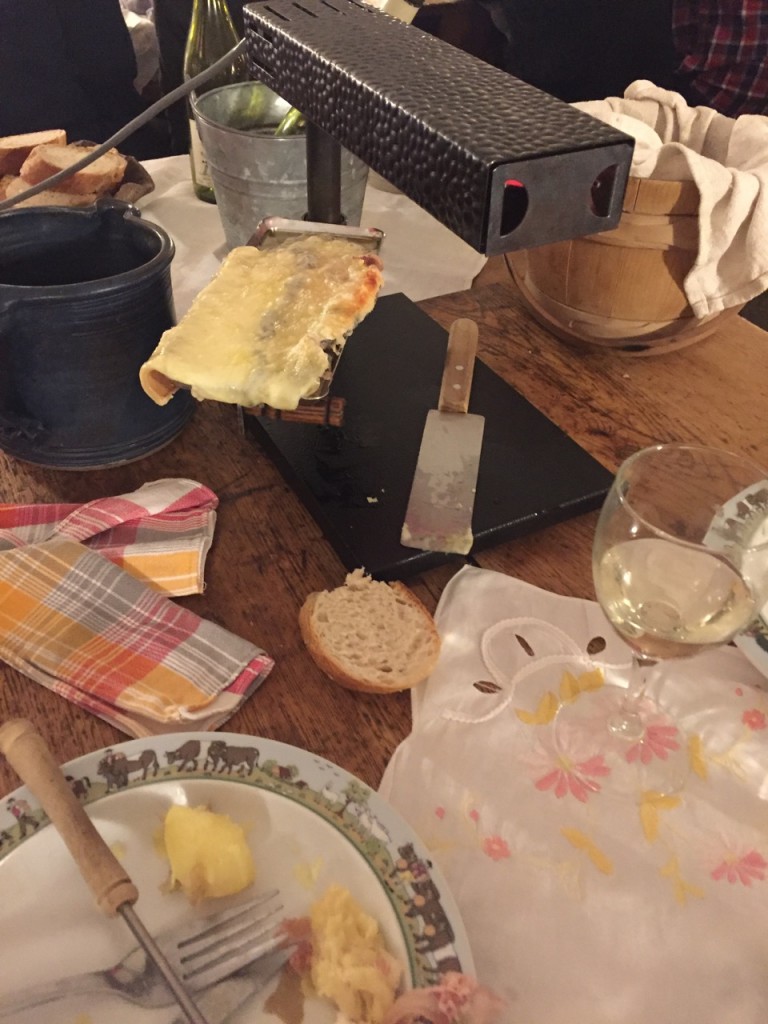 Some of the girls went for a dessert – meringues with fruit & freshly whipped cream – but three of us opted for the 'Cafe Valdotain' or 'Grolle' instead. This is comes from a tradition of herdsmen in the Asote Valley who would mix coffee and strong alcohol in their clogs. Each guest drinks from one of the spouts, covering the adjacent spouts with their thumbs to prevent spillage. The tradition is to pass the pot (grolle) around without spilling and finish the last drop before putting it back on the table.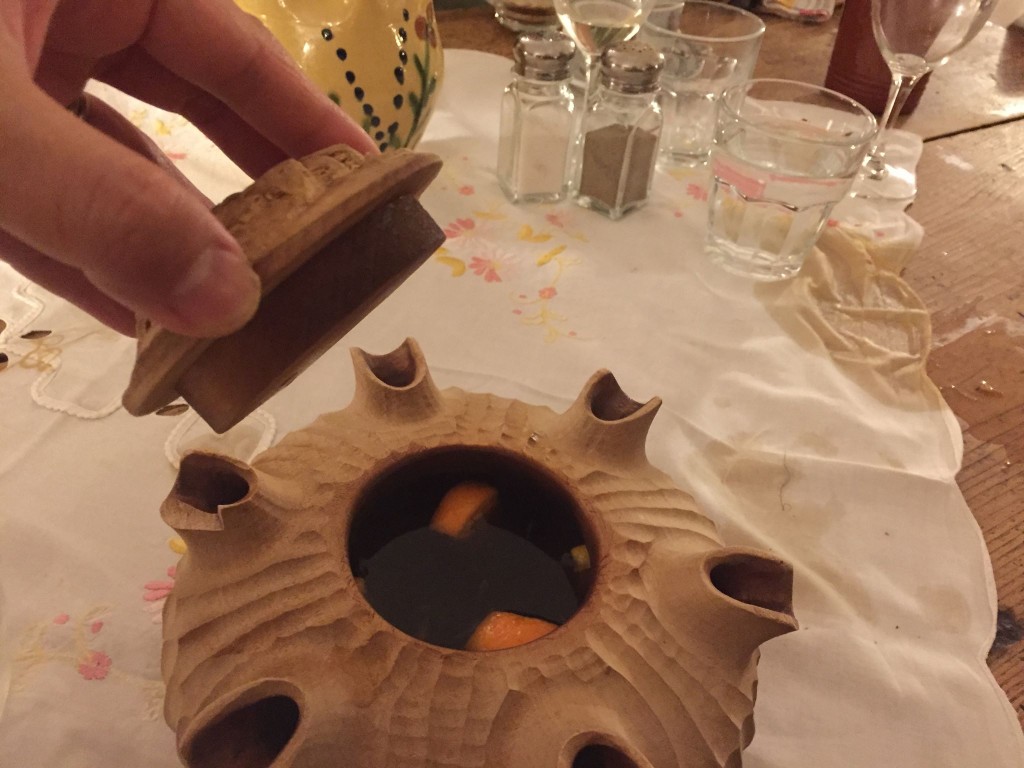 We finished up the highly enjoyable evening with the obligatory local 'fire water' shots and headed home for a dreamy night's sleep. We will be back.
Don't miss out on any new posts by entering your e-mail address and subscribing to our new post mail-out list.
Feel free to comment below and if you do enjoy the blog, don't forget to like, comment and share. Cheers!