Saturday was a pretty exciting day for me. Freeride is the branch of snowboarding that really resonates and the Xtreme Verbier competition on the Bec des Rosses is THE big one! It's the final stop for the Freeride World Tour which sees some of the best freeride skiers and snowboarders on the planet battling it out for the crown in a tour which starts in Valnord (Andorra) before visiting Chamonix (France), Fieberbrunn (Austria), Haines (Alaska), and Verbier (Switzerland).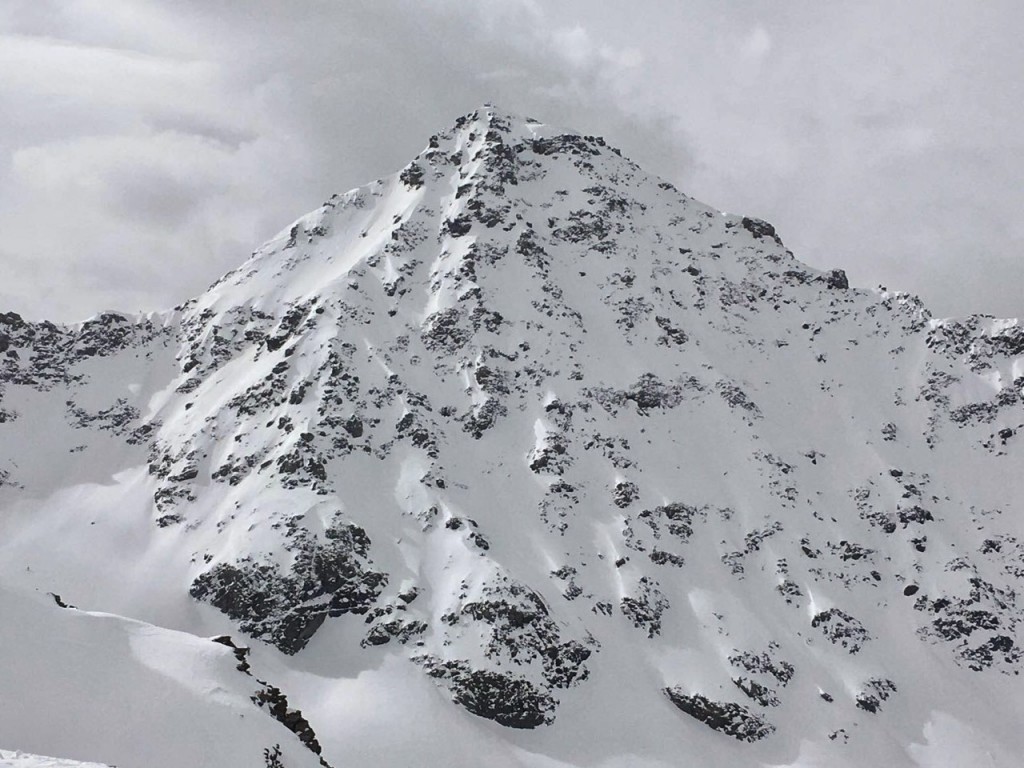 Freeride is an off-piste/backcountry competition where the riders choose their own line down a gnarly, cliff peppered competition face. Judges score their run on factors such as difficulty of the line, control, jumps, fluidity and crashes (or lack of them preferably). To win you've got to lay it all out there with big exposure and the risks are immense.
I've been following this competition on TV and online for years, marvelling at the skill, power, and sheer brass balls of the contestants. Going to watch 'in the flesh' has been on my to-do list for years and as soon as we decided to come over, the dates went straight in the calendar.
The organisers give a window for when the competition will take place which was between the 2nd and 10th April this year. As the window approaches, it's all down to the weather and they pick the day that looks the best and the event juggernaught kicks into action.
As their window approached other things started popping into our own calendar and I was getting a little nervous about making it there. On Thursday, the news came out that the competition was confirmed for the following Saturday 2nd April and it was on! We had friends staying in Avoriaz for the weekend but I knew they'd understand me disappearing and we also had a birthday party to go to at 4.30pm. Some of our new friends had already gone back to the UK, some were about to go that weekend, some were working and no one else could make it. It was going to be a solo mission for me.
I got myself and the van packed up on Friday night, ready for an early start and set the alarm for 5.30am. Like a kid on Christmas Eve I had a horribly restless night's sleep. I tossed and turned and glanced the clock at 5.53am! WHAT THE!?…
I jumped out of bed, opened my phone and realised I'd set the phone alarm for weekdays! Thank goodness I hadn't slept properly (every cloud…). I sneaked around getting dressed and wolfed down some breakie before slipping out and away in the van. I was even excited about the journey, almost a 5 hour round trip. I planned to drive out through the mountains to Thonon, alongside Lake Geneva to the Swiss Border, past Bouveret, down the Rhone Valley to Martigny then right up the Dranse de Bagne valley towards Verbier. On the way back I was going to turn up from Martigny and climb up to Vallorcine and drive through the Chamonix valley and drink in some of its epic-ness on the way home.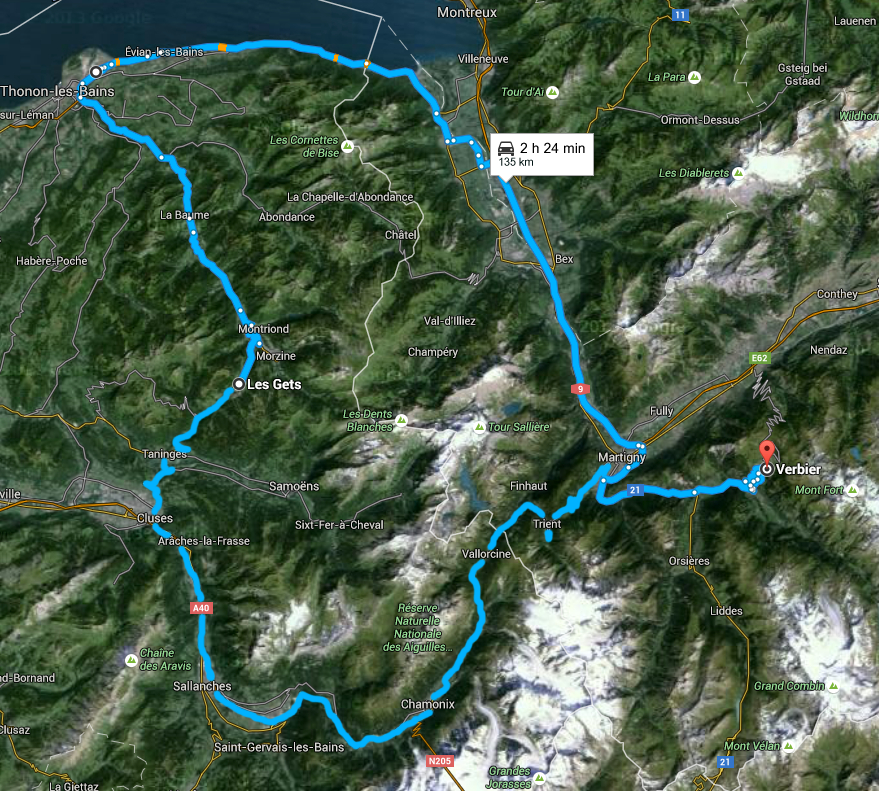 The drive there didn't disappoint, starting in darkness with quiet roads before the daylight built to reveal stunning scenery in every direction. Despite the late start, I made good time and I parked in the Chable car park in the valley beneath Verbier in order to catch the bubble up. I parked up, kitted up and headed for a comfort break. With the extortionate taxi ride still ringing in my head (and my pocket) I then queued to make another eye watering Swiss purchase of a £52 Verbier only, one day ski-pass. I clambered into a bubble with an older Swiss couple and a young Swiss guy followed me in. They made small talk all the way up and I took it as a good opportunity to eavesdrop and smile moronically whilst trying to improve my French listening skills.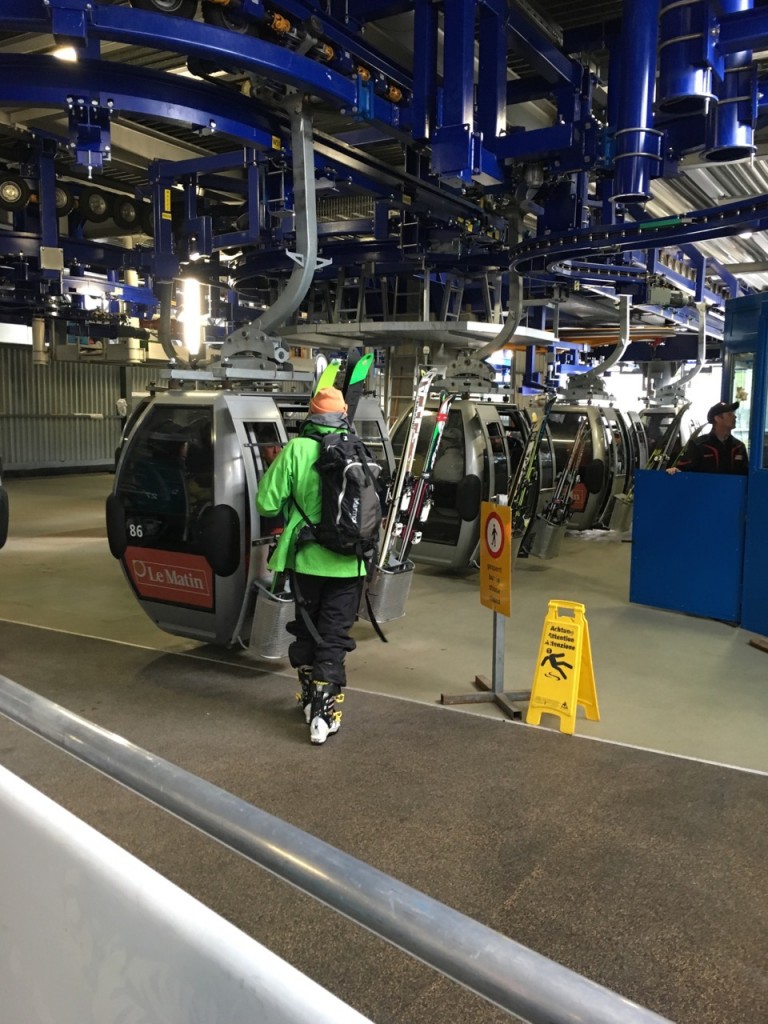 We reached the top and the young guy jumped out, I followed suit only to quickly realise that everyone else was still in their bubbles. This was only a mid-station and there was a massive queue for the minimal amount of spare seats on the way up. I turned back to see the lady I'd been sat next to frantically ushering me back in as they started disappearing around the corner. I lurched back towards her but two skiers in their twenties had already locked on. I tried to explain that I'd got out by accident but they just pointed at the back of the queue as they finished squeezing in.
Luckily the next bubble had a spare seat and I nipped into that. I spent half of the next leg of the bubble ride seething with fury and plotting my revenge for when we were reunited at the top. I then spent the second half of the ride talking myself back down again: "It doesn't really matter, no harm done, don't let this spoil what you're really here for, just forget about it and move on".
I got off the bubble, went up an escalator and moved on… The next leg was a chairlift and I strapped my front foot in and got on it with a lovely Swiss guy called Bastian who totally redressed the balance. He was born and raised in Verbier and was now studying law in Zurich. As we got to the top I thought I'd ask which way to go next. He said "you can just follow me." I scooted over, strapped my back foot in and gave him a nod. He set off at warp speed! I followed, but with totally cold legs and flat light, I washed out on the first steep, hard-packed section. I got up and got going quickly before he could turn back and see me, and then had to straight-line it the rest of the way down just to keep up with him!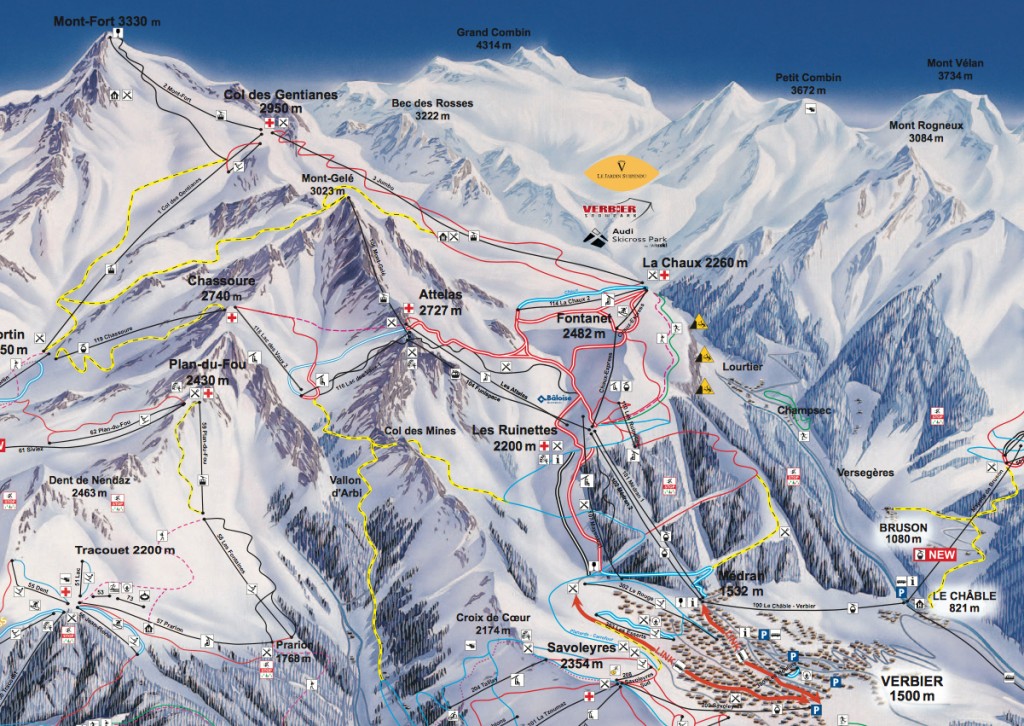 We queued together for the 'Jumbo' telecabine and he told me about growing up in such an amazing place, becoming an instructor and that I should force Iz and T to do competitions because his parents didn't and he really wished they had. He said that there were so many techniques, tips and tricks he missed out on which were harder to correct when he was doing his instructor training. Judging by the speed of him, I'd say he'd got them nailed now!
Verbier is reknowned as a playground for the rich and famous and he chatted about the cost of things and what it was like growing up here. He said a lot of people came just to show off that they could spend a lot, particularly Brits and Russians. He then said that the most expensive chalet in Verbier belonged to the founder of Lidl and cost a whopping 71 million Swiss Francs! That's £51 million… Gulp! (If you ever need a house-sitter Mr Lidl, just hit us up on the contact page ;))
There was big group from La Cluzas in front with drums, cow bells and trumpets who sounded like they had already been on the beers for quite some time this morning. They were getting a good sing-song going as well as plastering the place with stickers. It was great for getting the atmosphere and excitement levels going but there also seemed to be quite a few disapproving looks and eyebrow raising going on. We got out of the Jumbo telecabine at Col Des Gentianes and I wished Bastian a good day.

I was super-excited now!! I took a moment to take in the view with the spectator area beneath me, the VIP area, the stage, two helis parked up, the Bec des Rosses in the distance and the tiny dots perched on top of it waiting to go. It was 10.30am now and I'd missed the women's snowboard competition but the women skiers were about to get under way. I ditched my board by the dome shaped restaurant and wandered off through a thick haze of what I think must have been joss stick smoke, to find a good vantage point in front of the choppers.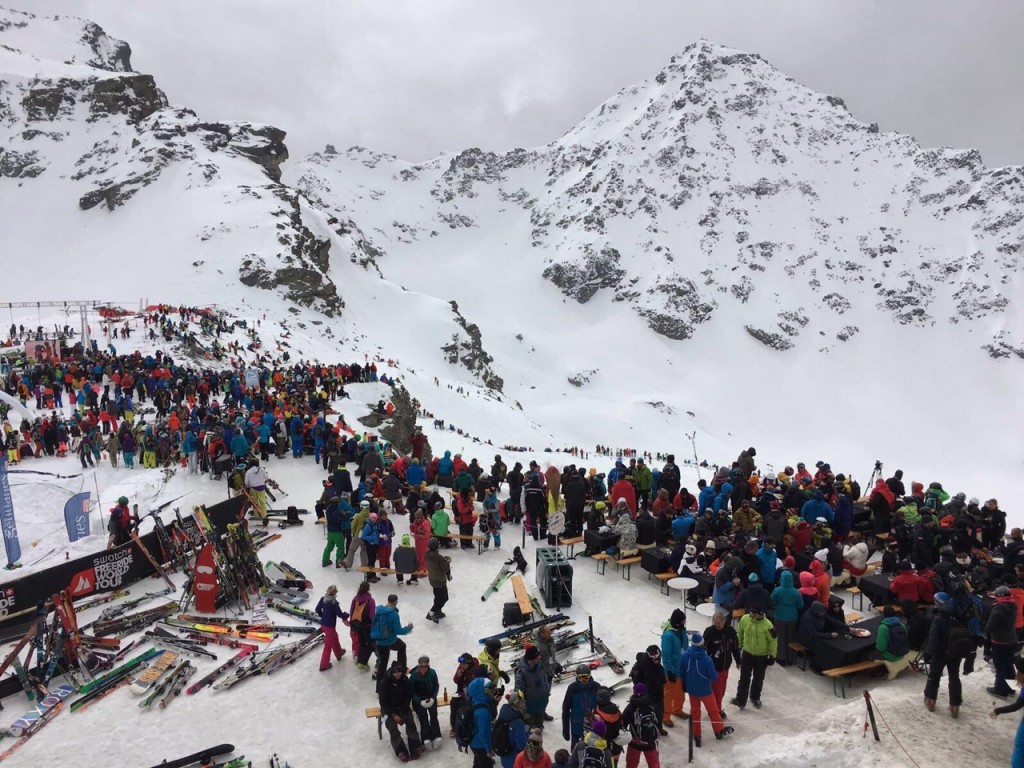 The women drop in at the top from a different start gate than the men. It's further along the ridge with slightly less vertical descent. They were really charging, hucking big drops and totally amazing to watch. Evelina Nillson stomped some massive cliff drops before taking the mother of all stacks at full tilt! She was OK and got up but I think I saw her limping badly down the steps of the Telecabine later on. Today was living up to expectations already. (Note to self: Bring binoculars next year!)
The men's snowboarding followed and they drop in from the very top. This is what I'd really been waiting for! The conditions were deteriorating a little with high wind and flat light so the organisers were holding the riders until little windows of improvement appeared and they gave them the all clear. Camille Armand dropped in and threw a massive backflip. Sammy Luebke, coming here with the Freeride World Tour 2016 crown already in the bag, charged his run and went top of the leaderboard. Then another biggy for me… Xavier de la Rue, personal hero and snowboard legend. He's not in the tour but is a Verbier resident and a wild card for the Xtreme competition having won it 4 times. Seeing him ride this face was really something special for me.
The men finished up with Xavier (FRA) in 3rd, Flo Orley (AUT) in 2nd and Sammy Luebke (USA) in the top spot rounding off an amazing season!
I had a wander around the different areas and took a photo of Ed Leigh doing his piece to camera for a friend who has a soft spot for him. I strapped in and rode down to another viewing area at the base of the Bec des Rosses with the intention of catching the men's skiing category. Conditions at the top had deteriorated and they were running the Juniors on their more sheltered course while they held the mens skiers and waited for a weather window. The Junior competitors were dropping in from another start gate and these 14 and 15 years olds were throwing down backflips and spins off some pretty sizeable outcrops. Respect!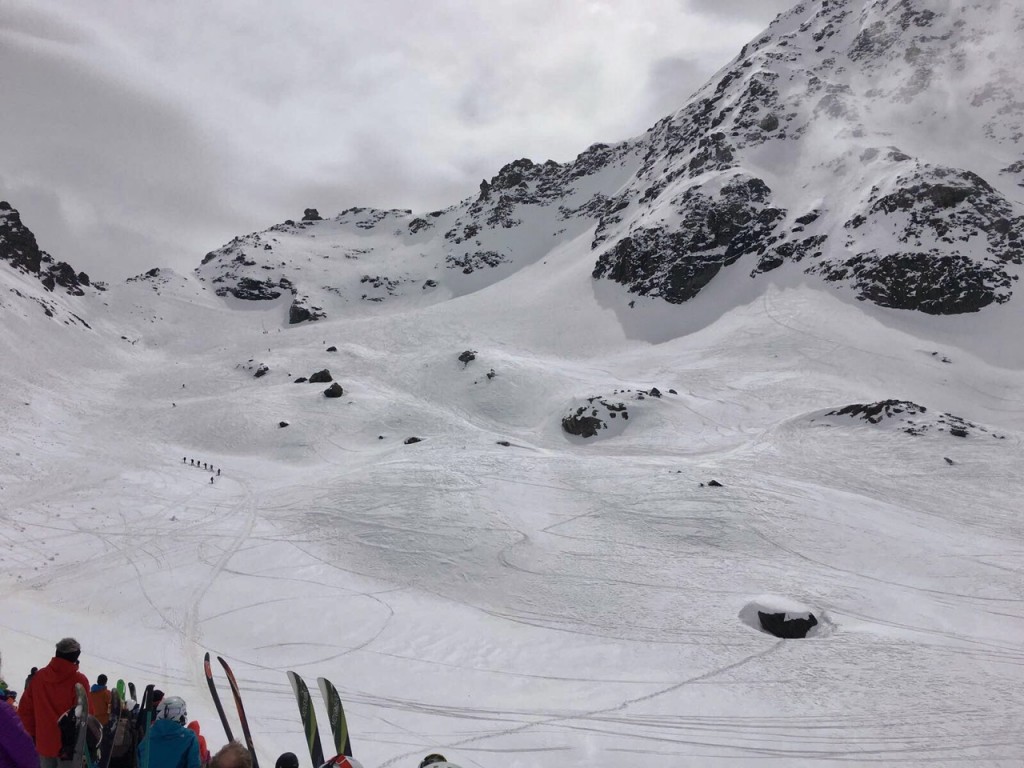 I was starting to clock watch because, to be back in time for the birthday party at 4.30pm and to bid farewell to some other friends that were leaving, I figured I'd need to start making my way down at 1.00pm-ish. I gave it 'til 1.15pm and with no restart in sight for the men's skiing, I strapped in and blasted down to La Chaux, caught the chair up and then, full of charging inspiration, hooned it all the way back to town.
I climbed back on board the bubble at a now-empty lift station and swung and shuddered back down to Le Chable.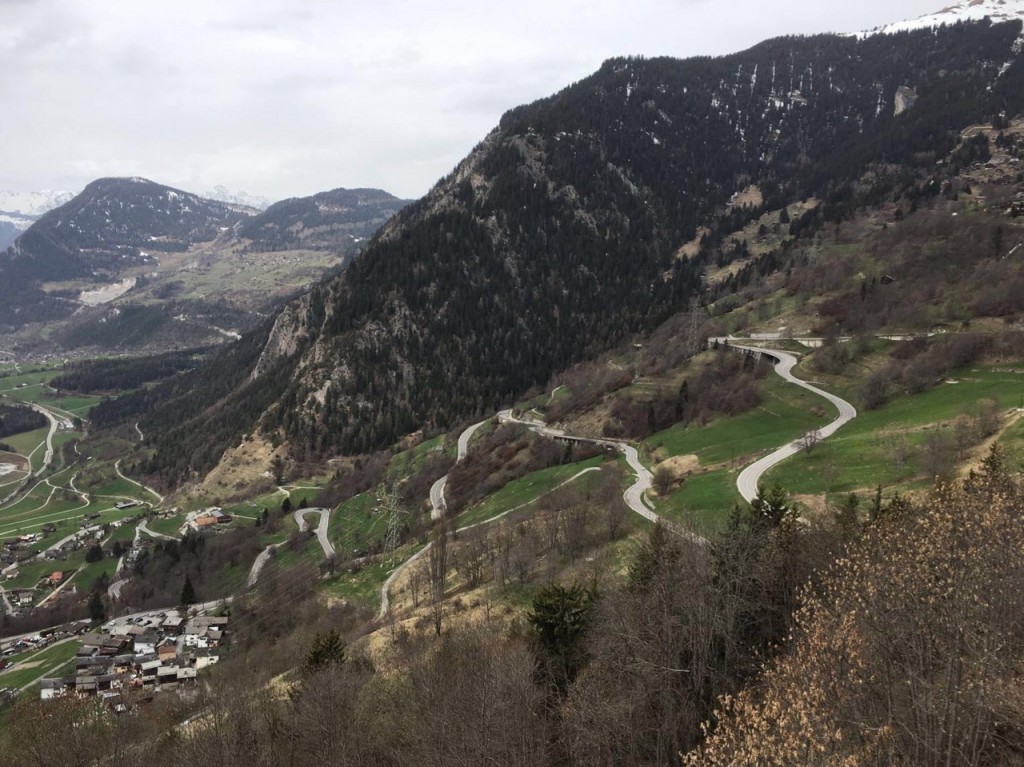 The drive back through to Chamonix was awe-inspiring as always. The drive back was just as good as I'd hoped. The climb up from Martigny towards Vallorcine gets the blood pumping when you realise where you are and peep over the edge. The drive up and through Chamonix from this side is arguably even more spectacular than coming in from the other end. I arrived back in Les Gets at 4.20pm. Perfect! This party was for our friends' eight year old son and they were having it by the Apres Bar on the slopes in Les Gets. They'd built a kicker and dug in a plank of wood for sliding and the kids wasted no time in hiking up and launching down. One beer later, the dads couldn't hold off any longer and we joined the kids hitting the jump.
A great day! I will definitely be going back next year – hopefully with some friends – and will stick around for the party that follows and the ton of other stuff they have going on in town.
In the end, due the the high winds and general poor weather, the men's skiing was postponed until Sunday and then cancelled completely for 2016. Check out the FWT website for the full results.
Here's the Freeride World Tour's official best bits video from Xtreme Verbier 2016: