Two hours into the road trip and our first significant detour was underway and it was about to lead to a seriously wild camp in Alpe d'Huez!
We'd dipped off the Route Napoleon for a scenic drive up into the Alps and to have a look at Briançon which is the highest city in France at 1326m. The loop would also take us past the access roads to ski areas of Alpe d'Huez, Les Deux Alpes, La Grave and through Serre Chevalier (somewhere high on my boarding to-do list).
We drove on from Grenoble and the weather was getting hotter, stickier and seriously moody. We were all slimy with sweat (Nina would rather refer to this as 'travel dew') and having had the windows down most of the way, were also covered in a layer of dusty grime. We stopped for another toilet break for T and he proceeded to pee all over the inside of the driver's door. Jeeze! At this rate we were going to turn up in super-swanky Monaco looking and smelling like the family Gummage!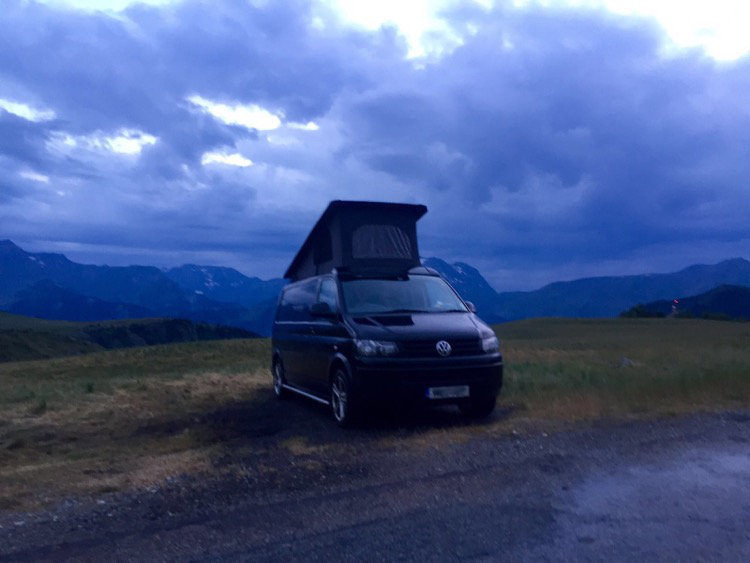 An hour later, we'd barely made a dent on the journey to Briançon. It was evident that this was going to be quite a detour. (Note to self: Get to grips with the scale of France on the maps!) It was getting late and needing food, we stopped in a place called Le Bourg d'Oisans. A drive through town revealed that most of the population were eating at Resto La Romanche on the main drag. Always a good sign, so after finding a nearby parking space we joined them. Somewhere above us, the muggy atmosphere was meeting up with it's chilly nemesis and an almighty thunderstorm erupted, accompanied by a suitably biblical downpour. We agreed that finding a camp spot should be the first thing on the agenda after dinner.
As we ate, we noticed posters of a famous Tour de France climb all over the place. When the waitress took our plates, it was even on the paper place mats beneath. It started here and rose up 21 hairpins and 1142m to  the ski resort of Alpe d'Huez on a plateau high above the valley. The signs were there, it'd be nice to drive it and and it seemed as good a place as any to find a wild camping spot. We might even get to watch the lightning from a spectacular vantage point.
Our wild camp definition: Camping anywhere that's not a campsite. This can range from a car park or lay-by to the top of a mountain, middle of some woods or half-buried on a remote beach in New Zealand (that's another story!)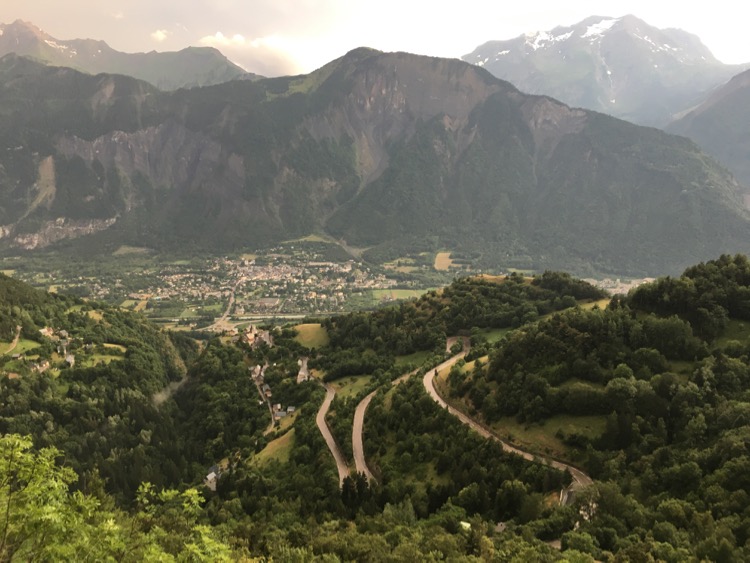 We finished our dinners and dashed from shop canopy to canopy to dodge the bucketing rain and get back to the van. We set off up the 21 hairpins and climbed from valley bottom to the Alpe d'Huez plateau. Quite a drive and a spectacular piece of road engineering. A lot of ski resorts are dead outside of summer but this one had a healthy bustle going on. We had a nosey around town and a look at the views before finding a single lane road that headed out of town. This led us past the very steeply angled airstrip and into the unknown… Not very far into the unknown, we found a nice little patch to pull off onto and set up camp.
Our van is a long wheelbase VW Transporter with a pop-top, canvas-sided roof and a double bed 'upstairs'. It has a seat/bed system 'downstairs' which makes another full width bed. Nina usually ends up sharing with Iz and T and I take the 'downstairs'. We've learnt from bitter experience that even if Nina and I start off together, being woken up by two kids freaking out at full volume in the middle of the night, in the middle of nowhere is just not worth it.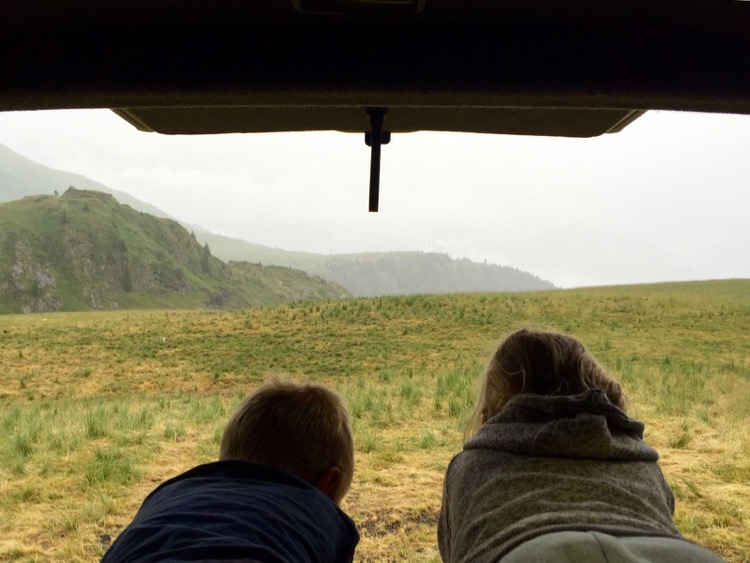 Nina and Iz settled upstairs and T and I got tucked in downstairs. The thunderstorm we had witnessed during dinner had subsided on the drive up but when we were happily knocking out the ZZZZs, it's mate turned up and kicked off with a vengeance. The hillside around us was being peppered with lightning strikes. There was zero delay between flash and bang and it was seriously loud! Needless to say, the girls didn't last long upstairs. We spent the first night of our summer road trip all squashed together downstairs with an almighty storm and torrential rain battering the roof. Cool though…
Needless to say, we didn't get much sleep. Despite being just one day in, we looked like we'd been in the wilderness for a week!
Ah well, a nice campsite and a shower tonight me thinks. Onwards to the Gorges du Verdon!