The first day of Crankworx was awesome!
Nina and I headed out for a ride in the morning to see what was going on and caught some of the Dual Speed and Style training (damn, those dudes are fast!). With inspiration in the psyche, we blatted around some unexpectedly quiet trails in Bike Park Les Gets before clattering down to pick the kids up at lunchtime.
They've got bike club in Morzine on a Wednesday afternoon and as a treat, a whole bunch of Santa Cruz riders had come down to the Office de Tourisme. They signed T-shirts, helmets, bikes, had a chat with the kids and posed for photos.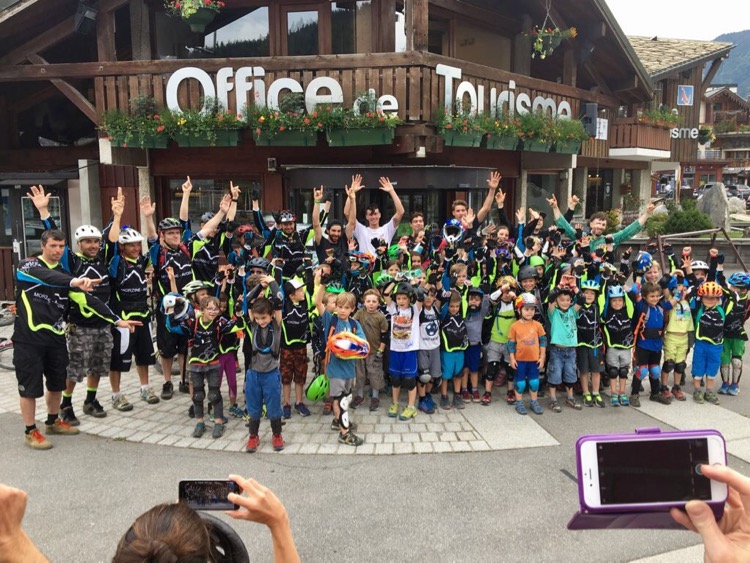 I'm not sure who was more excited, the kids or me. They got to meet Josh Bryceland, Josh Lewis, Mark Scott, Iago Garay, Loris Vergier and 3 time UCI Downhill World Champion Greg Minaar! It was really great of them to take the time out to inspire the kids and much appreciated!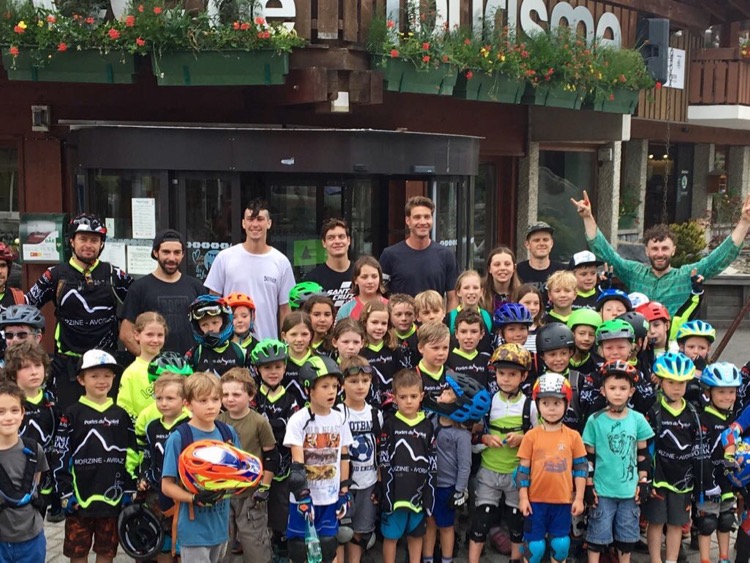 With Les Gets bursting back into life, we hit up one of our Les Gets food favourites, 'Le Boomerang' for some dinner before heading over to the Carry Area for the Whip Off finals.
We arrived mid-practice with a steady stream of riders dropping in to hit the monster kicker before tweaking their biggest and best whips to rapturous applause. Brilliant atmosphere! The announcer had just started saying practice was coming to an end before the comp would start when a massive flash of lightning and clap of thunder kicked off. As heavy blobs of rain started to fall, he came back on the mic to say that in the interests of safety they'd have to wrap up the comp early!
With all the riders bunched up at the start gate on the hill, it would all come down to just one jump each!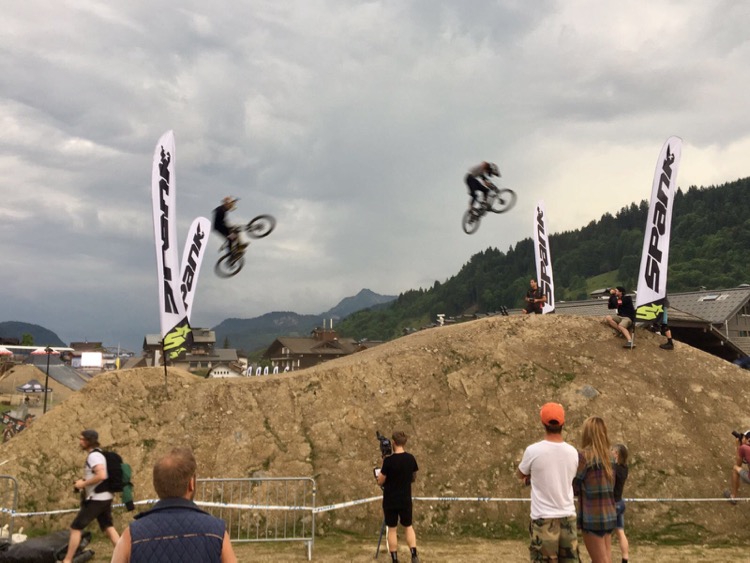 Instead of spoiling it, the pressure added excitement to the spectacle. A huge array of whip styles were on display as the riders were dropping in.
We hung around for the medal ceremony, sheltering from the torrential rain under the massive umbrellas behind the mayor's office. Frenchman Anthony Rocci took the top spot for the men and undefeated whip specialist Casey Brown notched up another win in the womens' comp.
A great start to the week but what's with the weather?! It's sunny today and is looking good for the weekend…fingers crossed the forecast is right!
Get yourself kitted out for Winter
Winter's coming and it's always a treat getting your new kit sorted!.. Our affiliate partner Blue Tomato is THE leading online shop for winter and trend sports, streetwear and fashion with over 450.000 products from over 500 well-known brands. Click here to see if they've got anything you fancy.