It's the last morning of the school summer holidays and I'm sitting in bed writing this with a fresh cuppa on the bedside table and it's another damp misty day outside. Great night's sleep though. They're always lush when it's chilly and wild outside and you can get snuggled in nice and cosy.
It's summer-season wind-down time again and as usual, it feels a bit eerie. The weather's not helping. It's been dry for a while and we were ready for a downpour but the arrival of the heavy rain and mist coincided with all the visitors leaving and the place feels so quiet now. There had been snow forecast for yesterday and whilst it didn't materialise in town we've heard that some of the tops have had a dusting that's currently hidden in the cloud.
A whole raft of lifts end their summer services across the Portes du Soleil this afternoon (PDS Summer Lift Openings 2020). The closures include all the Avoriaz/Lindarets lifts which will mean that taking advantage of the longer opening in Châtel, Morgins, Torgon, Les Crosets and Champéry is going to involve more effort and a bit of a drive.
The good news is that Champéry, Morgins and Les Crosets are planning to keep an intermittent service running for bikes and hikers until 1st November. (Full dates on the same link above).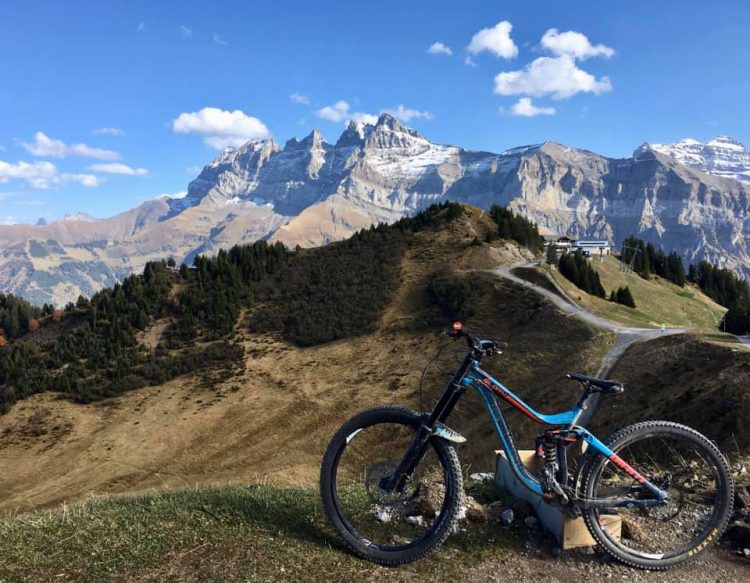 I rode Champéry as late as 13th October last year and it was brilliant! I think they were open for another weekend after that and then it can't have been more than a month before they opened back up for skiing and boarding!
So apart from a couple of extended weekends, that just leaves one more week to make the most of daily lift access here in Les Gets/Morzine. Continuous summer operations will then close on 6th September with weekends until the 20th and then that's that.
When we last posted about the season being in full swing, it was as busy as we've seen it in the summer (too busy for me TBH) and that continued right up until the change in UK quarantine requirements a couple of weeks ago and a mass exodus of the Brit contingent.
Loads of friends and businesses have been reporting a bumper summer season which is great for them and at least takes a little bit of the edge off any uncertainty about the coming winter season. The rule book is out of the window this year and it's hard to know exactly why it's been as busy as it has but apparently a lot of property owners have visited and stayed in their own chalets this summer who might otherwise just use them in winter.
The 2020 overhaul of Les Gets Bike Park has also continued apace since our last post and shaping crews have almost left no berm unturned. The work that had started on Tomawak now looks like it's snaking off through the woods in a whole new direction. We did hear a rumour that they might take it all the way to the bottom of the Chavannes but there's been more rumours than normal this year (perhaps unsurprisingly) and I reckon that's one that might need a decent pinch of salt. Hopefully, it'll open up and we can check it out later this week.
Reds 'La Déjantée' and 'Le Vion-Net' (Les Gets Bike Park Trail Map link) also got the treatment since the last post and the blue 'Triple 8' has been shut for a few days so we can only assume that's getting a facelift too. All-in-all there's been some pretty extensive and decent upgrades this year. Big favourites for me are the new bottom sections of L'Encape and Le Vion-Net which are fast, pingy and super-fun grin inducers.
My only concern with the changes is that the style is all very similar and the more natural feel of some trails has been sanitised. This might drive more traffic onto 'freeride' trails in the woods and exacerbate the problem with some landowners who aren't happy with riders blasting across their turf.
Unfortunately, a few more events fell victim to 2020. The UCI World Cup obviously went a while ago as did the Passportes du Soleil but more recently a 24-hour relay mountain bike relay in Les Gets called Alambike had to pull the plug. It was scheduled for the 5th and 6th Speptember, signalled the return of local legends Wetsayers and was raising money for a couple of local charities. We're sure they'll be back next year and look forward to taking part then instead.
This weekend, the hilarious Morzine Summer Film Awards had to scrap plans for their award show and switch to an online streamed version. It was a quality evening's entertainment, although perhaps – no, definitely not! – one for all the family. Local 'teams' enter to produce a short film within an 8 day window before culminating in a submission deadline/screening/awards show and general party night. The films are always entertaining with an impressive display of creativity, humour, bike/board prowess, cinematography, production and questionable acting skills. Haha! The premier show is available to watch online.
One event that did manage to go ahead and was a big success was the Les Gets DH Kids Cup. T has been looking forward to this since last year's race when he was stoked to bag a 3rd place in his age group. The event this year was even bigger, attracting 130 7-14 year olds from 5 countries including more winners of other big kids' events in France like the 'Mega Kids' series.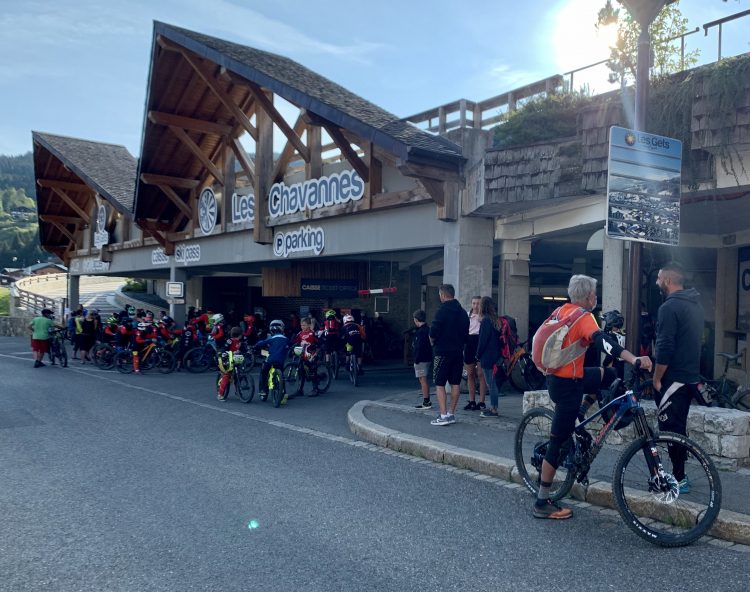 The weather was good and the town was packed. T wasn't expecting much as he had moved up to the youngest of a two year age bracket but he smashed it again and bagged another 3rd… He was over the moon! (So were we.)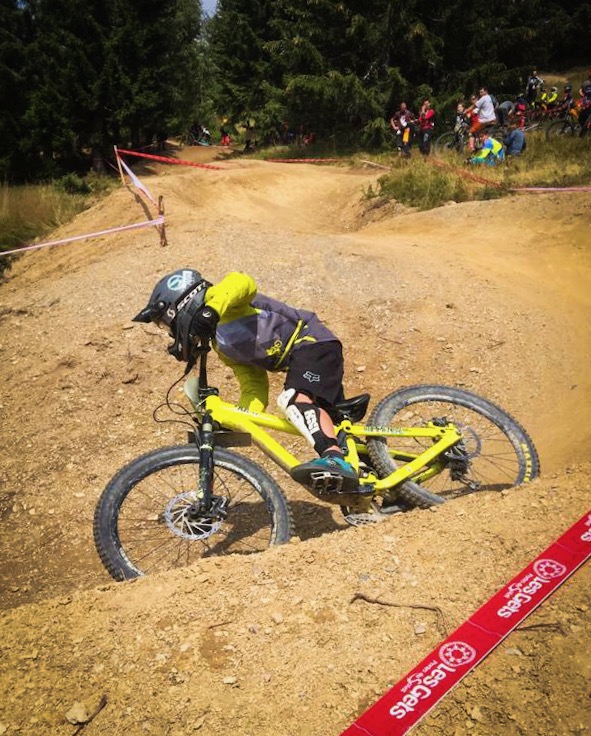 Iz had to put her quest for sporting glory on hold this year. Swimming's her thing and whilst swim training finally got back to normal in July, all competition in France has been on hold for the whole summer. At least she got to keep fit and enjoy the summer by the pool with her buddies.
Well, the weather's supposed to pick up tomorrow, (in fact, it looks like the weather's picking up right now!) We've got open lifts and kids in school, so hopefully Nina and I will get out for a blast or two! Wahoo!