OK. We've all been there… Big day on the mountain, wobbly legs, warm fuzzy feeling amplified by a couple of après drinks. What you need now is some cheesy, creamy, potatoey, local Alpine goodness and you need it fast! Where the heck can you get your hands on an 'emergency tartiflette' when you need one?.. I'll tell you where!.. Tartif!.. You can now get one 24 hours a day, 7 days a week, every day of the year!.. 😲
As the most accessible branch of their business, Tartif has installed a delicious meal vending machine right outside their shop where you can whack your bank card in and walk away with a Tartifllette (or other meal) fix, morning, noon or night.
And, if your heart was still feeling too energetic after you polish that lot off, there's emergency deserts in there too, to really slow things doowwnnn.
It's not just the vending machine though. They do pre-orders for collection from the shop and home delivery.
Tartif is the brain child of man-mountain, shrewd operator, Tour de France fanatic and local Tartifeltte dealer, Raph. He's a fine chef and born entrepreneur with a booming voice, hearty laugh and is very entertaining in English and French (I think).
He seems to be on a mission to get as much Tartiflette as possible inside the population of Les Gets, by any means necessary. I won't be surprised to see Tartiflette runners on the corners of every street in a couple of years.
Raph, together with his lovely wife Jana run Tartif, which is a streamlined, revamped version of a catering service they used to run called Chalet Kitchen.
We saw the social posts popping-up that they were starting a new service, spotted the branded delivery van driving around Les Gets and when I saw a photo of the Burgundy Beef special (Yep, there's specials as well as the 'flette') the drooling kicked in and it was time to give Tartif a whirl!
Procurement
There are several ways to score your Tartiflette. I've mentioned the vending machine which is outside the shop, near the church in the old town part of Les Gets but we decided to order on the website and drop in to collect it (mainly, so we could have a nosey in the office).
The website order process was straight forward enough, although there was no 'guest checkout' option, which I always like, and a hiccup with the confirmation page meant we had to send a message on top of the order process. We got a reply very quickly though and when we arrived to collect, Raph was on the phone with his tech-guy, ironing out 'new system teething issues'. Given how he goes about everything else, would assume these will be thoroughly pressed and starched in no time!
Raph reached in a cupboard and filled a paper bag with our classic tartiflette, Burgundy beef, a couple of desserts and half a Reblochon to slice and bake on top of the Tartiflette.
"Cooking instructions on ze paper in ze bag and on ze jars." he rumbled. We had a little chat then cleared off to whack 'em in the oven and get stuck in.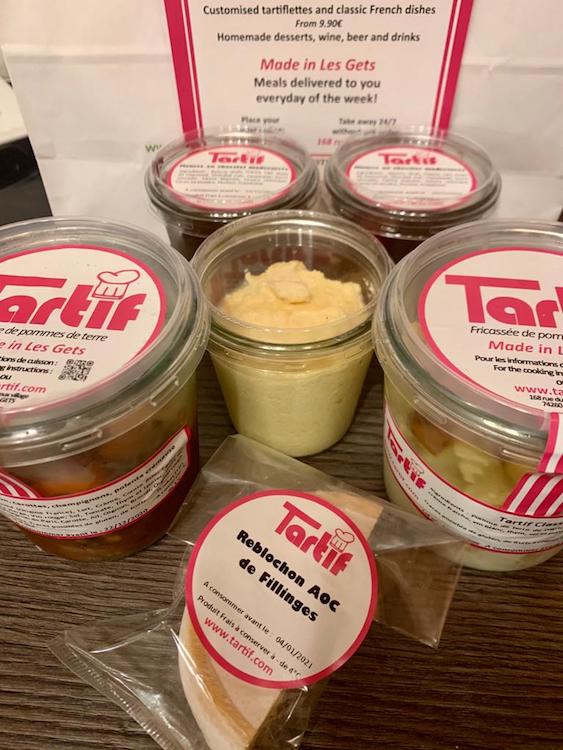 Cooking
Back at the ranch, Nina sorted the prep and mentioned that: "The labels peel of nicely"… I said I'd make sure to include that in the review as it really can be a make-or-break item when deciding on a take out meal. 😂
The food comes in glass jars, in which you can microwave your meal or cook it the oven. You can also return the jars to Tartif for reuse. We weren't in a rush though so it's got to be the oven option, all day long… We tried doing the Burgundy beef in it's jar and tipped the Tartiflette into a baking dish with the sliced Reblo' on top… 25 minutes later. Whammo! Piping hot tasty goodness.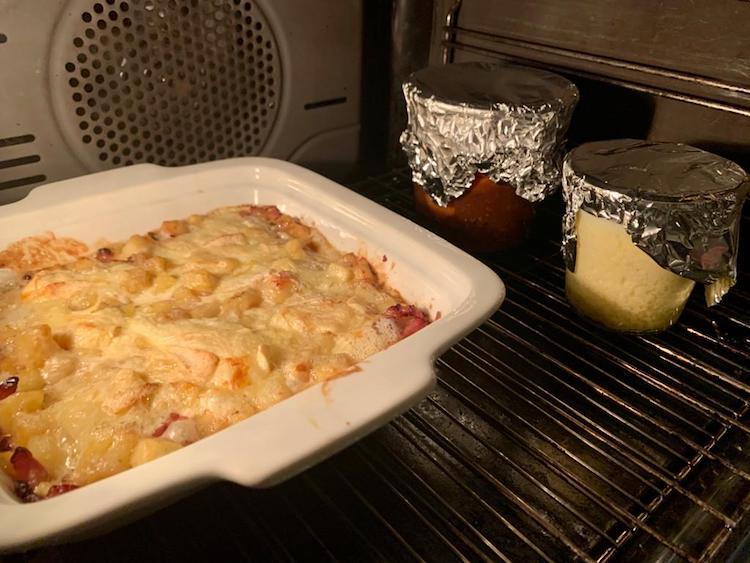 Rather impressively, the beef looked exactly like it did on the website picture.
The tartiflette was delicious – Creamy cubed potatoes, crispy bacon, and metled Reblo up top but i'm afraid it was somewhat overshadowed by the magnificence of the beef dish which was delicious! Mouthwatering chunks of tender succulent beef in a thick silky Burgundy sauce. Nina hadn't fancied the idea of polenta with it but it felt like Raph hadn't skimped on the butter and with one forkful she was in! Shame it was mine. 😂 Despite the fact I am writing this post about it, I've actually thought about that beef dish quite a lot overnight and today which is always a good sign. 👌
The chocolate mousse, cookie and raspberry jelly desserts were pretty spesh too. We were so carried away, we didn't even get a photo! 😂 These puddings could actually be the real 'danger' items in the vending machine.
All in all, good service and delicious food. We're keen to try some of the other Tartiflette variants with different cheese toppings as well as more of the specials so we'll definitely be back.
Oo… We do like a few pickled onions and gherkins with our Tartiflette so get those on standby in the fridge just in case.
Well, if you're in need of an emergency Tartiflette fix, Tartif's got you covered 24/7!
If you'e got a product or service you'd like us to try out just drop us a message. 👍
Get yourself kitted out for Winter
Winter's coming and it's always a treat getting your new kit sorted!.. Our affiliate partner Blue Tomato is THE leading online shop for winter and trend sports, streetwear and fashion with over 450.000 products from over 500 well-known brands. Click here to see if they've got anything you fancy.