Somebody's got a new tooooy… Yep, that'd be me!.. More of a weapon, actually! The first order of business with the kids back at school was testing it out and taking my first slips into the world of the 'splitboard'.
Don't get me wrong, I'm an uplift fan, in fact we posted not that long ago about our love of chairlifts and if they're open, we're on 'em!
I don't feel a compulsion to 'earn my turns' regardless and if the lifts are open I'll happily pay for the ticket and enjoy 10 times as many. If the lifts aren't open though, I'll earn away with the best of them and in fairness, I get 'it', and I always enjoy it.
If you've been with us for a while, you'll know it's previously been a boot pack or snowshoe affair and I have to say… Compared to those, the splitboard has been a revelation!
A splitboard has been on my radar for years but it's a significant investment. In years gone by, it wasn't really worth it for the odd pre-season, post-season, or 'slack'-country mission. This year though, things are obviously different and I started keeping a more diligent lookout with a little more intent.
If you're not familiar with them, a splitboard is the snowboarding equivalent of ski-touring or 'randonée' equipment. For cross country travel or climbing, the bindings easily detatch, clips release and the board splits in to what is effectively a pair of skis. The bindings are attached in line to a new fixing with the heel free to rise and 'skins' are fixed to the base. The skins allow the base to slide in one direction (forward) and grip in the other so that you can ascend with relative ease. When you get to the top, transfer it back into a board and shred the gnar!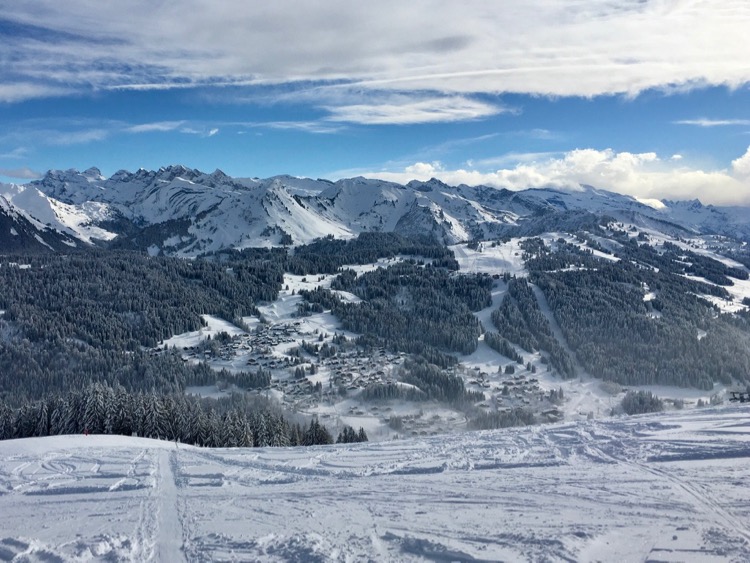 The other great thing is that you are using the same kit to go up as you do to come down. With snowshoes, you have to carry your cumbersome snowboard on your back-pack only to swap it for clanky snowshoes on the way down. Much more efficient!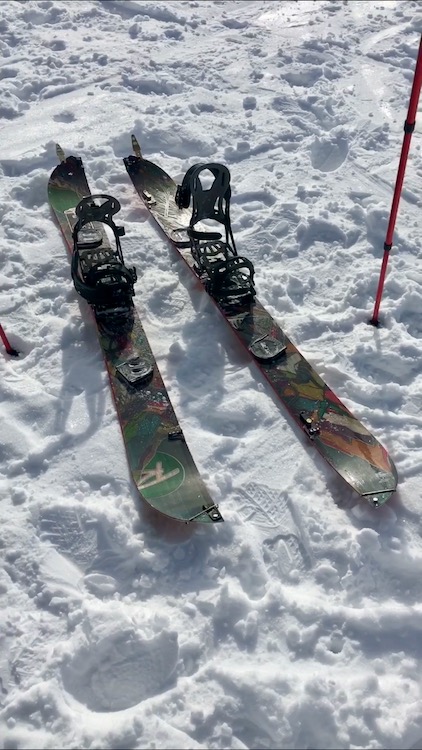 Anyway, I'd found a few used deals here and there and there were also a couple of guys advertising in local Morzine Facebook groups that they could convert your old regular board into a split. I'd also found a couple of relatively reasonably-priced new packages online but it was still a lot of cash and I was hesitant to pull the trigger…
Then… Over Christmas, a mate messaged that he was selling his setup and did I know anyone who was interested? Rossignol XV board (Model of choice of the master himself: Xavier De La Rue 🙏), Spark bindings and skins. Board only used 4 times and I know for a fact he keeps all his kit in immaculate condition. A snip of the new prices and "I'LL TAKE THE LOT!"
It's been pretty busy round here over the New Year week and despite picking the board up a few days ago, I had some other stuff to do and I also wanted to wait for the tourists to leave before setting it up and trying it out. I wasn't even sure how far I'd get before I was knackered. 😂
The snow's been excellent and plentiful (sorry) and the temperatures have stayed low and kept it fluffy (sorry again). Our mates at Torico Performance Skiing said they'd scored a lovely couple of runs down the 'Lievre' piste on Les Gets' Mont Chéry so I headed off for Lassare near the Pottery Artisanale where I figured I'd have a bit of peace and quiet to get used to my new toy.
As I pulled into the parking, a group of 4 lads with boards strapped on their packs and snowshoes on their feet were just finishing sorting themselves for departure. I waved, nodded, turned the engine off and got busy pretending I had some pressing e-mails to attend to before I could get out and get on. As soon as I'd given them a decent head start, I jumped out and started getting my kit together.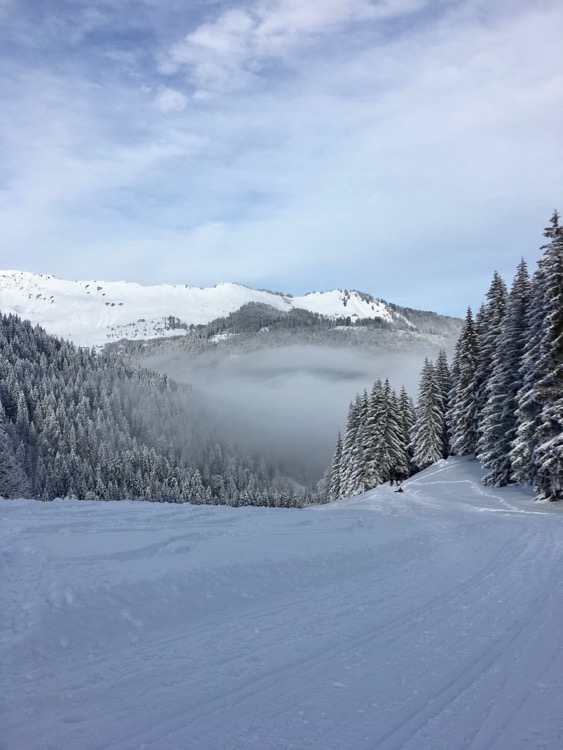 Just as I set off, a car pulled up and a family quickly disembarked and slotted in behind me. Great! Getting overtaken by a four year old on a plastic sledge would be just what I needed. I dropped a gear and sped off.
Their Yorkshire Terrier loved that and made several charges at my heels yapping frantically. On the fourth charge I glanced back and shot it a look that said 'not in the mood pal', it stopped in it's tracks and high-tailed it back to it's owners. Haha! No way!.. 'Eat your heart out' Mick Dundee. (Eurgh!.. I've never written that before… What a horrible phrase 🤢)
The cat track heads round towards the bottom of the Planey's lift on the East face of Mont Chéry before climbing to 'shady corner' on the Lievre red run. The 4 lads had stopped off there to hit a kicker and bag some photos. I stopped for a chat and a little French practice before cracking on. It didn't take long to get the hang of the split and on this reasonably compact, tracked surface, it was, without a doubt, loads easier than boot-packing or snow-shoeing.
As I came into the open above the treeline, I could see a few people ahead of me, winding their way up to the Grand Ourse and on to the top of Chéry.
The trickiest bit was the last steeper stretch to the summit where I slipped a bit while traversing and tried to get to my edges in. I quickly figured out that getting as much surface of the base down and using the skins' grip was more effective.
As the summit came into view I stopped to get a pic of the small crowd at the top and and thought I might share it with the caption: "Get a splitboard, they said… Get away from it all, they said." 😂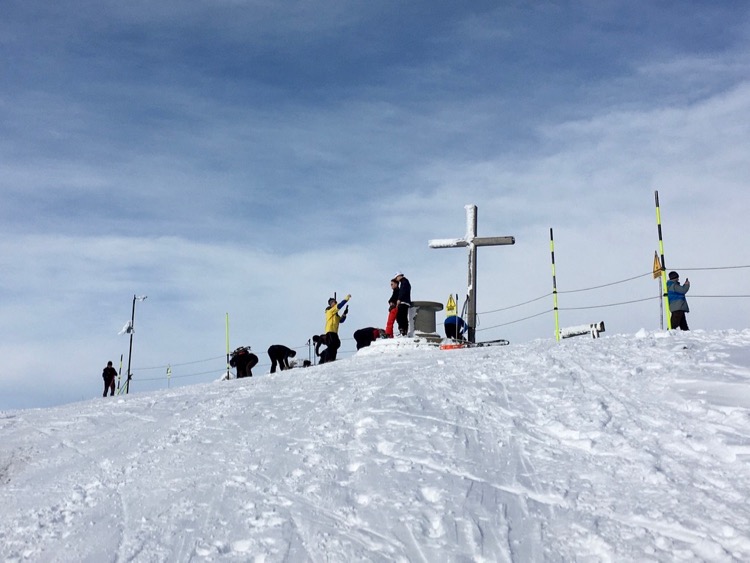 Always a pleasure to summit Mont Chéry and really nice to just get on top of something again after a couple of weeks gazing up. This new kit made a big difference and will definitely open up a lot more terrain. 😁
What goes up though… Skins off, board-clipped, bindings swapped, Mars bar scoffed, photos taken and… DROPPING!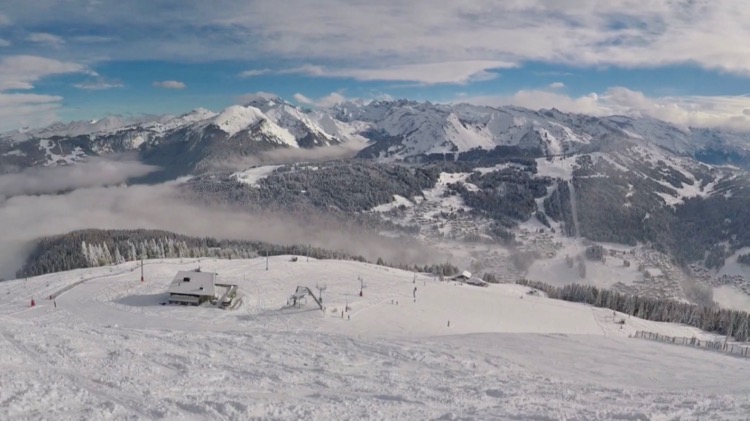 Oh my days!.. It was like an old friend, immediately. Me and this board are going to get along just fine. I made a beeline for the pow and it floated, surfed, slashed and sailed it's way through like a dream. I dropped onto the groomed strip to give it some beans and lay out some harder carves and it munched that up, too. Nice!
3 minutes after leaving the top, I was back the bottom grinning from ear-to-ear. Yep, I'm definitely sold on this splitboard lark and this one's a peach! Just need to get Nina kitted out now…
Get yourself kitted out for Winter
Winter's coming and it's always a treat getting your new kit sorted!.. Our affiliate partner Blue Tomato is THE leading online shop for winter and trend sports, streetwear and fashion with over 450.000 products from over 500 well-known brands. Click here to see if they've got anything you fancy.