Nina headed out for a blast with the horses a couple of weeks ago and whilst it looked like fun, I'm more of a horsepower man myself. When an invite popped up for snowmobiling in Avoriaz last week, I was IN!
We've spent a great deal of time in snowy regions over the years and I've always wanted to have a blast on one of these bad boys. Amazingly, this is the first time I've ever got round to having a go.
I've been on the back of one a couple of times. The trip to hospital after my first run through the park in Pila springs to mind (albeit hazily!). I can't believe we didn't wear helmets back then!
Anyhoo. Our friends from Rush Adventures said they were taking a group of guests up last week and had a spare space if I fancied it. "Fancy it?.. When do we leave?"
We met at their chalet at 17.30 and Chris drove us all up to Avoriaz in their minibus. Their 4 chalet staff were along as well for a Rush Adventures' staff treat.
We parked up in the main outdoor car park in Avoriaz, crossed the road and climbed a snowy bank. Here, we entered the small fairy-lit 'Santa's grotto' type hut beside the bottom of the Chapelle snowpark to get signed in.
With instructions read, emergency contact details filled in and lives signed away, we donned a fetching hairnet each.  After finding a helmet that fitted, we stood around excitedly waiting for all the sleds to return from the previous party.
Our guide gathered us around a sled and gave us the run-down on the controls, how they handled and what we'd be doing. He also said, if we got stuck or into difficulty, just wait and one of the guides would come back to help us out.
I was sharing a sled with Chris and we took the one at the back. Chris may have been thinking that bringing up the rear would allow him to make sure his guests were all OK. I, however, suspected that we were both thinking we could use it as an opportunity to drop back, leave a gap and give it some beans!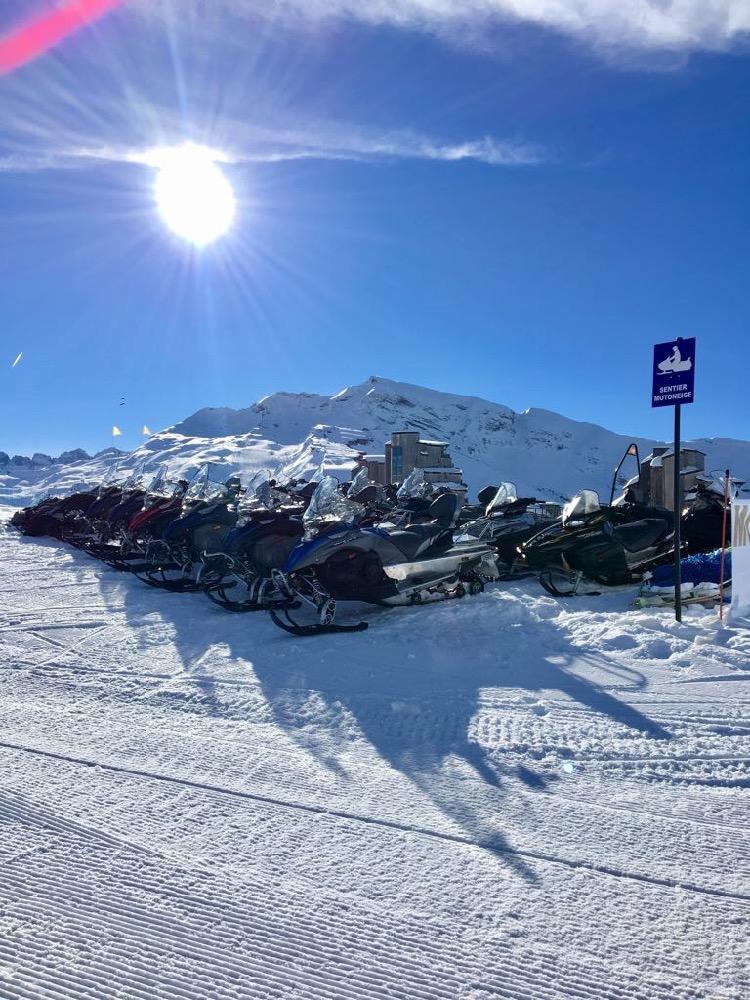 We did a few oval laps to get a feel for the sleds then set off towards the L'il Stash. Soon after, we were peeling off towards the cross country trails and where the golf course is in the summer.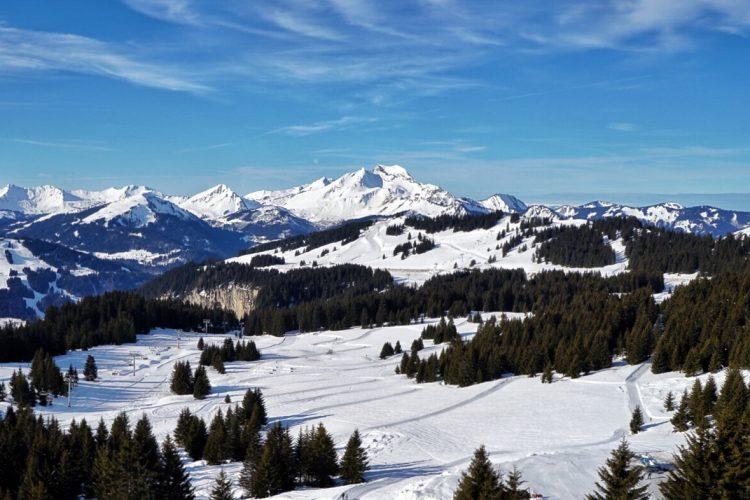 It was the perfect night for it. All the snow we've had recently and the clear, starry night really added to the atmosphere as we blasted through the heady darkness. The track followed the groomed paths, winding around, up and down before we slowed and turned in convoy into a single sled track through the woods. This was softer snow and much more challenging terrain. We bunched up on a steep climb and lost momentum. When Chris tried to get us going again, we got well and truly bogged down.
Doing as we had been told, we waited for help. The three of us heaved the sled out of the hole and filled it back in before the instructor gunned the sled past and off we went again. The pace picked up as we went along and everyone became more confident. Before we knew it, we were at the halfway point.
My turn!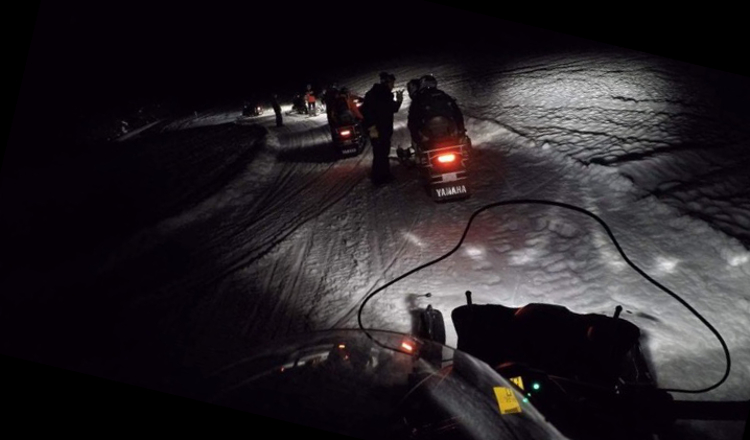 At some point we'd lost the first half of the group so there was now just the guide and three sleds in our group. We revved off again into the darkness.
It's an interesting handling sensation on these things. There's a short delay on the steering and you've got to get your weight well over to take the corners. If you don't, the inside steering 'skid' starts to lift. The steering also twitches as the skids get locked into the grooves of the tracks of the sled in front. You've just got to have the confidence to let it go and once you get used to shifting your weight around, it's brilliant fun!
Hanging back and gunning it proved successful for an extra thrill. We got a concertina effect going as Lee and Sam started doing it on the sled in front. Before long, we dipped back through the woods and up and over a large mound before having the world's most sedate crash. As we rode up the mound at about 2 mph, our sled toppled slowly to the right. Not hanging about for help this time, we scrambled off as the others disappeared into the darkness. After hauling the sled right side up again, we got going. We had some catching up to do and it was a good opportunity to have a bit of a hoon through the single track.
Suddenly, it seemed, we were heading back into Avoriaz, back under the tunnel and up towards the snowpack with big grins and that lovely post-activity buzz!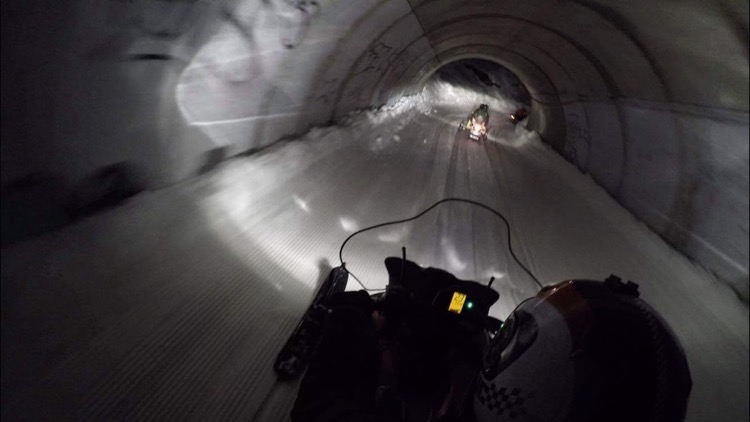 A round of vin chaud at the hut fuelled the debrief before we jumped back in the van and head back for Les Gets, food and beers. It was Lee and Sam's stag/hen do, so naturally, it ended up being too many beers for me on a school night…
If you fancy a go at snowmobiling in Avoriaz, you can find more info at Avoscoot.com. Apparently if you can prove you've done it before and take your driving license you can go on the faster ones…
I'll be back!