Snow update!.. There hasn't been any… Eek! And there's nothing in the short term forecast either… Yikes!
Tomorrow is Les Gets' official opening day for the winter season but there's been a distinct lack of white stuff falling from the sky! Luckily, however, the temperatures are low and the snow service guys have been doing their best to blast out as much 'fake' snow as possible. They've been shipping it around the hill and buttering it out to try and get as many runs in  place as possible before the punters start arriving from Geneva airport.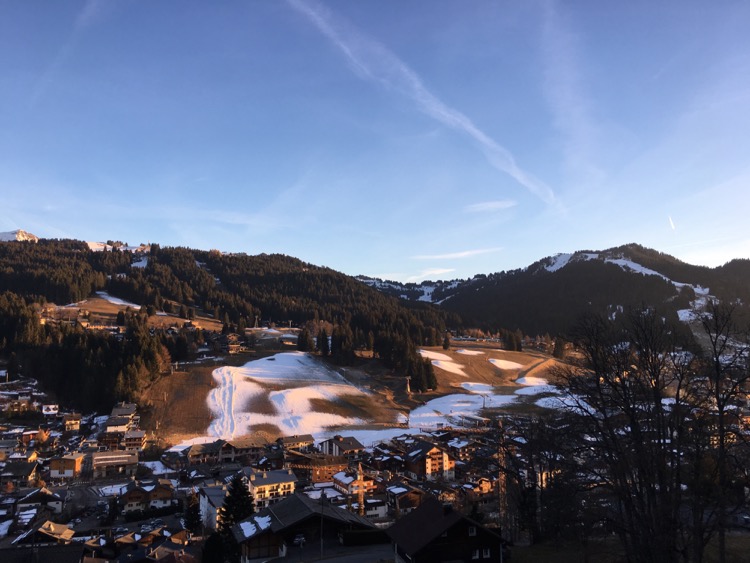 It's the third late start to winter in a row and another tough break for local businesses. In addition to the snowmaking, they've been working on all sorts of other bits and pieces to keep the visitors entertained. Le Père-Noël is holed up in an incredible grotto complex in the woods behind the swimming lake. The ice rink has been Zambonied 'til you can see your face in it. To top it all off, the Christmas lights – combined with the crispy perma-frosty ground – are making the whole place feel very festive indeed.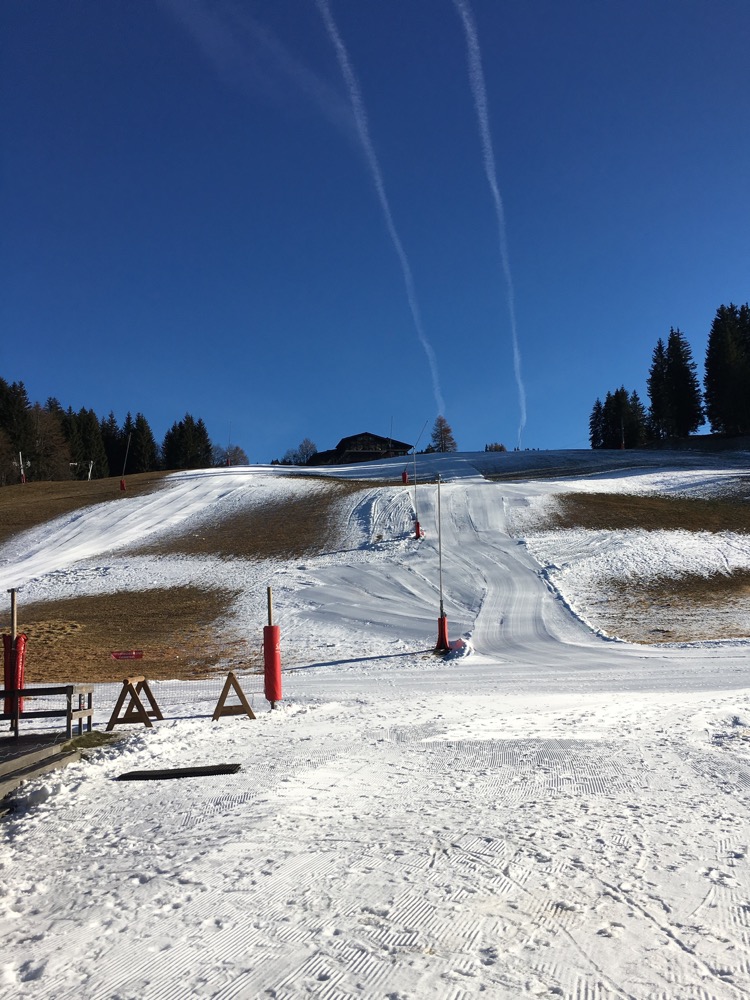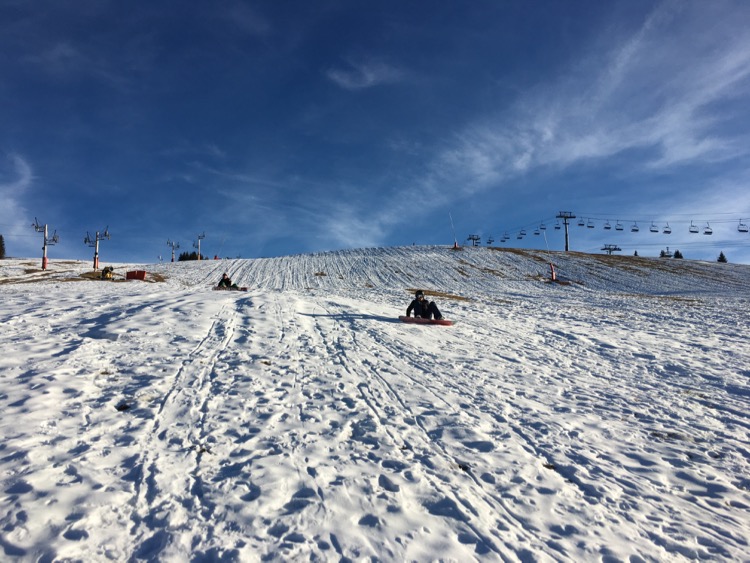 Rumours circulated for a few days and were confirmed this week with the announcement that the Mont Chery cable car would also be open for downhill mountain bikers on Saturday! €12 for a day pass. That's the way Les Gets! Adapt, improvise and overcome!
If you're coming on holiday, there's also an impressive amount of lifts and runs open up in Avoriaz despite the weather. Having been up on opening day last Friday and again for our first family shred of the season on Wednesday afternoon, we can confirm that there's an good amount open (given the conditions) and those that are open are pretty sweet. Plenty of nice bumps around the edges to play around on as well. No doubt there'll be buses to shuttle people over to the access lifts if need be.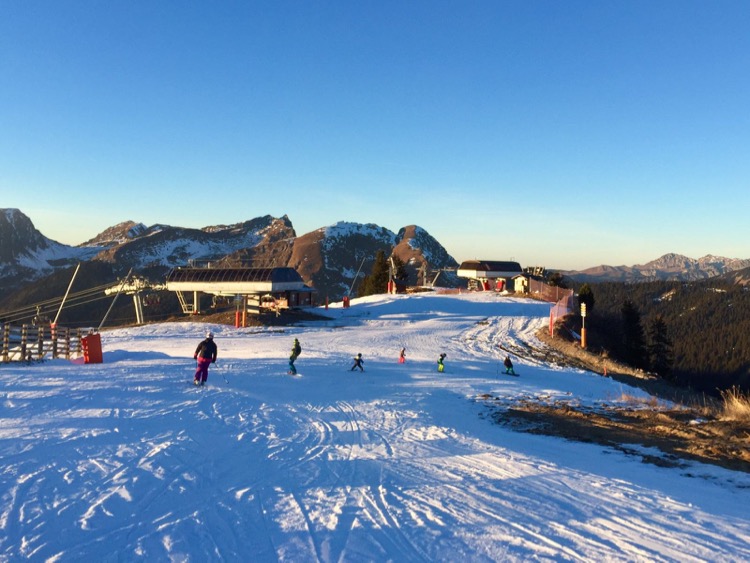 In spite of the concern at the lack of snow, there's been a really great vibe in town as things start to ramp up. We're lucky enough to be in a position to enjoy it for what it is and it's been really exciting watching everything coming together. The streets have been bustling with excited new faces here for their first winter season as well as familiar ones back for more. Manpower and white vans have spontaneously multiplied and are pushing every new build, renovation and odd job that needs finishing in time for Christmas. Newbie transfer drivers are huddled in icy lay-bys practicing snow chain pit stops. Tower cranes are coming down, seasonaires' parties are kicking off and the ruthless banter on the local Morzine Crew Facebook group is on the rise and polishing it's wit.
The lack of snow has been offset by (and a result of) weeks of wall-to-wall blue skies and brilliant sunshine. Although – having come from the land of moss – the sun and the cold, dry air is really taking it's toll on our skin. The local pharmacies must be rubbing their hands (literally) as we are getting through tons of cream trying to keep the cracks at bay and I'm sure we're not alone.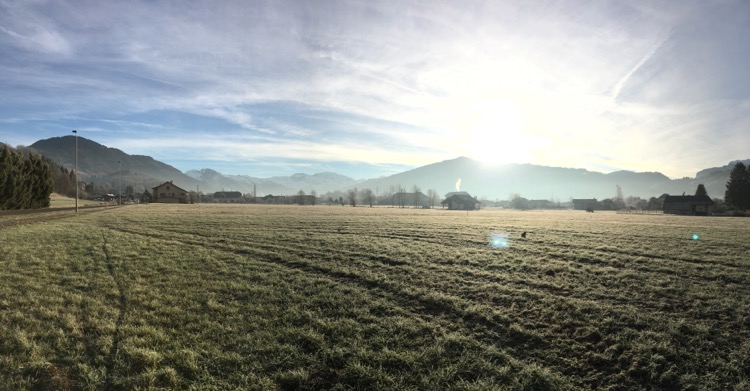 It's going to be a late night tonight for a lot of people by the looks of it and we're really looking forward to checking everything out tomorrow. It's a shame about the conditions but one thing's for sure: When the snow does arrive properly – which it will – the excitement levels are going to be off the chart!