30 minute session of Ski-Joëring in Les Gets for just €8 per adult?! – Bargain!
Fresh Pow – Bonus!
Nina's been itching to do this for a while, so when she spotted a poster in the library with this great offer, she jumped at the chance. After booking in with a couple of friends from Rush Adventures and Torico Skiing, they headed up this morning to give it a go.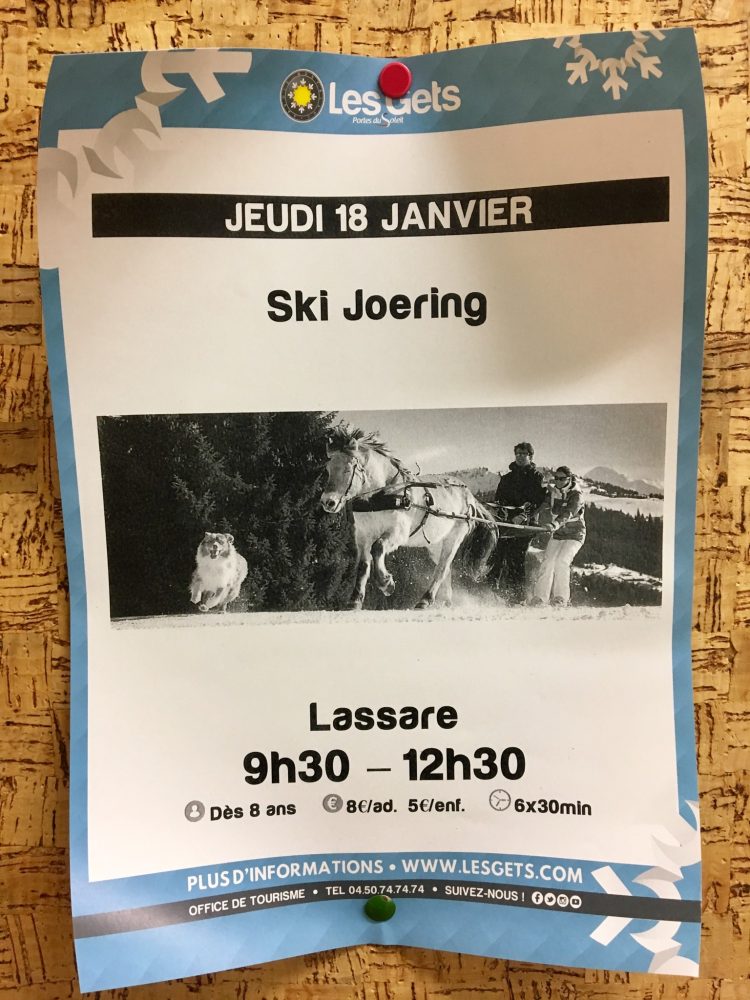 After the school run, Beth, Lisa and I grabbed a coffee and croissant in town and drove up together to the Lassare hamlet near the pottery in Les Gets. Here, we would meet the guys from the 'Ranch des Portes du Soleil', based in nearby St Jean D'Aulps.
We parked up next to an empty horse box, jumped out of the van and Lisa dived straight into the nearest bank of snow and set about making snow angels. Beth wasn't far behind and the two of them were having a whale of a time. (Ahh kids… bless!) Suddenly, we were all startled by the sound of galloping horses tearing around the corner and back into sight! 'Wow! That looked awesome!'
I quickly got on the phone to Jamesie to see if he could come out and film us on our way back in, before wandering over to meet our instructor, Samuel. He equipped us with skis, introduced us to the horses and gave us a run-down on the controls. Samuel explained the history and origins of Ski-Joëring and then showed us the ropes.
The 'controls' were pretty straight forward: Pull on the left reign to go left, the right reign to go right and both reigns to brake. We also received important instruction to keep directly behind the metal bar. This maintained a safe distance between us and the back end of the horse!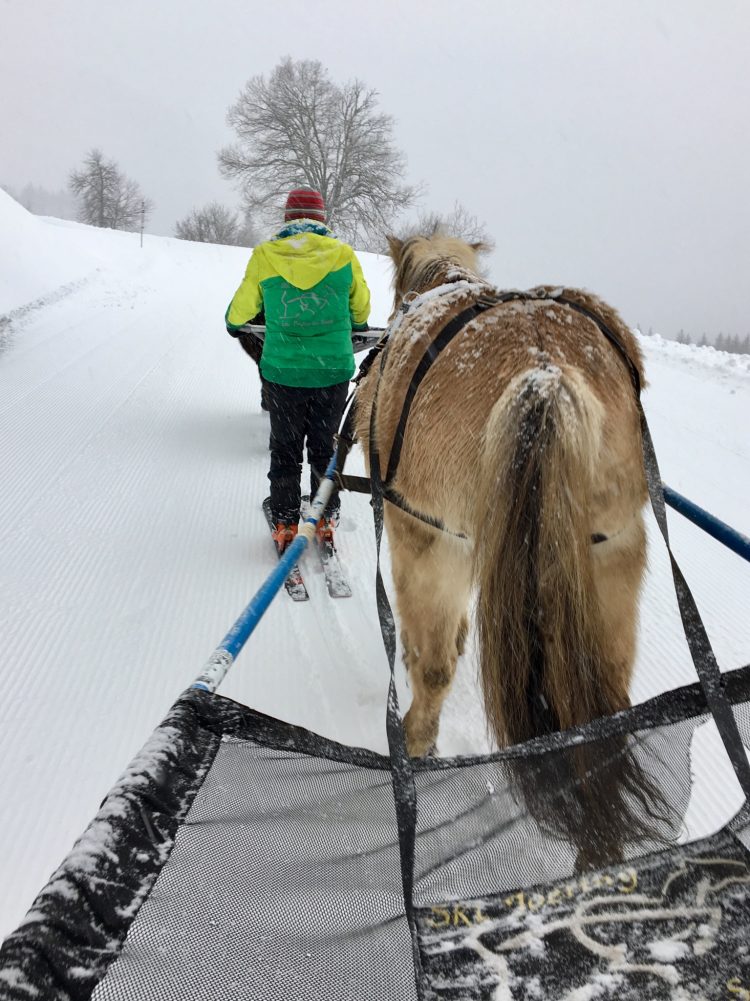 Lisa and Beth opted to share a steed and were led to a young dun (beige coloured) gelding (neutered male horse) called 'Tony'. He came with a mischievous personality and a warning that he was fun but would try and eat everything! He was lovely but got to work straight away on the back of my jacket, the reigns, metal bar, everything! I got my own horse but was so preoccupied with Tony's antics I don't know it's sex or name! It was beige though.
We set off from Lasarre, heading off on the trail around the back of Mont Chèry towards the Planeys lift. It was mostly uphill on the way out and we alternated between walking and trotting. Tony even decided to just stop and admire the view a couple of times.
After a kilometre or so, we almost reached the red 'Lièvre' piste, so turned around to head back the way we'd come. With the slope now in the horses' favour, we could trot, canter and pick up some speed with short gallops as we wound our way back through the woodland and the falling snow. A few hundred yards away from the parking area, Samuel pulled us up to ready us for the last full-speed gallop back to the car park.
I saw Jamesie legging it round the corner with camera in hand and "ALLEZ!" we were off at full tilt! Very exhilarating!
Great fun! Great value! Lovely guy! Gorgeous horses! Highly recommended! We've already decided we might try and do it again while the offer's still on. The kids would love it, too and we're tempted to sign up for a longer session.
If you fancy a go at Ski-Joëring in Les Gets, phone or pop in to the tourist office to find out details and get yourselves booked in!
Get yourself kitted out for Winter
Winter's coming and it's always a treat getting your new kit sorted!.. Our affiliate partner Blue Tomato is THE leading online shop for winter and trend sports, streetwear and fashion with over 450.000 products from over 500 well-known brands. Click here to see if they've got anything you fancy.