Our camping road trips are beginning to exhibit a familiar pattern… It starts with the mad rush to get organised, elevated excitement levels and a couple of sleepless nights. There's two days of re-adjusting to van life, where we remember the lessons we learned last time and the things we forgot to pack this time. By day 3, we're all feeling pretty tired and fractious which usually culminates in a good old fashioned ding-dong between Nina and me. We set off from Sant Celoni for Sitges and Barcelona and – right on cue – it was barney time!
No idea what started it, but it quickly escalated into mutually unreasonable stubbornness and ended when the kids stepped in and told us off. Having taken the high ground, they seemed satisfied with their new air of superiority and held off bickering between themselves for much longer than normal. I do wonder sometimes whether the best approach to parenting is just to give up and do all the things you don't want them to do… hoping they'll do the opposite. Might save testing that hypothesis until they're teenagers… Paaartay!
Anyhoo… With the day 3 bicker out of the way, we made up and moved on to the next phase of relaxing into it and enjoying ourselves.
Sitges had been recommended a number of times as a great place to stay and to easily dip into the city. It's just down the coast from Barcelona, boasting lovely beaches, great restaurants, ancient streets, a thriving LBGT community, a vibrant night-life and a train line into Barcelona.
We hummed along the motorway, skirted Barcelona, passed through some mountainous terrain and took the exit for Sitges. We had a choice of two neighbouring campsites and chose 'Camping Sitges', the smaller of the two and a lovely site by all accounts.
With the van set up, we headed off towards the city for the evening. The kids' warm clothes were already coated in a layer of travel ming, so we set off walking to the train station in T-shirts, with the intention of buying a couple of hoodies when we got into Barcelona. (Text-book parenting 😉 )
The walk to the station looked short enough on the map. However, in true 'us' style, a mere 40 long hot minutes later, we finally arrived. An hour after that, we pulled into a beautiful warm evening at Barcelona's Estació de França. (We guessed where to go – it looked fairly central!)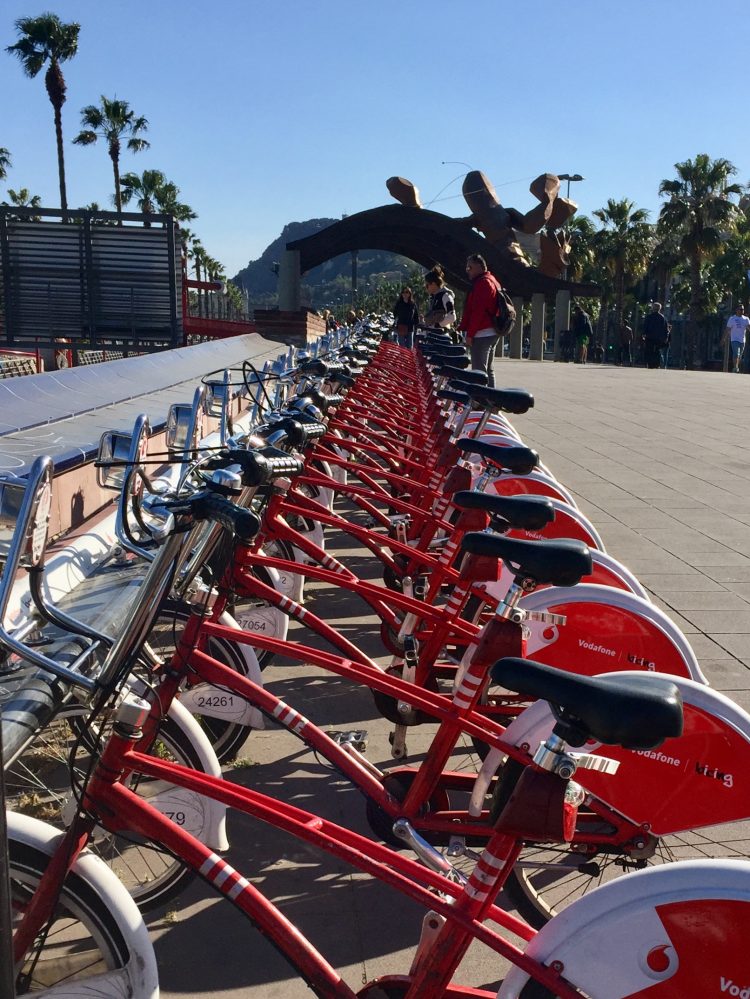 A lovely little food and drink festival was buzzing away just outside the station and gave us an excellent city starter. We followed signs to La Rambla and what would become an eye-opening lesson in human diversity for the kids. La Rambla is a large, tree-lined, pedestrian mall in central Barcelona separating the Gothic Quarter and the El Raval neighbourhood. We joined at the Southern end near the Christopher Columbus monument and wandered up La Rambla which was bustling with street performers, stalls, acrobats, stag dos, hen dos and a good helping of 'colourful' characters.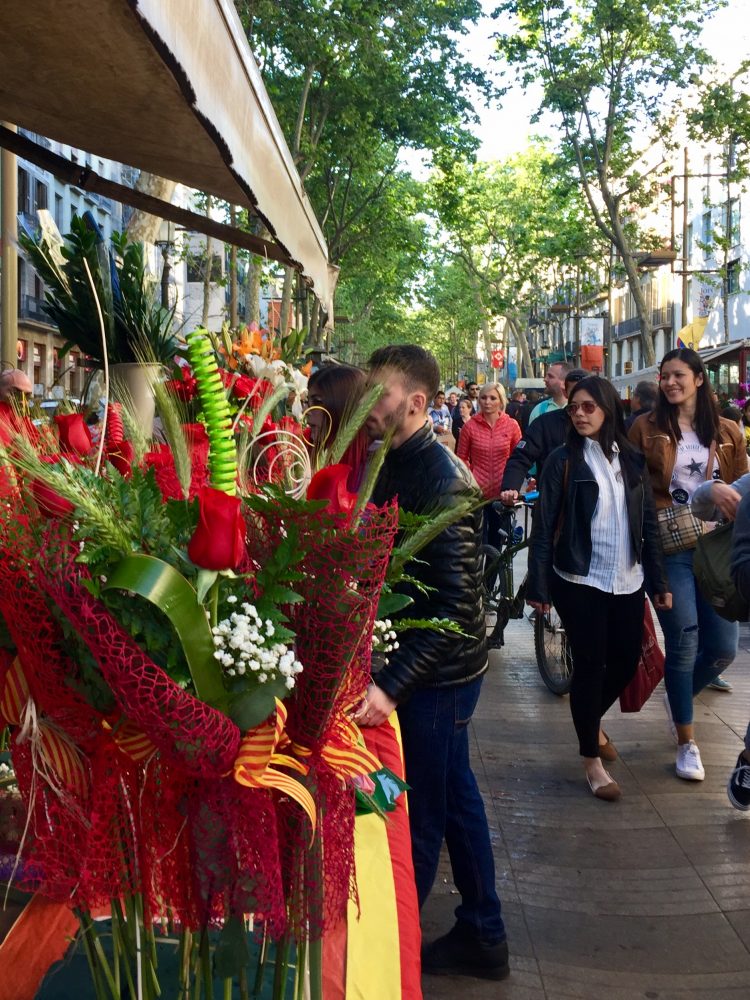 We squished into the ram packed "Boqueria' market for a look around. I'm guessing it was more tourists than a taste of local life and we added to that by slurping down a tourist smoothie each. It was getting colder as the evening drew on and the next souvenir shop delivered on a couple of Barcelona University hoodies for the kids. Souvenir Gaudiesque frogs and dogs joined the haul and we settled up with yet another sour-faced vendor before finding somewhere for a bite to eat.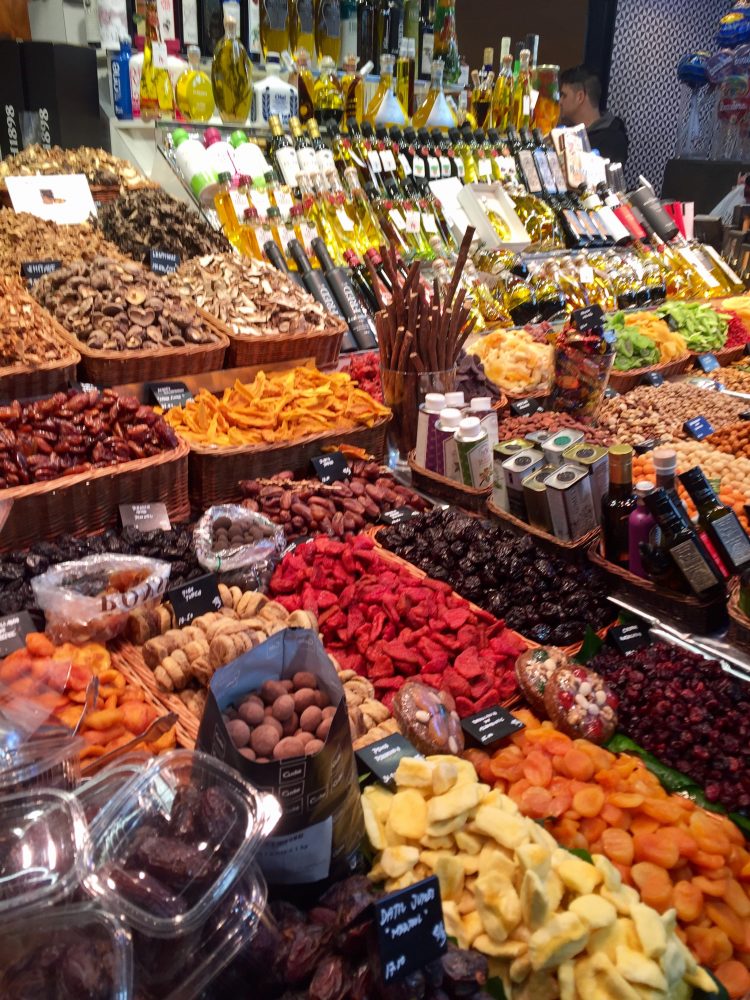 Several hours after setting out and with throbbing city feet for all of us, the train squealed to a stop back at Sitges station, we hailed a cab back to the campsite (just €9) and hit the sack.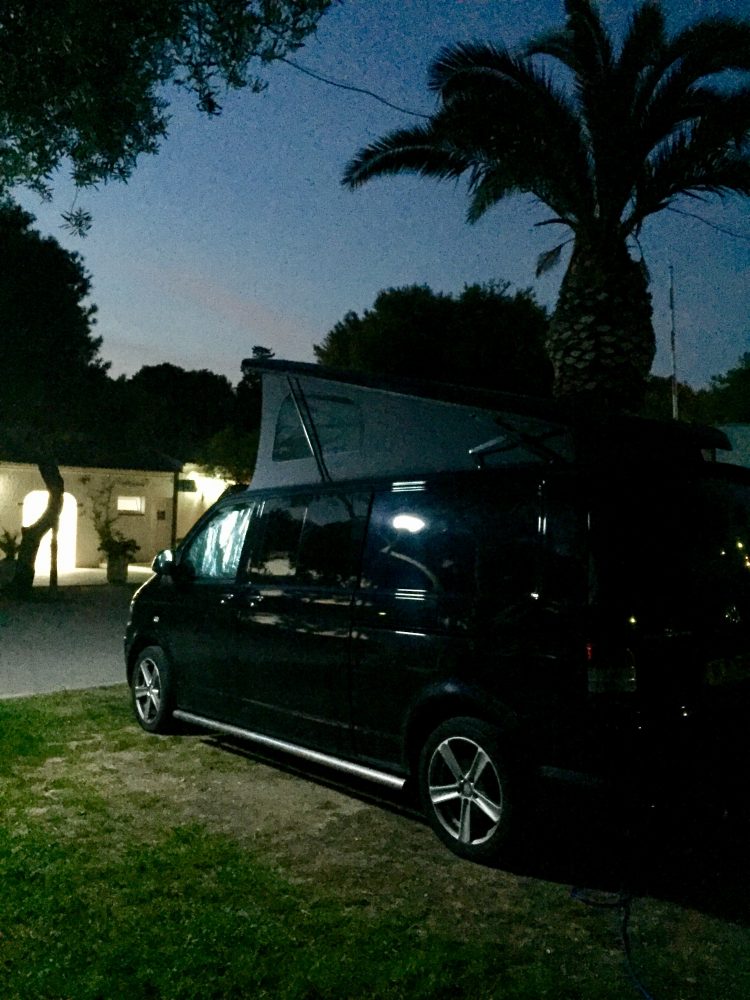 When we woke on Sunday, we were all ready for a chilled beach day and strolled down to Sitges beach for a sit in the sun, a play in the sand and a splash in the sea. T'was another windy one though and we didn't hang around too long before thinking about heading off for a stroll and some respite.
Louise had informed us that today was St George's (Sant Jordi) day which is a big thing in Catalonia and a romantic day akin to Valentine's day in the UK. She said it would be a lovely time to be here as there would be book and rose stalls all over the place which were traditional for lovers to buy and exchange.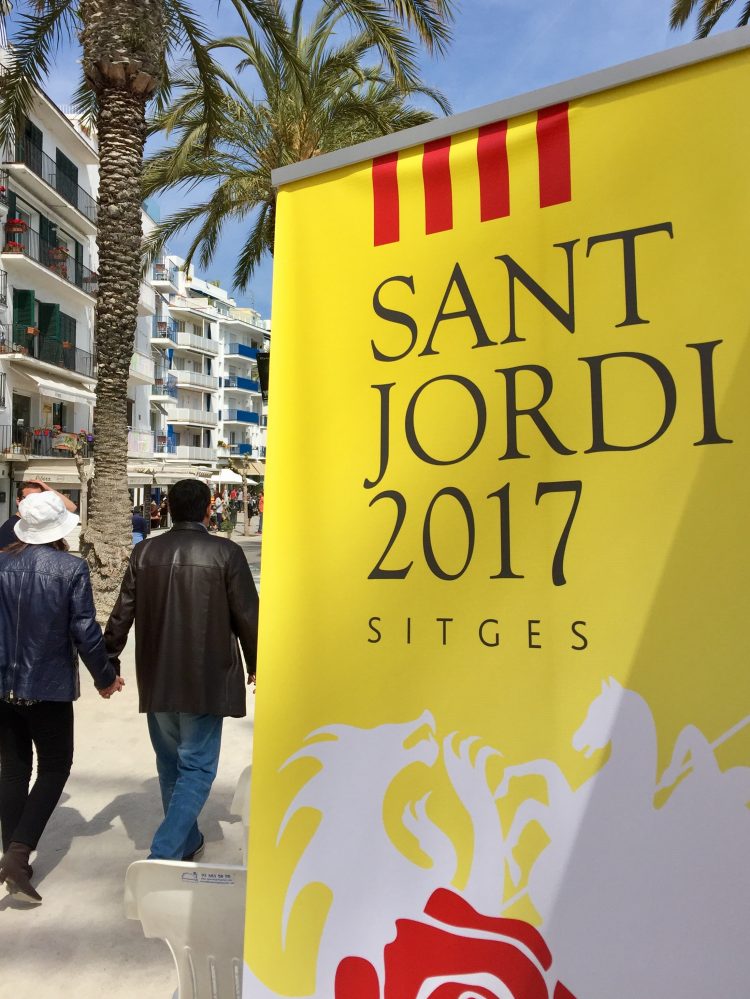 After finding a nice looking restaurant on the front, I nipped off to an ATM for some cash before grabbing Nina a rose on the way back. I got a "bravo!" from the campest waiter in Catalonia and the kids curled up with embarrassment when he egged us on for a kiss. Haha!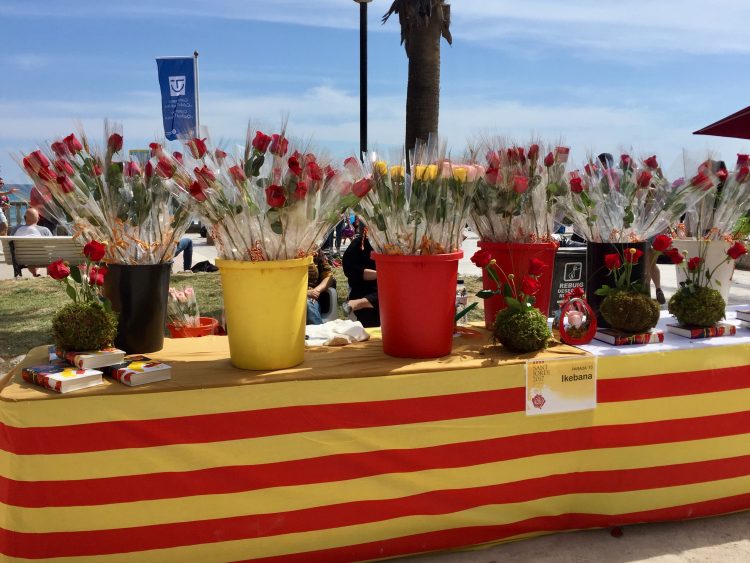 Full to the brim with tapas and Catalonia's finest beer, we spent the afternoon pottering around Sitges. We strolled along the prom, slurped ice-cream, explored the narrow streets of the old-town, played on the beach some more and soaked up the romantic atmosphere.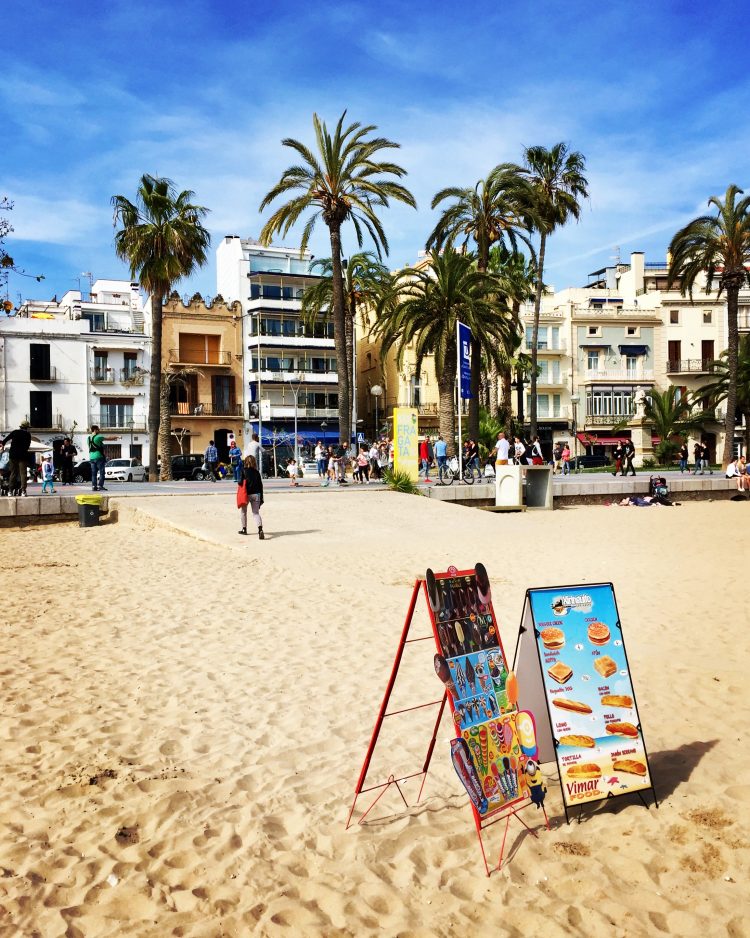 The kids and I paddled the several kilometres back towards the campsite in the sea and as we had one last splash about before turning inland, I glanced up to see a young couple performing a rhythmic spectacle on the breakwater not 30m away. Books and roses must be the mother of all aphrodesiacs as these two couldn't even make it back from the beach! I glanced back at Nina to check I wasn't hallucinating only to see her giggling – whilst trying to take a photo – That told me all I needed to know! We quickly shooed the kids away before they clocked the performance and needed an explanation!
We ate at the campsite restaurant and followed up a very pleasant day with a couple of leisurely drinks and our first family foosball marathon in the bar. Great day and good times!